Now that spring practices are in the books, Ohio State's 2022 depth chart has started to take shape.
Between Saturday's spring game, multiple spring practices that were open to the media and interviews with members of each Ohio State position group over the last two months, it's started to become more clear which players are in line for the most playing time at each position this season.
There's still plenty of time for things to change, of course, as the season opener against Notre Dame remains more than four months away. Ohio State will still hold a full preseason camp before it plays the Fighting Irish, and players who stand out during camp will have a chance to climb the depth chart even if they aren't currently in position to play major roles. There will still likely be at least a couple more players who enter the transfer portal, and there's always the possibility Ohio State could add another player or two from the transfer portal (if roster space opens up, as Ohio State remains over the 85-man scholarship limit as of now).
All of that said, Ohio State's coaches should have a pretty good idea of which players are going to lead the depth chart at each position now that they've gone through the full spring, and they're going to have to start formulating game plans around their currently projected depth chart as they begin preparing for the regular season.
Armed with everything I learned from watching and talking to the Buckeyes this spring, here's my second attempt – and the first since January – at projecting how Ohio State's depth chart will stack up this fall.
Quarterbacks
1. C.J. Stroud
2. Kyle McCord
3. Devin Brown
The projected quarterback depth chart looks exactly the same coming out of spring practices as it did going into the spring. Stroud is the clear-cut starter, and McCord still looks to have a firm grasp on the backup quarterback job. Brown flashed plenty of potential this spring, but he's still a true freshman learning the ropes; McCord was more consistent in the spring game, and he has the benefit of actual playing experience under his belt after playing in five games with one start last year.
Running Backs
1. TreVeyon Henderson
2. Miyan Williams
3. Evan Pryor
The projected running back depth chart also remains unchanged from the pre-spring depth chart projection. Although Pryor certainly made a case in the spring game that he should have a role within the offense – and I believe he will – Williams also had a strong spring and remains in line to be the top backup behind Henderson, who is firmly established as the starter.
While Ohio State will have to determine how it can best utilize Williams and Pryor as complements to Henderson to maximize the output of its running back depth chart, those three running backs appear to be the Buckeyes' clear top three at the position, as Marcus Crowley remains sidelined by a long-term injury and Dallan Hayden could be in line for a redshirt year, like Pryor took last year, as a true freshman.
Wide Receiver (X)
1. Marvin Harrison Jr.
2. Jayden Ballard
3. Xavier Johnson
Wide Receiver (Z)
1. Emeka Egbuka
2. Julian Fleming
3. Kamryn Babb
Wide Receiver (Slot)
1. Jaxon Smith-Njigba
2. Kyion Grayes
3. Kaleb Brown
Although Smith-Njigba is now Ohio State's No. 1 receiver, the Buckeyes plan to keep him in the slot in three-receiver sets, though he'll also see playing time outside in two-receiver formations. Harrison also appears to have a starting job locked up at X receiver and is likely in line to play the second-most snaps of any wideout behind JSN.
The third starting receiver could be either Egbuka or Fleming, and it's likely both will see regular playing time in the rotation if healthy. After Egbuka continued to flash star potential while Fleming suffered yet another injury setback this spring, however, I lean toward Egbuka – who would also likely be the next man up after Smith-Njigba at slot receiver – being the No. 3 receiver.
Ballard is also likely to have a spot on the two-deep at one of the two outside receiver spots. Johnson, although he is a walk-on, might be a sleeper candidate to earn playing time after Ryan Day specifically named him after the spring game as a receiver who had a "really good" spring. Babb's position on the depth chart is contingent on his health after he suffered yet another setback this spring, but Day has talked him up as a player who could make an impact if he can stay on the field.
Outside of Smith-Njigba and Egbuka, Grayes and Brown look like the best candidates to play in the slot if needed, which earns them places on this three-deep projection over fellow true freshmen Caleb Burton and Kojo Antwi.
Tight End
1. Cade Stover
2. Joe Royer
3. Mitch Rossi
4. Gee Scott Jr.
I'm extending the depth chart projection to four rows at tight end because I believe there are four tight ends who could all play meaningful snaps for Ohio State this year.
There may not necessarily be a clear pecking order at tight end this season, as playing time could vary greatly from week to week based on matchups and the Buckeyes' offensive game plan. Stover will likely play the most snaps as the best in-line blocker of the group, but Royer and Scott offer more as receivers while Rossi should also see regular playing time as a fullback/tight end hybrid, perhaps primarily in two-tight end sets.
Royer seemingly had more momentum than Scott to play a substantial role this season for most of the spring, but Scott made a strong case that he belongs in the rotation with his strong performance in the spring game, in which he led all players with five catches and also showed well as a blocker.
Left Tackle
1. Paris Johnson Jr.
2. Zen Michalski
3. George Fitzpatrick
Left Guard
1. Donovan Jackson
2. Toby Wilson
3. Ben Christman
Center
1. Luke Wypler
2. Jakob James
3. Carson Hinzman
Right Guard
1. Matt Jones
2. Enokk Vimahi
3. Trey Leroux
Right Tackle
1. Dawand Jones
2. Josh Fryar
3. Grant Toutant
Barring any unexpected developments, Ohio State's starting five up front appears to be set, as the quintet of Johnson, Jackson, Wypler, Jones and Jones took just about all of the first-team reps on the offensive line this spring.
As of right now, it appears likely the top backups would be Fryar at tackle, Vimahi at guard and James at center. While Michalski and Wilson might be the top candidates to round out the two-deep right now, an injury to Johnson could potentially mean Jackson moving to left tackle and Vimahi coming in at left guard, while Matt Jones moving to center and Vimahi entering at right guard would also be an option if anything happened to Wypler.
Considering that Day lamented Ohio State's lack of offensive line depth on multiple occasions this spring, however, backup jobs remain very much up for grabs going into preseason camp. Players like Fryar, Michalski, Christman and Leroux will look to prove they should be on the two-deep in August after they were sidelined by injuries this spring, while Hinzman, Tegra Tshabola and Avery Henry will look to make a quick impression when they arrive as true freshmen this summer.
Defensive End
1. J.T. Tuimoloau
2. Zach Harrison
3. Tyler Friday
4. Noah Potter
Defensive End/Jack
1. Jack Sawyer
2. Javontae Jean-Baptiste
3. Mitchell Melton
4. Caden Curry
Let's start this with a preface: Larry Johnson almost always rotates multiple players at every spot on the defensive line, and with as much depth as the Buckeyes have on their defensive line this year, that will certainly be the case again. Given their seniority, the smart money might be on Harrison and Jean-Baptiste starting – especially Harrison, considering he's both a returning starter and captain.
I'm basing this projection on who I think will play the most snaps at each position, though, and with all the buzz Tuimoloau and Sawyer have generated this spring, I'm predicting the two five-star sophomores will ultimately be the two edge players who are on the field most often when the game is on the line.
Based on what we saw in the spring game, it appears likely one defensive end will often stand up to play the hybrid linebacker role that Jim Knowles is calling "Jack," and Sawyer and Jean-Baptiste are likely to lead the rotation at that spot. Melton also made a big push for playing time at Jack this spring, though he was injured in the spring game; if that injury impacts his availability for the season, Curry – who could also see playing time regardless – would likely be the next man up behind Sawyer and JJB.
Tuimoloau and Harrison are likely to start most of their snaps with their hand in the dirt, though that doesn't preclude them from playing together or both starting in more traditional four-man fronts. Friday should also see some snaps in the defensive end rotation as he returns after missing all of last season with a torn ACL, while Potter made the case that he deserves playing time too with his two-sack performance in the spring game.
Defensive Tackle (3-Tech)
1. Taron Vincent
2. Tyleik Williams
3. Jaden McKenzie
Defensive Tackle (Nose)
1. Jerron Cage
2. Ty Hamilton
3. Mike Hall
Johnson will likely maintain a consistent rotation at defensive tackle, too, with two to three strong candidates for playing time at both defensive tackle spots.
Vincent and Cage are the most experienced defensive tackles and the frontrunners to start, but Williams and Hamilton are making a push for their starting jobs and could end up playing just as many snaps in the rotation. Like at defensive end, it probably won't matter that much who the actual starters are in terms of playing time, and starts could vary from game to game.
Hall is also expected to have a role in the rotation after redshirting last year, while McKenzie looked in the spring game like a player who might finally be ready to contribute after a quiet start to his Ohio State career.
Will Linebacker
1. Steele Chambers
2. Cody Simon
3. C.J. Hicks
Mike Linebacker
1. Tommy Eichenberg
2. Teradja Mitchell
3. Gabe Powers
Sam Linebacker
1. Reid Carrico
2. Palaie Gaotoete
3. Gabe Powers
In a crowded position group where any of the nine scholarship players on the roster could realistically see playing time in the rotation this year, Chambers and Eichenberg appeared to separate themselves from the pack a bit this spring. Eichenberg drew consistent praise for his performance throughout spring practices, and Chambers was at the front of the Will linebacker rotation whenever we had the chance to watch the Buckeyes this spring.
Behind them, it's still difficult to project what the rest of the depth chart will look like at the two primary linebacker spots. Simon should presumably be a strong candidate for a spot on the two-deep, but it's unclear which spot he'll play as he was recovering from shoulder surgery this spring. For now, we'll project him as the top backup at Will alongside Mitchell, who seemed to regain momentum this spring after moving back to middle linebacker following a difficult 2021 season at Will.
Chip Trayanum and Carrico are also candidates to be in the Will linebacker rotation, but Hicks remains a candidate to start climbing the depth chart sooner than later even though he hasn't yet lost his black stripe. Powers was the No. 3 Mike linebacker in the spring game behind Eichenberg and Mitchell, so that's where he slots in on the depth chart for the time being.
While Ohio State will continue to run a 4-2-5 base defense this season, Jim Knowles said this spring the Buckeyes will use a Sam linebacker in some situations – probably mostly against teams like Wisconsin and Iowa that make heavy use of two-tight end sets – and Carrico was seen taking first-team reps at that spot this spring. Knowles has also named Gaotoete as a candidate to play Sam, while Powers was initially recruited by Ohio State as a Sam linebacker prior to defensive scheme changes.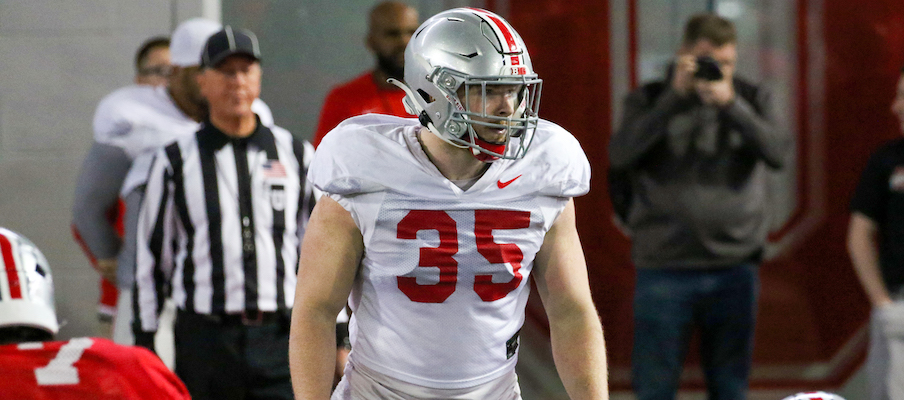 Cornerback
1. Denzel Burke
2. Jakailin Johnson
3. Jyaire Brown
Cornerback
1. Cameron Brown
2. Jordan Hancock
3. Ryan Turner
With only six scholarship cornerbacks currently on the roster, there appears to be a fairly clear pecking order at the position coming out of spring practices.
Burke is the Buckeyes' No. 1 cornerback after starting every game last season, while Brown is also a returning starter. Hancock looks to be the next man up and will also likely see regular playing time as the No. 3 cornerback, while Johnson's spot on the second row of the depth chart also seems secure. Brown had an impressive spring game and is likely in line to be the No. 5 cornerback this season, while fellow true freshman Turner rounds out the three-deep.
Adjuster (Free Safety)
1. Ronnie Hickman
2. Kye Stokes
3. Sonny Styles
Bandit (Strong Safety)
1. Josh Proctor
2. Kourt Williams
3. Andre Turrentine
Nickel Safety
1. Tanner McCalister
2. Cameron Martinez
3. Lathan Ransom
Although bandit is the natural successor to the bullet position Hickman played last year, he primarily lined up at adjuster this spring and appears set to be the man in the middle of the Buckeyes' secondary this year. Stokes looks poised to be Hickman's top backup and see some playing time as well after an impressive first spring on campus.
Proctor, who began last season as the Buckeyes' starting free safety, in turn appears likely to be the starting bandit, though Williams is also a candidate to start at strong safety. Both of them will likely see regular playing time depending on matchups, with Proctor playing more against spread offenses and Williams playing more against two-tight end offenses. Turrentine could also factor in the mix at bandit after a strong showing in the spring game, in which he played the most snaps of any Buckeye (106).
McCalister is expected to start at nickel safety after already playing that position for four years in Jim Knowles' defense at Oklahoma State, though Martinez is also a candidate to see at least a share of the playing time at that spot.
It's uncertain which safety spot Ransom will play in Knowles' defense, as he was sidelined for the entire spring while recovering from the leg injury he suffered in the Rose Bowl, but the Buckeyes could need him to provide additional depth at nickel safety, the position where he played most of his snaps in 2021. Styles' specific safety spot is also to be determined when he enrolls at Ohio State this summer, but he can't be ruled out as a candidate to climb the depth chart quickly with his five-star talent.
Kicker
1. Noah Ruggles
2. Jake Seibert
Although he was not enrolled at Ohio State this spring, Ruggles is expected to return to the Buckeyes this summer and reprise his role as the team's top field goal kicker.
Whether Ruggles will continue to handle kickoffs for the Buckeyes this year is in question, as Ohio State hosted USC transfer Parker Lewis for a spring game visit, while walk-ons Jayden Fielding and Garrison Smith could also be candidates to take over kickoff duties if Lewis transfers elsewhere. Lewis also expects to get a chance to compete for the field-goal kicking job if he joins the Buckeyes, but Ruggles will be tough to beat out after missing just one field goal last year.
Punter
1. Jesse Mirco
2. Michael O'Shaughnessy
Ohio State's punter depth chart remains unchanged from last season, as Mirco returns for his second season as the Buckeyes' only scholarship punter while O'Shaughnessy is the only other punter on the current roster.
Long Snapper
1. Bradley Robinson
2. Mason Arnold
Robinson remains with the Buckeyes for his third season as Ohio State's top long snapper and seventh overall year of college football. Fellow walk-ons Arnold and Max Lomonico are competing to be Robinson's top backup.
Kickoff Returner
1. Emeka Egbuka
2. Evan Pryor
Egbuka appears set to remain Ohio State's top kickoff returner this season, which makes sense considering Egbuka averaged 29 yards per return last season. Pryor took the second-team reps at kick returner this spring and is another player with home-run hitting potential as a returner.
Punt Returner
1. Cameron Martinez
2. Jaxon Smith-Njigba
Smith-Njigba was Ohio State's top punt returner last year, but he's more valuable to the Buckeyes as a receiver than he is as a returner. Given that, it would make sense for the Buckeyes to have Smith-Njigba focus on playing offense and give punt return duties to someone else, and Martinez looks like a potential candidate to take over that role after taking punt return reps along with Smith-Njigba throughout the spring.