Now that Ohio State's 2022 roster is just about set, it's time for our first look at how the Buckeyes' depth chart could stack up at every position.
With spring practices still over a month away, there's only a few certainties with Ohio State's 2022 depth chart right now. C.J. Stroud will be the Buckeyes' starting quarterback, TreVeyon Henderson will be the Buckeyes' top running back and Jaxon Smith-Njigba will be their No. 1 wide receiver. Several other returning starters are also safe bets to be in the starting lineup – Dawand Jones, Paris Johnson Jr., Zach Harrison and Denzel Burke are among those who come to mind – but there will be plenty of other spots up for grabs, especially since Ohio State has a new defensive coordinator and linebackers coach, two new secondary coaches and a new offensive line coach.
That makes it likely there will be a good amount of changes to our depth chart projection by the time Ohio State completes spring practices, which will be our first opportunity to really see how the Buckeyes' personnel might stack up within Jim Knowles' defensive scheme and which players could be primed to seize bigger roles this offseason. There's a lot that can change between now and Ohio State's season opener on Sept. 3, with more roster movement being an inevitability as the Buckeyes will need to get down to 85 scholarship players before the season begins.
As of right now, though, the following projection is an initial best guess of what Ohio State's depth chart will look like at the beginning of the 2022 season. The top three players are projected at every offensive and defensive position – with 12 positions listed on defense to reflect the possibility of multiple defensive alignments – while two players are listed at each of the primary special teams positions.
Quarterbacks
1. C.J. Stroud
2. Kyle McCord
3. Devin Brown
Barring any further roster movement, the quarterback depth chart might already be set. Stroud is locked in as the starter, McCord returns as the top backup from last season and Brown is a true freshman. Brown could potentially challenge McCord for the No. 2 spot on the depth chart, but the real competition between them will likely unfold in 2023 after Stroud is off to the NFL and Brown has a year at Ohio State under his belt.
Running Backs
1. TreVeyon Henderson
2. Miyan Williams
3. Evan Pryor
The top of the running back depth chart also appears set with Henderson returning as Ohio State's feature back and Williams returning as his top backup. The biggest question is whether another running back can break into the rotation and earn significant playing time; Pryor, who flashed in limited action as a freshman before taking a redshirt, is likely the strongest candidate to do so.
Marcus Crowley is the most veteran running back on the Buckeyes' 2022 roster, but he's coming off a major injury for the second time in three years, leaving his availability for at least the spring in question.
Wide Receiver (X)
1. Marvin Harrison Jr.
2. Jayden Ballard
3. Caleb Burton
Wide Receiver (Z)
1. Emeka Egbuka
2. Julian Fleming
3. Kojo Antwi
Wide Receiver (Slot)
1. Jaxon Smith-Njigba
2. Kyion Grayes
3. Kaleb Brown
Now that Smith-Njigba is Ohio State's clear-cut No. 1 receiver, the Buckeyes could move him outside, but considering that he just had the most productive season ever by an Ohio State pass-catcher as a slot receiver, there's no reason to mess with what's already working so well.
Harrison's three-touchdown game in the Rose Bowl made him a clear frontrunner for one starting job outside, setting up a battle between two five-star recruits – Egbuka and Fleming – for the other starting spot. It's likely they will both play significant snaps in a rotation, and Fleming has a year of experience over Egbuka, but I'm giving the slight edge to Egbuka based on the playmaking ability he flashed as a true freshman.
Ballard is also a candidate to start playing significant snaps as a redshirt freshman, while all four of the true freshmen are also talented enough to earn immediate playing time. They might have to wait a year or two for their chance to play major roles – just as Smith-Njigba, Fleming, Harrison and Egbuka did – but Grayes, who's drawn comparisons to Chris Olave for his smooth route running, would be my bet to play the most snaps among the true freshmen in year one.
Tight End
1. Mitch Rossi
2. Joe Royer
3. Gee Scott Jr.
This might be the most wide open position on the entire depth chart; it certainly is on offense. Assuming Cade Stover stays on defense as expected, Rossi would be the only returning tight end who's seen regular playing time for the Buckeyes, making him the de facto No. 1 tight end on the depth chart.
Considering that Rossi is a former walk-on who often lines up at fullback, however, the door is wide open for one or two other Ohio State tight ends to also play substantial roles in 2022. Royer seems to be the strongest candidate to challenge for the starting job after Kevin Wilson said before the Rose Bowl that he "has really come on very, very well," though Scott offers the most playmaking upside of the group as a converted wide receiver. The possibility of redshirt freshman Sam Hart or true freshman Bennett Christian making a quick move up the depth chart can't be ruled out either.
Left Tackle
1. Paris Johnson Jr.
2. Enokk Vimahi
3. Zen Michalski
Left Guard
1. Matt Jones
2. Jakob James
3. Ben Christman
Center
1. Luke Wypler
2. Harry Miller
3. Toby Wilson
Right Guard
1. Donovan Jackson
2. Trey Leroux
3. Carson Hinzman
Right Tackle
1. Dawand Jones
2. Josh Fryar
3. Grant Toutant
Wypler and Dawand Jones return as last year's starting center and right tackle, while Johnson is expected to move from right guard to his natural position of left tackle now that Nicholas Petit-Frere and Thayer Munford are gone.
Matt Jones should finally be in line for a full-time starting position after rotating in as the sixth man on last season's offensive line, while Jackson also appears to be on the fast track to a starting job at guard. The wild card on the interior offensive line is Miller, who was in line to start at center last season and also has starting guard experience, but it's hard to know what to expect from him right now after he played in only two games in 2021.
Vimahi and Fryar were the Buckeyes' backup tackles last season, while James and Leroux also made game appearances at guard and will look to secure spots on the two-deep as redshirt sophomores. Of course, every spot on the offensive line depth chart could be up for grabs now that the Buckeyes have a new offensive line coach, and there will be plenty of younger linemen also looking to prove they belong in the two-deep, including redshirt freshmen Michalski and Chrisman and true freshmen Hinzman, Tegra Tshabola, George Fitzpatrick and Avery Henry.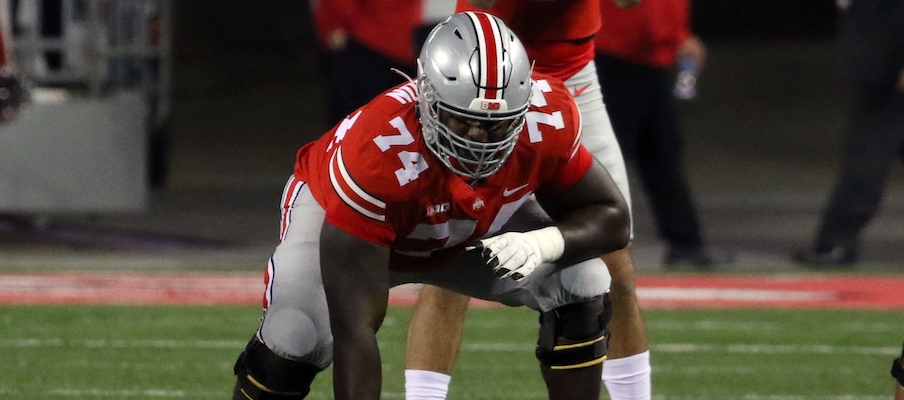 Defensive End
1. Zach Harrison
2. Jack Sawyer
3. Caden Curry
Defensive End
1. J.T. Tuimoloau
2. Javontae Jean-Baptiste
3. Tyler Friday
Harrison is a sure bet to start at one defensive end spot after choosing to return for his senior season, while Tuimoloau and Sawyer should be in line for significant increases in playing time as sophomore. Fifth-year seniors Jean-Baptiste and Friday are also likely to see their share of snaps in the defensive end rotation as experienced veterans.
While Ohio State's two defensive end spots have been mostly interchangeable in past years, that might not be the case this year if Jim Knowles brings the same scheme he used at Oklahoma State to Columbus. In Stillwater, the weakside defensive end or "Leo" was a hybrid who played both defensive end and linebacker while the strongside defensive end often lined up further inside than a traditional 4-3 edge defender.
Sawyer and Jean-Baptiste both project best as Leos – where Cade Stover could also be a factor as a hybrid – while Tuimoloau and Friday project as strongside DEs. Harrison could potentially play either spot, though, and Knowles could potentially stick with a more traditional defensive end rotation if he and Larry Johnson decide that's what fits Ohio State's personnel best – so for now, we're keeping all the defensive ends together in one position rather than splitting them apart.
There probably won't be a ton of snaps available behind the top five defensive ends in 2022, but the freshman to watch might be Curry, who already looks the part of a college-ready player and also has the versatility to play multiple roles, though he would probably be best suited to play strongside defensive end in the Oklahoma State system.
Defensive Tackle (3-Tech)
1. Taron Vincent
2. Tyleik Williams
3. Mike Hall
Defensive Tackle (Nose)
1. Jerron Cage
2. Ty Hamilton
3. Jaden McKenzie
After rotating with Haskell Garrett and Antwuan Jackson this past season, Vincent and Cage are likely in line to be the starting defensive tackles this year, assuming Cage returns for his sixth year of eligibility. Williams should also see a significant increase in playing time after flashing in a big way as a freshman, while Hamilton also seems like a strong candidate for regular playing time as a junior. Hall is another defensive tackle to watch in 2022 as he drew frequent praise for his development as a freshman even though he took a redshirt year.
Those five defensive tackles will likely play most of the snaps for the Buckeyes this season, though McKenzie and Noah Potter will also look to earn roles as fourth-year defensive linemen. Incoming freshman Hero Kanu has star potential, but might be a candidate to redshirt since he's only played two years of American football; Christen Miller could also be a candidate for the three-deep if he picks the Buckeyes next week on national signing day.
Linebacker (Will)
1. Steele Chambers
2. C.J. Hicks
3. Teradja Mitchell
Linebacker (Mike)
1. Tommy Eichenberg
2. Cody Simon
3. DeaMonte Trayanum
Linebacker is, in my opinion, the toughest position to project on the entire depth chart. Seeing as linebacker play was a weakness for the Buckeyes last season and Knowles will now be coaching the position group instead of Al Washington, every spot on the depth chart should be up for grabs, and there's 11 scholarship linebackers on the roster set to compete for those jobs.
That said, I'll be surprised if Chambers doesn't retain a starting job, considering how quickly he became Ohio State's best linebacker last season after making the move from running back. Eichenberg finished the season on a high note with 17 tackles in the Rose Bowl, and I think he's a better player than many fans give him credit for. I expect Simon to remain in the mix at Mike linebacker, too, as I believe his best football is in front of him after he was hampered by a shoulder injury for nearly all of last season.
Hicks is too talented not to see immediate playing time, and I won't be surprised if he's a starter by the end of his freshman year, but I think he starts out as the backup Will linebacker behind Chambers. Mitchell also remains in the mix at Will linebacker, assuming he returns for his extra season of eligibility, though his best chance to play a major role for the Buckeyes might have come and gone when he began last season as a starter.
It's hard to know exactly where Trayanum will fit in as he makes the move from running back to linebacker, and it's probably more likely he plays a significant role in 2023 than 2022, but early playing time can't be ruled out given Chambers' rapid rise up the depth chart last season. Reid Carrico is also a candidate to begin climbing the Mike linebacker depth chart after redshirting last season.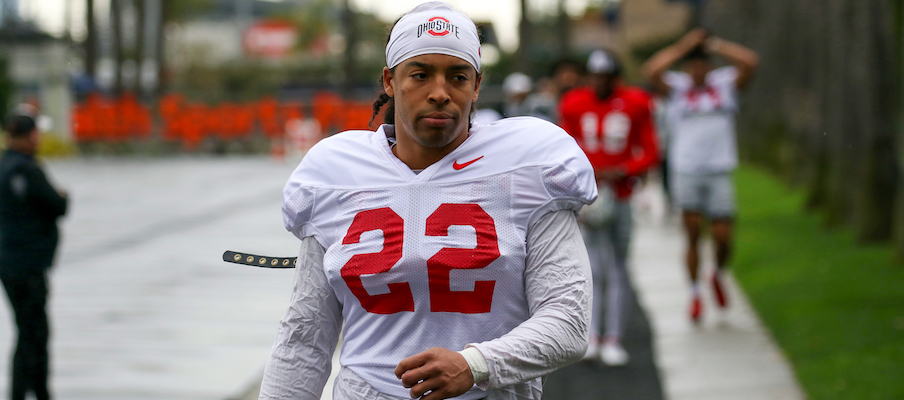 Linebacker (Sam)
1. Cade Stover
2. Palaie Gaoteote
3. Gabe Powers
Much like the defense Ohio State used this past season, Knowles' defensive scheme typically utilized only two linebackers at Oklahoma State, so this probably won't be a full-time position in the defense. These players could easily be grouped in at the Leo defensive end position, where they may have the best chance of earning consistent playing time.
Nonetheless, the Buckeyes will want to have the option of playing a traditional 4-3 defense in short-yardage and goal-line situations and against teams that utilize multi-tight end sets, and that could be where Stover offers the most value, as he did against Utah in the Rose Bowl.
That's also the role in which Gaoteote played most of his snaps last season, and he'll look to earn a bigger role in his second year as a Buckeye. Powers' long-term future at Ohio State will likely be as a Leo hybrid, but he's a natural fit to play Sam linebacker and could also push for situational playing time as a freshman. Mitchell Melton is another candidate to play as either a Sam linebacker or Leo, though he'll have ground to make up after missing all of last season with an injury.
Cornerback
1. Denzel Burke
2. Jakailin Johnson
3. Lejond Cavazos
Cornerback
1. Cameron Brown
2. Jordan Hancock
3. Jyaire Brown
Even though Ohio State has a brand new pair of secondary coaches, it would be a surprise if Burke and Brown aren't the starting cornerbacks, given that they're the only outside cornerbacks on the roster who have seen regular playing time for the Buckeyes. Burke, in particular, should be locked in as a starter after earning Freshman All-American honors, while Brown has performed well when healthy.
The Buckeyes don't have much experience behind them, but Hancock and Johnson seem likely to be the next men up, in one order or the other, as both of them have garnered plenty of praise for their development even though they didn't play much as freshmen. The possibility of Brown or fellow early enrollee Ryan Turner making a Burke-like rise up the depth chart can't be ruled out either, though that's much easier said than done.
Cover Safety
1. Tanner McCalister
2. Cameron Martinez
3. Andre Turrentine
Whether this position will still be called cover safety by the new defensive coaching staff is uncertain, but the field safety position in Knowles' defense at Oklahoma State functioned similarly to the cover safety position used by his predecessors at Ohio State, with that player often lining up in the slot but also sometimes dropping back to play deep safety.
That player was McCalister in Oklahoma State's defense last year, and he played the role well for what was one of the best defenses in the country, so he can be penciled in as a starter after transferring to Ohio State. Martinez showed some promise at cover safety last year and should also be in the mix for playing time. Lathan Ransom is the incumbent starter at cover safety, but he may be better suited by a move to free safety – the position he was initially recruited to play at Ohio State – though he'll first have to recover from the leg fracture he suffered in the Rose Bowl.
Bullet/Strong Safety
1. Ronnie Hickman
2. Kourt Williams
3. Sonny Styles
Again, it's uncertain what this position will actually be called by the new defensive coaches – the bullet name seemed to be fading even by the end of last season – but there will still be a similar strong safety/boundary safety position in Knowles' defensive scheme, and it's a safe bet Hickman will continue to play a major role for the Buckeyes after his 100-tackle 2021 season.
Williams also seems poised to play a bigger role in Ohio State's defense this year after he started the Rose Bowl – he has the body type to also potentially play snaps at linebacker if the Buckeyes want to get Hickman and Williams on the field together – but Hickman's place in the starting lineup should be secure after he was Ohio State's most productive defender last year.
Styles also certainly has the talent to push for immediate playing time, but as a would-be high school senior who won't be arriving until summer, he probably won't be in line to play a major role as a true freshman.
Free Safety
1. Josh Proctor
2. Bryson Shaw
3. Lathan Ransom
Assuming Proctor makes a full recovery from the broken leg he suffered this past season, he'll likely overtake Shaw atop the free safety depth chart and regain his place in the starting lineup. Ransom could also potentially be a candidate to get in the mix at free safety, as could Jantzen Dunn, but both of them are also recovering from leg injuries that could limit their availability for the spring and summer.
Kicker
1. Noah Ruggles
2. Jake Seibert
There won't be any need for a field-goal kicker competition this year with Ruggles returning for his additional year of eligibility. As the only other scholarship kicker on the roster, Seibert will presumably be the next man up, though freshman walk-on Jayden Fielding could also be in the mix to challenge Seibert for that spot and potentially take over kickoff duties.
Punter
1. Jesse Mirco
2. Michael O'Shaughnessy
Mirco returns for his second year as Ohio State's starting punter while O'Shaughnessy is the only other returning punter on the roster.
Long Snapper
1. Bradley Robinson
2. Mason Arnold
Robinson returns for his third year as Ohio State's starting long snapper and seventh overall year of college football. Arnold, who joined the Buckeyes last year as a preferred walk-on, is likely to be the next man up after Robinson.
Kickoff Returner
1. Emeka Egbuka
2. Julian Fleming
Egbuka is the biggest home-run threat Ohio State has had on kickoff returns in years, so he should reprise that role as a sophomore. Fleming took over kickoff return duties when Egbuka was sidelined for two games last season, so the Buckeyes seem to view him as the next-best option.
Punt Returner
1. Jaxon Smith-Njigba
2. Cameron Martinez
Smith-Njigba took over punt return duties from Garrett Wilson midway through last season, so he'll likely be in line to continue in that role in 2022. If the Buckeyes decide they don't want to risk their star receiver on special teams, Martinez could be an option to take his place.