While Ohio State didn't make this year's College Football Playoff, there will be a former Buckeye playing in the national championship game tonight.
After transferring from Ohio State to Alabama in May, Williams has played an integral role in getting the Crimson Tide back into the national title game for the sixth time in seven years. Williams has been Alabama's best offensive weapon, catching 75 passes for 1,507 yards and 15 touchdowns while also returning 10 kickoffs for 352 yards and two touchdowns.
He earned first-team All-American honors and was a finalist for the Biletnikoff Award along the way, and even though he chose to leave Ohio State, he's had plenty of vocal supporters back in Columbus.
Ohio State wide receivers coach Brian Hartline was among those who publicly advocated for Williams to win the Biletnikoff Award.
If @bigsgjamo isnt awarded the @biletnikoffawrd this year, the committee needs to rethink who gets to vote
 

— Brian Hartline (@brianhartline) December 5, 2021
Several Ohio State wide receivers, even including some who were only teammates with Williams for one semester before he entered the transfer portal, tweeted an emoji of a karate gi – which Williams added to his own Twitter account this fall after starting a Karate Kid-themed "Crimson Crane" celebration at Alabama – as an indicator that they felt Williams should have won the Biletnikoff after it ultimately went to Pittsburgh's Jordan Addison.
 

— Marvin Harrison Jr. (@MarvHarrisonJr) December 10, 2021
.

— Jayden Ballard (@J_Ball21) December 10, 2021
Chris Olave and Gee Scott Jr. showed their support for Williams by traveling all the way to Atlanta to watch him play in the SEC Championship Game, in which Williams caught seven passes for 184 yards and two touchdowns to lead the Crimson Tide to a 41-24 win over Georgia.
Olave and Gee Scott Jr in Atlanta to support Jamo today pic.twitter.com/ojS3z4ZE4P

— Buckeye Nation (@buckeyeboy20) December 5, 2021
"I'm proud of Jamo," Olave said in November. "He's been real good this year. His stats say it the most, but I'm real proud of him and everything he's come from, so I can't do anything but root for him."
There could very well be more of his former Ohio State teammates in the stands when Alabama plays Georgia again on Monday night (8 p.m., ESPN) in Indianapolis, just a few hours west of Columbus. Garrett Wilson told Eleven Warriors in December that he hoped to be able to attend one of Williams' CFP games, saying he still talks to his former recruiting classmate every day.
"That's been my best friend since the jump," Wilson said. "To see him ball like that, I'm not surprised. We all knew that he was great."
Williams says his relationship with Wilson, Olave and Jaxon Smith-Njigba – the receiver who replaced Williams in Ohio State's starting lineup this year – has actually gotten closer over the past year.
"It's great getting love from my brothers," Williams said during a Zoom call with reporters last week. "I talk to those guys almost every day – Chris, Garrett, Jaxon – I talk to those guys every day. So ever since I left, we've built a stronger relationship, even though we had a strong one when I was there. We just keep in touch every day, call or text each other, see how it's going. It's great having that relationship with those guys because we're not with each other every day anymore. So it's great keeping that relationship."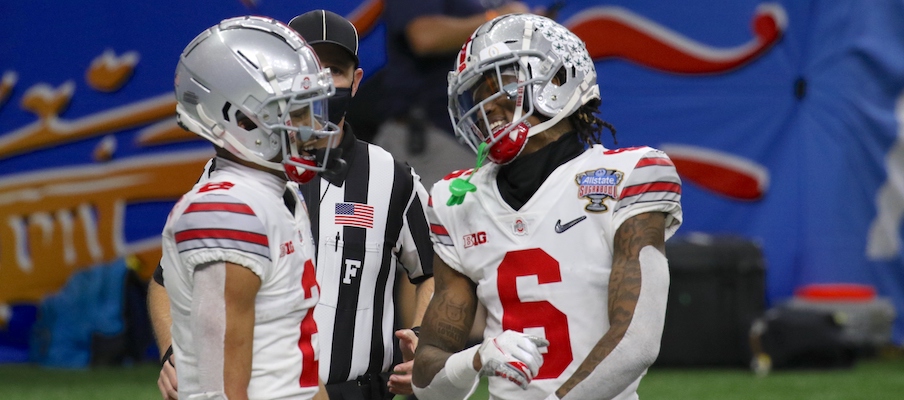 Williams probably won't have as many Ohio State fans cheering him on as Joe Burrow did when he led LSU to the national championship two years ago. While Burrow has repeatedly spoken fondly of his time at Ohio State, saying in the lead-up to that College Football Playoff that the support he received from Ohio State fans "meant the world" to him, Williams suggested he wanted to distance himself from his past as a Buckeye during an Instagram Live video in November. 
"They don't claim me. I don't claim them. Ohio State fans be tripping," Williams said in the video. "They disowned me. I went to Bama. When I graduate, I will have graduated from Bama."
During his media availability last week, Williams said "everything went well" at Ohio State but that he "just felt like it was time for me to make a decision for myself." He also said he believes transferring to Alabama has helped him elevate his game to a different level than when he was at Ohio State, where he caught only 15 passes for 266 yards and three touchdowns in two seasons.
"Moving to Alabama, I would say I learned to always go hard, even harder than what I went," Williams said. "I'm a real good competitor, but being around guys like this and guys on the team, on the defense, are forcing me to bring out way more than I ever had with these practices and how things go. So I would say I learned to go way harder than I ever did, really, coming to Alabama."
If Williams has a big game on Monday night, Ohio State fans might find themselves wondering what could have been if he had stayed with the Buckeyes, or why he never reached his potential in Columbus – though Ohio State's wide receiver play certainly wasn't what prevented it from making a national championship run this year, as Smith-Njigba broke the school records for single-season receptions and receiving yards while Wilson and Olave were both All-Americans.
And even though Williams helped Alabama get to the game that Wilson and the rest of the Buckeyes had dreamed they would be playing in on Monday night, Wilson said he held no ill will toward Williams for leaving Ohio State.
"Everything happens for a reason, and Jamo made the right move and it's paying off," Wilson said. "We didn't have the season we wanted to, but there's a lot of great things to take from it. So I think everything happens for a reason and Jamo being at Alabama, I respect that, I appreciate it too. I love what he does there."