Ryan Day should know what he's getting in Ohio State's new offensive line coach.
Justin Frye, who was officially hired Tuesday to replace Greg Studrawa, has worked with Day before. They previously worked together at Temple in 2012 and at Boston College in 2013 and 2014, when Day was the offensive coordinator and Frye was the offensive line coach at both schools.
Day left Boston College in 2015 to coach in the NFL, while Frye remained with the Eagles for three more years before joining Chip Kelly's staff at UCLA. Seven years later, Frye and Day are reunited as Day has hired Frye away from his mentor to join his coaching staff at Ohio State.
Unless you've worked with Frye like Day has, you probably don't know as much as he does about Ohio State's new offensive line coach, who will also serve as the Buckeyes' associate head coach for offense. So it's time for us to take a closer look at who Frye is and what might have made him an appealing choice to join the Buckeyes' coaching staff.
Success at every stop
Frye has been a full-time assistant coach since 2011, when he became the offensive line coach at Temple. In his first seasons with the Owls, his offensive line led the way for a Temple rushing attack that ranked seventh in the nation with 256.5 rushing yards per game and tied for fifth nationally with 38 rushing touchdowns, setting school records along the way. The Owls also averaged more than 200 rushing yards per game in 2012 and allowed only 41 sacks over the course of his two years in Philadelphia.
His offensive lines also yielded immediate results at Boston College, where the Eagles ranked in the top 20 nationally in rushing offense and allowed only 43 total sacks in 2013 and 2014. The Eagles struggled offensively for the next two years after Day left, ranking in the bottom three nationally in both 2015 and 2016, but bounced back in 2017, when they ranked 25th nationally in rushing yards per game (220.4) and tied for 12th nationally with just 15 sacks allowed in 13 games.
UCLA's offenses steadily improved over the course of his four years in Westwood. UCLA has had one of the top rushing offenses in the country in each of the last two seasons, ranking 12th in the Football Bowl Subdivision with 230.6 rushing yards per game in 2020 and 14th with 215.1 rushing yards per game in 2021, while allowing less than two sacks per game in both seasons.
Micd up @CoachJFrye #GoBruins pic.twitter.com/D9mUVMOLhK

— UCLA Football (@UCLAFootball) September 2, 2021
He has Big Ten roots
While Frye's coaching career has taken him from the Southeast (he was a graduate assistant at Florida in 2009 and 2010) to the Northeast to the West Coast, he grew up in the Midwest and played in the Big Ten.
A native of Elwood, Indiana, Frye played for Indiana from 2002-06. Over the course of his final four years at Indiana, Frye started 44 games for the Hoosiers – 22 starts at right tackle in 2003 and 2004, seven starts at right tackle and three starts at right guard in 2005 and four starts at left tackle and eight starts at center in 2006, when he was a team captain.
His wife, Lauren, is a native of Mentor, Ohio. 
He has coordinator experience
Ohio State doesn't need another offensive coordinator – considering that Day calls Ohio State's offensive plays himself, Kevin Wilson is set to return for a sixth year with the Buckeyes and Brian Hartline was just promoted to passing game coordinator – but it doesn't hurt to bring in another coach who's been a successful coordinator at the Power 5 level, which Frye has been.
Frye was promoted to offensive coordinator after his first season at UCLA – a move that may have been made in part to keep him from joining Day's inaugural staff three years ago – and led a pair of offenses that ranked in the top 20 nationally in points per game and the top 30 nationally in yards per game over the past two seasons.
Frye also held the title of run game coordinator at Boston College. While Ohio State is already operating at an elite level in the passing game with Day leading the charge, the Buckeyes' running game could use an infusion of new ideas after struggling against top competition in short-yardage and red zone situations this past season, and it's likely they will entrust Frye with bringing some new rushing concepts to the offense.
He's recruited and developed NFL talent
If you're simply looking at star ratings, you probably won't be blown away by Frye's recruiting résumé, which could lead you to question what makes Frye an upgrade. Studrawa took flak for some notable misses on the recruiting trail but had a strong track record of developing offensive linemen over the course of his six years at Ohio State.
That said, it should be taken into account that Temple, Boston College and UCLA typically don't attract the same caliber of recruits that Ohio State does. And he has demonstrated an ability to identify talent on the recruiting trail and develop those recruits into high-performing players.
One such example is Chris Lindstrom, who was only a three-star recruit when he arrived at Boston College in 2014 but went on to be the No. 14 overall pick in the 2019 NFL draft – higher than any Ohio State offensive lineman was drafted during Studrawa's tenure in Columbus – after five years with the Eagles, for four of which he was coached by Frye. Frye also recruited Lindstrom's younger brother Alec (though Frye only coached Alec for one season), who is expected to be an early-round pick in the 2022 NFL draft after he was a Rimington Trophy finalist for BC this past season.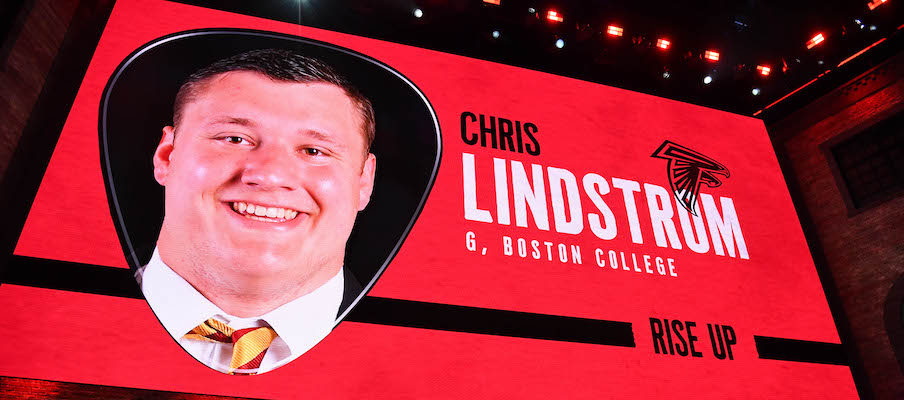 Per 247Sports, the highest-rated recruit Frye landed at UCLA was Sean Rhyan, the No. 2-ranked guard in the recruiting class of 2019. Rhyan, who played left tackle for Frye at UCLA, went on to earn Freshman All-American honors in his first season being coached by Frye and first-team All-Pac-12 honors this past season.
Another young hire
For the most part, Day – who is only 42 years old himself – has hired younger assistant coaches to fill vacancies on his staff since he became Ohio State's head coach in 2019, and hiring Frye would continue that trend.
Jeff Hafley was just 39 years old, Al Washington was just 34 and Matt Barnes was just 32 when Day hired them in 2019. Corey Dennis was just 27 when he was promoted to quarterbacks coach in 2020, while Parker Fleming was just 32 when he was promoted to special teams coordinator in 2021.
Day has seemingly sought to build staffs that feature a mix of longtime coaching veterans like Wilson and Jim Knowles with younger coaches like Dennis and Brian Hartline, and at just 38 years old, Frye falls in the latter category even though he already has 11 full seasons of full-time coaching experience at the FBS level.