Let's finish off 2021 with some much-needed toxic positivity.
C.J. Stroud, Jaxon Smith-Njigba and TreVeyon Henderson are now the seasoned nucleus for an offense that will terrify every defense tasked with stopping it in 2022. If you don't have a calendar handy, 2022 is this weekend.
Hold on, there's more: Miyan Williams' transformation into a human-sized morning star is now complete. If you're the negative type who has been imagining the Buckeye defense getting progressively worse since Thanksgiving, you hate yourself and should rectify that - because the wholesale schematic upgrade for that unit begins right around the time the team plane lands back in Columbus.
And it won't be worse against Utah than it was at Michigan. Write that in blood, because a defense cannot be worse than The Other Team Scoring Touchdowns On Literally Every Drive. 
being mopey about losing TO MICHIGAN once in a decade is exhausting. You should be done with it.
Ohio State's previous head coach loved to say the future is bright at Ohio State and he was right; it's still luminescent as Year 3 without him roaming the facility draws to a close. Next year your beloved team is going to be more ferocious than ever on both sides of the ball.
Are you out of your funk yet? Because being mopey about losing the rivalry game once in a decade was getting exhausting. I'm done with it. You should be done with it. The team is done with it. Next year is hours away - it's basically here already. 
You might not be thrilled about the Rose Bowl, but you'll come around by kickoff. This is how being a fan works. Ohio State doesn't need Garrett Wilson or Chris Olave to kick the shit out of Utah, but if you're not full invested in this game's outcome you'll miss out on enjoying the trophy ceremony. Don't be that fan. No one likes that guy, especially you.
Happy New Year, thirsty comrades! Let's get Situational.
OPENING: NEW GAME PLAN
The Buckeye defense did not have a single stop in the 2nd half of the Michigan game.
You knew that. We all tried to forget it. The fun bonus of losing to Michigan is getting to think about the why for a full year, and the only good news is we've whittled our sentence down to 11 months. But lost in that performance, which included Ohio State's inability to run-block like an FBS program, was, well, see above.
This isn't the end of the CJ-to-JSN era. It's the beginning. The reason Jameson Williams peaced out to a more favorable depth chart situation is now approaching what is essentially JSN's contract year after two seasons of preparation. He's either going to continue accumulating video game statistics - or - he's going do distract a defense enough to lift whichever WRs are on the field with him. You already know the spoiler.
Just score more points. Winning with defense isn't an option.
And that's the reminder we need coming off the Michigan game and heading into the meeting with Utah. We knew this defense needed help back in August. That help has been available the whole time - an offense that should be able to outscore anyone. But now they don't have to pretend that's just some hyperbolic sportswriter take. Oregon hinted it was Ohio State's reality and Michigan just proved it.
This Rose Bowl has warning flags all over it for the Buckeyes, but this is still an offense that scored over 50 points in half of its games. The new game plan is the same as the old game plan: Score more points. Winning with defense isn't an option.
And light up a team that has losses this season to BYU, San Diego State and Oregon State, the 42nd, 56th and 41st-ranked SP+ teams in football. Win a shootout. Beat a team that's lost to significantly inferior competition, repeatedly.
Be Rose Bowl champions. There are lesser fates.
INTERMISSION: THE SOLO
The Rolling Stones album title Sticky Fingers comes from the process of taking heroin, which is something you should never, ever, ever do. The song Dead Flowers from that record is - plot twist - also about heroin. Almost every song ever written is inspired by something very good or really bad. Heroin is a frequent flyer in the latter column.
Many songs about heroin have some subtlety (like Captain Jack, the only subtle Billy Joel song in his entire catalog - or Pink Floyd's Comfortably Numb) though sometimes artists just skip the metaphor. James Brown's King Heroin and Velvet Underground's Heroin are about guess what.
Anyway, here's Axl Rose with Izzy Stradlin making a cameo along with a bunch of other stand-ins pretending to be Guns 'N' Roses. The original lineup fell apart because of, among other things, heroin (listen to Mr. Brownstone if you'd like foreshadowing for what was going to happen to the band).
Dead Flowers contains a bluesy guitar solo. Let's answer our two questions.
Is the soloist in this video actually playing the guitar?
When you think of Guns 'N' Roses, you of course think of Ron Blumenthal. This live clip makes it obvious that we're getting the authentic Ron Blumenthal Experience. VERDICT: Yes, conclusive.
Does this guitar solo slap?
The Stones' entire early catalog is borrowed and repurposed Robert Johnson, John Lee Hooker, Muddy Waters and Chuck Berry song architecture. They added some more instrumentation, production, clever lyrics and British accents and - bam, perfection. They don't hide their influences and credit all of them appropriately.
That Stones architecture serves up some of the best ally-oops for guitar solos conceivable - you don't even have to be very talented to rock a solo in a Stones song. You don't have to be Keith Richards or even Ron Blumenthal. You can can just be you. VERDICT: Slaps.
THE BOURBON
There is a bourbon for every situation. Sometimes the spirits and the events overlap, which means that where bourbon is concerned there can be more than one worthy choice.
In the waning moments of Ohio State's most-recent football win I was heading east on High Street to meet up with Kyle Jones for some victory drinks at Little Bar. As I was passing The Library a gentleman waiting for his ride to show up pointed at me with both index fingers and shouted, "YOU ARE SITUATIONAL BOURBON."
It's an acceptable greeting. I stopped and exchanged pleasantries with Matthew, who told me many things about himself, how his day went, his favorite team (it's the Buckeyes, I knew it) but also about a bourbon I absolutely had to try called Whore Soldier. 
I laughed at the thought. There was no way a distillery thinks Disparage the Troops is a winning marketing brand and this had to be Matthew's liver talking. But lo and behold, several weeks later he was in my DMs asking for the best way to ship liquor and before I knew it Horse Soldier appeared on my doorstep in bubble wrap.
Columbus' own Middle West partners with the American Freedom Distillery to make HS, which runs 65/30/5 corn/rye/barley and honors the Green Berets who rode horseback in Afghanistan following 9/11 (entire story here). As the mash bill suggests, this is a sweet heater with vanilla/caramel on the nose and a spicy bang finish.
It isn't terribly complex, which is to say you know what you're getting into before the second sip. Horse Soldier is available for under $50, or free if you're just walking down High Street at the right time.
CLOSING: SITUATIONAL WARDROBE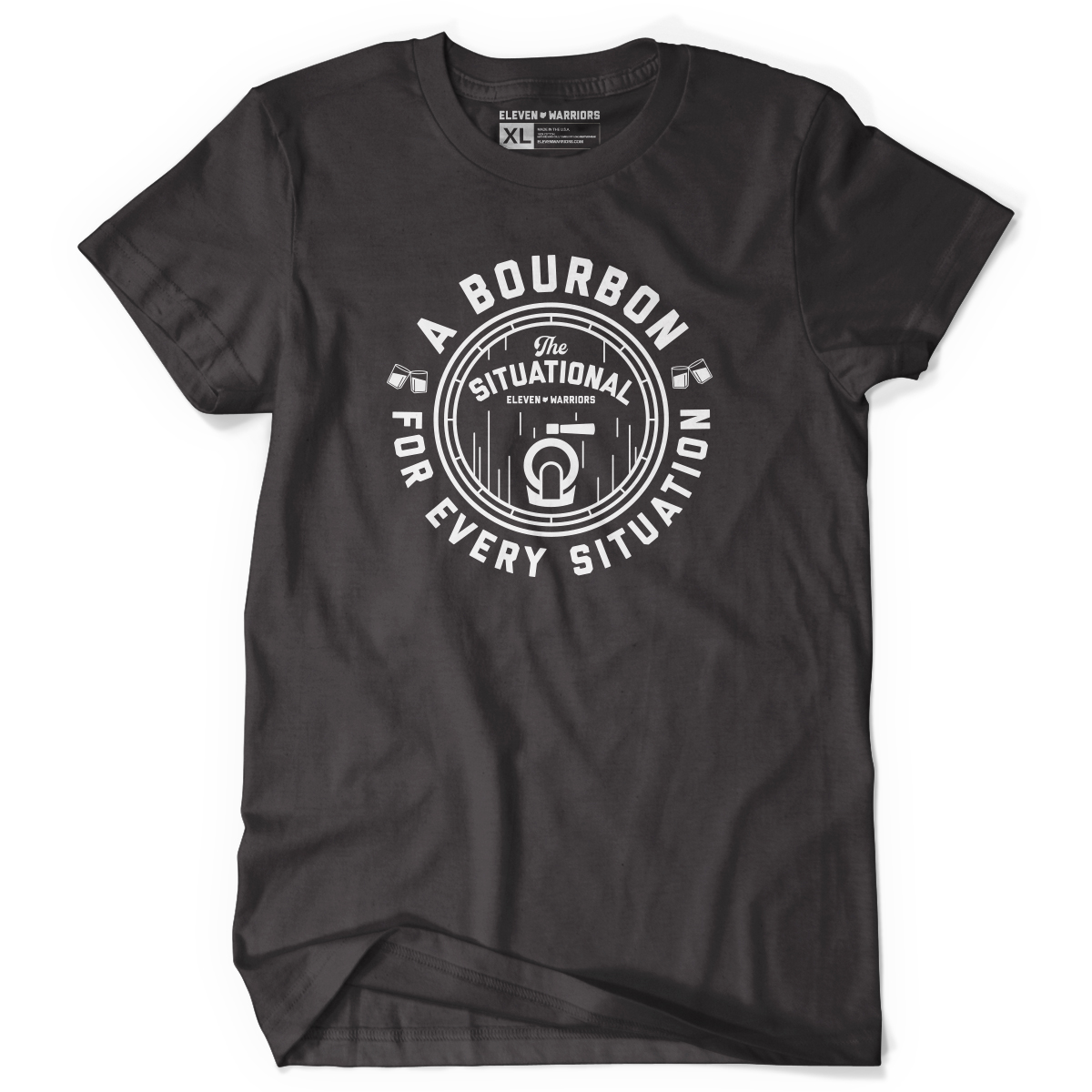 Ten years ago 11W held a fundraiser so we could hire our first actual trained and professional journalist. We turned that capital injection into Kyle Rowland, Ohio State credentialed the site and the next thing we knew other media outlets were citing us.
Our payroll and overhead are now significantly higher, which is only possible because our revenues are too. This site earns its money through several different channels ranging from non-intrusive advertising (Jason works very hard to keep it this way; please keep your ad blockers sheathed) to customized marketing campaigns. Hit me up if you'd ever like to discuss that for your company.
Eleven Warriors IT is top-shelf. Our servers hum and your transactions are secure. Our intent is to keep the content and community on par with the technology that keeps the site upright.
And then there's retail. Whenever you purchase a high-quality shirt from Eleven Warriors Dry Goods, you're buying apparel that is Printed in Columbus, Ohio™. The proceeds of our retail business fund important things like writer salaries, company-sponsored health insurance, and the rest of the benefits that support the full-timers here.
I don't draw a salary as one of the company owners, nor do I collect a commission from campaigns I bring to 11W or shirts like the one showcased here that celebrates this series, which is closing its 10th (!) year in syndication. Readers have asked for a Situational Bourbon shirt for years, and now one exists.
Funds from this shirt will keep the dream of quality Buckeye journalism alive and thriving. Like the rest of the catalog, it is Printed in Ohio™. It is also appropriate apparel for any situation.
Selling you clothing is not only more elegant than holding a fundraiser, it's a fashionable way to keep the 11W lights on while expanding our footprint. As an added bonus, if our paths ever cross in Columbus or anywhere else and you happen to be wearing this shirt, as a token of my gratitude I'll allow you to buy us both a bourbon. I keep my promises.
Thanks for getting Situational this season. Go Bucks. Beat Utah. Happy New Year!