The NFL draft is just one day away, which means it's time for my annual mock draft.
As I've done every year since I've started here at Eleven Warriors, I've predicted how the entire first round of this year's NFL draft will play out and where every Ohio State draft prospect will end up. The 2022 version of the mock draft, however, might have been the most difficult one to compile yet.
In all the years that I've been following the NFL draft, this one feels like the most unpredictable. Even though there's only a little more than 24 hours to go until the draft officially commences at 8 p.m. on Thursday, it's still not clear who even the No. 1 overall pick will be, and there are no picks that feel like locks this year.
Predicting how the NFL draft will play out is never easy; in my mock draft last year, I matched only eight first-round picks with the correct teams and still had a more accurate mock than over half of the other sportswriters who entered The Huddle Report's mock draft contest. I correctly forecasted the New Orleans Saints would select Ohio State linebacker Pete Werner with their second-round pick, but the rest of my projected landing spots for the Buckeyes proved to be off the mark.
Nevertheless, I've taken my best shot at connecting the dots once again and projecting who the 32 first-round picks will be and where each of Ohio State's draft hopefuls will land, and below, you can find all of my picks along with my explanations on why I projected each player to go where they did.
1. Jacksonville Jaguars: Travon Walker, OLB/DE, Georgia
Personally, I would draft Michigan defensive end Aidan Hutchinson with the No. 1 overall pick after watching him wreak havoc against Ohio State last season. The buzz leading up to the draft, however, has been that the Jaguars favor Walker, who is more physically gifted than Hutchinson even though he wasn't nearly as productive in college. That could be a pre-draft smokescreen, but Walker's emergence as a three-to-one betting favorite to go first suggests there's fire behind the smoke.
2. Detroit Lions: Aidan Hutchinson, DE, Michigan
If the Jaguars don't draft Hutchinson with the top pick, the Lions should have an easy decision at No. 2. He'd surely be a fan-favorite choice after playing for the Wolverines and growing up just outside of Detroit in nearby Plymouth, Michigan, and he's ready to make an immediate impact in the NFL after a dominant final season in maize and blue. Ohio State fans might not like seeing a Michigan player go in the top two picks, but they'll certainly understand it after watching Hutchinson's dominant performance in The Game.
3. Houston Texans: Sauce Gardner, CB, Cincinnati
The Texans have needs at more positions than they don't, which leaves plenty of options for what they could do with the No. 3 overall pick. An offensive tackle like N.C. State's Ikem Ekwonu or Alabama's Evan Neal would make sense, as would continuing the early run on pass-rushers by drafting Oregon's Kayvon Thibodeaux. The buzz leading up to the draft, however, has been that the Texans are targeting a cornerback. That cornerback could be LSU's Derek Stingley Jr., but the safer pick would be Gardner, who was the most dominant cornerback in college football last season under the tutelage of new Ohio State safeties coach Perry Eliano.
4. New York Jets: Kayvon Thibodeaux, DE, Oregon
At one time widely projected to be the No. 1 pick in this year's draft, Thibodeaux has become one of the draft's most polarizing prospects after his final season at Oregon fell short of expectations. Thibodeaux has shown he can be a dominant pass-rusher at his best, though, and is still arguably the most talented player in the 2022 draft class. As such, I don't see his slide lasting long on draft night, and the Jets are a prime candidate to snap him up with their first of two top-10 picks.
5. New York Giants: Ikem Ekwonu, OT, N.C. State
The Giants are widely projected to take an offensive tackle with the first of their two top-seven picks, and they have their choice of all of the draft's top offensive tackles in this scenario. While the Giants have been frequently linked to Mississippi State offensive tackle Charles Cross, most of those projections have come in mock drafts that have Ekwonu going in the top four, some as high as No. 1 overall. It would be a surprise if Ekwonu slid out of the top five.
6. Carolina Panthers: Evan Neal, OT, Alabama
This could potentially be the first landing spot for a quarterback, but the Panthers will have to decide if there's one actually worth taking with the No. 6 overall pick. If they don't, they'll likely be drafting an offensive tackle to help protect whoever their quarterback ends up being this season. Most mock drafts have Neal as one of the first two offensive tackles off the board, so he gets the nod over Cross here.
7. New York Giants (from Chicago Bears): Derek Stingley Jr., CB, LSU
Like Thibodeaux, Stingley is a polarizing prospect whose draft projections have varied, in his case because he missed most of the 2021 season with injuries after also battling injuries in 2020. When he's been on the field, however, he's shown all the traits to be an elite NFL cornerback, and that's why he'll likely be a top-10 pick on Thursday night. The Giants are expected to move on from No. 1 cornerback James Bradberry due to his salary, and they're thin at the position behind him, so there's a good chance they'll roll the dice on Stingley if he's still on the board at the seventh pick.
8. Atlanta Falcons: Garrett Wilson, WR, Ohio State
Atlanta is widely projected to select the draft's first wide receiver with the No. 8 overall pick, and there's a good chance that will mean the first Buckeye off the board. Jameson Williams and Drake London are also candidates to be the top wideout taken, but I'm putting my money on Wilson, who many consider to be the most complete receiver prospect in this year's draft and who is well worth a top-10 pick after a spectacular Ohio State career in which he caught 143 passes for 2,213 yards and 23 touchdowns in just three seasons.
9. Seattle Seahawks (from Denver Broncos): Malik Willis, QB, Liberty
From the moment the Seahawks traded Russell Wilson and acquired this pick as part of the return package, I've believed Willis would make sense as a successor for Wilson in Seattle. Like Wilson, Willis is an athletic quarterback with a big arm, and he projects to have the highest upside of any QB in this year's draft. While Willis probably wouldn't be a top-10 pick in most drafts, a subpar quarterback class will push him up the board this year, and the Seahawks could be the team that takes that chance.
10. New York Jets (from Seattle Seahawks): Jameson Williams, WR, Alabama
The Jets are rumored to be interested in trading for disgruntled 49ers star Deebo Samuel, which would likely mean trading this pick to San Francisco, but if the Jets are unable to work out a deal before the draft, they'll likely use this pick to draft a wide receiver for themselves. Williams has already made excellent progress in his recovery from the torn ACL he suffered in the national championship game, and as such, the former Buckeye speedster who finished his college career at Alabama is firmly in the mix to be a top-10 pick and one of the top two receivers off the board.
11. Washington Commanders: Chris Olave, WR, Ohio State
The Washington Commanders already have two former Ohio State receivers on their roster in Terry McLaurin and Curtis Samuel, and there's good reason to believe they're interested in adding a third, as Commanders coach Ron Rivera and general manager Martin Mayhew both attended Ohio State's pro day and Olave and Wilson were both brought to D.C. for pre-draft visits. Considering the success McLaurin has had in his first three years in Washington, it would make a lot of sense for the Commanders to bring in another former Buckeye who regards McLaurin as a "big brother."
"My guy Terry McLaurin... he was like a big brother to me."

WR Chris Olave on which NFL player he likes to model his game after. @OhioStateFB pic.twitter.com/0tVxIp71ZN

— CBS Sports HQ (@CBSSportsHQ) April 25, 2022
12. Minnesota Vikings: Kyle Hamilton, S, Notre Dame
Some draft analysts consider Hamilton to be the best player in the entire class. Seeing as Harrison Smith turned 33 in February and the Vikings are otherwise thin at safety, it would make a lot of sense for the Vikings to pair Hamilton with Smith to lead their secondary and add more playmaking ability to the back end of their defense.
13. Houston Texans (from Cleveland Browns): Charles Cross, OT, Mississippi State
Cross could easily be a top-six overall pick and the Texans could draft an offensive tackle with either of their two first-round picks, so he'd be an obvious choice in this scenario. Considered by some to be the best pass protector in the 2022 draft, Cross could pair with Laremy Tunsil to give Houston an elite pairing on the edges of their offensive line.
14. Baltimore Ravens: Jermaine Johnson II, OLB, Florida State
Johnson is another prospect who could easily be a top-10 pick even though he falls into the mid-teens in this mock draft. An explosive edge rusher who had 17.5 tackles for loss and 11.5 sacks for Florida State last season, Johnson projects as a good fit to play outside linebacker in the Ravens' 3-4 defense, addresses a need for the Ravens to bolster their pass-rush and could be considered the best player available in this scenario.
15. Philadelphia Eagles (from Miami Dolphins): Drake London, WR, USC
Even though they've already drafted first-round wide receivers in each of the last two years, the Eagles are expected to target another Round 1 wideout this year due to Jalen Reagor's struggles in his first two seasons in Philadelphia. They'll be hoping to land one of the draft's top four receivers – which could mean trading up to ensure they land one of them – but in this scenario, they land London as the fourth receiver off the board.
16. New Orleans Saints (from Indianapolis Colts via Philadelphia Eagles): Trevor Penning, OT, Northern Iowa
The Saints need a new left tackle after losing Terron Armstead to the Miami Dolphins in free agency, so they're expected to use one of their two first-round picks to draft one. Penning solidified himself as a first-round pick with a strong showing at the Senior Bowl and will likely be the top offensive tackle the Saints will have a chance to land unless they trade up again on Thursday night.
17. Los Angeles Chargers: Jordan Davis, NT, Georgia
The Chargers might have the NFL's best pass-rushing tandem after acquiring Khalil Mack to pair him with Joey Bosa, but they could still use some more beef on their interior defensive line. Davis, a 6-foot-6, 341-pound nose tackle who ran a 4.78-second 40-yard dash at the NFL Scouting Combine, can provide that and then some and is a perfect fit to anchor the middle of the Chargers' 3-4 defense at nose tackle, making an already intimidating defensive front even better.
18. Philadelphia Eagles (from New Orleans Saints): Trent McDuffie, CB, Washington
Cornerback is the other position of need the Eagles will likely look to address with their two first-round picks Thursday night, and McDuffie has risen through the draft process to likely be the third cornerback off the board. He's one of the last players still on the board who's being consistently forecasted as a top-20 pick and would project to be an upgrade opposite Darius Slay in the Philadelphia secondary.
19. New Orleans Saints (from Philadelphia Eagles): Kenny Pickett, QB, Pittsburgh
If you're looking for an explanation for why the Saints traded future first- and second-round picks to add a second first-round pick this year, drafting their quarterback of the future would be a good reason to do that. Pickett, a first-team All-American at Pitt last year, is the most polished quarterback in this year's draft  
20. Pittsburgh Steelers: Desmond Ridder, QB, Cincinnati
After the retirement of Ben Roethlisberger and the tragic death of Dwayne Haskins, Pittsburgh is also in the market to draft a quarterback this year. Ridder has been talked about more and more as a potential first-round pick in the weeks leading up to the draft and has been linked to the Steelers since making a pre-draft visit to Pittsburgh earlier this month. If Ridder joins Gardner in the draft's first round, it would be the first time Cincinnati has ever had two first-round picks in the same draft.
21. New England Patriots: Andrew Booth Jr., CB, Clemson
The Patriots are viewed as a potential candidate to trade down to acquire more picks, but whether they move down the board or stay put, there's a good chance they'll use their first-round pick on a cornerback after losing J.C. Jackson in free agency. Booth is the best cornerback available in this scenario and would address the Patriots' biggest need.
22. Green Bay Packers (from Las Vegas Raiders): Treylon Burks, WR, Arkansas
After trading Davante Adams to the Raiders, the Packers should strongly consider using this pick – one of two picks in the first two rounds they acquired from the Raiders for Adams – to draft a new target for Aaron Rodgers. Burks, who had 146 catches for 2,399 yards and 18 touchdowns in three seasons at Arkansas, is the favorite to be the fifth receiver drafted and brings a blend of size and open-field playmaking ability that should help soften the blow of losing one of the NFL's premier wideouts.
23. Arizona Cardinals: Kenyon Green, G, Texas A&M
There are several directions in which the Cardinals could go with their first-round pick – pass-rusher, cornerback and wide receiver are all options – but they might be inclined to start on offense after drafting defensive players in the first round of each of the last two drafts, and Green is arguably the best offensive player available in this scenario. He'd project as an immediate upgrade at right guard with the versatility to play anywhere along the offensive line if needed.
24. Dallas Cowboys: Zion Johnson, G, Boston College
The Cowboys are another team that could theoretically target a wide receiver or pass-rusher in Round 1, but their biggest need is at guard, making Johnson – who was among the players who made pre-draft visits to The Star – the top candidate to be the Cowboys' pick if Green is off the board. 
25. Buffalo Bills: Devin Lloyd, LB, Utah
The Bills don't have a ton of pressing needs entering the draft, giving them the flexibility to target the best player available regardless of position. In this scenario, that's Lloyd, who had a whopping 22 tackles for loss among 110 total tackles along with four interceptions in his final season at Utah. He might slide into the late first round because NFL teams don't value off-ball linebackers as highly as they once did, but Lloyd is a top-20 talent who would add a playmaker to the middle of the Bills' defense.
26. Tennessee Titans: Jahan Dotson, WR, Penn State
The Titans will likely be looking for an upgrade at slot receiver in this year's draft, and that's where Dotson projects to play in the NFL. While Dotson is smaller than the other receivers projected to be first-round picks, his production at Penn State (183 catches for 2,757 yards and 25 touchdowns), spectacular hands (which he put on full display against Ohio State in 2020) and 4.43-second 40-yard dash speed should make him a top-32 selection.
27. Tampa Bay Buccaneers: Devonte Wyatt, DT, Georgia
The Buccaneers will be looking for someone who can come in and contribute immediately as they attempt to make another Super Bowl following Tom Brady's unretirement, and the interior defensive line is where they need that most. Wyatt – who some actually consider to be Georgia's better defensive tackle prospect this year over Davis – would be a natural replacement for Ndamukong Suh, who remains an unsigned free agent.
28. Green Bay Packers: Logan Hall, DE/DT, Houston
If the Packers draft a receiver with their first pick, they'll likely look for defensive talent with their second first-round pick. They're another team that could be in the market for an interior defensive lineman late in Round 1. Hall, who's gained steam through the draft process as a potential late first-round pick, offers versatility to play both outside and inside and would be a good fit to play defensive end in the Packers' 3-4 front.
29. Kansas City Chiefs (from San Francisco 49ers via Miami Dolphins): Christian Watson, WR, North Dakota State
Like the Packers, the Chiefs have two first-round picks after trading away their superstar wide receiver, and there's a good chance they'll use one of the picks they acquired from that trade to draft a new wideout. Kansas City could specifically be looking for speed after dealing Tyreek Hill to the Miami Dolphins, and Watson would fit that need for speed after running a 4.36-second 40 at the combine.
30. Kansas City Chiefs: Kaiir Elam, CB, Florida
The Chiefs also need a new cornerback after losing Charvarius Ward to the 49ers in free agency, and Elam is a prospect who's been said to be rising in the days leading up to the draft. Also bringing the speed that the Chiefs tend to covet with a 4.39-second 40 time, Elam's combination of elite athleticism and 6-foot-2 size make him one of the highest-upside cornerbacks in this year's class.
31. Cincinnati Bengals: Tyler Linderbaum, C, Iowa
Even after signing three starting-caliber offensive linemen in free agency, the Bengals could still draft an offensive lineman early as they overhaul the unit that was their clear weakness last season. Linderbaum, who won the Rimington Trophy last season as college football's best center, would be great value late in the first round as the No. 14 overall player on the consensus big board compiled by The Athletic, and would give the Bengals a powerful anchor to complete their revamp up front.
32. Detroit Lions (from Los Angeles Rams): Lewis Cine, S, Georgia
With three Georgia defenders already off the board, I debated between three other Georgia defenders for the final pick of the first round, as Nakobe Dean won the Butkus Award as college football's best linebacker in 2021 while fellow Bulldogs linebacker Quay Walker is also regarded as a potential first-round pick. Safety is the Lions' more pressing need, though, and Cine's hard-hitting tackling combined with his sub-4.4 40 speed makes him a potential game-changer.
---
While Olave and Wilson are Ohio State's only likely first-round picks, there are five other Buckeyes who are projected to be drafted along with four Ohio State draft hopefuls who should at least get looks as undrafted free agents, and I've scoured the board to determine potential landing spots for each of them as well.
OT Nicholas Petit-Frere: Round 2, No. 48 overall, Chicago Bears
If any other Buckeye is going to sneak into the first round, it's likely Petit-Frere, as offensive tackle is one of the draft's premier positions and Petit-Frere fits somewhere into the second tier of OT prospects in this year's draft class. It's more likely that NPF will be selected on Day 2, however, and a fitting landing spot for him would be the Bears, who need an upgrade at offensive tackle to better protect his former Ohio State teammate Justin Fields.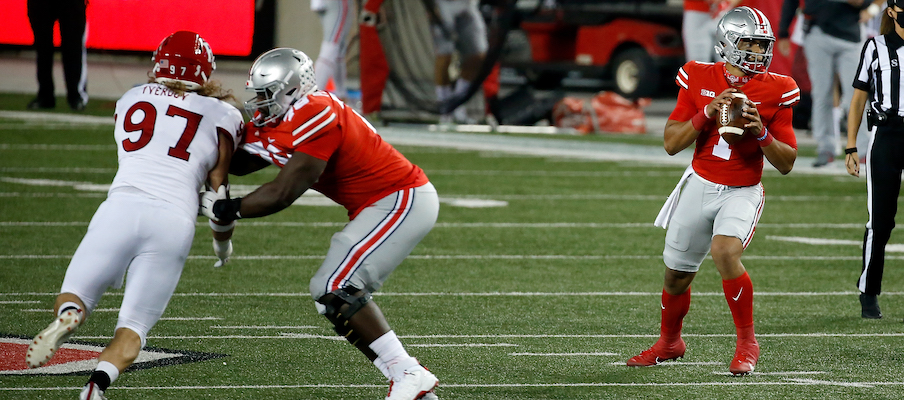 TE Jeremy Ruckert: Round 3, No. 73 overall, Indianapolis Colts
While it didn't help his draft stock that he was unable to work out at the NFL Scouting Combine or Ohio State's pro day due to a foot injury, there's still plenty of chatter that NFL scouts like Ruckert, who could easily be a more productive receiver in an NFL offense that uses its tight ends in the passing game more frequently than Ohio State. A good fit for Ruckert would be the Colts, who don't have a ton of proven receiving playmakers and have a need at tight end following Jack Doyle's retirement.
OT/G Thayer Munford: Round 3, No. 100 overall, Baltimore Ravens
It's uncertain whether Munford will be a late Day 2 pick or fall to Day 3, but the Ravens are a team that should consider drafting him either way, as they currently hold two third-round picks and a whopping five fourth-round picks. They'll likely use at least one of those picks to reinforce their offensive line, and Munford's experience playing both tackle and guard could make him an appealing middle-round option.
DT Haskell Garrett: Round 4, No. 136 overall, Cincinnati Bengals
Zac Taylor said at the Ohio State Coaches Clinic that Ohio State draft prospects are "always gonna get a longer look" from the Bengals, and Garrett might be the Buckeye who makes the most sense for the Bengals in this year's draft. Finding another 3-technique defensive tackle to rotate with B.J. Hill is among Cincinnati's top needs, and Garrett would fit that bill as a likely Day 3 draft choice.
DE/OLB Tyreke Smith: Round 6, No. 184 overall, Minnesota Vikings
Smith said at Ohio State's pro day that the Vikings were among the teams that have expressed the most interest in him at the pre-draft process, and they'll likely be looking to add pass-rushing depth this weekend. While he played defensive end at Ohio State, he has the athleticism to transition to playing outside linebacker in the Vikings' new 3-4 defensive scheme.
RB Master Teague: Undrafted free agent, Tennessee Titans
Although Teague isn't widely projected to be drafted, his impressive display at Ohio State's pro day should ensure he'll be scooped up quickly as an undrafted free agent. While the Titans already have a superstar running back in Derrick Henry, they could use more depth behind him, and Teague's Tennessee roots and rare physical attributes could make him a good fit to come in and compete for a roster spot.
DT Antwuan Jackson: Undrafted free agent, Carolina Panthers
As another likely undrafted free agent, Jackson will be looking to join a team that needs more depth at defensive tackle. The Panthers are a team that could use that but aren't necessarily projected to draft a defensive tackle early, which could leave the door for a player like Jackson – who played both nose tackle and 3-technique at Ohio State – to earn a roster spot as a backup on the interior defensive line.
CB/WR Demario McCall: Undrafted free agent, Cleveland Browns
While NFL teams will have to decide whether McCall is better suited to play cornerback, wide receiver or running back after he played all three positions at Ohio State, his experience playing on both sides of the ball and on special teams should help him land at least a tryout as an undrafted free agent. Considering McCall is a Northeast Ohio native, the Browns might be one of the more inclined teams to give him that opportunity.
WR Chris Booker: Undrafted free agent, Dallas Cowboys
Booker looks to follow in the footsteps of fellow former Ohio State walk-on wide receiver C.J. Saunders, who made the Carolina Panthers' practice squad and was eventually elevated to their roster as an undrafted free agent last year, and his excellent play on special teams for the Buckeyes gives him a shot. As a former high school teammate of Ezekiel Elliott, Booker has a connection in Dallas that could potentially make the Cowboys take a closer look at him.