For the duration of Ohio State's pro day Wednesday, Tyreke Smith grinned from ear-to-ear.
Flashing a wide smile is nothing new for the Cleveland native, who always seemed to be in high spirits during his four years at Ohio State. But back inside the Woody Hayes Athletic Center on Wednesday, Smith had plenty to be thrilled about. 
From an on-field standpoint, Smith participated in three drills Wednesday, posting marks of 9 feet, 9 inches in the broad jump, 7.06 seconds in the 3-cone drill and 4.24 seconds in the 20-yard shuttle. 
"I always think I can do better, and always want to do better," Smith said of his day. "But I'm cool with (my results)." 
Haskell Garrett, Tyreke Smith and Antwuan Jackson running through defensive line drills. pic.twitter.com/uHQXL1sXQt

— Dan Hope (@Dan_Hope) March 23, 2022
9-8 on the first broad jump attempt for Tyreke Smith: pic.twitter.com/G6vro7Lztk

— Griffin Strom (@GriffinStrom3) March 23, 2022
Ohio State defensive line coach Larry Johnson coached Smith through position drills, giving him a sense of familiarity after playing for Johnson for the past four years.
"Every time you get to work with him, it's like working with a Jedi, man," Smith said. 
Haskell Garrett, Tyreke Smith and Antwuan Jackson showing their ability to bend and turn. pic.twitter.com/hCBkwwjYRH

— Dan Hope (@Dan_Hope) March 23, 2022
The last few months have been a whirlwind, essentially what Smith called recruiting 2.0, only this time he has no say what team he'll play for. 
"That's exactly how they explained it at the NFL combine," Smith said. "It's like you're back to recruiting, but this time, they pick you. It's just about showing the guys my best self and showing them what I can give them on and off the field." 
Participating in the NFL combine earlier this month, Smith ran a 4.86 40-yard dash and had a vertical jump of 34 inches. Smith's measurables could help increase his draft stock, seeing as the 6-foot-3, 265-pound defensive end admits his college career statistics don't jump off the charts.
Smith totaled only eight sacks in his Buckeyes career: three in 2019 and 2021 and two in the COVID-19 shortened 2020 season. Smith isn't going to be a first-round NFL draft pick, but the 6-foot-3, 265-pound defensive end could be selected anywhere from the third to the sixth round. 
"Statistical-wise, I didn't really get where I wanted to be," Smith said of his college career. "But I pushed myself so hard as hell. And I go hard every time I step out on the field, so I really didn't have any regrets."
Smith could have returned for another year at Ohio State if he so chose because of the free year of eligibility all players received in 2020, but he decided against it. 
"I feel like this year was the year I was ready to come out," Smith said. "A lot of people asked why I didn't come out last year, but I feel like I just needed one more year with the brotherhood, seeing all my brothers every day and just pushing them and letting them push me, so it was great."
While Smith might be most likely to be a third-day selection on NFL draft weekend, there is certainly plenty of interest in the Ohio State defensive end if Wednesday is any indication.
All throughout the day, various representatives from different NFL teams were in his ear. Before workouts concluded, Tennessee Titans coach Mike Vrabel worked out Smith privately. At the end of the pro day, Smith was approached by a scout from the Los Angeles Rams.  
"He wanted to see how I felt I did, and told me I did good. He also asked me if I had a problem with LA," Smith said with a laugh. "I told him, 'Nah, I used to live out there in California, so I'm all good.'" 
After chatting with the Rams scout, a representative from the Atlanta Falcons briefly spoke with Smith and congratulated him on his workout performance. A few minutes later, Texans head coach Lovie Smith – one of three head coaches in attendance along with Vrabel and Washington Commanders coach Ron Rivera – pulled Smith aside. The two sat on a bench on the far sideline away from prying eyes and spoke for more than 20 minutes.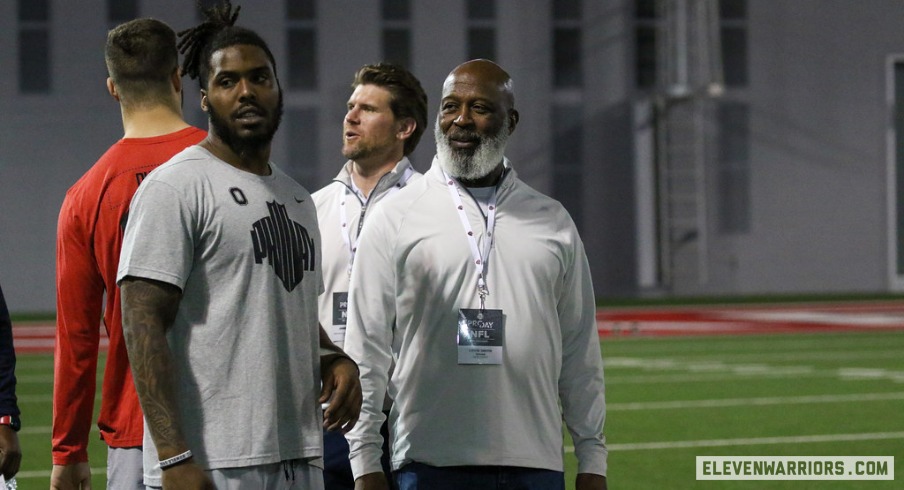 Smith said other teams he has met with recently include the Seattle Seahawks, Minnesota Vikings and Cincinnati Bengals, just to name a few, though he believes he's talked with representatives from every NFL team at least twice after participating in the Senior Bowl and NFL Scouting Combine.
"There's so many, I feel like I've heard from every team," Smith said. "When you come out of these interviews, you feel like you ace it with all of them. So it's really hard to gauge anything or where you're at with the teams. I just go into them and be myself, be personable and be funny. It's just another day at the end of the day." 
As he's gone through those interviews, Smith has tried to make his case that he can help any NFL team.
"I can bring versatility, I'm durable, I can do anything, whether you want me on the edge or in coverage," Smith said. "If you want me on special teams, I'll do it for the team."