I'm a big fan of the Tour de France.
If you're not familiar, a stage of the most storied bicycle race on the planet works something like this: teams of riders have a common start time, and then inevitably several teams (or individual riders) break off from the main group. Sometimes it's just to test the rest of the field for a bit, sometimes it's to make a genuine run at winning a stage, and sometimes it's to screw over another team. But to make a surprisingly complex sport far too simple, the fun of watching the Tour is figuring out the cat-and-mouse game that plays out as the main group of riders tries to figure out how to hunt down those that broke away from the pack.
Usually they do, but in between often thrilling end-of-stage finishes is hours and hundreds of miles of grueling bike riding. It is agonizing and exhilarating to watch, even if you have confidence in a predictable outcome, because you know in the back of your head that sometimes, sometimes, the lone wolf in the breakaway ends up winning the day.
Michigan has won the Big Ten football championship for the first time since 2004.
This is not a predictable outcome. This is especially not a predictable outcome if you were paying attention to Michigan football last season when they looked like absolute boiled ass, but the fact is that in 2021 the Wolverines are very good and going to the College Football Playoff where they have a not unreasonable chance of winning the whole thing.
How it started: How it's going: pic.twitter.com/K1qyUnQ9DR

— Jim Weber (@JimMWeber) December 5, 2021
For Ohio State, this is frustrating but also presents an opportunity that they haven't had in the past five seasons, namely that they now have a clear and unavoidable measuring stick within the conference that they must now strive to beat.
As an example, the Buckeyes have unsurprisingly had the best offense in the conference every year since 2016, oftentimes by a wide margin. Even in 2021, they're averaging almost 100 yards per game more than the next closest team, which is relevant because that team is the Michigan Wolverines. Michigan also sports the third best defense in the conference in 2021 (giving up just a shade over 316 yards per game).
This combination has confronted the Buckeyes before, as in 2019 the Wisconsin Badgers were second in the conference (again, to Ohio State) in both offense and defense, but they lost the Big Ten championship to the Buckeyes and following year their numbers slipped precipitously on offense and in the win column (and Ohio State didn't play them anyway). Penn State has looked fantastic for a few seasons in a row, only to stumble inexplicably. We joke about Purdue, but damn: they really are Ohio State's toughest out in the past decade or so.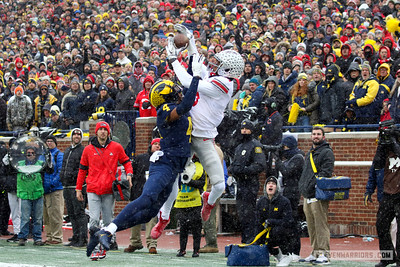 So given the inconsistency of Big Ten competition and frequent Buckeye dominance, it's easy to understand why fans and outside observers might've moved away from looking inside the conference for an adequate foe to measure Ohio State to.
Which is why it has been a long, long time since we've tried to compare the Buckeyes to anyone but the Alabamas and Clemsons of the world, but the problem in doing so is that those are hypothetical opponents who might only become relevant depending on conference shenanigans and a mercurial playoff committee. An amorphous hazard that Ohio State fans are free to feel confident about if they've won enough games. In other words, if the Buckeyes win the Big Ten, then the Crimson Tide emerges from the mist and we're free to wring our hands about them, but that threat isn't some Sword of Damocles hanging over Ohio State's head all season.
If Michigan can build off 2021 and become a consistent threat to Buckeye hegemony, then Ohio State knows what their standard as a team has to be to even consider rolling the dice in the postseason, because the Wolverines are always going to be there in late November as a roadblock to glory. It's a test that can make Ryan Day and the Buckeyes better, but it's one that they had better start taking notes on right now.