Before each Ohio State game, Eleven Warriors catches up with a media member who covers the opposing team to get his or her perspective on the Buckeyes' upcoming opponent.
Before Ohio State's final game of the regular season, we welcome back Isaiah Hole, the publisher of Wolverines Wire, to get his insight on the rivals ahead of this week's battle in Ann Arbor.
As the Wolverines bring a 10-1 record into this week's game, are they capable of ending their losing streak in The Game this year? How has Michigan's defense improved under new defensive coordinator Mike Macdonald, and do the Wolverines have the offensive balance to adjust if Ohio State shuts down their run game? Who has to step up in a big way for Michigan to have a chance to win, and will Jim Harbaugh's seat get hot again if Ohio State hands him another rivalry game loss?
Hole gives us in-depth answers to all of those questions and more in our rivalry game edition of Across The Field.
Michigan is 10-1 this season after going just 2-4 last season. What have been the biggest keys to the Wolverines' turnaround?
Hole: First and foremost, the team somewhat lifted itself up by its bootstraps. There was talk going back to spring ball about a renewed energy – some of that was infused by all the new coaching hires, but a lot of that was player-driven. After the 2-4 campaign, the seniors in particular found the level of play unacceptable, and when you have players like Aidan Hutchinson, a team captain, demanding accountability and leading with his energy and play, it changes things dramatically.
It also can't be overlooked that there were giant changes on the coaching staff, most notably bringing in Mike Macdonald from the Baltimore Ravens to replace Don Brown. Brown's defense was great until it wasn't. It had a level of predictability that eventually even teams such as Rutgers had figured out last year. Suddenly, Michigan's back to having a solid defense after that side of the ball had let the Wolverines down so much over the past year-plus, and there are plenty of other great coaches who came in with solid track records — like Steve Clinkscale on that side of the ball, and Michigan alum Mike Hart on the other side.
Lastly, the scheme matches the players' talents rather than trying to force a square peg into a round hole. For instance, it's not that Michigan can't pass the ball, it's just that it prefers to run, because it has an offensive line that's more suited for that and three excellent running backs in Hassan Haskins, Blake Corum, and the emerging Donovan Edwards. Instead of Josh Gattis' 'speed in space' looking like an emulation of what Alabama ran under him and Mike Locksley, the offense looks much closer to Jim Harbaugh's Stanford. That works this year, because the personnel dictates it. We haven't necessarily seen that as the approach on either side of the ball in recent years.
Jim Harbaugh enters this game with a 3-9 record in rivalry games after another loss to Michigan State earlier this season. Will his seat get hot again if he falls to 0-6 against Ohio State, or has he already done enough to ensure he'll be in Ann Arbor for at least one more year?
Hole: No, he won't be on the hot seat if things go awry this weekend. While the fan base might be impatient, the powers that be understand that Ohio State is, and has been, a juggernaut for decades — if not longer. While Michigan was trifling with various coaching changes, the Buckeyes had one bad year, and the athletic department recognizes that.
That said, progress has to be shown, and there's a belief going into the game that the pieces are there that can deliver. I'm not saying they will, but there has long been the thought that there isn't as sizable a talent gap as it's been perceived as much as a mixture of coaching mistakes and a lack of execution. Harbaugh's willingness to overhaul the coaching aspect and the fact that Michigan enters The Game at 10-1 this season helps give him a lot of leash, along with the Wolverines at least evening the score against Wisconsin and Penn State this year.
Still, he has to do better against rivals, no doubt. Perhaps more unacceptable than the Ohio State record is that he is now 3-4 against Michigan State, when he very easily could have been 7-0. More often than not in that game, the Wolverines find ways to lose and give MSU ample chances to win. That's certainly unacceptable, but it won't likely cost him his job in the short-term.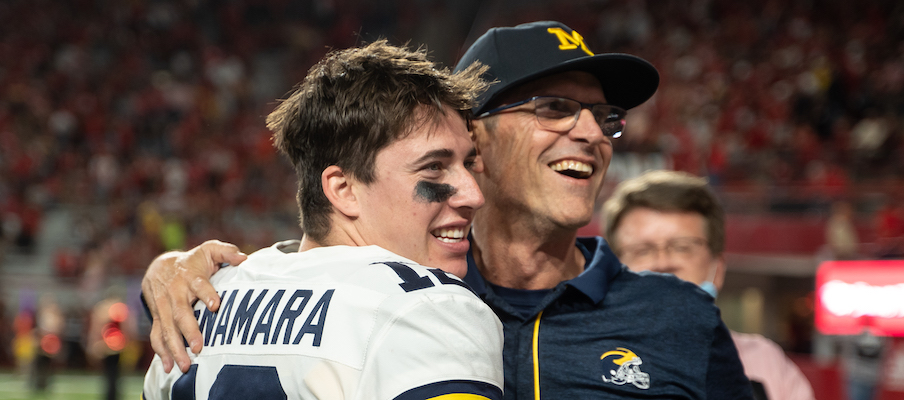 We've talked in the past about how Michigan hasn't put the same emphasis on this rivalry as Ohio State does. Have you seen that change this year?
Hole: That has wildly changed this year, yes. Though Michigan is quite reticent on providing specifics as to everything it does to emphasize the rivalry now. We've gotten glimpses –from the leaked strength room sign that asks, 'What are you doing to beat Ohio State today?' to the renamed 9-on-7 drill which is affectionately known as the 'Beat Ohio' drill now. But, when we've asked the players or the coaches what all they do to prioritize The Game, they say there's a lot more, they just won't tell us. We do know they have spent a lot more time in practice and in film study over the course of the year preparing for the Buckeyes, but again, they really won't tell us much more than simply acknowledging that fact.
The one thing I will note is that at Big Ten media days, Aidan Hutchinson said that the approach was to prepare for Ohio State constantly, and that if they did their job right, that would make this team capable of beating the rest of the teams on the schedule. Gaffes in East Lansing notwithstanding, so far that's proven prescient.
Michigan ranks in the top 10 nationally in both scoring and total defense, but the Wolverines had highly ranked defenses when Ohio State put up 62 in 2018 and 59 in 2019. Is this year's defense different?
Hole: This defense is wildly different, yes.
There had been something of a misnomer that Don Brown singularly ran man coverage in his Michigan tenure, but he did run a fair amount of zone, as well. In 2016, his use of a mixed man-zone look, splitting the field in half, played a big part as to why J.T. Barrett couldn't figure things out until late in the game. He also had a masterful game plan in 2017. But in 2018, Michigan was solely in man, and while it implemented more zone in 2019, Brown was still quite predictable. One thing I've been told by multiple people close to the program is that Ohio State long had a beat on Brown's play calls and his tendencies, which made it that much easier to pick the Wolverines apart. Other teams may have had those abilities, but not the athletes to really punish Michigan given their own talent gaps. But it was obvious vs. Ohio State.
Mike Macdonald is basically the opposite of Don Brown. He comes from the Baltimore Ravens and was considered the heir apparent to Wink Martindale there. He mixes up his coverages constantly, also by formation, working to confuse the opposing quarterback and offensive line as much as possible. He's not quite as blitz-heavy as Brown, which hasn't really mattered thanks to the production garnered by Hutchinson and fellow edge rusher David Ojabo (each has 10 sacks through 11 games). In 2018, Ohio State managed, mostly, by throwing underneath mesh concepts, which Brown had no answer for. This year, we've seen teams try it and it's gotten stopped with regularity.
This is much more of a 'bend but don't break' defense than the previous, but it's still bent quite little, as Michigan has the No. 10 total defense in the country by yards allowed. Granted, it hasn't played many high-powered offenses, but it did a decent job (mostly, though the second half saw some breaks) against a good Nebraska offense, and it was basically able to take Jahan Dotson away from Penn State.
I have concerns about the run defense, personally, but it seems that it's good at stopping the run against teams that run (like Wisconsin) and bad at it when going up against teams that pass (against Michigan State, the plan appeared to be to neutralize Payton Thorne and the pass game, which left the maize and blue susceptible to Kenneth Walker III).
I'll just say this: I'm more confident that the defense will get some stops than I was in 2019. How many will be up to the execution on both sides, of course, but this is a better defense from a schematic standpoint than what Ohio State saw the last two times it faced Michigan.
Ohio State's rushing defense shut down Kenneth Walker last week. Are the Wolverines good enough to have more success running the ball against the Buckeyes? If Ohio State can force Michigan to pass, is Cade McNamara good enough to lead the Wolverines to a big day through the air?
Hole: I'll say yes and yes, but I'm not sure on the former exactly what actual success will equate to.
As far as Michigan's running game is concerned, given that it had decent success against Wisconsin, the No. 1 rushing defense in college football, I do believe that it can run the ball on anybody, to some degree. That doesn't mean I think it will be able to get 200-plus yards on Ohio State, but I also don't think that will be the plan, per se. Against Wisconsin, the plan was to run to keep the defense honest in the pass game, and I would imagine the same thing will happen in this game. The target – which I believe Michigan can hit if it remains committed – will probably be something like 150 yards rushing on the day.
There's a misnomer that Michigan can't pass the ball. It actually more so refuses to because the run game has tended to work in most games. When it's needed to pass, it has been able to do so with regularity. The Wolverines with Cade McNamara at the helm rely on much more of a short passing or intermediate game, working either around the line of scrimmage or underneath, taking advantage of one-on-one coverage in most cases. If need be, they will go downfield, but generally not over the top of the defense (though players have said that is in their arsenal). McNamara has been incredibly efficient, doesn't take many sacks, hasn't thrown many interceptions, and generally makes the right reads and has few mistakes.
He spreads the ball out a ton; there really isn't a 'leading' receiver on this team. Most games we see a different player rise up – running back Donovan Edwards had 170 yards against Maryland, Andrel Anthony starred against Michigan State, tight end Erick All had the game-winning catch and run against Penn State, Roman Wilson had a big game against Wisconsin and Cornelius Johnson has starred in multiple games. There isn't one standout at this juncture, but the offense appears comfortable in spreading the wealth so much that you really don't know who will step up any given game.
And remember, if Michigan feels it does need to pass downfield, it has worked freshman J.J. McCarthy in quite a bit throughout the season, and he has that ability, along with accuracy.
Who are the Michigan players that need to have big games for the Wolverines to have a chance to win?
Hole: For me, really it's about five players: edge rushers Aidan Hutchinson and David Ojabo being the most important, really anyone in the secondary as a corollary, running back Hassan Haskins and Cade McNamara.
We haven't talked much about Haskins, but with Blake Corum out, he's been a workhorse. Michigan's running backs don't really have individual eye-popping numbers thanks to the by-committee approach, though Haskins does have more than 1,000 yards on the season and Corum likely would have gotten there if he hadn't missed the last two-plus games. Like the previous question alluded to, Haskins needs to be OK to give McNamara a chance. The good thing about him is that he runs with power, always falls forward, turns 2-yard runs into 5-yard runs, can catch the ball out of the backfield (a new wrinkle) and has incredible athleticism for a power runner.
But the biggest part of the game, overall, is whether or not Michigan is able to pressure Stroud. If it can't, game over. If it can, like it was able to back in 2016, then it will be a game. Macdonald doesn't just place his rushers in static spots on the line – he moves them around a lot, particularly Hutchinson, so that teams aren't always ready for where he's coming from. I would expect that to be the case again this week. A lot of the pass defense's success has been due to this tandem, because when people say that passers like Taulia Tagovailoa simply 'missed' his receiver, that was by design, because he was constantly being flushed. Michigan has had nearly every quarterback (really, every quarterback) under duress all season long, so that will determine whether or not Michigan can slow Ohio State down enough, or if it will indeed be a repeat of the last two games.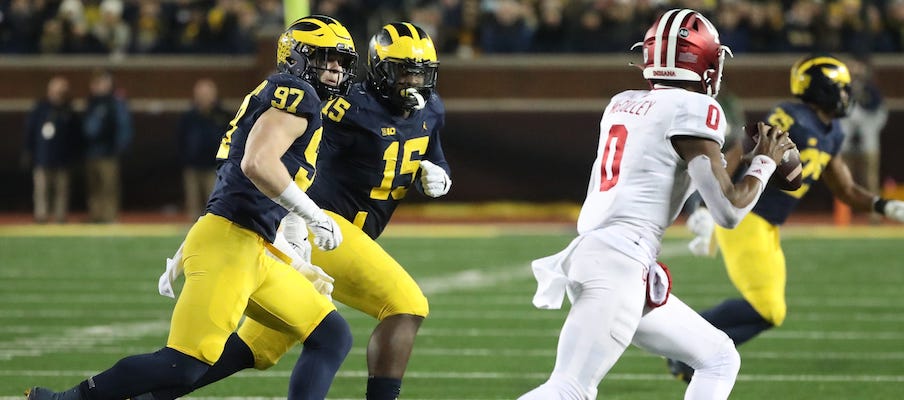 Which outcome do you think is most likely: Michigan ends the losing streak, Ohio State wins a close battle or another blowout win for the Buckeyes?
Hole: Perhaps it's my faith in the Michigan defense to have answers, but I think the most likely outcome is that Ohio State wins a close-ish game on Saturday. I don't think the Wolverines will all-out stop OSU, but if it can slow it in a similar way to how Penn State or Nebraska or Oregon did, it will give them a chance. I still think that Wisconsin has the best defense that Michigan will have faced all year, but I feel like the Buckeyes will still have a beat on the Wolverines overall, which will make it difficult.
Quite honestly, I wouldn't be surprised if any of your presented scenarios happen — yes, I think Michigan *can* win, but I'm not saying that it *will* — and a blowout is always in the cards for any team facing the Buckeyes. But I think the maize and blue will have figured out enough to keep things close. Ohio State is just way too talented for me to think or predict that it will end up going the Wolverines' way though.