While most of the conversation surrounding Ohio State's defense this offseason has been focused on the need for improvement in the secondary, the front seven might be what the Buckeyes really need to be at its best in their first game of the year against Minnesota.
Minnesota's big star is Mohamed Ibrahim, who ranked second among all Football Bowl Subdivision running backs with 153.7 rushing yards per game last season. He topped 100 rushing yards in all seven of the Golden Gophers' games in 2020, and had 30 runs of 10-plus yards – the most of any FBS player who played in fewer than 10 games last season. He ran for 157 yards and two touchdowns against the Buckeyes as a redshirt freshman in 2018, the last time Minnesota played Ohio State.
That means Ohio State's linebacker unit, which will feature a brand new starting lineup on Thursday following the departures of Pete Werner, Tuf Borland, Baron Browning and Justin Hilliard, will need to be ready to step up to slow down Ibrahim on Thursday. And it's made tackling a big point of emphasis for the Buckeyes during the preseason.
"I think that any time you're playing in the Big Ten, you're gonna go against really good running backs. We've played against good running backs before, but this guy is built low to the ground, he breaks tackles," Ryan Day said Monday. "So that's why we spent a lot of time tackling in the preseason. And we gotta do a good job of getting him down. There's a lot of different ways that we're gonna look to do that. But he's a very good running back, he runs hard, their offensive line does a good job of getting movement. We're gonna have to defeat blocks and tackle well."
Teradja Mitchell, one of the linebackers who's expected to be in that starting lineup on Thursday, said the Buckeyes know they need to be fundamentally sound if they're going to shut Ibrahim down.
"Definitely can't arm tackle him," Mitchell said. "I think he's one of the better backs in the country. So it's definitely going to be a challenge for the defense."
Up front, Ohio State defensive end Zach Harrison said the Buckeyes "gotta make sure that we're gapped out and just gotta keep our eye discipline and don't let them have any lanes to run through."
"From what I watched on film, he's an explosive guy," Harrison said of Ibrahim. "Good at finding holes and good at finding little seams and that's something that is a challenge for us."
Although Ohio State has tried to prepare its defenders for the battle ahead with physical practices over the past four weeks, there have been limits on how much the Buckeyes can do in that regard. Rule changes made by the NCAA's Division I Football Oversight Committee this offseason limited teams to just nine fully padded practices in preseason camp. And there's no true substitute for game experience, which Ohio State's linebackers don't have much of.
Nonetheless, Mitchell is confident that his unit will be ready. 
"We've been having some very physical practices, and I feel like we've got an opportunity to bang a little bit, so we'll be good," Mitchell said.
Mitchell believes going up against 5-foot-8, 225-pound Ohio State running back Miyan Williams in practice has helped the defense prepare for Ibrahim, a 5-foot-10, 210-pound running back who is a compact, strong runner with plenty of speed and quickness.
"They're kind of the same build, same play style," Mitchell said of Ibrahim and Williams.
The challenge for Ohio State's defensive front seven in Minneapolis won't be solely because of Ibrahim's ability to run the ball, but also because of the offensive line he'll have blocking for him, which is both the most experienced and one of the biggest offensive lines in the country. The Golden Gophers have seven offensive linemen who have each started at least 10 games, and their projected starting lineup is massive across the board, consisting of left tackle Sam Schlueter (6-foot-6, 325 pounds), left guard Blaise Andries (6-6, 335), center John Michael Schmitz (6-4, 320), right guard Conner Olson (6-5, 310) and right tackle Daniel Faalele (6-9, 380).
That size has stood out to Harrison as he's prepared for Thursday's game.
"They're big, that's the first thing I noticed," Harrison said. "They move well, they're very fast, they move laterally. That's definitely going to be the challenge for us on the D-line. But I feel like we're an experienced D-line, as well, so it's going to be a good matchup."
Mitchell said "you can tell they're an older group" when watching Minnesota's offensive line on film.
"It's going to be a challenge," Mitchell said. "They're an aggressive offensive line. They can get running sideways. They can go from sideline to sideline as far as blocking."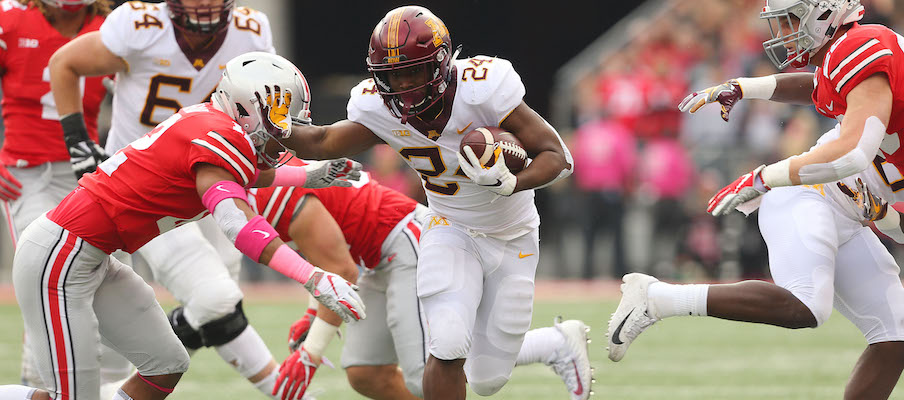 Going up against big offensive linemen that can move well shouldn't be anything new for Ohio State's defenders, though, considering that they do it every day in practice. Dawand Jones, the Buckeyes' new starting right tackle, has comparable size (6-8, 360) to Faalele, while left tackle Nicholas Petit-Frere (6-5, 315), left guard Thayer Munford (6-6, 320), center Harry Miller (6-4, 315) and right guard Paris Johnson Jr. (6-6, 315) round out a large and athletic offensive line that Mitchell called "the Space Jam Monstars" earlier this month.
Minnesota's offensive line won't make it easy for Ohio State's defensive front to stop the run or pressure Gophers quarterback Tanner Morgan to help the secondary on Thursday night, but the Buckeyes believe the work they've put in throughout August will have them ready for the test.
"Our offensive line, iron sharpens iron, and they're as big as Minnesota, so that's helping us right now," Ohio State defensive line coach Larry Johnson said earlier this month. "And then we've got some elite running backs, and that helps us when we go against each other. So I think we're getting ready and prepared for them, because our offensive line is so huge and very talented."