For the fourth time in the past two decades, Ohio State will begin a season away from Ohio Stadium when it opens the 2021 campaign on the road against Minnesota Thursday night.
Ryan Day will kick off his third season at the helm of the Buckeye program with a No. 4-ranked Ohio State team fresh off a national championship game berth and 21 straight wins against Big Ten opponents, but P.J. Fleck's Golden Gophers will be far from the easiest foe on the Buckeyes' schedule.
Day and Fleck shared the Big Ten's Coach of the Year award in 2019 following stellar seasons by both programs, but while Ohio State made it to the national championship game last year, Minnesota went just 3-4.
The Gophers' ho-hum 2020 may solidify their status as two-score underdogs to the Buckeyes even at home, but the team has enough returning talent and experience to make things interesting for an Ohio State team with questions of its own to answer going into the season.
As Ohio State's first game week officially begins, we delve into five things to know about the Buckeyes' first opponent.
Winless against Buckeyes since 2000
Like most teams in the Big Ten at present, Minnesota doesn't have much success to show from its past several encounters with the Buckeyes. Actually, that would be understating things, because the Gophers have lost 11 straight to Ohio State if you count the Buckeyes' vacated win in 2010.
Minnesota has claimed just one win against Ohio State in the 21st century, last beating the Buckeyes on Oct. 13, 2000, when Glen Mason's unranked Gophers knocked off the No. 6 Buckeyes by a score of 29-17 at Ohio Stadium. The game served as the first loss of John Cooper's final season at the helm in Columbus.
Since then, the Buckeyes have generally faced little resistance from the Gophers, beating Minnesota by an average score of 36-14 during the 11-game win streak.
The last two meetings between the two Big Ten foes took place in Columbus. Dwayne Haskins hung 412 yards and three touchdowns on Fleck and company in a 30-14 win in 2018. Ezekiel Elliott rushed for 114 yards in a 28-14 victory in 2015. The aforementioned 2018 game is the lone matchup between Fleck and Ohio State thus far.
Fleck has had historical success
He may not have a win over Ohio State under his belt, but Fleck has enjoyed historically significant success at the helm of the Minnesota program when compared with previous Gopher head coaches.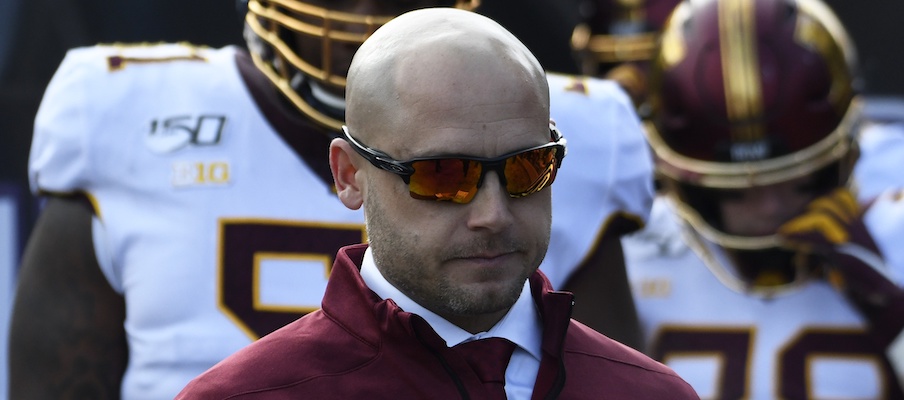 Fleck has gone 26-19 since taking over the reins in Minneapolis in 2017, which gives him a win percentage of .578 over his first four seasons. Among Minnesota head coaches who have coached at least 20 games, Fleck has the highest win percentage since Bernie Bierman, who possesses a mark of .716 after stints at the helm of the Gopher program from 1932 to '41 and 1945 to '50.
Although Fleck and company suffered a setback with a disappointing 3-4 2020 season during the COVID-19 pandemic, the Gophers' 2019 campaign still ranks among the program's finest in the past 60 years.
With an 11-2 record two seasons ago, Fleck delivered Minnesota its first double-digit win total since 2003, and the most wins in a single season since 1904, when the Gophers went 13-0 under head coach Henry Williams and claimed a national championship. With a final AP Poll placement of No. 10 in the country in 2019, Fleck gave Minnesota its highest-ranked finish since 1962.
Although Fleck has coached in just two bowl games for Minnesota so far, he is one of only two head coaches in program history with an unbeaten record in bowl appearances.
Expect the run
Equipped with the Big Ten's reigning running back of the year and a tenured offensive line that features five seniors, the strength of the Gophers' offense is no secret entering its season-opening matchup with the Buckeyes.
Only one running back in the country averaged more yards per game in 2020 than Minnesota's Mohamed Ibrahim, who returns for a redshirt senior season after chewing up 153.7 yards per game on average last year. In just seven games, Ibrahim totaled 1,076 rushing yards and 15 touchdowns to finish the season as a third-team AP All-American and one of the top backs in America.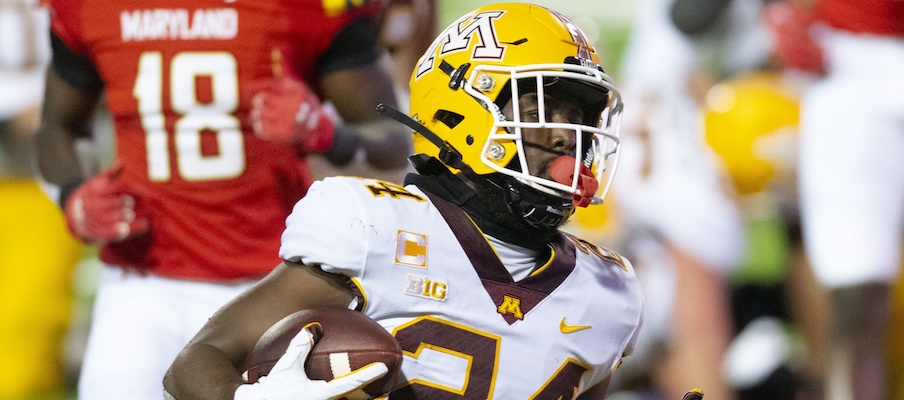 Ibrahim's got plenty of protection up front as well, as four of the five projected starters on the Gophers' front line are fifth- or sixth-year seniors. The other, 6-foot-9, 380-pound right tackle Daniel Faalele, is a fourth-year senior in his own right, and returns to the program after opting out of the 2020 season.
Minnesota has a pair of all-conference performers returning on the offensive line in right guard Connor Olson, who has 45 starts under his belt, and left guard Blaise Andries, who has started every game of the past three seasons for the Gophers.
With an average of 191.9 yards per game on the ground as a team last season, Minnesota had the Big Ten's fourth-best rush attack, and backup running backs Trey Potts and Cam Wiley are expected to see carries behind Ibrahim this season, as well.
Returning experience in spades
A handful of Minnesota's redshirt seniors have already been mentioned, but the full breadth of the Gophers' returning experience in 2021 is worthy of closer inspection.
Starting quarterback Tanner Morgan, Ibrahim at running back, top wideout Chris Autman-Bell and top tight end Ko Kieft are all redshirt seniors. As stated above, the Gophers' entire starting offensive line save one player is comprised of redshirt seniors, with the lone exception being a true senior himself.
Ten starters return on offense for Minnesota. The unit ranked in the middle of the pack nationally in total (69th) and scoring (71st) offense, it will have a chance to prove that the COVID-plagued 2020 season was an aberration with a bounce-back 2021.
The Gophers also return 10 starters from their 2020 defense. Defensive coordinator Joe Rossi's unit lost only cornerback Benjamin St. Juste to the NFL. The Minnesota defense took no shortage of lumps last season, ranking in the latter half of the country and bottom of the Big Ten in many defensive categories, but the Gophers gained experience and could have redshirt seniors starting at every position on the defensive line, with three projected senior starters at cornerback to boot.
Passing game questions and defensive deficiencies
Perhaps the biggest letdown for the Gophers in 2020, along with their poor defensive play, was the mediocre performance of a passing game that had been consistently explosive with many of the same pieces just one year prior.
Morgan, who threw for 3,253 yards, 30 touchdowns and seven interceptions on 66 percent passing in 2019, regressed in every major statistical category in 2020, completing 57.9 percent of passes and throwing for 1,374 yards, seven touchdowns and five picks in seven games.
Averaging less than 200 yards per game through the air, the Gophers ranked just 92nd in the country in passing offense last season, even with first-round draft pick Rashod Bateman at wide receiver. Morgan won't have Bateman at his disposal in 2021, but Autman-Bell could fill the role of top option quite nicely if the fifth-year senior is healthy.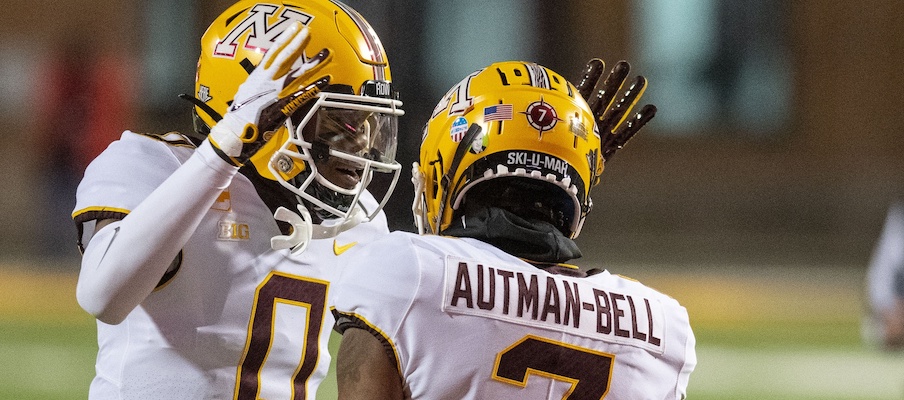 Autman-Bell suffered a leg injury during preseason camp, but Fleck said he is "progressing incredibly quickly" in his rehab from the injury. The 6-foot-1, 215-pound playmaker rivaled Bateman's yardage with 430 yards through the air last season despite catching 14 fewer passes.
Minnesota's biggest problems, especially going up against the Buckeyes, lie on the other side of the ball. The Gophers allowed 415 yards per game last season. With more than 207 of those coming on the ground, Minnesota had the second-worst run defense in the conference, ranking No. 102 in the country.
The Gopher front four also struggled to get to the quarterback last season. Its eight sacks in seven games were fewer than all but one team in the Big Ten. More than half of those came from defensive end Boye Mafe, who could be a breakout star for the Gophers this season.
Watch out for Minnesota EDGE Boye Mafe in 2021 pic.twitter.com/cmNnY86oZI

— PFF College (@PFF_College) June 8, 2021
It could be largely the same group from last year lining up against the Buckeyes, save for some key transfer portal additions, but Minnesota will have to improve in a major way defensively to slow the perennially high-powered offense of Ohio State.