In less than one week, we'll finally get our first real look at Ohio State's starting lineup and depth chart for the 2021 season.
While Ohio State no longer releases an official depth chart, we'll be able to piece that together for ourselves once the Buckeyes begin playing games. That said, we've already been able to piece some of the depth chart together over the past four weeks after watching one full Ohio State practice and portions of four other Ohio State practices and talking to Ryan Day several times over the past month as well as all 10 of Ohio State's assistant coaches and players from each position group.
So with just six days to go until the Buckeyes officially begin their season at Minnesota, it's time for a final preseason projection of what Ohio State's depth chart will look like this fall. Like our previous depth chart projections earlier this offseason, I'm projecting the three-deep depth chart for every offensive and defensive position and the two-deep depth chart for each specialist position.
Quarterback
1. C.J. Stroud
2. Kyle McCord
3. Jack Miller
Stroud, who had been viewed as the frontrunner to start all offseason, was officially named Ohio State's starting quarterback for the Minnesota game last weekend. That doesn't necessarily guarantee he'll be the starter for the entire season, but he will be as long as he stays healthy and performs up to expectations.
Ryan Day hasn't said who Ohio State's backup quarterback will be, and that could be more fluid over the course of the season. McCord was impressive when we had opportunities to watch him throw this spring and summer, though, and I believe he would be the first quarterback off the bench right now if anything happened to Stroud.
Quinn Ewers certainly has the talent to make a move up the depth chart as the season progresses, but he'll begin the season as the No. 4 quarterback after just arriving in mid-August.
Running Back
1. Miyan Williams
2. Master Teague
3. TreVeyon Henderson
All three of these running backs are expected to see regular playing time for Ohio State this season, but how Tony Alford will split carries among them and which order they'll take the field remains tough to forecast.
There have been indications throughout the offseason, though, that the Buckeyes are very high on Williams, who flashed in limited action last season. So even though Teague is the incumbent starter, my guess is that Williams will begin the season taking the most carries in Ohio State's backfield.
Henderson has star potential, so it wouldn't come as any surprise if he emerges as one of Ohio State's top two running backs and climbs the depth chart quickly. Given that Henderson is a true freshman, however, the Buckeyes might be more inclined to lean on Williams and Teague in the first couple games, though I do expect Henderson to see at least some playing time right away.
Wide Receiver (Z)
1. Chris Olave
2. Julian Fleming
3. Jayden Ballard
Wide Receiver (X)
1. Garrett Wilson
2. Marvin Harrison Jr.
3. Xavier Johnson
Slot Receiver
1. Jaxon Smith-Njigba
2. Emeka Egbuka
3. Sam Wiglusz
The wide receiver two-deep appears to be clear-cut, with Olave, Wilson and Smith-Njigba starting and Fleming, Harrison and Egbuka backing them up. How much the Buckeyes will rotate the second-string receivers into the lineup remains uncertain, but it would be a surprise if any of those six receivers don't see regular playing time this season.
Ballard has also drawn praise for his development this offseason, but he faces an uphill climb to significant playing time this year with all the talent on the depth chart in front of them.
With Kamryn Babb sidelined by yet another ACL tear, Ohio State has only seven scholarship receivers who are available to play entering the season. That said, Day said at Big Ten Media Days that he believes the Buckeyes also have three walk-ons who are good enough to play if needed in Wiglusz, Johnson and Chris Booker.
Tight End
1. Jeremy Ruckert
2. Cade Stover
3. Mitch Rossi
Ruckert is the undisputed starter at tight end this season after splitting snaps with Luke Farrell over the past two years. He'll likely be on the field for a majority of plays, though Stover has drawn praise for his blocking and appears to have solidified himself as the No. 2 tight end entering the season.
The third tight end on the depth chart, who probably won't see a ton of playing time, could potentially be any of Rossi, Joe Royer or Gee Scott Jr. Royer is the only other scholarship tight end on the roster who was actually practicing at tight end for Ohio State last season, while Scott has the highest upside of that trio after moving inside from wide receiver. But I think the third-most snaps at the position will go to Rossi, a walk-on who saw some playing time last season, can also line up at fullback and who Ruckert has called the most underrated player on the team.
Left Tackle
1. Nicholas Petit-Frere
2. Enokk Vimahi
3. Zen Michalski
Left Guard
1. Thayer Munford
2. Matthew Jones
3. Ben Christman
Center
1. Harry Miller
2. Luke Wypler
3. Jakob James
Right Guard
1. Paris Johnson Jr.
2. Donovan Jackson
3. Trey Leroux
Right Tackle
1. Dawand Jones
2. Josh Fryar
3. Grant Toutant
No position has changed more from my post-spring depth chart projection than the offensive line, where the Buckeyes made a major change in preseason camp by moving Munford to left guard and Petit-Frere to left tackle with Dawand Jones entering the lineup at right tackle. Whether the Buckeyes will stick with that lineup all season is no certainty – Day said this week that Matthew Jones has also pushed for a starting job, so Ohio State could theoretically move Munford back to tackle if Dawand Jones has any issues as a new starter – but the Buckeyes wouldn't have spent so much time practicing with the Petit-Frere-Munford-Miller-Johnson-Jones line in preseason camp if they weren't serious about that being their new lineup up front.
Vimahi and Fryar are listed as the backup tackles because they practiced as the second-team tackles during camp, but it's likely either Munford or Johnson would move outside to tackle if anything happened to Petit-Frere or Dawand Jones. Fryar and Vimahi could also potentially move back inside to guard if needed, though Matthew Jones, Wypler and Jackson would likely be the next men up on the interior offensive line.
With 15 scholarship offensive linemen on the roster, Ohio State has enough depth to go three-deep with scholarship players at all five positions up front.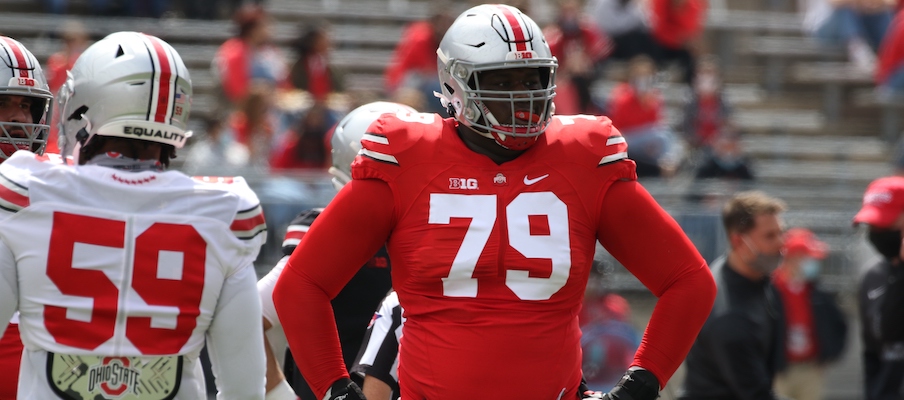 Defensive End
1. Zach Harrison
2. Javontae Jean-Baptiste
3. J.T. Tuimoloau
Defensive End
1. Tyreke Smith
2. Jack Sawyer
3. Cormontae Hamilton
Harrison and Smith are in line to start as the Buckeyes' two most accomplished veteran defensive ends. With Tyler Friday sidelined for most if not all of the season due to injury, Jean-Baptiste will likely be the first defensive end off the bench as another veteran who's already been in the rotation for the past two years.
The biggest question with the defensive end rotation entering the season is how much playing time Sawyer and Tuimoloau will see right away. Sawyer might have the leg up on Tuimoloau for Friday's spot on the two-deep since he's been on campus all year long, but as the two highest-rated defensive recruits in Ohio State history, both of them are too talented not to see immediate action, though their roles will likely increase as they gain experience over the course of the year.
That might not leave many snaps to go around for any other defensive ends, though Larry Johnson has three candidates to round out his three-deep at the position in Hamilton, Darrion Henry-Young and Jacolbe Cowan.
Defensive Tackle (3-Tech)
1. Haskell Garrett
2. Taron Vincent
3. Noah Potter
Nose Tackle
1. Antwuan Jackson
2. Jerron Cage
3. Ty Hamilton
Garrett and Vincent have both been cross-training at nose tackle this offseason, opening up the possibility that they could be in the starting lineup together this year. But while I believe we will see at least one of them play some snaps at nose tackle this year, Jackson still looks like the frontrunner to start alongside Garrett, taking most of the first-team reps at nose tackle during the full practice that was open to the media last week.
If Garrett and Vincent primarily play 3-technique, Jackson and Cage will likely play most of the snaps at nose tackle, though Cage missed time in preseason camp with an injury. Hamilton should also see some playing time in the nose tackle rotation, while Potter is another candidate to be in the mix at 3-technique after moving inside from defensive end this offseason.
Mike Hall could also earn snaps at 3-technique and Tyleik Williams could push for snaps at nose tackle, but they'll likely start at the back end of the rotation as true freshmen.
Will Linebacker
1. Teradja Mitchell
2. Tommy Eichenberg
3. K'Vaughan Pope
Mike Linebacker
1. Cody Simon
2. Dallas Gant
3. Palaie Gaoteote or Reid Carrico
The only thing that feels certain about the linebacker depth chart is Mitchell starting at Will. After Mitchell was named as a captain last week, Day said Monday that Mitchell was one linebacker who would "for sure" play a significant role this year, but said the Buckeyes were still working through what the rest of the depth chart would look like.
Outside of Mitchell, the linebacker who appears to have built the most momentum for a starting spot this offseason is Simon, so I'm projecting him to be the No. 1 Mike linebacker – but that's written in pencil. Gant has been set back by a foot injury this offseason, but this year was supposed to be his opportunity to start, and it still could be. Eichenberg could quietly be in line for a substantial role in the linebacker rotation. Gaoteote should have a role in the linebacker rotation if he's eligible to play, but his spot on the depth chart remains in flux while he awaits a ruling from the NCAA on his eligibility.
Pope is another senior linebacker who's waited for his turn for the past three years, but he appears likely to be a backup, though he could be a candidate to play situationally at Sam linebacker. Steele Chambers could be another linebacker to watch as the season progresses, but he'll likely start the season near the bottom of the depth chart considering he just made the move from running back to linebacker this summer.
Bullet
1. Ronnie Hickman
2. Craig Young
3. Kourt Williams
Although we've been fooled into thinking the bullet would be a bigger part of the defense than it actually was for the past two years, all indications this offseason have been that the bullet will replace the Sam linebacker in Ohio State's 2021 base defense. The Buckeyes have three candidates for substantial playing time at that position in Hickman, Young and Williams, though it's been hard to get a good read on how snaps could be divided between them.
Hickman might be the slight favorite to start at bullet with his safety background, considering that the bullets have been practicing with the safeties rather than the linebackers, but Young offers high upside with his linebacker background and rare combination of length and speed. Expect both to see regular playing time, especially early in the year, and who plays more could depend more on opponent matchups than anything else.
Considering that Williams hasn't played in an actual game for Ohio State yet after tearing his ACL last year, it's likely he'll begin the season as a backup, though it wouldn't be a surprise if Williams also plays a substantive role with all the praise the Buckeyes have heaped upon him over the past month.
Cornerback
1. Sevyn Banks
2. Ryan Watts
3. Demario McCall
Cornerback
1. Cameron Brown
2. Denzel Burke
3. Jakailin Johnson
The cornerback depth chart is another one that's been difficult to size up in preseason camp, in part because Banks and Brown were both working their way back from injuries, but they're still expected to be the starters as long as they're fully healthy. They're the cornerbacks Ohio State needs to be able to rely on this fall, considering they're the only cornerbacks with significant playing experience for the Buckeyes entering the 2021 season.
Six other cornerbacks have been battling for position on the depth chart behind them, and Ohio State's coaches have expressed that they like their depth in the secondary. The strongest candidate to rotate with Banks and Brown might be Watts, the only other scholarship player on the current roster who played snaps at outside cornerback last year, but Burke also appears to be making a major push for immediate playing time as a true freshman.
McCall's role is tough to project after he spent the first five years of his Ohio State career playing on offense, but he's seen enough work with the first-team defense in preseason to make me believe he has a legitimate chance of seeing some snaps. Johnson was also impressive in the limited portions of practice the media was able to watch this month, and Jordan Hancock was one of the first summer enrollees to have his black stripe removed. Lejond Cavazos has battled injuries so far in his Ohio State career, but he's also a candidate to climb the depth chart if he can stay healthy.
Cover Safety
1. Lathan Ransom
2. Marcus Williamson
3. Cameron Martinez
While I've referred to this position as the slot cornerback for the past two years, Ohio State has repeatedly used the cover safety terminology this offseason. That doesn't necessarily mean the position is changing, as Matt Barnes and Kerry Coombs were already calling it that before this year, though the players at this position are expected to be able to both cover the slot and play deep safety as needed.
Moving on from that aside, this is another position in the defensive back seven where it's been tough to nail down a pecking order. Williamson is a returning starter who's continued to see work with the first-team defense this preseason, but Ransom has been consistently talked up by coaches and Martinez has also made a push for playing time this offseason.
Ultimately, if Ransom continues to build off the momentum he's had since the latter part of last season, I believe he'll be on the field more often than not this fall. But Williamson is also likely to see regular playing time – in some scenarios, Williamson and Ransom could be on the field together – and Martinez could have a place in the rotation, too.
Free Safety
1. Josh Proctor
2. Bryson Shaw
3. Marcus Hooker
Proctor is expected to retain his role from the end of last season as the starter at the back end of Ohio State's defense. He's been at the top of the depth chart all offseason.
If the Buckeyes choose to rotate at that position, they have two other veteran options in Shaw and Hooker. Hooker began last season as the starting free safety and therefore has more playing experience than Shaw, but Hooker's suspension for the entire spring opened the door for Shaw to move up into the No. 2 spot on the depth chart, and he seemed to be holding that down this preseason.
Kicker
1. Noah Ruggles
2. Jake Seibert
Ruggles and Seibert have been splitting reps at kicker throughout preseason camp, and Ohio State hasn't given much indication who's leading that competition. But the Buckeyes wouldn't have brought in Ruggles if they were sold on Seibert being their top kicker this year, so I'm guessing the graduate transfer from North Carolina will get the first shot at handling field goals and extra points for Ohio State this season.
That said, whoever begins the year as Ohio State's primary kicker will need to consistently make the kicks he's supposed to make in order to keep a firm grasp on the job.
Punter
1. Jesse Mirco
2. Michael O'Shaughnessy
It sounds as though Mirco, the only scholarship punter on Ohio State's roster, has done what he's needed to do this offseason to secure the starting job. O'Shaughnessy is the only other punter on the Buckeyes' current roster.
Long Snapper
1. Bradley Robinson
2. Max Lomonico
Robinson returns as Ohio State's starting long snapper from last season. Lomonico is his new backup following Roen McCullough's retirement from football.
Kickoff Returner
1. TreVeyon Henderson
2. Demario McCall
Henderson took some first-team reps at kickoff returner this preseason, and he might have the most upside in that role of any player on the roster. As long as the coaches feel confident in Henderson's ball security, returning kickoffs could be a perfect way for Ohio State to give him the opportunity to make an immediate impact, and he could bring the home-run threat to that position that the Buckeyes have been lacking for the last decade.
McCall has been the lead kickoff returner for the past two years, so it's certainly possible he could be again, but there's reason for Ohio State to look for more of a spark in the return game.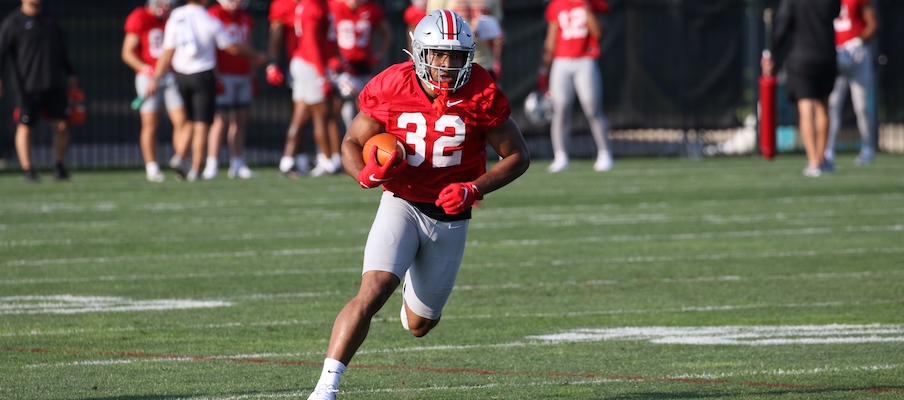 Punt Returner
1. Garrett Wilson
2. Jaxon Smith-Njigba
Ohio State isn't expected to make any changes to its punt return depth chart. Catching the ball consistently is what Ohio State prioritizes most at punt returner, and Wilson and Smith-Njigba might be the two most sure-handed players on the team, while they're also shifty enough to be big-play threats, though they didn't break many long returns last year.