The idea, by most skeptics, has generally been deemed as somewhere between unlikely and preposterous.
A high school senior who sat out a chunk of his junior year of football with an injury is going to enroll at Ohio State in the middle of preseason camp, practice for two or three weeks and compete to start at quarterback for a national championship contender? 
Yes, that's now the reality of the situation in Columbus.
Put it a certain way – like how it is described above – and it's certainly understandable why so many people default to a reaction of giving Quinn Ewers no chance of starting for the Buckeyes this fall. Up until Yahoo's Pete Thamel dropped the bombshell last week that he was considering a reclassification, he was out of sight and out of mind in regard to the current roster as he prepared to go through his final year of football at Southlake Carroll High School. He was not previously expected to be on campus until January. Very few were on Reclassification Watch with practices just around the corner. 
Maybe doubters of Ewers' immediate impact turn out to be correct. Maybe he spends the year on the pine, seeing action late in blowouts of Tulsa, Akron and Rutgers, flashing some of what made him a special recruit, but never plays any meaningful snaps as his bank account adds a comma or two because, well, he's supposed to be a high school senior and expecting him to start for the Buckeyes this year is asking too much. After all, this isn't a typical situation. Ohio State lacks a rich history with quarterback reclassifications – especially so close to the season – and Ewers won't even get a full slate of preseason practices.
All fair points, which explains the skepticism many have that he will make a Year 1 impact on the field.
However...
If there was ever a scenario for somebody in Ewers' situation to win a starting job, it would look a little something like this, right?
He's not walking into a room with any established quarterbacks. He'll be taking snaps in practice before C.J. Stroud, Kyle McCord or Jack Miller will have ever thrown a pass in a game. Sure, Stroud and Miller have spent more than a year in the program after enrolling in January 2020, but the pandemic shortened their season in such a way that they played 18 combined snaps, had fewer practice reps than they would have experienced in a normal year and gave them an uneven offseason as freshmen. They're gifted quarterbacks, but they have neither been in the program an exceptionally long period of time nor built up any in-game equity that makes it especially difficult for Ryan Day and Corey Dennis to turn to Ewers if they think he's a better option.
The point: The youth of Ewers shouldn't be an obstacle that's impossible to overcome.
That's saying nothing about the talent level of Stroud, Miller and McCord – we're talking about five-star and four-star recruits, all of whom could start for many college football teams right now – but a reference to the reality that they're still unproven commodities even if they've been in Columbus longer than the newest addition.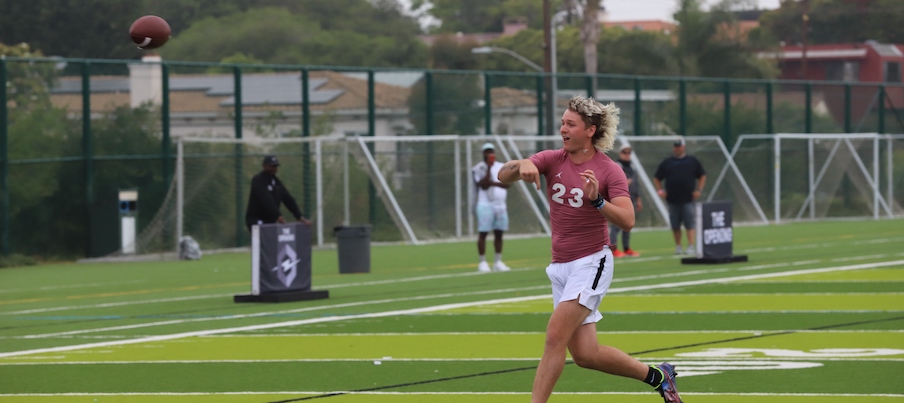 Another thing that plays to Ewers' advantage? The guys surrounding him and the other quarterbacks. This isn't a situation where the Buckeyes will turn to the incoming freshman, or any of the others, and say, "Go win this game by yourself." Whoever starts will get the benefit of throwing to the two best wide receivers in college football, one of the most talented pass-catching tight ends and a slew of other top-100 recruits. They'll have two of the top offensive tackles and multiple five-star recruits between them on the offensive line blocking for them. And they'll be handing the ball off to Miyan Williams, TreVeyon Henderson and Master Teague.
This is the perfect offense in which to break in a new quarterback.
If the Ewers Show does in fact get up and running in 2021, it likely won't be in Week 1. He's not yet on campus, is still completing his high school coursework and still has to enroll in college, and preseason camp is set to begin on Wednesday. Lettermen Row's Austin Ward reported Monday that Ewers will need about 10 days to get on campus.
By that point, based on the timeline Day expressed a week and a half ago at Big Ten Media Days, Ohio State could have already named a starting quarterback or could be close to making a decision.
"I'm not going to put a date on it, but you'd like to have it by the first two weeks of the preseason, in a perfect world, so that you can start to get him the reps ready to play in the first game," Day said in Indianapolis.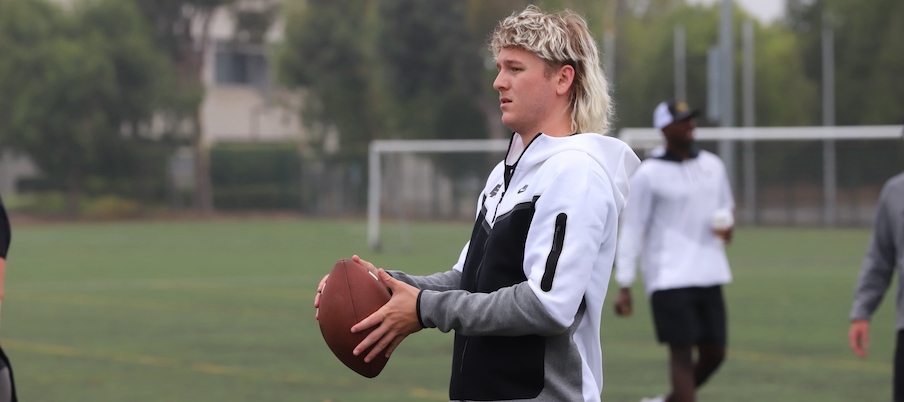 If Day sticks to that plan, Ewers almost certainly wouldn't be in the mix to open the season in Minneapolis behind center on Sept. 2. Rather, if you look at the schedule immediately after the games against Minnesota and Oregon, he could have a prime window to show off his skill set during a four-game run of games versus Tulsa, Akron, Rutgers and Maryland. That's a stretch where his play can make a statement because, unless something unexpected happens, there'll be opportunities for all four quarterbacks to see snaps. There's also a Nebraska-Purdue-Michigan State trio of games where he could get worked in later in the year.
The openings exist if Ewers is the guy recruiting analysts have deemed him to be.
That is, unequivocally, the most important point of them all. If Ewers wasn't the highest-rated signee in Ohio State football history, this wouldn't be a conversation. Heck, he wouldn't even be reclassifying.
But he's not a normal recruit, and he's not coming from a normal background. To treat Ewers as such would be a disservice.
We're talking about somebody who's been a mega-star in the Texas football scene since he was in middle school and who played at the highest level of high school football in the most high school football-crazed state in the country. He's one of six players – and two quarterbacks, along with Vince Young – in the two decades of the modern recruiting era to have a perfect 1.0000 recruiting rating. He was the No. 1 recruit in high school football last year regardless of class. He can throw just about any pass you'd want from a quarterback, spins an exceptionally catchable ball, excels with off-platform throws and has drawn Patrick Mahomes and Aaron Rodgers comparisons from credible analysts.
He's also already 18 years old, comes from a state that plays spring high school football, competed at high-level camps like the Elite 11 this summer and has surely had Ohio State's playbook in his hands for a while – because it would be foolish to act as though this idea of reclassifying just now popped up.
Yes, the plan was for him to be in high school this year. Yes, his arrival tosses a monkey wrench into the succession plan. And yes, he's missed the entire offseason program and will miss the start of preseason camp, which means he'd have to compete for the job during the season.
Yet if you believe Ewers is different, and just about everybody who has seen him play believes that to be the case, then believing he could take over the starting quarterback job at some point this fall is entirely reasonable.
After all, there are additional long-term implications of how Day and Dennis handle this competition this year, too, which they surely understand. They can't afford to have Ewers look around to find greener pastures if they don't involve him quickly enough, and his shadow will linger over Ohio State football throughout the fall whether he plays or not.
On its face, the idea of somebody graduating from high school after Ohio State begins fall camp and later in the year becoming the starting quarterback of a loaded team with national championship aspirations seems outlandish. There isn't much precedent in Columbus for this, either.
If somebody can make such a quick ascent, though, it's probably Ewers.