Ohio State's recruiting class of 2017 was one of its best ever, a star-studded group that included Chase Young, Jeff Okudah, Baron Browning, Shaun Wade, Wyatt Davis, J.K. Dobbins, Josh Myers, Haskell Garrett, Pete Werner and Thayer Munford, among others.
The recruiting class of 2021 might be Ohio State's most hyped group of incoming freshmen ever, featuring six five-star recruits and boasting the highest average composite player rating in program history following the late addition of J.T. Tuimoloau.
Ohio State's recruiting class of 2018, however, still holds the record for the highest overall score an OSU recruiting class has ever received in 247Sports' composite team rankings. With an overall class score of 317.06, the class of 2018 slightly edges out the 2021 class (316.01) and the 2017 class (312.14) – all of which were ranked second in their respective classes – for the most points accumulated by an Ohio State class in the modern recruiting era.
So far, that class hasn't made nearly as much of a mark at Ohio State as the one that came in one year earlier. Fewer than a handful of the 26 signees from that class have become proven stars for the Buckeyes, and even some of its highest-ranked prospects have played only sparingly at Ohio State.
The good news, though, is most of those players still have an opportunity to make an impact for the Buckeyes in 2021. Eighteen members of the class of 2018 are still at Ohio State, and most of them are expected to play substantial roles for the Buckeyes in their fourth year.
Tommy Togiai was the only member of Ohio State's 2018 class to enter the 2021 NFL draft after just three years of college football. Seven other members of the class have transferred elsewhere – Tyreke Johnson (Nebraska), Jaelen Gill (Boston College), Brian Snead (Austin Peay), Max Wray (Colorado), Blue Smith (Cincinnati), Matthew Baldwin (TCU – no longer playing football) and Alex Williams (Vanderbilt) – but everyone else is still playing for the Buckeyes.
Ohio State's class of 2018 has already spawned one superstar: Chris Olave, who certainly could have joined Togiai in declaring for the NFL draft last year, but opted to return to Ohio State with his sights set on being the best receiver in college football. The third-lowest-ranked member of the 2018 class out of high school, Olave was only a three-star recruit but has become an elite weapon for the Buckeyes, catching 111 passes for 1,775 yards and 22 touchdowns through his first three seasons.
Jeremy Ruckert has established himself as an elite tight end – as Urban Meyer expected him to be when he described Ruckert as "the best tight end prospect that I've ever seen and recruited" in 2018 – while Nicholas Petit-Frere, the highest-rated prospect in the class of 2018, lived up to his five-star billing last year in his first season as Ohio State's starting right tackle. Both of them also could have gone to the NFL last season, but instead, they opted to remain at Ohio State and are also established top players for the Buckeyes.
If you ask any of them, they'll all say they still have a lot to prove themselves. Olave said this spring that he felt he still needed to "get a lot stronger" and "turn into a complete receiver." Petit-Frere said he felt like he "had a lot more for me to show on the field." Ruckert said he wanted to "let everybody know that I've got more to give this place."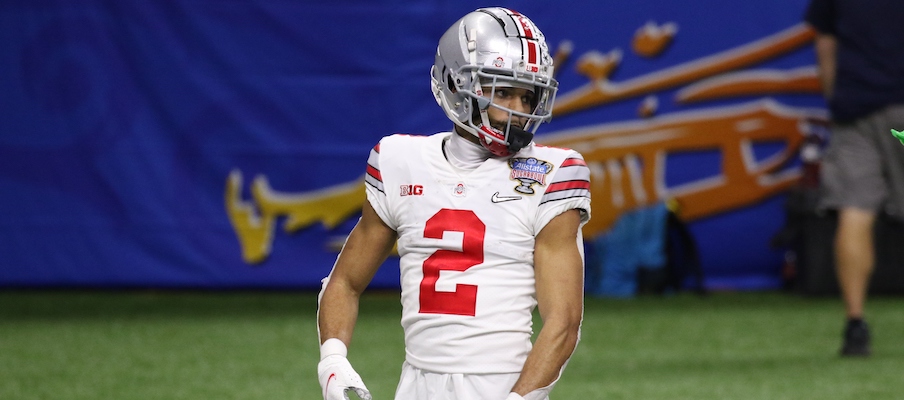 Any one of them, though, could have left Ohio State after this past season and their Buckeye careers would have safely been considered successes, like Togiai. And each of them just need to play at least as well as they did last season to be the players the Buckeyes need them to be to have another elite offense in 2021.
Ohio State will need more from the other members of the 2018 class, though, to be a national championship team this season.
Sevyn Banks and Josh Proctor are locked into starting jobs in the secondary, but Ohio State needs them to be more consistent than they were last season, when the Buckeyes allowed more than 300 passing yards per game. Tyreke Smith, Tyler Friday and Javontae Jean-Baptiste have all had roles in the defensive end rotation for the past two seasons – Smith is a safe bet to be a starter this year, too – but the Buckeyes will be looking for more from them as pass-rushers, as they've combined for just 10.5 sacks over the past three years.
Master Teague has been one of the most productive members of the 2018 class so far, rushing for 1,409 yards and 13 touchdowns in his career, but he'll likely need to take his game to a new level this season to hold off Miyan Williams and TreVeyon Henderson for the starting running back job.
The other remaining members of the 2018 class have been mostly backups so far in their Ohio State careers, including Taron Vincent, the second-highest-ranked prospect in the class. As a five-star recruit entering his fourth season, Vincent has as much to prove as anyone on the Buckeyes' roster this year – in part because he's been plagued by injuries for most of his career – but Ryan Day described him as one of the team's most improved players this spring.
Teradja Mitchell is another top-50 overall recruit from the 2018 class who's been a reserve so far in his Ohio State career, but he's expected to finally get his chance to start this year now that Pete Werner, Tuf Borland, Baron Browning and Justin Hilliard are in the NFL. Fellow linebackers Dallas Gant and K'Vaughan Pope, who've likewise had to wait their turn, will also be battling for spots in the linebacker rotation in preseason camp; Gant appears to be a more likely candidate to start than Pope.
Matthew Jones, who came to Ohio State as the top-ranked center in the 2018 class, is among the candidates to start at either guard or center this season after starting three games last year, though he's still going to have to battle in preseason camp with Harry Miller, Luke Wypler and Josh Fryar to earn a spot in the starting lineup.
Antwuan Jackson actually should be done playing college football by now – as a junior college transfer, he only brought three years of eligibility to Ohio State – but thanks to the NCAA giving all players a free year of eligibility last season, he's playing another season for the Buckeyes in 2021. While he hasn't made a huge impact in his first three seasons as a Buckeye, he is a candidate to start at nose tackle and could finally make his mark for Ohio State as a sixth-year senior.
Another potential breakout player to watch in the class of 2018 this year is Cameron Brown, who was in the cornerback rotation for the first two games of last season until he tore his Achilles. If healthy, Brown could be a starting outside cornerback opposite Banks, making him another crucial player in Ohio State's efforts to improve its pass defense from last season.
Marcus Hooker, the lowest-ranked recruit out of high school in Ohio State's 2018 class, started five games at safety for the Buckeyes last season, but he'll likely have to earn his way back up the depth chart, as he lost his place in the lineup at the end of last season and then was suspended for all of spring practices following an arrest for operating a vehicle under the influence.
Kamryn Babb's status for the upcoming season also remains uncertain after he suffered yet another injury this spring, making it unlikely he will play a significant role in a loaded wide receiver room this year.
Considering the impact the 2017 class had already made even before last season, it could be said that the 2018 class has underperformed expectations to this point. More accurately, though, the grade for the 2018 class remains incomplete, as most of those players are still playing at least one more season for the Buckeyes – and with the extra year of eligibility they all received, some could play two or even three more years in scarlet and gray.
While some highly touted members of that class like Johnson and Gill left Ohio State before ever making a noteworthy impact for the Buckeyes, the vast majority of the 2018ers who remain on the roster are expected to see at least semi-regular playing time this season. As many as a dozen members of that class could start for Ohio State this season, and now that they're entering their fourth years as Buckeyes, they'll certainly be hungry to prove themselves before it's too late – if tweets like these from Mitchell and Vincent are any indication.
https://t.co/9uYxIHbhN9 pic.twitter.com/LwEOwskf0D

— Taron Vincent (@t_lova23) July 5, 2021