The names of the guys at the forefront of Ohio State's 2021 defense are obvious. Zach Harrison, Sevyn Banks, Tyreke Smith, Haskell Garrett, Josh Proctor, Teradja Mitchell, Taron Vincent… 
The list goes on.
A number of somewhat less-heralded players, however, could also play a significant role in whether this defense – which gave up more than 400 yards per game last year – can get back into form this fall, and they haven't been discussed ad nauseam this offseason. 
So, these are four defensive X-factors. Four Buckeyes whose potential contributions shouldn't go overlooked as preseason camp nears.
---
Javontae Jean-Baptiste
The pass rush from the edge last year was...fine. Ohio State can do better than fine. The defensive ends got pressure fairly consistently but didn't generate enough sacks, combining for a total of 8.5 sacks in the eight games. Considering this is a position where Larry Johnson has churned out impactful players, that number is too low.
In 2021, the Buckeyes are counting on the Harrison-Smith tandem for an uptick in sacks, and they'll look to Jack Sawyer for some big plays off the edge, as well. One guy whose name hasn't come up a lot? Jean-Baptiste.
Of course, that's understandable. In the past two years, he has recorded 2.5 sacks. He has rarely popped thus far.
But from a physical standpoint, he's as impressive as just about anybody on the team. The 6-foot-5 defensive end walked into Ohio State weighing less than 200 pounds, redshirted his first season to pack on weight and now walks around at more than 250 pounds. Early in his career, Mickey Marotti was comparing his frame to that of Justin Tuck, the former NFL star whom he trained while at Notre Dame.
Jean-Baptiste isn't, and almost certainly never will be, Tuck. If he and Johnson can figure out a way to translate the unmistakable physical gifts into more frequent pressure, though, there's a clear path for the rising redshirt junior to become an important player for this defense.
Cody Simon
Seen the photos of Simon that Ohio State has released recently?
@Cody_Simon30 #GoBuckeyes pic.twitter.com/Us5KRc6FyF

— Ohio State Football (@OhioStateFB) June 8, 2021
That looks like a guy who can help this defense.
Simon, like several others at his position, had a limited role last season because of the depth in the linebacker room. He played 14 defensive snaps in 2020. Now that the top four 'backers are gone, there's a chance for a significant uptick in playing time.
This spring, in fact, Simon got a boatload of reps at middle linebacker as Dallas Gant was held out with an injury. He's a year removed from entering the program as the nation's No. 75 overall recruit and made a start in the spring game. But because Gant's expected to be fine by the time preseason camp begins, Mitchell is in line to start at Will and Palaie Gaoteote has long been rumored as a likely addition to the corps, there'll be plenty of competition for snaps. For that reason, Simon hasn't been projected as a starter by most people. What he might be able to offer this season shouldn't, though, be discounted.
Simon's the type of guy who has no problem arriving quietly to the scene. He won't care all that much about the outside noise. Before enrolling, he talked to Eleven Warriors about his personality, saying, "I stay quiet. I'm not a big, loud guy. Just try to play my game. I just try to show who I am through my game." He'll have a chance to do that in a few months.
Cameron Brown
Maybe Brown is too good to call him an X-factor. He is, after all, an expected starting cornerback. But the Achilles injury that knocked him out of action last fall means he'll come into fall camp with plenty of questions surrounding him and what he can be in 2021.
Is he fully healthy? Did he manage to get better at cornerback while rehabbing? Did he retain all of the speed that made him one of the more gifted athletes on the team? (It's been a year and a half since he said he thinks he can run a 4.3-second 40-yard dash)
Those have to get answered before anybody knows exactly how much Ohio State can expect out of him this fall.
In a perfect world, Brown will turn into a reliable starting cornerback opposite Sevyn Banks that Kerry Coombs and Matt Barnes who will help bring the moniker BIA back to Columbus after a season in which that term couldn't be used with a straight face. If Brown isn't up for the task, the Buckeyes would have to turn to Ryan Watts, Lejond Cavazos or some other young and unproven cornerback. But that's not the goal. The goal is for Brown to be a starting outside cornerback for this defense – and an impactful one, at that.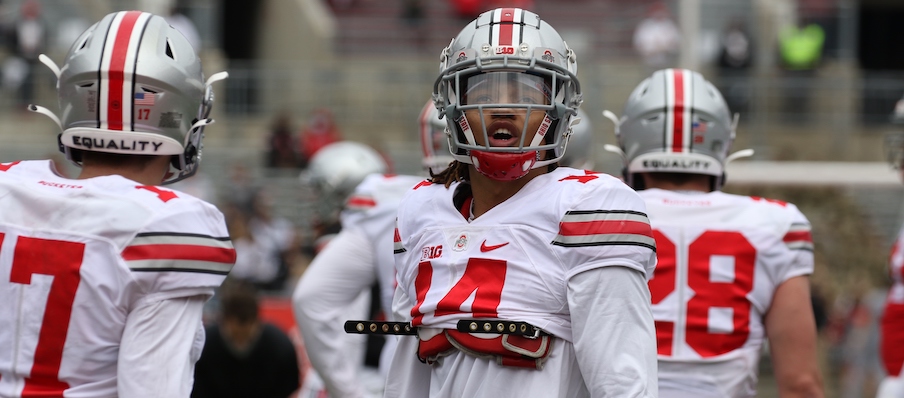 Ronnie Hickman
It's not the norm for there to be a three-man competition for a position that people question whether it exists. But...that's the case right now in Columbus.
Hickman's competing with linebacker Craig Young and the rehabbing Kourt Williams to man the bullet on the Buckeyes' defense. All signs point to them actually employing the hybrid linebacker/safety position, unlike in 2019 when the coaches talked about it then eschewed it once Pete Werner proved to be sufficient as a linebacker with a defensive back skillset.
Hickman's collegiate career hasn't exactly gone according to plan thus far, which is why he hasn't been a primary topic of conversation much the past couple of years. He spent his first year at Ohio State rehabbing from a torn ACL, and that was after the coach who recruited him – Greg Schiano – was replaced by Jeff Hafley just months after enrolling. Then Hafley bounced for Boston College. In Year 2, Hickman was finally healthy and already on his third position coach with Kerry Coombs and Matt Barnes taking over, and he played 46 defensive snaps amid a pandemic.
Now a redshirt sophomore, Hickman moved positions again, becoming a bullet. But this fall, there's finally a clear route for him to become very important to this defense. He started for one of the two teams in the spring game – with Young on the other team – and will reconvene for the position battle to continue in the fall.
Hickman, if he can win the competition and become the primary bullet on this team, has a route to turn into one of this defense's most important players.