It's in the immediate aftermath of Saturday's All-American Bowl, and Cody Simon's mother, Amy, paces a few feet in front of her son, currently being swarmed by a small group of supporters angling to get their postgame picture taken with the New Jersey star.
Amy grabs her cell phone to snap some quick photos, capturing the final moments of this week-long event in San Antonio, one in which her son has exploded amongst the nation's best senior high school talent, gaining recognition from regional and national recruiting analysts as one of the top-performing linebackers for the East All-Stars.
Up until this week, it seems like Simon has flown well under the radar for the better part of six months, ever since his commitment to Ohio State in late June. But it hasn't been this way for only the last half-year of Simon's life.
Simon is much more on the quiet side, a laid-back – at times, reserved – demeanor becoming just as synonymous with the 6-foot-1, 215-pounder's ability to drop into zone pass coverage and rapid-fire intelligence to quickly read what offensive play is coming his way.
And, yet, he still feels like a somewhat hidden gem in the Buckeyes' 2020 recruiting class. A lot of that is due to Simon's modest personality. 
"I usually stay reserved," Simon told Eleven Warriors. "I don't have a big personality on social media so you have to really get to know me to really know what I'm like. I just try to be who I am. I feel like people would like me if they get to know me."
Simon speaks of an Instagram account that is mostly barren. But one of Simon's rare posts features him making plays on the field with the caption, "A lion don't gotta tell you it's a lion."
That's perfect.
"I stay quiet," Simon said. "I'm not a big, loud guy. Just try to play my game. I just try to show who I am through my game. When I make a play, I can get up and flex and show people how much I worked."
"Coach (Al) Washington told me most of the backers on the team are kind of reserved guys. But they get on the field, and they're always talking."– Ohio State Linebacker Signee Cody Simon
He's certainly not aloof, though. Simon might have a cold, icy stare when he's making tackles and forcing a fumble on the Alamodome turf, but when the action is over and he stands on that same field with fans, opponents and future teammates all around, Simon flashes an almost ceaseless smile. 
"It's infectious," he says of a smile that those closest to him – family, friends, teachers – know he wears proudly like the black No. 30 jersey he's sporting right now. "I try not to talk a lot, but I smile a lot."
And soon after that is when Simon's mom is asked if he has always been that way. That's when Amy begins grinning ear to ear, making it clear where Simon gets the same million-dollar smile from.
"Yeah," Amy says, "I would say he's been like that most of his life."
Well, not totally true, says Simon.
"Actually, when I was in elementary school, I used to be a lot louder and more talkative," Simon says. 
Oh, yeah? Ever remember getting in trouble by teachers for being too loud in school?
"I was never THAT talkative," he says with a laugh. "I can't remember that far back, but I just had fun in school. A lot of people hate school, but I love school. I try to make the best of it. If you're gonna be there, I might as well have fun with it."
Simon lives in West Orange, a city of less than 50,000 in Essex County, N.J. But every school day for the past four years, he makes the 45-minute commute east down Interstate-280 to Saint Peter's Prep, a private, all-male prep school in Jersey City sitting near the banks of the Hudson River. 
He drives to school now, but that commute used to come via train through the New Jersey Transit public transportation system. Every school day for three years, Simon used that 45 minutes before school as a peaceful preparation to "get my mind right for school." 
That was one of the instances when Simon remembers himself starting to become a bit more soft-spoken.
"I kind of toned it back a little bit. I'm on my own quite a bit," Simon said. "It's just my personality. Now, I'm not such a loud guy. I'm more laid back, but in certain situations, I'll let it all out. I'm more to myself a lot, but when I'm on the field, I'm always gonna be talking."
Therein lies the point of this story. 
You're not going to hear much from Simon unless someone slaps a mic onto his shoulder pads. But for those keeping an eye on future Buckeyes down in River City last week, one of the biggest takeaways should be centered around Simon. 
He's not Julian Fleming, capturing ESPN's attention for a highlight-reel touchdown. He's not Paris Johnson Jr., winning multiple All-American awards. And he's not CJ Stroud, making wow-inducing scramble plays and spinning the ball between tight windows to Jaxon Smith-Njigba in practice.
All those players are earning justifiable praise for what they did on the field last week. Simon is, too, but it's certainly been much more low key. That's encompassing of who he is, and he's perfectly fine with it. Isn't that how most linebackers are, after all?
"I feel like it is, in a lot of ways," Simon said. "A lot of linebackers I know are quiet in the background, but when he gets on the field, it's a different story. You always gotta talk (on the field). You always gotta talk. It's part of the game now."
That's part of what makes Simon a seemingly perfect fit for Al Washington's linebackers room, one he will soon enter when he enrolls following his final semester at Saint Peter's.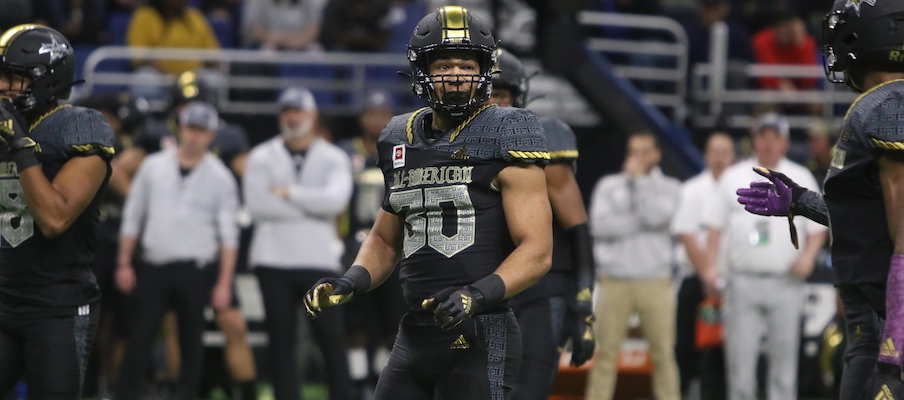 "Coach Washington told me most of the backers on the team are kind of reserved guys," Simon said. "But they get on the field, and they're always talking. … I mean, I like it. That's what I do. I'm not gonna be the loudest person in the room, but when I get on the field, I'm gonna make my voice heard and do the best I can."
Simon's recruitment to Ohio State began with New Jersey native Jeff Hafley, but Washington soon took the reins, going hard after the nation's eighth-ranked outside linebacker toward the end of the spring. 
Washington and Simon have formed a strong relationship, speaking frequently, as Washington breaks down Simon's film, dissecting and trying to polish up from afar, "the way I use my hands and my feet, and how I need to use my feet better," Simon said. "Just little stuff that makes a big difference and helped me throughout my season. I can't thank him enough.
"He's just a really personable guy. It's so easy to talk to him. I talk to him every day, pretty much. He's helped me so much and taught me some stuff already. Just little techniques and stuff like that. He's just really supportive. His family is super nice, and I've talked to some of the backers up at the school. They have nothing but good things to say about him. He's just a great guy."
With Baron Browning, Tuf Borland and Pete Werner all returning, linebacker wasn't necessarily a big need for the Buckeyes in the 2020 cycle, but Simon was a player Washington and Ohio State did not want to see slip through the cracks. 
Washington told Eleven Warriors at Fiesta Bowl media day that he loves the versatility of Simon – that Simon has "a knack for making plays inside the box" but can also be explosive on the perimeter, as his 4.53 speed in the 40 would suggest. That athletic skillset was on display when Simon hauled in a punt in last month's state championship game against Don Bosco Prep, and then took it 70 yards for a touchdown in a 21-14 victory. 
Outside linebacker, right now, could be where Simon is the best for the Buckeyes, but co-defensive coordinator Greg Mattison, who coaches the linebackers in addition to Washington, isn't giving anything away.
"Cody's so physical and he's so sudden in his hitting, and that's something we don't get a lot to where this guy's strong and physical," Mattison told Eleven Warriors at Fiesta Bowl media day. "We don't know (which position he'll play). That's gonna always be – he's always gonna play where he's best, and he knows that."
One of the future teammates Simon watches closely is Browning, an aggressive former five-star recruit from Texas. 
"When I see him on the field, I say I wanna be like him," Simon said. "He controls the field."
Simon is certainly budding with similar potential, and he's also one whom the coaches have spoken about potentially morphing into a team captain, a role he held at Saint Peter's. 
Raised by Amy and his father, Mark, the young linebacker is one both Washington and Mattison hail as coming from a good family, and Simon credits those two for teaching him how to conduct himself and show respect. But years ago, when Simon was in fifth grade, captain material on a football field isn't something he would have ever dreamed of. He wasn't even on a football field anymore.
"When I was younger, I stopped playing football. I lost my love for it," Simon said. "After being away from it (for two years), I realized how much I missed the game and how much I loved the game. I just come out here because my love for the game is what helps me and drives me. 
"I'll play this game until I can't — until I'm physically not able to. That's just really who I am. I just love this sport. It's the best sport in the world. I just missed it. It felt like there was something missing in my life, and I wanted to get it back."
And that's it. It's a quick interview. Less than 10 minutes. Nothing too in-depth. Just a snapshot into what makes Simon tick, and then it's over. 
On an Alamodome field swarming with parents watching over their children, there are pictures to be taken and autographs to be handed out. 
Throughout almost the entirety of the interview's back half, there stood one particular kid, clutching a half-white, half-brown mini football in his hands, one left perfectly blank on the white leather that's screaming for Simon's signature. 
Somewhere around 9 or 10 years old, the elementary school-aged fan – perhaps an up-and-coming football player himself – was incredibly respectful. 
He didn't get antsy. Didn't shift back and forth. Didn't roll his eyes. He just stood, waiting patiently for more than five minutes for Simon to be done. He didn't say a single word. 
He must have learned from the best.