The recruiting trail was meant to have Kerry Coombs traversing it. The Red Bull-chugging, hashtag-using, bouncing-around, full-of-life 59-year-old defensive coordinator loves it as much as he thrives on it. For that reason, the 15-month dead period slayed him, leaving him cooped up and unable to get to know high schoolers and those who surround them like he normally would.
"I hate doing it on Zoom and text," Coombs said during a 97.1 radio appearance earlier this year.
But he made do with it, locking down six defensive back commitments for Ohio State in the 2021 class. One of those half-dozen signees – four-star Arizona cornerback Denzel Burke – was a special case.
Never once had he visited Columbus, and never once had Coombs – his lead recruiter – seen him in person.
"He's a guy that I had an opportunity to go out and see out in Arizona quickly during recruiting but didn't really know a ton about," Ryan Day said in December. 
Day, on the day Burke signed his National Letter of Intent, said the incoming corner has "tremendous ability and upside," but most of that belief was gained through means other than his own two eyes seeing him play or work out in front of him. The Buckeyes offered him a scholarship after Day's trip to Arizona to see him at Saguaro High School in January 2020 – just a couple of months before the pandemic-spurred dead period commenced – and that was the end of the in-person recruitment. 
From there, Ohio State's coaches were forced to, and did, seal the deal virtually. That, however, meant that Burke arrived on campus as an early enrollee in January without having ever met Coombs, among other coaches, in the flesh.
"I had a kid start a couple of weeks ago, Denzel Burke, and honestly I had to come down and have breakfast with him and his family. It was the first time I'd met him," Coombs said in February. "That's a hard way to recruit. He's doing a great job, as all these 15 kids are that are on campus right now, but it is a weird situation when you've got to recruit like this."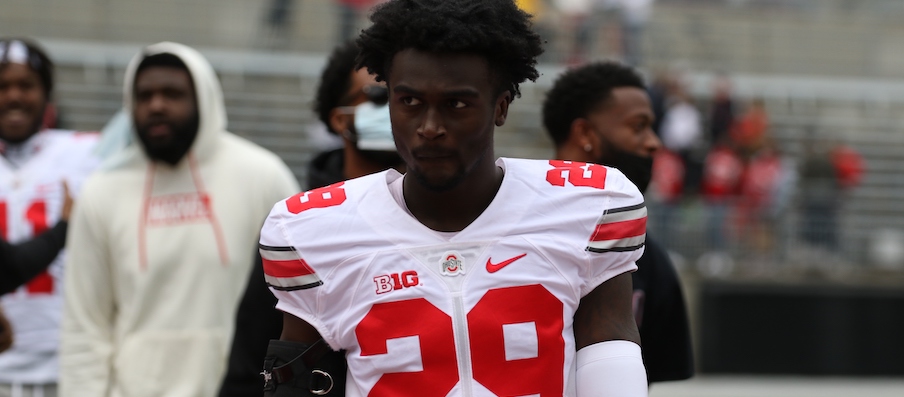 Coombs isn't in that weird situation as a recruiter anymore, and Burke's no longer putting his trust into people he has barely, if ever, met in person.
The 6-foot, 189-pounder got a jump start on the process of integrating himself into the program earlier this year. Unlike fellow first-year cornerbacks Jordan Hancock and Jakailin Johnson – who overshadowed him to a large degree due to their status as top-100 recruits – who waited until the summer to enroll, Burke began classes at Ohio State in time for both winter workouts and spring camp. 
Evidently, he didn't waste any time making an impact. On the first practice of the spring, he popped. Later that day, Day said he "kind of flashed," picking off a pass even though he had been recovering from some sort of a shoulder injury.
Burke, as a first-year Ohio State cornerback who's newer to the position than Hancock and Johnson, isn't expected to be counted on in a big way this fall. But he showed enough early signs to impress his new position coach, Matt Barnes, who'll count on him down the line.
"It's actually uncanny how natural he does a lot of things at corner for not having played there very much," Barnes said in April. "I don't know if it's 7-on-7 development or he just had a trainer or somebody he worked with, but he does a lot of things naturally very well. It's been fun to watch. He has elite footwork and patience that you don't see from many people regardless of their age but particularly a young guy. To sit at the line of scrimmage and have the patience that he has to play press technique and some other techniques, he looks seasoned. I'll put it that way. 
"Not that we're surprised, but I am to a degree – just kind of blown away by how far along he looks at times. Now, he's still got a long way to go, don't get me wrong. But he looks pretty natural in there. We're really excited about him."