Kristina Miller has no shortage of excitement whenever she brings somebody to experience Nicaragua for the first time. She took her initial trip as part of Mission for Nicaragua in 2014 and – along with a group including one of her sons, third-year Ohio State center Harry Miller – has kept coming back with regularity ever since. Yet there's also a bit of trepidation, she said last summer, about welcoming a new visitor on a mission trip because the "poverty is extreme and it's not easy to see." She calls it "life-changing."
Tommy Eichenberg, a third-year linebacker, took to the experience well. He accompanied the Millers on a week-long Nicaragua expedition for the first time last March. At one point, Kristina asked him what he thought, and he responded that it was "awesome" and he had "never been someplace like this." Eichenberg told her he'd come back with them again. To his teammate Harry, that wasn't much of a surprise.
"I think he's a profound character," Miller said in November.
Miller knows Eichenberg better than most in the football program. They're good friends.
They also happened to watch the effects of COVID-19 on the sports landscape together during those days in Nicaragua, not arriving back in the United States until March 14, 2020. By then, the NCAA tournament was canceled, the NBA had paused its season and Ohio State suspended spring football practice indefinitely.
"We shared some very intimate moments," Harry Miller said last fall. "Tommy is an incredibly quiet dude and many people think he doesn't have a lot to say, but I think he's incredibly profound. I always think of a little phrase where a wise man said nothing at all and a fool is remembered for what he says, a wise man for what he does not say. I think Tommy is full of no words that mean very much."
Eichenberg's lack of self-promotion, his lack of words, might allow him to fly under the radar. Yet if this offseason can go a certain way, he'll introduce himself to the Buckeye faithful in a louder way than ever before this fall. 
Quietly, he's trying to work his way into linebacker coach Al Washington's 2021 plans.
"he's always had a chip on his shoulder. He's always had things to prove, so to speak. That attitude." – Al Washington on tommy eichenberg
Ohio State, because of the losses of Pete Werner, Baron Browning, Tuf Borland and Justin Hilliard to graduation, needs to place its entire linebacker corps. Eichenberg, as a redshirt sophomore who recorded two tackles in just six defensive snaps all of last season, has largely been viewed as an underdog in the competition at inside linebacker, with Teradja Mitchell and Dallas Gant being the favorites. The potential addition of USC transfer Palaie Gaoteote would add an additional obstacle. Cody Simon could be a factor, too.
But this spring, Eichenberg got some long-awaited time in the spotlight. Because of Gant's foot injury that kept him on crutches, the St. Ignatius graduate spent much of March and April running as the first-team middle linebacker. In the spring game, he was the starting Mike for Team Buckeye. Washington challenged Eichenberg to become a "technician" as spring camp began. Those 15 practices could only help the redshirt sophomore in that regarded.
"A lot of those skills are only harnessed through actual reps. Like, really playing," Washington said in March. "You look at this whole duration, this whole period, we've had a lot of time to develop our bodies but we haven't had a ton of time to play football. For these young guys, they didn't get spring ball, they didn't get summer, preseason camp. It takes reps. It takes those experiences to really become more of a technician. So I expect Tommy, this spring for example, to become better technically, fundamentally from the group up."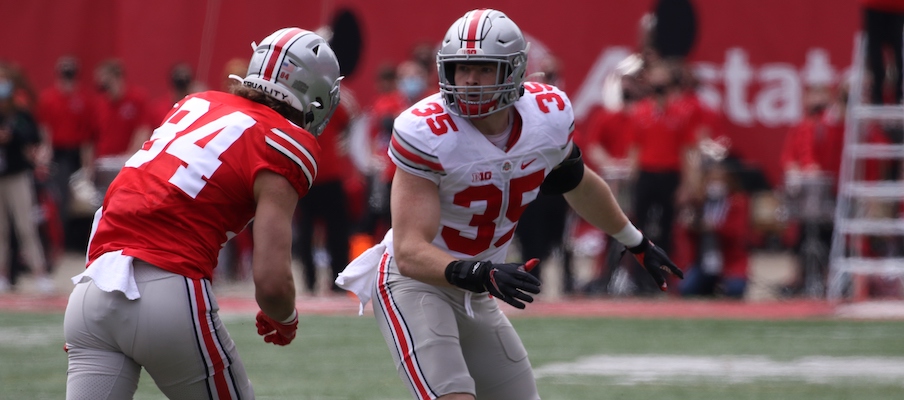 Eichenberg didn't leave the spring game suddenly expected by those outside the football facility to win the starting middle linebacker job. He's not viewed by most as having an edge on Gant. But those spring reps surely helped him play catch-up, especially after dealing with an injury as a true freshman before experiencing a pandemic-shortened season the next year.
The 6-foot-2, 235-pound Ohioan – who Washington described as "hyper-competitive" – took the spring to make up for lost time. Once preseason camp rolls around, Eichenberg will, surely silently, attempt to continue building on what he did earlier in the year in order to make himself a valuable commodity for the Buckeyes' new-look linebackers.
"So much of being great at anything starts with effort and passion. Tommy loves football," Washington said this spring. "He loves it. He loves being at Ohio State. Tommy was a guy coming out of high school who was at one point committed to Boston College; that's my alma mater. And I say that just to bring up the point, highlight the fact that he wasn't a blue-chip guy. So he's always had a chip on his shoulder. He's always had things to prove, so to speak. That attitude. 
"That's what makes Tommy an elite player – that's what's going to make him an elite player. I won't give him that title yet. But I think he's trending that direction because of that, that chip, that sense of purpose, that sense of drive."