Ohio State's recruiting class of 2015 didn't get off to a great start in Columbus.
Urban Meyer made that much clear going into that class' third year at Ohio State when he gave a brutally honest assessment of how that recruiting class had performed through its first two seasons. 
"The '15 class, they've received a lot of heat, and it's very justified," Meyer said in April 2017. "That was not a good class."
Meyer also said at the time, though, that he was starting to see more of what he was looking for out of that class as the Buckeyes went through practices that spring.
"The good thing is they're allowed to change and they're starting to change. We're seeing much more production from them," Meyer said. "That class that was a misfit class is starting to buy in, and they better."
Four years later, that class' time at Ohio State is finally complete. Justin Hilliard, the lone composite five-star recruit in that class, was the last one still playing for the Buckeyes, but his six-year career at Ohio State concluded this past season, and he's now trying to make it in the NFL after signing with the San Francisco 49ers as an undrafted free agent.
Ohio State's recruiting class of 2015 won't be remembered as one of the best classes of Urban Meyer's tenure, and that's really not a surprise, as the 2015 class had both the lowest national rank (seventh) and average rating (.9031), per 247Sports' composite ratings, of the Meyer era. But there were still no shortage of success stories from the class, as just over half of the 26 scholarship players in the class went on to become key contributors for the Buckeyes, and most of them are now on NFL rosters.
Now that the class of 2015 has officially completed its run at Ohio State, it's time to take a look back at that class and how each member of the class fared in Columbus and beyond.
14 Starters/Regular Contributors
Denzel Ward, CB
The biggest star to emerge from Ohio State's recruiting class of 2015 – at least among those who played their entire collegiate careers for the Buckeyes – was Ward. A consensus All-American in his lone season as a full-time starting cornerback in 2017, Ward went on to be selected by the Cleveland Browns with the No. 4 overall pick in the 2018 NFL draft.
Despite being ranked as only the 270th overall player and No. 26 cornerback in the composite rankings for 2015, Ward certainly proved to be a five-star talent. Now one of the top cornerbacks in the NFL, Ward is perhaps the most prime example of Kerry Coombs' ability to both find gems on the recruiting trail and develop NFL-caliber cornerbacks, as he was coached by Coombs for his entire Ohio State career.
Damon Arnette, CB
The only other member of the class of 2015 to play his entire college career at Ohio State and become a first-round NFL draft pick was also a modestly rated cornerback. Arnette was just a three-star recruit in 2015, ranked as the No. 653 overall prospect and 62nd cornerback in the class, but went on to be selected by the Las Vegas Raiders with the 19th pick in the 2020 NFL draft.
A three-year starting cornerback for the Buckeyes, Arnette's play was often inconsistent during his early years in the lineup. But he had a dominant senior year under the tutelage of Jeff Hafley in 2019, providing lockdown coverage at cornerback for Ohio State's No. 1-ranked pass defense that season, and that was enough to make his Buckeye career an undeniable success.
K.J. Hill, WR
Hill literally rewrote the record books during his Ohio State career, as he set the school record for receptions by catching 201 passes – more than any other player in Buckeye history – from 2016-19. He also tied an Ohio State record by catching at least one pass in each of his final 48 games as a Buckeye.
A consistently reliable slot receiver known for his crisp routes and sure hands, Hill was one of Ohio State's top two receivers in each of his final three seasons as a Buckeye and ranks sixth in school history with 2,332 receiving yards. Ranked as the No. 153 overall prospect and No. 16 wide receiver in the class of 2015, Hill is now entering his second season with the NFL's Los Angeles Chargers after going in the seventh round of the 2020 draft.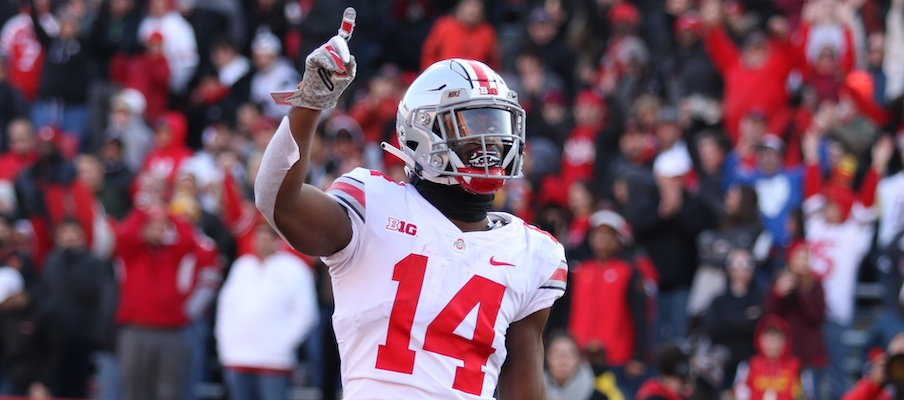 Dre'Mont Jones, DT
A three-year starter at the 3-technique defensive tackle position for the Buckeyes, Jones was a consistently disruptive interior defensive lineman during his years in the lineup for Ohio State. He recorded 115 total tackles with 22 tackles for loss, 9.5 sacks, one forced fumble, three fumble recoveries and an interception returned for a touchdown over the course of his career.
A first-team All-Big Ten honoree in 2018, Jones was selected in the third round of the 2019 NFL draft by the Denver Broncos and has continued to be productive so far in his pro career, recording 10 sacks over the course of his first two seasons in the league.
Jerome Baker, LB
The second-highest-ranked player in Ohio State's 2015 class (No. 61 overall), Baker was one of the first members of the class to make a big impact for the Buckeyes, becoming a two-year starter at linebacker beginning with his sophomore season in 2016.
Over the course of his three-year career at Ohio State, Baker recorded 158 total tackles, 17.5 tackles for loss, seven sacks, two interceptions (one returned for a touchdown), three fumble recoveries, two pass breakups and one forced fumble. He was selected in the third round of the 2018 NFL draft by the Miami Dolphins and has become one of their star defensive players, leading them with 112 total tackles and seven sacks last season.
DaVon Hamilton, DT
The lowest-ranked position player in the entire recruiting class at No. 998 overall, Hamilton showed gradual improvement over the course of his first four years at Ohio State before breaking out as a dominant force on the Buckeyes' interior defensive line in 2019. As a fifth-year senior, Hamilton was Ohio State's starting nose tackle and set the tone for one of the nation's best run defenses while recording 28 total tackles with 10.5 tackles for loss and six sacks, earning third-team All-Big Ten honors.
A true hidden gem from the class of 2015, Hamilton went on to be selected in the third round of the 2020 draft by the Jacksonville Jaguars and started six games last season as a rookie.
Jashon Cornell, DT/DE
Though he was ranked more than 900 spots higher (No. 95 overall) as a recruit, Cornell's Ohio State career followed a similar trajectory to Hamilton's. He was a solid rotational player in his first three playing seasons for the Buckeyes, seeing snaps at both defensive tackle and defensive end, but had his best season as a fifth-year senior in 2019, his lone year as a starter.
Cornell recorded 63 total tackles with 13.5 tackles for loss and seven sacks and two forced fumbles in his Ohio State career, including 30 tackles, 6.5 TFLs, four sacks and one forced fumble as the Buckeyes' starting 3-technique in 2019. He was selected by the Detroit Lions in the seventh round of the 2020 NFL draft, but he missed his entire rookie season with an Achilles injury.
Mike Weber, RB
The third-highest-ranked recruit in the 2015 class (No. 75 overall), Weber rushed for 2,676 yards and 24 touchdowns in three seasons with the Buckeyes, highlighted by his redshirt freshman season in 2016, when he led Ohio State with 1,096 rushing yards, becoming just the third Ohio State freshman to top 1,000 rushing yards in a single season.
Weber was overshadowed by J.K. Dobbins for each of the next two seasons yet was still productive as the No. 2 running back. He ranks 15th in school history in rushing yards. A seventh-round pick by the Dallas Cowboys in the 2019 draft, Weber hasn't yet run the ball in an NFL game but is currently with the Green Bay Packers.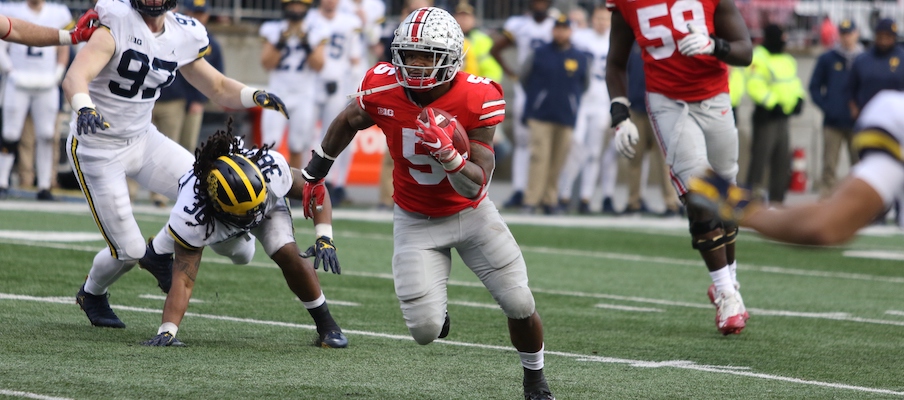 Isaiah Prince, RT
Prince's Ohio State career had plenty of ups and downs, but he was a three-year starter at right tackle who performed well enough to earn first-team All-Big Ten honors as a senior in 2018. He never missed a game during his four years as a Buckeye, and was also a team captain for his senior season.
A sixth-round pick in the 2019 NFL draft, Prince played in four games with the Miami Dolphins as a rookie but opted out of the 2020 season due to the COVID-19 pandemic. He'll be trying to earn a roster spot with the Cincinnati Bengals this summer.
Robert Landers, DT
A fan favorite throughout his Ohio State career, Landers is another three-star recruit who became a productive player for the Buckeyes. A regular in the nose tackle rotation for each of his four playing seasons, Landers was a consistently disruptive presence on Ohio State's interior defensive line, recording 65 total tackles with 23.5 career tackles for loss from 2016-19.
Despite his success with the Buckeyes, Landers has not been signed by an NFL team since going undrafted in 2020, though he did participate in Ohio State's pro day this spring in hopes of landing an opportunity.
Branden Bowen, OT
Bowen, who was also a three-star recruit, was a great example of overcoming adversity during his Ohio State career. After starting the Buckeyes' first six games of 2017 at right guard, a broken leg that didn't heal properly sidelined him for both the rest of that season and the entire 2018 season. But he came back strong as Ohio State's starting right tackle in 2019, starting all but one game and earning second-team All-Big Ten honors.
He hasn't played in an NFL game since going undrafted in 2020, but he is currently with the Arizona Cardinals and will attempt to make their roster this season.
Justin Hilliard, LB
No member of the class of 2015 overcame more adversity in his Ohio State career than Hilliard, who received a sixth year of eligibility from the NCAA after missing his first two seasons with biceps injuries and later tearing his Achilles. Those injuries prevented Hilliard, the No. 35 overall prospect in the 2015 class, from performing up to his potential for most of his Buckeye career.
As a sixth-year senior captain in 2020, Hilliard finally broke through and was arguably Ohio State's best defensive player in its final three games of the season, in which he recorded 25 total tackles with five tackles for loss, an interception and two fumble recoveries. Hilliard went undrafted despite that strong finish, but he was signed immediately after the draft by the San Francisco 49ers.
Liam McCullough, LS
Only the second long snapper in Ohio State history to earn a scholarship offer out of high school, McCullough proved to be worth it. A four-year starter at long snapper from 2016-19, McCullough was always reliable in his role, missing just one game in those four seasons and never making any noticeable mistakes.
Though he went undrafted and didn't play in an NFL game last year, McCullough is currently with the Las Vegas Raiders and will compete for their long snapper job this summer.
Rashod Berry, TE/DE
The third-lowest-ranked recruit in the 2015 class (No. 728 overall), Berry moved back and forth between tight end and defensive end multiple times in his Ohio State career – even playing both positions in four games as a fifth-year senior in 2019 – but saw most of his playing time on the offensive side of the ball. He started four games in 2018, when he made the biggest play of his career on a fourth-down conversion catch in overtime against Maryland, and had 17 career catches for 198 yards and four touchdowns, doing most of his damage for the Buckeyes as a blocker.
Now in the NFL with the New England Patriots, Berry is still getting looks on both sides of the ball, though he played only on defense and special teams as a rookie.
1 Career Backup
Joshua Alabi, OT
For the most part, the members of Ohio State's recruiting class of 2015 either became substantial contributors by the end of their careers or left the program early. The only one who never became a regular contributor for Ohio State but still played out his eligibility with the Buckeyes was Alabi.
Alabi – who also spent time on both sides of the ball as a Buckeye, starting his career at defensive tackle before moving to offensive tackle – made three starts as the Buckeyes' top backup tackle in his final two seasons at Ohio State, earning the team's offensive player of the game honors for his performance filling in for Bowen at right tackle against Nebraska in 2019. For the most part, though, Alabi played only in backup and special teams duty, and did not get an opportunity to play in the NFL.
11 Early Departures
Joe Burrow, QB
While Burrow ended up becoming the biggest star from Ohio State's recruiting class of 2015, that didn't happen until he transferred to LSU, where he ended up leading the Tigers to a national championship and winning the Heisman Trophy. He had one of the greatest individual seasons in college football history in 2019, throwing for 5,671 yards and 60 touchdowns, and was the No. 1 overall pick in the 2020 NFL draft.
In three seasons at Ohio State, however, Burrow never started a game for the Buckeyes. After waiting his turn for three years behind J.T. Barrett, Burrow entered the transfer portal after Dwayne Haskins beat him out for the starting job in 2018. That decision clearly worked out for Burrow, but it left Ohio State fans to wonder what could have been if Burrow had ever started for the Buckeyes, though Haskins was also a Heisman finalist himself.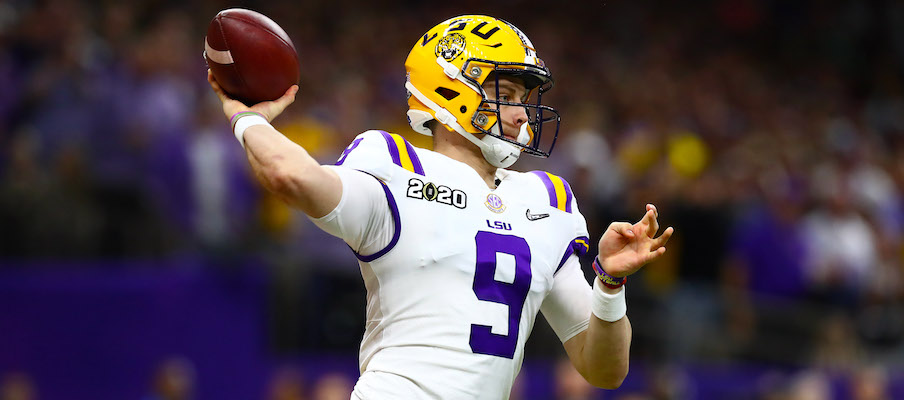 Jamel Dean, CB
Dean's Ohio State career ended before it ever actually began, as he was medically disqualified by Ohio State's team doctors after suffering a major knee injury during his senior year of high school. He got another chance to play college football at Auburn, though, and made that decision by Ohio State look like a mistake in hindsight.
A two-year starting cornerback for Auburn in 2017 and 2018, Dean was selected in the third round of the 2019 NFL draft by the Tampa Bay Buccaneers and was one of their starting cornerbacks as they won the Super Bowl in his second year in the league.
Torrance Gibson, WR/QB
Gibson came to Ohio State with plenty of hype as the No. 82 overall recruit in the country, but never ended up playing a snap for the Buckeyes. Initially recruited to play quarterback, Gibson moved to wide receiver but was sidelined by an ankle injury in 2015, suspended by the university in 2016 and left the team before the 2017 season.
The only college football Gibson ever played came at Mississippi Gulf Coast Community College. He's now a wide receiver for the Indoor Football League's Spokane Shock after briefly playing for the Canadian Football League's Edmonton Eskimos. 
Ohio State's Recruiting Class of 2015
Pos
Player
Ranking
Rating
OSU Starts
NFL?
LB
JUSTIN HILLIARD
#35 (#3 OLB)
★★★★★
7 Games
Yes*
LB
JEROME BAKER
#61 (#4 ATH)
★★★★
25 Games
Yes
RB
MIKE WEBER
#75 (#7 RB)
★★★★
13 Games
Yes*
WR
TORRANCE GIBSON
#82 (#7 ATH)
★★★★
0 Games
No
DT
JASHON CORNELL
#95 (#7 SDE)
★★★★
15 Games
Yes*
DB
ERIC GLOVER-WILLIAMS
#99 (#12 CB)
★★★★
0 Games
No
RT
ISAIAH PRINCE
#101 (#5 OT)
★★★★
41 Games
Yes
OG
MATTHEW BURRELL
#110 (#7 OG)
★★★★
0 Games
No
DT
DRE'MONT JONES
#133 (#10 SDE)
★★★★
37 Games
Yes
WR
K.J. HILL
#153 (#16 WR)
★★★★
18 Games
Yes
LB
NICK CONNER
#223 (#8 ILB)
★★★★
0 Games
No
CB
DENZEL WARD
#270 (#26 CB)
★★★★
13 Games
Yes
QB
JOE BURROW
#280 (#8 DUAL)
★★★★
0 Games
Yes
WR
ALEX STUMP
#304 (#37 WR)
★★★★
0 Games
No
CB
JAMEL DEAN
#325 (#29 CB)
★★★★
0 Games
Yes
OT
GRANT SCHMIDT
#469 (#51 OT)
★★★
0 Games
No
DT
ROBERT LANDERS
#481 (#28 DT)
★★★
11 Games
No
OT
KEVIN FEDER
#507 (#56 OT)
★★★
0 Games
No
DB
JOSH NORWOOD
#508 (#50 CB)
★★★
0 Games
No
TE
A.J. ALEXANDER
#514 (#15 TE)
★★★
1 Game
No
OL
BRANDEN BOWEN
#543 (#61 OT)
★★★
19 Games
Yes*
OT
JOSHUA ALABI
#555 (#30 SDE)
★★★
3 Games
No
CB
DAMON ARNETTE
#653 (#62 CB)
★★★
38 Games
Yes
TE
RASHOD BERRY
#728 (#35 WDE)
★★★
4 Games
Yes
DT
DAVON HAMILTON
#998 (#63 DT)
★★★
17 Games
Yes
LS
LIAM MCCULLOUGH
#2443 (#1 LS)
★★
54 Games
Yes*
*Has not yet played in a regular season game but is currently on an NFL roster
Eric Glover-Williams, DB/WR
Like Gibson, Glover-Williams was a top-100 recruit who changed positions at Ohio State and ultimately left the program after off-field trouble.
He started his career with the Buckeyes as a defensive back and appeared in 20 games, primarily on special teams, in 2015 and 2016. He moved to wide receiver in 2017, but was dismissed from the team after a sexual assault investigation. Glover-Williams went on to play two seasons at the Division II level for Slippery Rock University, earning second-team All-PSAC West honors at cornerback in both seasons, but did not play in the NFL.
Matthew Burrell, OG
Despite being ranked as the No. 7 guard in the recruiting class of 2015, Burrell never started a game in three seasons at Ohio State. He ultimately transferred to the Football Championship Subdivision level to play at Sam Houston State, where he played in 20 games over two seasons.
Nick Conner, LB
Conner was plagued by knee injuries throughout his three seasons with the Buckeyes, in which he recorded just three total tackles, all in Ohio State's 2016 season opener against Bowling Green. His football career ended in 2018 when he was medically disqualified from the team due to his injuries.
Kevin Feder, OT
Feder never played a snap in three seasons at Ohio State before transferring to Kansas, where he became a two-year starter at right tackle. He went on to play in The Spring League in 2020.
Josh Norwood, DB
Norwood transferred from Ohio State after two seasons as a reserve cornerback for the Buckeyes. He spent one year at Northwest Mississippi Community College before finishing his college career at West Virginia, where was an All-Big 12 honorable mention cornerback in 2018 and a second-team All-Big 12 safety in 2019. He signed with the Seattle Seahawks after going unselected in the 2020 NFL draft, but did not make their regular-season roster and has not resurfaced in the league.
A.J. Alexander, TE
After catching four passes for 27 yards as the Buckeyes' top backup tight end in 2016, Alexander was medically disqualified from playing at Ohio State after missing the entire 2017 season with a knee injury. He transferred to Slippery Rock in 2018, catching 11 passes for 89 yards and three touchdowns in one season there, then transferred again for his final season of college football at Gardner-Webb, where he caught 16 passes for 155 yards and one touchdown in one season.
Alex Stump, WR
Even though he was a four-star recruit out of high school, Stump caught just one pass for eight yards in two seasons at Ohio State. He then transferred to Vanderbilt, where he appeared in 10 games for the Commodores in 2018 but did not catch any passes.
Grant Schmidt, OT
Ohio State's first-ever player from the state of South Dakota, Schmidt spent just one season with the Buckeyes before transferring to Cincinnati, where he also spent just one season before transferring again to South Dakota State, where he played in just three games as a reserve offensive lineman as a fifth-year senior in 2019.