This year's All-Buckeye team might be the best one yet.
After another 10 Buckeyes were selected in this year's draft, there are currently 69 former Ohio State players on NFL rosters, meaning there are more than enough players to put together a full 53-man roster with the talent to compete with any team in the league.
Our third annual All-Buckeye team looks at what an NFL roster composed only of players who finished their careers at Ohio State would look like in 2021, and how that team might stack up against the average NFL roster at every position.
To be eligible for this year's All-Buckeye team, a player had to be on an NFL roster as of Thursday night. Because of that, you won't see players like Malik Hooker, Nate Ebner, Gareon Conley and John Simon, who all still could play in the league this year and would be worthy additions to this team, but currently remain unsigned free agents.
QB: Justin Fields, Dwayne Haskins
Quarterback has been a weakness for the All-Buckeye team over the years, but that could change now that Fields is in the NFL. While the Chicago Bears have said they don't want to rush Fields' development and that Andy Dalton could be their top quarterback this season, Fields immediately rises to the top of the depth chart for former Buckeye quarterbacks in the league, where he'll look to finally become the first true franchise quarterback from Ohio State.
That was supposed to be Haskins' path, but he now has to compete just to make the roster in Pittsburgh after lasting less than two full seasons with the Washington Football Team. That said, he's the only other quarterback currently on an NFL roster who finished his college career at Ohio State, and at just 24 years old, he still has the upside to eventually re-emerge as a starter – making Fields and Haskins the highest-upside quarterback duo Ohio State has had in the league in a long time.
RB: Ezekiel Elliott, J.K. Dobbins, Trey Sermon, Carlos Hyde
Elliott and Dobbins give the All-Buckeye team a fantastic one-two punch at running back. Together, they combined for 2,242 yards from scrimmage and 17 touchdowns scored last season – and that was with Elliott having his worst season so far in the NFL and Dobbins splitting touches with two other running backs as a rookie.
Sermon and Hyde, who are expected to play rotational roles in their respective teams' backfields in 2021, provide depth that would make this running back roster stronger than any current NFL team (though an All-Alabama running back rotation would be tough to beat).
WR: Michael Thomas, Terry McLaurin, Curtis Samuel, Noah Brown, Parris Campbell, K.J. Hill
After an injury-plagued 2020 season, Thomas will look to get back on track as one of the NFL's best wide receivers in 2021. McLaurin and Samuel, who are both coming off excellent 2020 seasons and are now teammates in Washington, round out an excellent starting lineup with McLaurin's deep speed complementing Thomas outside and Samuel bringing his versatile skill set as both a receiver and runner to the slot.
The rest of the All-Buckeye team's wide receiver roster isn't quite as proven at the NFL level, but is still talented. Brown, who's a staple on special teams for the Dallas Cowboys, had a career-high 14 catches for 154 yards last season. Campbell has been plagued by injuries in his first two NFL seasons but has flashed playmaking ability when healthy. Hill, who narrowly edges out fellow second-year NFLer Austin Mack for the last roster spot at wide receiver, will look to earn a bigger role in 2021 after catching seven passes for 73 yards and returning 12 punts for 83 yards as a rookie.
TE: Nick Vannett, Luke Farrell, Marcus Baugh
Vannett, who signed with the New Orleans Saints this offseason, is the only former Ohio State tight end currently on an NFL roster with more than one catch in the league. Farrell joins the Ohio State tight end contingent in the league after being drafted by the Jacksonville Jaguars and Urban Meyer (who's now eligible to be the All-Buckeye team's coach) with the top pick in the fifth round.
Baugh, who just had one catch in eight games for Washington last season, is the only other full-time tight end from Ohio State currently on an NFL roster. Much like at Ohio State, all three of these tight ends provide most of their value as blockers and on special teams.
OT: Taylor Decker, Jamarco Jones, Isaiah Prince
With Thayer Munford and Nicholas Petit-Frere choosing to stay at Ohio State for the 2021 season, offensive tackle is one of the thinner positions on the All-Buckeye roster.
Decker is one of the NFL's best left tackles, but he's the only full-time starting tackle from Ohio State in the league right now, though Jones has made five starts in the past two seasons with the Seahawks. The only other Buckeyes currently playing tackle in the league are Prince, who opted out of last season and will be battling for a roster spot with the Cincinnati Bengals this summer, and Branden Bowen, who has yet to play in an NFL game but will try to make the Arizona Cardinals' roster this summer.
G: Andrew Norwell, Jonah Jackson, Pat Elflein, Wyatt Davis
The All-Buckeye team has no shortage of depth at guard, with as many as five former Ohio State players who could be NFL starters at the position in 2021.
Norwell (Jacksonville Jaguars), Jackson (Detroit Lions) and Elflein (Carolina Panthers) are all starting left guards for their teams, while Davis could start at either left or right guard in his rookie season with the Minnesota Vikings. Michael Jordan has been a starting left guard for the Bengals for the past two seasons, but he's going to face competition for his starting spot and potentially even his roster spot after the Bengals failed to adequately protect Joe Burrow last season, which is why he doesn't make the cut here.
Norwell, a 2017 All-Pro, likely slots in as one starting guard while Jackson could be the other after a strong rookie season in Detroit. Regardless, the All-Buckeye team has plenty of options to fill those two spots.
C: Corey Linsley, Josh Myers
Linsley was the best center in the entire NFL last season, earning All-Pro honors for the first time in his career, making him the unquestioned anchor of a strong All-Buckeye interior offensive line.
Myers, who is actually in line to replace Linsley as the Green Bay Packers' new center, becomes his backup on this year's All-Buckeye team. Billy Price is another backup option, but he gets squeezed out by Myers on this depth chart after a shaky first three years of his career in Cincinnati.
DE: Joey Bosa, Chase Young, Nick Bosa, Sam Hubbard, Tyquan Lewis, Jalyn Holmes 
Defensive end is unquestionably the strongest position on the All-Buckeye team, led by three legitimate superstars in Young and the Bosa brothers. Deciding which one of them wouldn't start is a challenge – right now, it might be Nick Bosa solely because he's working his way back from a torn ACL – but a pass-rush rotation featuring all three of them would give even the NFL's best offensive lines fits.
Hubbard has also been an effective starter for his hometown Bengals, yet he's clearly the No. 4 defensive end on this roster. Lewis and Holmes, who each lined up both outside and inside for their NFL teams, provide additional defensive end depth with the flexibility to kick inside to defensive tackle.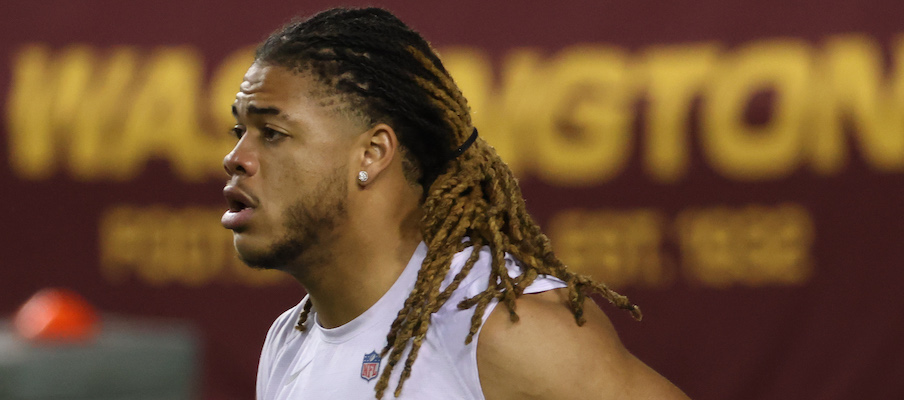 DT: Cameron Heyward, Johnathan Hankins, DaVon Hamilton, Dre'Mont Jones, Tommy Togiai
The interior of the All-Buckeye team's defensive line is strong, too, led by Cameron Heyward. While Heyward plays defensive end for the Pittsburgh Steelers' 3-4 defense, he moves inside to lead the defensive tackle rotation on this squad's four-man front, fresh off his fourth straight Pro Bowl berth.
Hankins and Hamilton are a pair of quality options to start at nose tackle, where Cleveland Browns newcomer Togiai also enters the rotation after being drafted in the fourth round. Jones – who, like Heyward, moves from the 3-4 defensive end position he plays in Denver to the 3-technique tackle position on the All-Buckeye team – provides interior pass-rush ability off the bench after recording 10 sacks in his first two NFL seasons.
LB: Jerome Baker, Malik Harrison, Pete Werner, Raekwon McMillan, Baron Browning 
Linebacker had been one of the thinner positions in our first two iterations of the All-Buckeye team, but its depth gets a nice boost this year after Werner and Browning were both selected on Day 2 of the NFL draft.
Baker leads this unit after recording 112 total tackles and seven sacks for the Miami Dolphins last season, while Harrison performed well in his first NFL season with the Baltimore Ravens. Werner could start for the Saints as a rookie and would likely be the third starting linebacker on this roster, though a 4-2-5 base defense could be the way to go given all the talent the All-Buckeye team has in its secondary.
CB: Denzel Ward, Marshon Lattimore, Jeff Okudah, Bradley Roby, Damon Arnette, Kendall Sheffield
Ward and Lattimore give the All-Buckeye team an elite pairing of starting cornerbacks that could rival any actual cornerback tandem in the league for the best in the NFL, and every other cornerback on the All-Buckeye roster was also a starting cornerback in the league last season.
Okudah had growing pains as a rookie, but the 2020 No. 3 overall pick will look to bounce back in year two. Arnette will also be looking to raise his game after an injury-plagued rookie year. Roby and Sheffield have also had their ups and downs, but they've both started 20 games over the past two seasons, and Roby would likely play slot cornerback – where he's been at his best in the NFL – on this team.
S: Malcolm Jenkins, Vonn Bell, Jordan Fuller, Shaun Wade
The 2021 All-Buckeye team also has the personnel to line up with three safeties on the field, as Ohio State has a trio of bona fide starting safeties in the league in Jenkins, Bell and Fuller. Jenkins and Bell give the All-Buckeye team a pair of versatile veteran safeties who can make plays all over the field and provide leadership on the back end of the defense, while Fuller had an excellent rookie season with the Los Angeles Rams, in which he looked like the best 199th overall draft pick since Tom Brady.
Wade will probably line up primarily at slot cornerback with the Baltimore Ravens, but he slots in as a backup safety on this roster since there's much more depth at cornerback.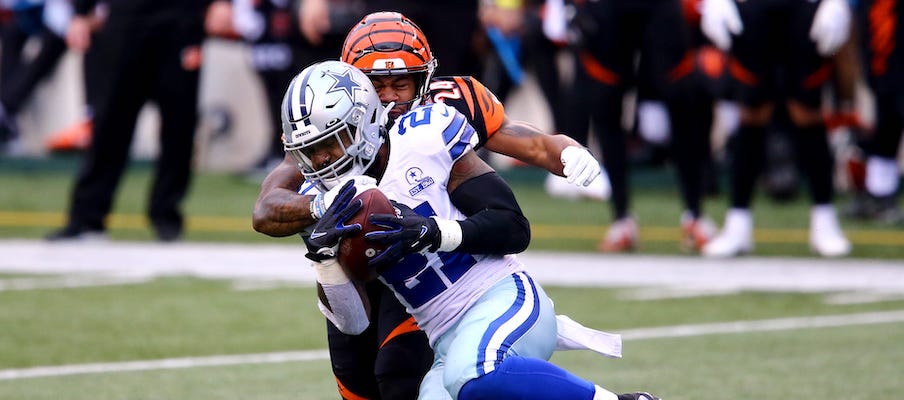 K: Blake Haubeil
Mike Nugent is currently unsigned after kicking in two games for the Arizona Cardinals last season, which passes kicking duties for the All-Buckeye team on to Haubeil. Ohio State's hopes of having a kicker in the NFL this season likely hinge on whether Haubeil can beat out Tucker McCann – which looks like a realistic possibility, as McCann has also not yet kicked in an NFL game – to win the Tennessee Titans' kicking job this preseason.
P: Cameron Johnston
Johnston, who signed with the Houston Texans this offseason, has some competition to be the All-Buckeye team's punter now that Drue Chrisman is in the NFL. But Chrisman will need to win a punting job and become a top punter in the league if he's going to wrest this spot away from Johnston, who's ranked among the NFL's top 11 in yards per punt in each of the past three seasons.
LS: Jake McQuaide
After 10 seasons as a Ram, McQuaide signed with the Cowboys this offseason. Liam McCullough will also be competing for a job with the Las Vegas Raiders this summer, but like Chrisman, he has to earn a regular-season roster spot and prove himself in the NFL to pose serious competition to McQuaide, who's been reliably steady throughout his pro career.
Practice Squad: RB Mike Weber, WR Austin Mack, WR Binjimen Victor, WR Devin Smith, TE Jake Hausmann, OT Branden Bowen, G Michael Jordan, C Billy Price, DE Jonathon Cooper, DE/TE Rashod Berry, DT Jashon Cornell, LB Justin Hilliard, LB Tuf Borland, CB Eli Apple, P Drue Chrisman, LS Liam McCullough
The NFL hasn't yet finalized its practice squad rules for the 2021 season, but it allowed teams to have 16 players on their practice squads in 2020 due to the COVID-19 pandemic. If the NFL keeps that larger practice squad in place for 2021, that would leave just enough room for every Buckeye who's currently on a league roster to have a spot on the All-Buckeye team, with 16 players cut from the 53-man roster.
Many of these players could end up being on actual practice squads around the league this season, too. While Jordan, Price and Apple (all currently with the Bengals) are established veterans who have started games in the league, and Smith has played in 18 games over the past six years, the rest of these players are all fewer than three years removed from playing at Ohio State and still trying to gain a foothold in the league.
Projected Depth Chart

| POS | First Team | Second Team | Third Team | Fourth Team |
| --- | --- | --- | --- | --- |
| QB | JUSTIN FIELDS | DWAYNE HASKINS |   |   |
| RB | EZEKIEL ELLIOTT | J.K. DOBBINS | TREY SERMON | CARLOS HYDE |
| WR | MICHAEL THOMAS | NOAH BROWN |   |   |
| WR | TERRY MCLAURIN | PARRIS CAMPBELL |   |   |
| WR | CURTIS SAMUEL | K.J. HILL |   |   |
| TE | NICK VANNETT | LUKE FARRELL | MARCUS BAUGH |   |
| LT | TAYLOR DECKER |   |   |   |
| LG | JONAH JACKSON | PAT ELFLEIN |   |   |
| C | COREY LINSLEY | JOSH MYERS |   |   |
| RG | ANDREW NORWELL | WYATT DAVIS |   |   |
| RT | JAMARCO JONES | ISAIAH PRINCE |   |   |
| DE | JOEY BOSA | NICK BOSA | TYQUAN LEWIS |   |
| DE | CHASE YOUNG | SAM HUBBARD | JALYN HOLMES |   |
| DT | CAMERON HEYWARD | DRE'MONT JONES |   |   |
| NT | JOHNATHAN HANKINS | DAVON HAMILTON | TOMMY TOGIAI |   |
| LB | JEROME BAKER | PETE WERNER |   |   |
| LB | MALIK HARRISON | RAEKWON MCMILLAN | BARON BROWNING |   |
| CB | DENZEL WARD | JEFF OKUDAH |   |   |
| CB | MARSHON LATTIMORE | KENDALL SHEFFIELD |   |   |
| CB | BRADLEY ROBY | DAMON ARNETTE |   |   |
| S | MALCOLM JENKINS | JORDAN FULLER |   |   |
| S | VONN BELL | SHAUN WADE |   |   |
| K | BLAKE HAUBEIL |   |   |   |
| P | CAMERON JOHNSTON |   |   |   |
| LS | JAKE MCQUAIDE |   |   |   |