Only just barely did Ohio State's 2017 recruiting class – which featured Chase Young, J.K. Dobbins, Jeff Okudah, Wyatt Davis, Josh Myers, Haskell Garrett, Thayer Munford, Pete Werner and more – edge out the 2021 class in terms of average player rating.
The group of true freshmen who either enrolled in January or will enroll in June is loaded from top to bottom. The 21-player class features five five-star studs, 12 top-100 prospects and only a trio of three-stars. Its impact was seemingly already felt in the spring when more freshmen than usual – five, to be exact – lost their black stripes. J.T. Tuimoloau still hasn't chosen a school yet, either.
This class of freshmen has a chance to be special. But how special can it be right away?
Today, we're ranking them from least likely to have an impact on Ohio State's 2021 season to most likely. As usual, let's start up front with the offensive line.
21. Zen Michalski
Rarely do freshman offensive linemen play immediately. Michalski, a development project, isn't going to be the one to buck the trend. He committed with the expectation that he'd need time to put on weight and develop his technique before getting onto the field.
20. Ben Christman
Christman should be a bit ahead of Michalski from a physicality standpoint. Still, the Buckeyes have ample depth on the interior of their offensive line, meaning it would be a surprise for the Revere product not to redshirt.
19. Jaylen Johnson
Not enrolling until the summer, Johnson will be a step behind some of the other freshmen in his class, and there's no clear path to the field. This ranking could be a bit low since he's a candidate to play special teams off the rip, but there's a glut of about 10 guys in a similar spot as him. Johnson will also have to figure out where he best fits position-wise into this defense.
18. Andre Turrentine
Like Johnson, Turrentine won't arrive at Ohio State until the summer. Also like Johnson, special teams is where he'll likely see the most impact as a true freshman. The Buckeyes have quality depth at the safety and Bullet spots that Turrentine might fill, so it's difficult to imagine him doing anything other than mop-up duty on defense.
17. Evan Pryor
The depth at running back this fall does Pryor no favors. He walks into a room that includes Master Teague, Miyan Williams, Marcus Crowley, Steele Chambers and fellow freshman TreVeyon Henderson. While his pass-catching ability might get him a few snaps here and there, it's fair to expect him to have to wait before being more of a featured part of Ohio State's backfield.
16. Sam Hart
If Ohio State had better depth at tight end, Hart might show up as one of the top or three least likely guys to make an impact as a true freshman. But because there's a total lack of proven commodities behind Ruckert, the three-star from Colorado has a better shot than he would in most other years to get onto the field right away. Still, he'll more than likely make his bones on special teams in 2021.
15. Tyleik Williams
The first time Ryan Day had a chance to talk about Williams publicly, he commented on how he "really moves well for big size." At 330 pounds, he's the second-heaviest player on the team behind Dawand Jones. That might help him see snaps earlier in his career since he offers Larry Johnson a different type of lineman to trot out there. Yet, Ohio State has veteran nose tackles Jerron Cage and Antwuan Jackson to play the majority of snaps, and Ty Hamilton's there as well. Williams will likely have to wait until Year 2 for a significant role at 1-technique.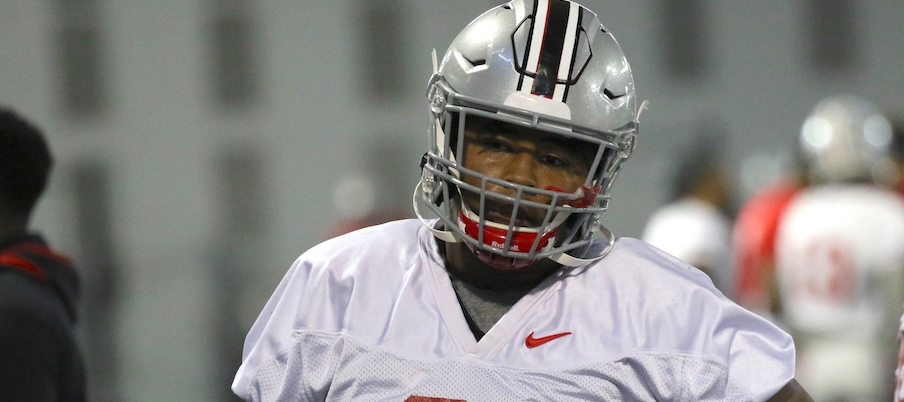 14. Denzel Burke
Oft-forgotten because he never took a visit to Ohio State and is the lowest-ranked cornerback in this class, Burke got a boost by enrolling early and taking advantage of the boatload of reps available to underclassmen at his position this spring. Day mentioned he made a big play on the first day of camp this March, in fact. More than likely, his time this fall will be spent on special teams.
13. Jayden Ballard
A speedy deep threat from Massillon, it would make a lot of sense for Ballard to be an immediate-impact special-teamer. The transfer of Jameson Williams, though, also means there's one less guy in front of him on the wide receiver depth chart. Ohio State has a downright phenomenal two-deep of wideouts, but Ballard will have a chance to make a case for his downfield abilities to get him onto the field as a freshman.
12. Donovan Jackson
If we're ranking the players most likely to have great Ohio State careers, Jackson would easily find himself within the top-five. Because he's an offensive lineman and we're zeroing in on the 2021 season, he's a bit lower on this list. Jackson has the potential to be a spectacular guard in a Buckeyes uniform, but it'll be a struggle just to get on the two-deep depth chart as a true freshman. Ohio State has Paris Johnson, Harry Miller, Matthew Jones, Luke Wypler, Josh Fryar, Ryan Jacoby and Enokk Vimahi already vying for position, and Jackson doesn't even step foot on campus until the summer.
11. Reid Carrico
Only two true freshmen on the defensive side of the ball had their black stripes removed in the spring, and Carrico was one of them. He's blocked at inside linebacker by Teradja Mitchell, Dallas Gant and others, but that's an indication that one way or another, he should see the field a decent bit as a true freshman. Carrico, who comes from Ironton, entered the program as a top-100 recruit.
10. Jantzen Dunn
The athleticism he possesses and the relative lack of guys ahead of him at free safety makes it possible for him to be involved as a true freshman. He's one of four defensive true freshmen our own Dan Hope listed on his three-deep, post-spring depth chart projection. It'll likely be hard to be higher than third-string in 2021. That said, he enrolled early and has an easier path to the field than many others in his class.
9. Mike Hall
Larry Johnson loves his disruptive 3-techniques, and that's exactly what Hall has a chance to become. The one issue in 2021? Haskell Garrett and Taron Vincent exist. Hall's this high on the list, though, because his talent as a top-50 prospect who cleaned up Division-III in Streetsboro should get him onto the field in some capacity. He's too good not to have some sort of role, even if his true breakout in college will come at some point further down the line.
8. Jordan Hancock
Ohio State came on top in a head-to-head battle with Clemson for this cornerback. That might sound familiar considering it just happened on Wednesday with Ryan Turner. Hancock, however, was once committed to the Tigers. Instead, it'll be Kerry Coombs who coaches the Georgian. Had Hancock enrolled in January, he – and Jakailin Johnson – might be even higher on this list. 
7. Jakailin Johnson
Like Hancock, Johnson is a top-100 overall recruit playing a position the Buckeyes lacked any consistency last year. If either of these two shines in preseason camp, there's a potential role to fill on this defense. If not, one would imagine they'll spend plenty of time on special teams.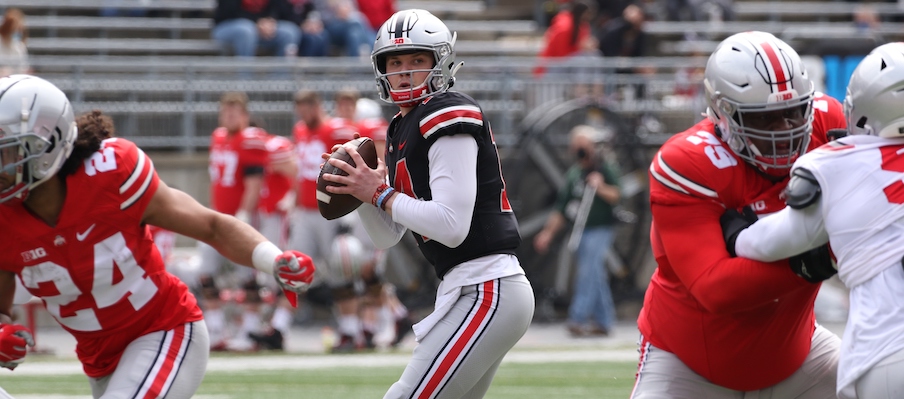 6. Kyle McCord
The wild card. If McCord starts, he immediately shoots to No. 1 on this list. If he doesn't, he'd either stay around sixth or drop a bit. Given that the consensus is C.J. Stroud will enter August as the favorite, it's tough to place McCord any higher.
5. Jesse Mirco
Australian punters are back in a big way. Provided Mirco beats Michael O'Shaughnessy for the opening left by Drue Chrisman, he'll be Ohio State's punter, potentially beginning a four-year run.
4. Marvin Harrison Jr.
Nobody in the freshman class saw their stock rise higher in March and April than Harrison. Even before spring camp began, Day touted Harrison's physical progress, saying he "looked like a whole different person" when he showed up in January. Then the work began, and it became evident that he's going to play right away. Day and Brian Hartline praised his professionalism – which shouldn't be a shock given his football bloodlines – and work ethic. Harrison wrapped it up with seven catches and a touchdown in the spring game. He's currently projected as Garrett Wilson's backup at X-receiver.
3. Emeka Egbuka
The second top-ranked wide receiver recruit the Buckeyes landed in the span of two classes appears dead-set on ending up as Jaxon Smith-Njigba's backup in the slot. He lost his black stripe before spring camp wrapped up and left on a high note with six receptions for 123 yards in Ohio Stadium. It would be a genuine shock if he's outside of the two-deep depth chart by the time the first game rolls around. Egbuka is as physically ready to play right away as any wide receiver who has come through Columbus in recent years.
2. TreVeyon Henderson
Well, Henderson might not start on Sept. 2, but he certainly figures to play a lot as a true freshman. While there's plenty of depth in the tailback room, nobody has the skillset that he possesses as the No. 1 running back recruit in the country. Henderson, Master Teague and Miyan Williams would appear to be the three most likely running backs to end the season topping the team in carries, but their order on the depth chart – and the possibility of Marcus Crowley entering the mix – is a total unknown as this team enters the summer. 
1. Jack Sawyer
Unless McCord or Henderson start, Sawyer's a good bet to have the most impactful true freshman season among any of these 21 Buckeyes. He showed out in the spring game after impressing throughout the prior three months, and there's no way Larry Johnson can keep him off the field as much as he does most true freshmen. Expect to see a bunch of Sawyer come this fall.