A transfer loss of somebody with the talent and reputation of Jameson Williams should harm a program. 
The rising third-year wide receiver has speed for days. He started on an Ohio State team that played for a national title less than four months ago. His deep-threat chops with impressive size at 6-foot-2 and 189 pounds showed up in the College Football Playoff with his 45-yard touchdown to help beat Clemson. He averaged 17.7 yards per reception in his first two seasons of college football. Recruiting analysts pegged him as a top-100 overall prospect coming out of high school. He was set to be in Brian Hartline's rotation once again this fall.
Yet he's gone. Gone to Alabama, of all places.
And somehow, some way, the effects on Ohio State should be minimal.
The room Brian Hartline has constructed is, as the kids say, built different. It should be set to withstand the loss of a former starter who might be about to step into a starting role on a Nick Saban-led defending national champion without missing a beat.
The Buckeyes had plans to shift Garrett Wilson back to X-receiver in order to move Jaxon Smith-Njigba into the starting lineup in the slot. Chief among the effects of that decision would have been Williams turning into a backup Z-receiver behind Chris Olave, who figures to play a significant majority of snaps at the position. Understandably, Williams didn't want to do that, so he left and went to the Crimson Tide who have shown an ability to win at the highest level and develop receivers at the highest level – just like the program he's exiting.
That helps explain the state of Ohio State's wide receiver room in 2021. Somebody looked at it, looked at the Alabama's, then decided opportunities would be easier to come by in Tuscaloosa. 
The Buckeyes will be legitimately stacked at receiver this fall, featuring what should be the nation's best two-deep depth chart at the position in all of college football. Here's the consensus projection of how it's laid out:
X: Garrett Wilson, Marvin Harrison Jr.
Z: Chris Olave, Julian Fleming
Slot: Jaxon Smith-Njigba, Emeka Egbuka
Nothing's a guarantee. Unexpected things happen. But there's a decent chance everybody looks back at those six names together with wonder about how in the world that collection of talent came together at once.
Maybe that's a bit hyperbolic since the four underclassmen have combined for 17 catches. There's a lot for some of them to prove. Collectively, however, the pure talent is borderline unreplicable. 
Among the six receivers expected to be in the regular rotation, two of them are widely viewed as potential first-round draft picks next year (Olave, Wilson), two were formerly rated as the No. 1 overall wide receiver recruits in their respective class (Fleming, Egbuka), one has already earned second-team All-American honors (Wilson), four were once regarded as five-star recruits (Wilson, Fleming, Smith-Njigba, Egbuka) and one has a father whose NFL career as a wideout earned him a trip to Canton and a bust in the Hall of Fame (Harrison).
You see proven superstars in Olave and Wilson, and they're surrounded by some of the country's most highly regarded underclassmen.
What's the ceiling for this group? It's a complete unknown. These players and Hartline have to push themselves to find out, though, considering it'll probably be higher than anybody else's in the sport this year.
"I think coming in with an elevated talent pool, if you will, is that we can try some new things, we can do different things, we can have a little more fun with it and really take everything to another level," Hartline said in April. "We've reached a certain level. How about the next level? At the end of the day, these guys have a way to go in their careers, and if they don't believe that, they won't reach that."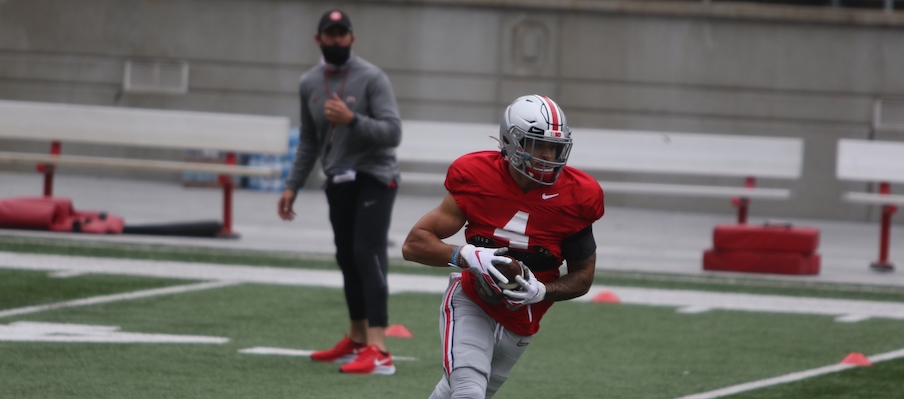 There's no reason for them not to believe in their ability to take it all a step further.
Olave has consistently improved year after year, going from a three-star recruit, to a late-freshman breakthrough, to a deep threat, to a legitimate No. 1 receiver. Now, he's trying to add some muscle to his frame and become the total package and land in the first round of the draft next year. Wilson has lived up to the hype that followed him from Austin, Texas. He made several spectacular catches as a true freshman then became a difficult-to-corral option in the slot whose numbers were a mere step behind Olave's. Going back outside, he'll have a prime shot to prove that he's able to get open consistently from all over the field while turning himself into the first-rounder 
The other four expected to be in the rotation – Smith-Njigba, Fleming, Egbuka and Harrison – have everything to prove with minimal track records.
Smith-Njigba's tightrope touchdown reception got played over and over, but he only had 10 catches for 49 yards and one score. As a sophomore starting in the slot where Ohio State season-long reception leaders frequently line up, he'll have the ball thrown his way significantly more this season. Fleming, expected to back up Olave at Z-receiver, will have similarly increased opportunities in the fall before having a real chance to star as a junior starter once the guy in front of him leaves for the NFL. Hartline has said he has the best size-speed combination he has ever seen in college football, and he should be healthy when the season kicks off after dealing with a shoulder injury that required surgery.
Egbuka and Harrison haven't played in any games, though their respective hype trains have taken off after positive comments followed them throughout their first-ever spring practices. Egbuka, a physically impressive freshman ranked as the No. 1 wide receiver recruit in the 2021 cycle, figures to serve as Smith-Njigba's primary backup. Harrison's stock rose perhaps more rapidly than any other incoming freshman's, impressing those within the program with his work ethic, professionalism and physicality.
Outside of those six, the Buckeyes boast a room that also features Jayden Ballard, Jaylen Harris, Kamryn Babb and Ellijah Gardiner, each of whom will be trying to wedge themselves into the picture at wide receiver. The talent in front of them, however, will be hard to pass.
Alabama is coming off back-to-back NFL drafts in which it put two wide receivers in the first rounds in each of them. Could that happen with Ohio State in the next couple of years?
Dare to dream. This group, if it all comes together, can be special.