When Evan Pryor and TreVeyon Henderson both committed to Ohio State's recruiting class of 2021 last March, another school attempted to use that against the Buckeyes.
That school, which Ohio State running backs coach Tony Alford did not name, tried to pit the two running backs against each other after Henderson pledged to the Buckeyes just 11 days after Pryor. That recruiting strategy didn't work, however, for a clear reason: They wanted to play together. 
"Had that school done any amount of research, they would have found out that those kids knew better," Alford said. "Because they were intricately involved in the recruitment of the other guy."
As Zack Carpenter documented here at Eleven Warriors shortly before their commitments last March, both Henderson and Pryor wanted to be part of a two-back recruiting class. And they became friends as they went through the recruiting process together. So Henderson's decision to commit to Ohio State less than two weeks after Pryor was no coincidence, nor did either's commitment make the other feel less prioritized by the Buckeyes, as they actually encouraged each other to join them in Columbus.
"Evan committed first, and he helped recruit Trey. Those guys helped recruit one another, and they were talking all the time," Alford said. "So when you thrust them into a room together, they're already friends. They already know each other. And they're comfortable with one another."
Their friendship has only gotten stronger since they've arrived at Ohio State, where the two freshman running backs are now roommates. And Alford saw them working to help make each other better before spring practices even started.
"It's funny, I got a FaceTime call on a Sunday, this was weeks ago mind you, it was on a Sunday, I get a FaceTime call about 8 at night and these two, they have somehow figured out how to get into the facility on a Sunday night and they're working on pass protection," Alford recalled. "One of the other receivers is with them holding up the camera and having me coach them through some drill stuff, some pass protection drill stuff on a Sunday night in I think it was late January, early February. So they're just hungry. They're hungry to learn and great kids and coachable and they're good teammates."
That's not to say they aren't also competitive with each other, though.
"Every day, low-key, we compete in everything," Pryor said. "If Trey cooks something, maybe I'll cook something, see what tastes better. But on the field as well, we're pushing each other."
Now that spring practices have begun, they are battling with each other – and Ohio State's older running backs – for position on the depth chart. As top-100 recruits, both of them are viewed as legitimate candidates to push for immediate playing time, as Ryan Day suggested himself earlier this week.
"Two young running backs that both look really talented, those guys have a chance to get on the field for us," Day said Monday.
Realistically, though, there probably won't be room for both of them in the running back rotation this year. Master Teague is the incumbent starter, Miyan Williams also appears to be making a strong push for regular playing time and Marcus Crowley and Steele Chambers are both looking to make a move as third-year Buckeyes. Henderson and Pryor are too talented not to garner real consideration, but their vision of both playing regularly and splitting carries with each other will likely have to wait until later in their Ohio State careers.
That said, Alford believes the mentality Pryor and Henderson have of encouraging each other is one that's shared by his entire running back room, which makes him feel good about the current state of his position group.
"I think they all understand that in order for one to have success, they better hope that their buddy behind them can have success too. Because you need more than one guy that can play, and to help the team succeed. And they've taken to that," Alford said. "But that's become not just the culture of Ohio State running backs, but the culture of our entire locker room. And I think that's cultivated from the top down, starting with our head coach. But when we recruit guys, we want to get them together, we want them to know each other."
"They're hungry to learn and great kids and coachable and they're good teammates."– Tony Alford on TreVeyon Henderson and Evan Pryor
Even though they're currently the youngest running backs on Ohio State's roster, there's precedent for Henderson or Pryor to get the chance to play right away if they earn it. J.K. Dobbins became Ohio State's starting running back as a true freshman in 2017, and Alford doesn't expect them to want to wait their turn, encouraging all of his running backs to "show the staff that we have to play you."
At the same time, Alford doesn't want to set the expectations too high for either of them as freshmen, recognizing they're only just beginning their development as college football players.
"Each situation is its own situation in and of itself, and to try to put pressure on a young guy to say, 'Well, J.K. did this back as a freshman, so you have to be able to do this,' that's not fair. That's not fair to anybody," Alford said. "I think these young guys are very explosive football players. You can tell they got some twitch and some burst in them. And we'll just continue to work with them and see where this thing goes."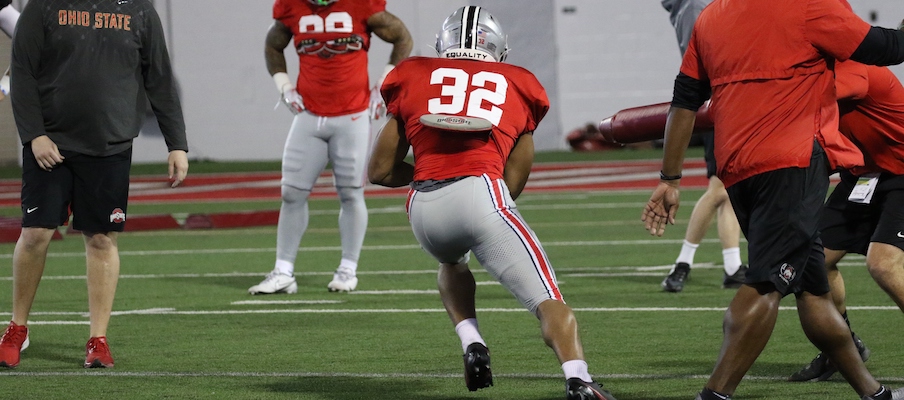 Neither Henderson nor Pryor lacks for confidence, so there's no question they'd both like to be on the field playing regularly in 2021. But they recognize the Buckeyes' other running backs want that, too.
"We're all great running backs," Henderson said. "We've been competing a lot and making each other better. So we'll see how it all plays out."
While Pryor and Henderson are certainly going to be competitive with each other and the other running backs, they've also expressed a team-first approach and a desire to build one another up rather than tear each other down.
"We're brothers first. We're gonna share the field together. So we obviously know it's competitive, but that's not something that is maybe spoken about every day," Pryor said. "So we're just gonna keep coming in every day, making each other better and grinding."