Wyatt Davis was playing hurt for the final five games of his final season at Ohio State.
He still isn't sure exactly how he injured his knee in the Buckeyes' fourth game of their abbreviated 2020 season against Indiana, but it bothered him for the remainder of the season. For the most part, he was able to play through it; he exited a few plays early in the following game against Michigan State, but played every offensive snap in the Big Ten Championship Game against Clemson and the College Football Playoff semifinal against Clemson. After he aggravated that injury on the final possession of the first half of the national championship game against Alabama, however, Davis had to watch the final half of his Ohio State career from the sideline, and left the field on crutches. 
Despite that injury, and the draft stock he already had as a projected early-round pick, Davis never considered sitting out any of the Buckeyes' final four games. Having opted back into playing when the Big Ten reinstated the fall football season, Davis was committed to doing whatever he could to help Ohio State try to win a national championship.
"I wanted to play. Even if I would have known what my injury was prior, I still would have played, just because we were right there," Davis said Tuesday. "It was either all in or nothing."
Much like fellow Ohio State offensive lineman Josh Myers, who revealed Tuesday that he was playing with a broken bone in his foot in the College Football Playoff, and Ohio State cornerback Shaun Wade, who also dealt with a turf toe during the 2020 season, Davis prioritized helping the Buckeyes achieve their goals over his individual health, giving the Buckeyes everything he had despite being uncertain about the severity of his injury.
The good news for Davis, unlike Myers and Wade, was his injury did not require surgery, allowing him to make a full recovery in time for Tuesday's Ohio State pro day.
"Fortunately I didn't have to go through any major surgery or anything like that, I didn't have to get surgery at all. It was all a blessing," Davis said.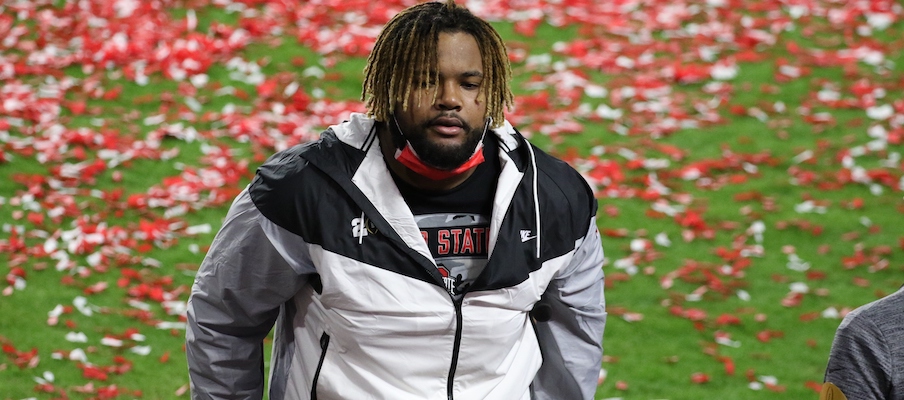 As soon as the national championship game was over, Davis turned his full attention toward rehabbing his knee and getting healthy. Then "once it really started feeling good, that's when I started doing field work and getting prepared" for Tuesday's pro day.
Davis didn't run the 40-yard dash or participate in any of the jumping or agility drills on Tuesday, but he went through a full session of offensive line drills designed to answer the questions that NFL teams might have about him. That's what he focused on in his pre-draft training once he got healthy, and he believes that work paid off.
"I did everything possible to make sure my knee was fully ready and 100 percent ready to go, which I feel like I executed that," Davis said. "Especially with the plan that was set by my agency as well as myself when I was back training for this opportunity. So I hit all those goals, and came out today, and I feel like I did a very good day of showing that my knee is perfectly fine, it's back to 100 percent and I feel like I was able to do so with these drills. I feel like it was a really good day for me."
Davis said he has spent the past few months working on continuing to improve his technique, and he felt that showed on Tuesday as he went through a workout that included bag-striking drills, movement drills and simulated blocking situations.
"It was all drills sent from the NFL coaches themselves, what they wanted to see, and it was all short change of direction, which I think is stuff that is really important for my position specifically, because we work within a short space," Davis said. "So I feel like my change of direction was something that I really showed off today."
Davis, a two-time All-American right guard at Ohio State who has been projected as a second- or third-round pick in most mock drafts this spring, was also pleased with his performance on the bench press, where the 6-foot-4, 315-pound guard with 33 7/8-inch arms put up 25 reps of 225 pounds.
"I'm pretty happy with 25," he said.