Trey Sermon will have extra motivation to jump as high as he can when he participates in the vertical jump at Ohio State's pro day on Tuesday.
While trying to impress NFL scouts would be motivation enough on its own, Sermon will also know that every inch he leaps in the vertical jump on Tuesday at the Woody Hayes Athletic Center will mean more money raised for his mother's foundation, Arise by Faith, through the PledgeIt drive that he set up last month that asks donors to pledge a donation in the interval of their choice multiplied by how many inches he jumps. 
Founded by his mother, Natoshia Mitchell, Arise by Faith is a nonprofit organization that "will offer comprehensive educational and referral resources for our clients which includes domestic violence victims and people who need bereavement assistance services," according to its website.
Mitchell's decision to start that foundation was inspired by the tragedies she has had to overcome in her own life; as Sports Illustrated's Ross Dellenger wrote about before the national championship game in January, Mitchell's first-born son Antonio was murdered when he was just two years old by a man who had also been abusive to her.
Her perseverance to succeed in her life despite everything she's had to go through – she is a clinical research analyst at Emory University who is on track to earn a doctorate degree in psychology from the University of Arizona – has inspired Sermon to keep going when he's faced his own challenges.
"Just knowing all the adversity that she's been through, and how she's able to just overcome it, and how positive she is and how strong she is, it inspired me just to be that strong," Sermon told Eleven Warriors last week. "So any time I face adversity, I just remember back to her and how she was able to get through things. That's how I know that I'm able to do the same as well. As long as I just stay positive like she did.
"It just makes me feel that I can get through anything. And then I talk with her whenever I have problems. And she just continues to help me through it."
Now, Sermon believes it is important to use his platform as a former Ohio State running back and soon-to-be NFL player to help others, and raising funds and awareness for his mother's efforts was an easy choice.
"I know it's for a good cause, and just helping people out, that's really what it's all about," Sermon said. "People that was in a similar situation that my mom was in, just being able to help them out and to just let them know that they're not alone."
My mom is by far the toughest person I know. The unfortunate experiences she has endured have motivated her to help others heal from these past experiences. @Arise_By_Faith offers services to domestic violence survivors who live in underserved communities in Atlanta - LINK IN BIO pic.twitter.com/HYXcVeeWg9

— Trey Sermon (@treyera) March 6, 2021
Ryan Day said Monday that he was proud to see Sermon and other Ohio State draft prospects, including Tommy Togiai and Shaun Wade, using their platforms to raise money for charitable causes in association with Tuesday's pro day (though Wade will not work out on Tuesday, instead holding his own pro day on April 14, due to a turf toe injury).
"Something we talk about in recruiting is the platform that Ohio State provides," Day said. and "Obviously, their values of compassion and giving back and generosity is significant. Enough to the point where they're giving back already. It means a lot to a lot of people. And it goes to show you what type of people they are. But that's why we talk about it in recruiting. And we encourage that. Use the platform that Ohio State has provided to you to make a difference, whatever that is. That's up to them. And these guys are doing that, which is great, because that's what it's all about."
As of Monday afternoon, Sermon's pledge drive had received more than $2,000 in flat donations along with pledges totaling approximately $100/inch for his vertical jump performance. If Sermon can jump at least 30 inches in the vertical jump on Tuesday afternoon, that would mean more than $5,000 in funds for Arise by Faith. And he hopes people will consider additional donations to a cause he knows is not only important to his family, but people all over the world.
"I feel like it's important to bring awareness to domestic abuse because it's a real thing, and a lot of people go through it," Sermon said. "And you never want people to feel like they're alone, especially through something that serious, that crucial."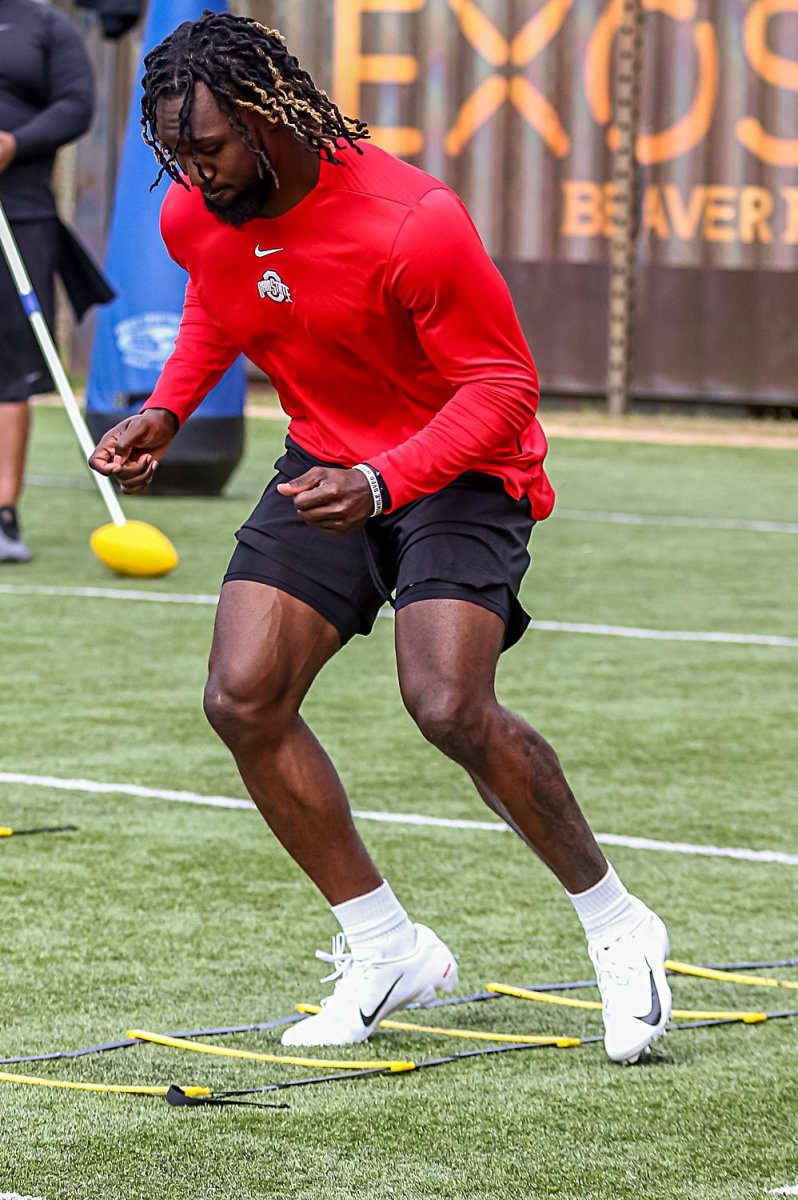 Sermon said he doesn't have a set goal for how high he'll jump on Tuesday, but he's expecting to post a big number.
"I'm just planning on jumping really high," Sermon said.
After dislocating his SC joint in Ohio State's national championship game loss to Alabama, Sermon said his shoulder is now healthy and that he will do everything at Tuesday's pro day except for the bench press. Beyond the vertical jump, Sermon is also focused on trying to run fast in the 40-yard dash – ideally, in less than 4.5 seconds – as he looks to answer questions NFL teams have about his top-end speed.
"I just want to test well across the board, and just show teams the type of player that I am," Sermon said. "I know that if they look at the film, they'll definitely see that I'm a great player. But I feel like with me testing well, it'll answer some of the question marks that they may have."
In the days leading up to Tuesday's pro day, Sermon has been back in Columbus and in attendance for each of Ohio State's last two spring practices, which has been what he described as an "awesome" opportunity for him to reconnect with some of his former Buckeye teammates.
That man @treyera is back in the building and HE DID THE THING #GoBuckeyes pic.twitter.com/ffmIxmOfja

— Ohio State Football (@OhioStateFB) March 26, 2021
"I haven't seen those guys since the national championship, so just seeing everybody, being around everybody, just laughing, helping the young running backs, it was pretty awesome," Sermon said. "Any way I can help them be successful, I'm for it."