The NFL, for the entirety of Jeremy Ruckert's life, has had a tendency to look at Ohio State tight ends in the middle rounds of the draft.
The Cleveland Browns took Darnell Sanders in the fourth round of the 2002 draft. Ben Hartsock went to the Indianapolis Colts in the third round of 2004's draft. The Denver Broncos made Jeff Heuerman a third-rounder in 2015. Most recently, Nick Vannett went off the board in 2016's third round to the Seattle Seahawks. 
So often, the Buckeyes have produced solid tight ends. So rarely, they have produced no-doubt-about-it studs at the position.
Ruckert, an increasingly complete tight end, has a chance to be the exception next spring.
The 6-foot-5, 253-pound tight end years removed from Urban Meyer calling him maybe the "best tight end prospect that I've ever seen and recruited" with a "ridiculous skillset" could have left for the 2021 NFL Draft and might have been picked higher than most who just look at a 13-catch, 151-yard, five-touchdown stat line would have guessed. The athleticism and talent as a receiver that once made him a top-40 overall recruit paired with the steady improvement as a blocker he has shown over the past several years make him an enticing prospect at the next level.
A couple of months ago, though, Ruckert decided it wasn't time to make the jump to the NFL quite yet. The time, he decided, wasn't yet right.
He chose to stick around Columbus for his senior season at Ohio State rather than enter the 2021 Draft, opting to spend one more year developing himself into an increasingly complete tight end before trying to become an early-round draft pick.
"One of the reasons he came back was to take his game to even a better level," offensive coordinator Kevin Wilson said on 97.1 last month. "He's become a much better blocker, and really solid there. He's made some plays in the pass game. We can do a better job of helping him and even being a better route-runner and featuring, getting the ball to him a little bit more than we have. Hopefully that transpires. Time will tell with that."
The next step, in Wilson's mind, will be to continue to see growth in all areas of Ruckert's game while he plays the most snaps in his career.
Ruckert was on the field for 351 snaps last season, fewer than outgoing fifth-year senior Luke Farrell (377). Now that Farrell and Jake Hausmann (51) are gone, the tight end room consists of Ruckert, a walk-on in Mitch Rossi who was fourth at the position with 32 snaps and a few inexperienced underclassmen. In other words, Ruckert won't come off the field much as a senior this fall.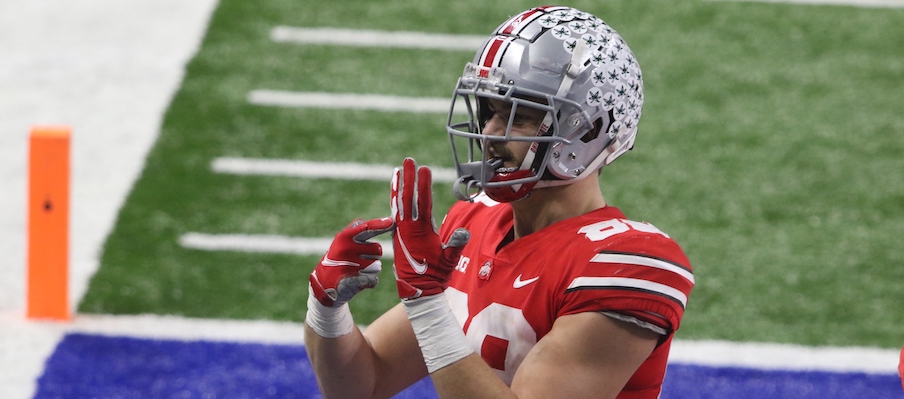 He's charged with being the most talented, most experienced and most reliable tight end on this team. Last year, he was on the field for about 60 percent of Justin Fields' snaps. Wilson theorized the percentage of time he's on the field for meaningful snaps could jump to around 70, 75 or 80 percent depending on both the stamina of Ruckert and the readiness of those behind him on the depth chart. 
"Do Cade Stover, Joe Royer, Mitch Rossi, those guys pick up the slack where we can take a little bit off of Jeremy's plate, or is Jeremy just a talented player and does play very well and has good stamina?" Wilson said. "He can play a lot of plays. Just the wear and tear of a full season. So, it'll be interesting. That room needs to develop. We're losing the two guys you talked about, we're getting ready here to lose both Jeremy and Mitch Rossi this year, and then it goes to Cade, Joe, Sam (Hart) and the young guys we've got coming in. Last year, we were top-end veteran. Now we're getting ready to be with a couple veterans, a very young group. This is going to be a tremendous opportunity this winter to develop this group. They've got to make some great strides."
The lack of proven commodities outside of the starter leads to two main conclusions.
The number of times Ohio State utilizes multi-tight end sets will likely decrease, especially when also accounting for the depth at wide receiver.
Ruckert isn't coming off the field much, and he'll be featured in the offensive plans in a big way.
At Ohio State, no tight end will turn into the team's leading receiver. That, at this point, can essentially be written in stone. It's just not happening.
But with the amount of playing time Ruckert will have this year and the completeness of his game, he'll be among the team's most important players. The fourth-year senior in line to play a career-high snap count will give whichever quarterback that wins the starting job a matchup nightmare of a weapon at tight end, and he has turned into a punishing blocker who nobody can justifiably consider just a receiving tight end.
Going to be fascinating to see how high Jeremy Ruckert goes in the NFL draft whenever he decides to make the jump. Becoming a really complete tight end. pic.twitter.com/d4A5S2uYe0

— Colin Hass-Hill (@chasshill) January 5, 2021
"I came here never playing tight end in my life, and now I feel like I'm becoming more of a complete player," Ruckert said after the Sugar Bowl. "It's a developmental position. If I went anywhere else, I wouldn't be half the player I am right now. Just being able to play in all aspects of the game, whether it's run blocking, pass protection or in the pass game."
If all goes right, Ruckert could end the year with the spotlight on him as a top-of-the-line NFL tight end prospect. Somebody who can impact games in multiple ways, can make plays down the field as a receiver and can get the job done as an in-line blocker.
He'll certainly have ample opportunities to make that a reality.
"We always say that we're just here to do whatever the team needs to win," Ruckert said of the tight ends' mindsets.
In 2021, that'll mean a lot of Jeremy Ruckert on the field.