Waiting ain't easy, this will help.
In just a few hours, Ohio State and Alabama will battle it out for the national title, which makes it the perfect time to look back at how things went down last time these powerhouses met in the College Football Playoff.
(Spoiler: The Buckeyes won)
10. Cameron Johnston's third-quarter punt
You're damn right we're starting things off with a punting highlight.
It might not be the sexiest moment of the night, but Cameron Johnston's booming third-quarter punt not only went 65-yards in the air, but it bounced perfectly on the five-yard line and was downed easily inside the one-yard line, pinning Bama deep.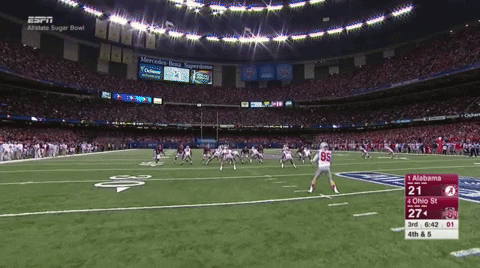 The Crimson Tide were able to move the ball a bit, but Blake Sims threw an interception a few players later, and the field position allowed Steve Miller to take it all the way back for a touchdown (more on that later).
9. Ezekiel Elliott's first big run
Everyone remembers Ezekiel Elliott's 85-yard dagger to put the game on ice, but some might forget that it wasn't even Zeke's most impressive run of the game.
That came in the first quarter and featured a broken tackle in the backfield and hurdle at the second level.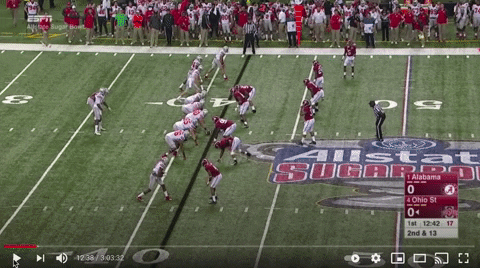 Ultimately, though, Ohio State couldn't finish this drive and had to settle for an early field goal (take notes, Ryan Day).
8. Evan Spencer's onside kick recovery
Here's another play that won't make many highlight reels but was absolutely vital to victory.
Evan Spencer's best catch of the game wasn't even a catch at all, it was an onside kick recovery.
After Alabama scored late to cut the Buckeye lead to 42-35, the Crimson Tide attempted an onside kick to get the ball back, and very nearly recovered it thanks to an absolutely perfect bounce.
But Spencer had other plans.
Really, this was his second-best catch of the game. His first-best was the absurd one-hander in the first quarter that was somehow ruled an incompletion.
7. Devin Smith's touchdown catch
Devin Smith only had two catches against Alabama, but both of them were for 40 or more yards and one was this glorious moment where he burned Eddie Jackson – now an All-Pro safety in the NFL – so badly that he fell down.
Evan Spencer now insists that Devin Smith's performance forced Jackson to move from corner to safety.
"Eddie Jackson moved to safety after this game because he could not cover," Spencer said during a rewatch of this game.
In hindsight, this catch ended Alabama's chances in this game because Smith has never in his life lost a football game in which he caught a touchdown pass – not in high school, college, or the NFL.
6. Tyvis Powell's game-sealing interception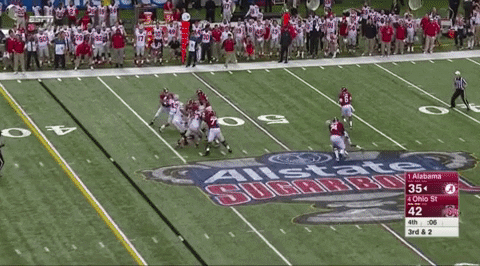 All these years later, Tyvis is still salty at his teammates for not blocking for him, and his teammates are still salty that he ran it out of the end zone in the first place, with some even insisting they were ready to tackle him themselves.
"Interceptions don't come every game," Tyvis said during a Sugar Bowl rewatch. "You've got to make the most of it."
An aside, you know it was a hell of a game when the game-sealing interception doesn't even crack the top half, but maybe it would have been higher if Tyvis would have housed it as he intended.
5. Cardale Jones truck stick
Want to see what happens when Cardale Jones meets former five-star prospect Landon Collins in the open field? I know you do.
The best part is Collins got knocked out of the game after this hit and then had the audacity to claim that Ohio State "cheap shot me in the shoulder."
No, buddy. You just got run over by a Dolodozer.
4. Vonn Bell interception
After a rare shank from punter Cameron Johnson, Alabama had excellent field position and looked like it was about to retake the lead from the Buckeyes midway through the fourth quarter.
Then Vonn Bell happened.
There are actually two hilarious side stories here, both involving Lane Kiffin.
The first is that Kiffin can actually be seen on the sideline celebrating prematurely as if this is about to be a touchdown (narrator: "It wasn't a touchdown.)
The second is that Kiffin called the play right in front of Darron Lee, loud enough that everyone could hear it.
Everyone remember the Vonn Bell Pick in the Bama game? That play shouldn't have happened if Lil Lane didnt COME ON THE FIELD AND TELL THE PLAY TO THE PLAYERS LIKE I WASN'T STANDING RIGHT THERE!

— Darron Lee (@DLeeMG8) June 19, 2020
Thank you for your service, Mr. Freshwater.
3. Steve Miller pick-six
Here's the play we alluded to earlier, and it's probably the moment Ohio State fans started to realize the Buckeyes were really about to dump Bama.
The players revealed that this play was designed specifically for Miller to get this interception.
"They made that play just for him," Michael Bennet remembered. "They knew that play was coming, so they told Steve, 'You're gonna get an interception.'"
Mission accomplished.
2. Reverse, Pass, Touchdown
There might not have been a single play in the game that swung the momentum more than the reverse pass from Evan Spencer to Michael Thomas, and it's one we're going to be watching on loop for a long, long time.
Let's roll that catch back again.
And that sweet, sweet celebration.
It was the beginning of the end for Nick and the Tide.
1. 85 Yards Through the Heart of the South
This was a no-doubter.
If a gif could be tattooed, I estimate that roughly 80 percent of Buckeye fans would have this inked across their back.
And of course, there's that glorious block by Evan Spencer.
Here's to another game full of glorious gifs.