In a game that will feature arguably the two best quarterbacks in college football, much of the attention leading up to Ohio State vs. Clemson – understandably so – has been on Justin Fields and Trevor Lawrence.
There's also been a lot of talk about Ohio State's secondary, also understandable given its struggles this season that include allowing 490 passing yards against Indiana, and whether the Buckeyes will be able to stop Lawrence and Clemson's receivers through the air.
The real key for Ohio State in Friday's College Football Playoff semifinal at the Sugar Bowl, though, might be whether the Buckeyes can control the line of scrimmage on both sides of the ball.
If you're looking for an area where Ohio State could have the advantage over Clemson, it just might come in the trenches.
Ohio State's offense proved it could dominate the line of scrimmage in the Big Ten Championship Game, when the Buckeyes ran for 399 yards on 44 carries – more than nine yards per attempt – against a Northwestern defense that had previously held opponents to less than four yards per attempt for the season.
The Buckeyes' rushing offense has progressively gotten better all year long – their yards per carry have increased from the previous game in all six games this season – and they lead all Power 5 teams with more than 275 rushing yards per game this season, so they have reason to be confident in their ability to move the ball on the ground.
"To go against a team like (Northwestern) that's well-coached, has great players and has big guys up in the middle and to control the line of scrimmage, I feel like really showed what our true identity is and I feel like we showed the world what we've known this entire time," Ohio State right guard Wyatt Davis said this week. "And that's when we have the opportunity to run the ball, we can get it done. We have the running backs to do it, and we have the offensive line, and then if we go into passing, we have the quarterback and receivers to do it as well."
Clemson's rushing defense has been one of the best in the country, allowing just 2.8 yards per carry and fewer than 100 yards per game, but the Tigers' defensive line isn't quite as big and stout as they've been up front in past years. Could Clemson be more vulnerable in that area than it might appear statistically?
"I think there's an underlying concern there that if Ohio State got rolling on the ground game, it could really eat Clemson up, because Clemson's not as big and physical as they have been at defensive line," said Brad Senkiw, who covers Clemson for 105.5 The Roar and Clemson SI, on this week's Real Pod Wednesdays. "And so, if you can go them off-kilter a little bit and they can't protect the edges, I think there's an ability to run the football on the Tigers that is going to concern some fans going into this game Friday night."
Clemson defenders know they'll be in for a challenge in that phase of the game with the way Trey Sermon and the Buckeyes have been running the ball, but they say stopping the run has been a big point of emphasis in their preparation.
"The second you make a mistake and miss a fit, they're off the gate," said Clemson linebacker James Skalski. "So you gotta be very disciplined, you gotta be on your P's and Q's, and they'll make you pay if you're not."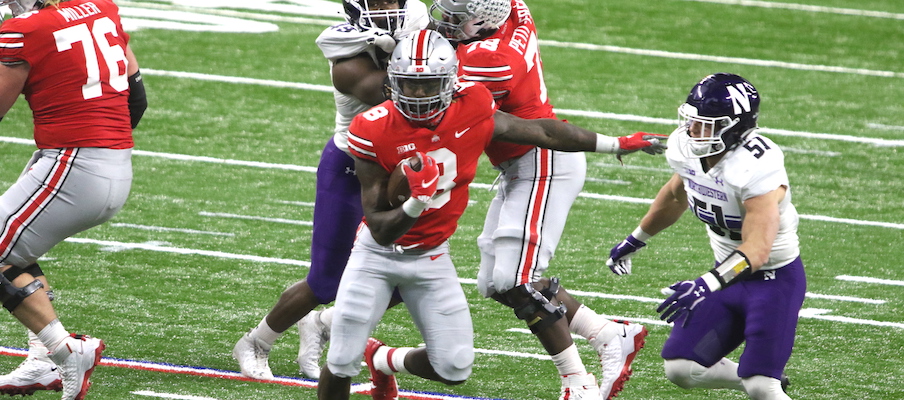 Ohio State's rushing defense will also pose a stiff test to Clemson's rushing offense, as the Buckeyes also allowed fewer than 100 rushing yards per game. Clemson's running game has hit its stride down the stretch of the season, averaging more than eight yards per carry over its last two games against Virginia Tech and in the ACC Championship Game against Notre Dame, but the Tigers still rank just 64th in rushing yards per game (163.8) this season, and their offensive line includes four first-year starters who aren't viewed as stars.
The Tigers still have one of the nation's best running backs in Travis Etienne, and as Ohio State learned the hard way last year, Lawrence is also a threat to hit big plays in the running game. But the Buckeyes believe their success stopping the run can continue against Clemson as long as they play with the same discipline in that phase of the game as they have all season.
"I think everyone just has to do their job," Togiai said. "As long as everyone does their job, we've done a pretty good job so far this year against the run, so just gotta keep doing what we're supposed to do and it'll show on the field."
Clemson left guard Matt Bockhorst said the Tigers made improving their running game a "huge emphasis" following their lone regular-season loss to Notre Dame, and they're pleased with the dividends they've seen down the stretch of the season. But they know the Buckeyes will make it as tough on them to run the ball as anyone they've played all season.
"The eight-man front that they present every time, just the way that they're structured, they're structured to stop the run," Etienne said. "So that is a challenge within itself. But we just have to focus on ourselves and just come out there with our A-game. Just have that mentality that they're not gonna give us yards, we gotta go out there and just impose our will and win in the trenches."
It's not just the run game where Ohio State has to win the battle in the trenches to have a chance to upset Clemson on Friday. Given the major questions that linger about the back end of the Buckeyes' defense, their key to keeping Lawrence and Clemson's passing attack in check could be their pass-rush, and whether the defensive line can generate enough pressure to make Lawrence uncomfortable and force him into mistakes.
ESPN analyst Kirk Herbstreit, who will be the color commentator for Friday's game, believes the play of Ohio State's defensive line could be a major factor in the game.
"If Ohio State's defense plays well, it's because they dominated the line of scrimmage with 92 (Haskell Garrett) and 72 (Togiai), 0 (Jonathon Cooper) and 11 (Tyreke Smith)," Herbstreit said in an interview with Eleven Warriors this week. "Clemson's breaking in four new offensive linemen this year. And their line's been good, but not superior. And so, if there's an X-factor, it's the Ohio State defensive line winning the line of scrimmage and surprising Clemson with how physical and how athletic they are."
The Buckeyes' defensive linemen know their role in Friday's game will be important.
"Defensive line, offensive line, it's where everything starts, and obviously we have to play extremely well and play our best game," Cooper said. "We want to do that every single week, and this week is no different. We just have to play to the ability that we're capable of."
As for the offensive line, Ohio State doesn't just need its blockers up front to continue dominating in the run game, but also to be able to provide consistent pass protection for Justin Fields against a Clemson defense that's known for blitzing heavily and putting pressure on opposing quarterbacks. Indiana and Northwestern both successfully made Fields uncomfortable and forced him into mistakes by blitzing regularly, and there's no doubt that Venables and his unit will try to do the same, so Ohio State's pass protection needs to be better.
Like the defensive line, Ohio State's offensive linemen expect their performance to be a significant element in how the game plays out.
"We have a saying: It's always on us," Davis said. "Whether it's offensive line or defensive line, it's always on the line and who controls that line of scrimmage."
For Ohio State to win on Friday night, Ryan Day says the Buckeyes need to play their best game of the season, and that applies to everyone from Fields, Ohio State's backs and receivers and the offensive line to the defensive line, linebackers and secondary. That said, he agrees that whether the Buckeyes play at their best along the lines of scrimmage could go a long way in determining the outcome of Friday's game.
"It's important for every game. But when you're playing in a close game like this, it comes down to just that, who's winning the line of scrimmage," Day said. "The line of scrimmage is critical. That goes back to any big game that's been played probably in the history of college football. Something that's being emphasized, I'm sure, on their side, and it is on ours as well."