No team has ever taken a more unusual path to the College Football Playoff than Ohio State this year.
While every team in college football was impacted this year by the COVID-19 pandemic, the other three playoff teams (Alabama, Clemson and Notre Dame) at least got to start their seasons in September and play 10 regular-season games. Ohio State didn't start its season until late October, and only got to play five regular-season games.
The Buckeyes almost didn't even get that. Initially, the Big Ten opted to postpone the football season to spring, which would have prevented Ohio State from competing for a CFP berth. Many of the Buckeyes' star players likely would have opted out of the spring season, too, leaving Ryan Day to talk in past tense about how the 2020 Buckeyes "could have been a once-in-a-lifetime team."
Day, his players and their parents continued to fight for their opportunity to play this season, and the Big Ten ultimately reversed course, announcing in September that its teams would play an eight-game regular season beginning in October. Still, COVID-19 has continued to make a major impact on the Buckeyes' season, as three of their final five regular-season games were canceled – one due to an outbreak at Ohio State, two due to outbreaks within teams Ohio State was scheduled to play – while Ohio State had more than 20 unavailable players for both its final regular-season game against Michigan State and the Big Ten Championship Game against Northwestern.
Numerous Ohio State players have tested positive for COVID-19 and been forced to miss time during the season, forcing the Buckeyes to adjust to playing without key players down the stretch, even as they have taken extra precautions and players have been forced to make sacrifices – like not even getting to visit their families for Christmas – to try to limit positive cases within the program and give themselves the best chance possible to achieve their goal of winning the national championship.
While Ohio State might have had an easier path to the playoff by only needing to win six games to secure its place in the four-team field, this season has been far from easy for the Buckeyes, especially from a mental and emotional standpoint, as they've had to battle through unprecedented challenges just to make it through the season.
But the Buckeyes have kept fighting through it all, winning their fourth straight Big Ten championship last weekend to give themselves the chance to compete on college football's highest stage.
Knowing everything they've had to endure to get to this point, Ryan Day couldn't be prouder of his team, which he has described as a special group from August all the way through the season.
"This is one of my favorite teams I've ever been around," Day said after the Big Ten Championship Game. "And maybe not because of what's gone on all the time on the field, but more importantly that just this team is so tough. They've been through so much and they just don't flinch. I cannot give this team enough credit."
Even though Ohio State enters the CFP with an undefeated record for the second year in a row, it's fair to say the Buckeyes haven't been quite as impressive on the field as they were last season. But Day doesn't want people to forget all the stops and starts and challenges they've had to overcome along the way.
"What this team has gone through, I say it over and over but I don't know if anybody really, truly listens," Day said. "They started off and had two spring practices and then they go in quarantine and they go away for a long time. They come into preseason camp and then they find out that the season's been pushed back, and a few days later they find out the season's been canceled. Then for a month, they don't have a target. They have nothing to work for for a month, up until Sept. 19. And they decided, no, we want to play, we want to play safely, and they fought. They went public. They spoke up.
"Then on (Oct. 24), we played in our first game. The virus, everyone in the north goes inside and the virus spiked. Because of that, we had to deal with being out of games, we had to deal with cancellations of games, we had a hard time getting into a rhythm in all three phases. And then we get into (the Big Ten Championship Game) and things maybe aren't clicking as good as they usually do and we find a way to fight back in the second half.
"In a world where it's all about wins and losses, this team has learned so much this season, which is the reason why we even started playing college football in the first place. It's the reason why we play and we started coaching was to see the growth of young men like this."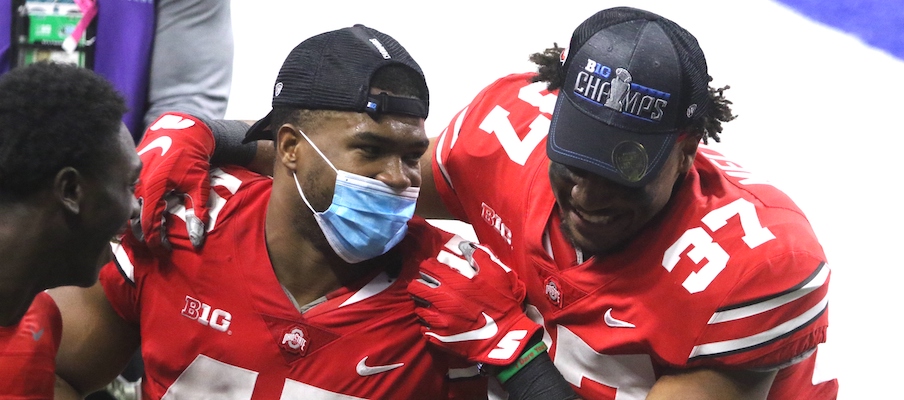 Day believes the lessons his players have learned through all the turmoil this year will benefit them not only as they prepare to play Clemson in next week's Sugar Bowl, but for years to come whether on the football field or in other aspects of their lives.
"There's been so many life lessons that have happened since March about perseverance, about pain, about adversity, about ups, about downs, about work ethic, moments with themselves, and I just think when they're 10-20 years down the road and something like this comes in front of them, they'll handle it like adults," Day said after the team's first canceled game against Maryland in November. "As hard as this has been, I know they're learning a lot. It certainly hasn't been easy, hasn't been easy on their mental health. It's been tough. But I know that we're gonna be stronger coming out of it."
"This team is so tough. They've been through so much and they just don't flinch. I cannot give this team enough credit."– Ryan Day on the 2020 Ohio State Buckeyes
Because the Buckeyes have had to go through so much just to get to the CFP, that's given them even more motivation to try to take advantage of the opportunity they've now earned and win the national championship they've been striving for all year long.
"I want to make sure we have something to show for all this sacrifice that's gone on over the last few months, because it's been amazing to me," Day said last week.
There have been plenty of arguments about whether Ohio State played enough games to belong in the playoff, but if the Buckeyes can beat Clemson and then the winner of the Alabama/Notre Dame game, they would answer that question with authority. And while there might be some who choose to assign an asterisk to this year's national title, or think of it as lesser than a normal national championship season if a team wins it after playing less games, everything Ohio State has had to go through to get to this point would only make winning it all that much more meaningful to the players and coaches who have been through the process.
The 2020 season has already been one for the history books, and it will remain that way no matter which playoff team comes out on top on Jan. 11. But if Ohio State can win the national championship in a season it almost didn't even get to play, Day believes the Buckeyes will be especially deserving of historic recognition.
"Everyone is on a different journey this year. That's what makes this season so unique," Day said this week. "Our story, to me, is just simply amazing. We weren't even playing the season for a month, and then here we are right now. I think we have an opportunity to write one of the greatest stories in the history of college football."
Even if the Buckeyes don't win the national championship, what they've already accomplished and sacrificed to do so is worthy of praise. Still, it's how they fare in the CFP – starting with whether they can get their first-ever win against Clemson next Friday – that will determine whether this season is remembered more for the adversity Ohio State faced along the way or what Ohio State was able to achieve in spite of that adversity.
After how hard the Buckeyes fought to get this far, anything less than a national championship would be a disappointing final chapter to the 2020 season, but if Ohio State gets to celebrate with the trophy in Miami next month, it will undoubtedly go down in college football history as one of the most winding roads any team has ever had to take to winning a title.