In many ways, Ohio State and its fans already know Clemson all too well.
Clemson has won all four games the two schools have played each other on the football field, including three games since Dabo Swinney became the Tigers' coach. Thanks to the heartbreaking 29-23 loss in last year's College Football Playoff semifinals, Ohio State is already plenty familiar with many of Clemson's stars like Trevor Lawrence, Travis Etienne and Nolan Turner.
Still, the Clemson team Ohio State will be facing in this year's CFP semifinals isn't exactly the same team that beat the Buckeyes last year. While the Tigers still have the same star quarterback, running back and head coach, they've also missed some of their key players from last year while some new stars have emerged for the Tigers.
As the Buckeyes begin their preparation to play the Tigers with a trip to the national championship game on the line once again, we also dive in to take a closer look at what you should know about this year's edition of Clemson going into the rematch between the two teams that will take place on Jan. 1 at the Sugar Bowl.
College football's most complete team
There's only one team in college football that ranks in the top 11 nationally in total offense, scoring offense, total defense and scoring defense, and that team is Clemson.
Clemson has scored 44.9 points per game (fourth-most in the Football Bowl Subdivision) on 507.6 yards per game (11th) while allowing just 17.5 points per game (11th) on 298.5 yards per game (sixth). The Tigers also rank fifth nationally in yards allowed per play (4.63), though they drop to 16th (6.72) in yards gained per play.
The Tigers have scored at least 34 points in every game they've played this season while holding their opponents to 28 points or fewer in all but one game this season, with the lone exception coming in their 47-40 regular-season loss to Notre Dame.
Peaking at the right time?
When this year's first batch of College Football Playoff rankings were released and Clemson checked in at No. 3, one spot ahead of then-No. 4 Ohio State, there was reason for Buckeye fans to question whether the Tigers really deserved to be ahead of the Buckeyes. At the time, Clemson had not played for two weeks after suffering its loss to Notre Dame; before that, Clemson had to grind out a 34-28 victory over Boston College, and before that, the Tigers were in a one-score game in the third quarter with Syracuse (who went 1-10 this season) before pulling away late in a 47-21 win.
Since then, though, Clemson has been completely dominant. Upon Lawrence's return from a two-game absence due to a positive COVID-19 test, the Tigers defeated Pittsburgh 52-17, Virginia Tech 45-10 and then Notre Dame 34-10 in their rematch with the Fighting Irish in this past weekend's ACC Championship Game.
Perhaps most notably, Clemson's biggest weakness earlier in this season – its rushing offense – has hit its stride in the last couple of weeks, as the Tigers averaged 7.9 yards per carry against Virginia Tech and 8.1 yards per carry in the ACC title game after averaging less than four yards per carry in each of their previous four games.
"We're at our best right now," Swinney said during a teleconference on Sunday. "This is the healthiest we've been by far."
New playmakers have emerged
Every college football fan knows about Lawrence and Etienne, who Ryan Day described Sunday as "two of the most dynamic players in college football, and probably in the history of college football." Clemson's receiving corps isn't quite as star-studded as past years, as Tee Higgins is now a Cincinnati Bengal while Justyn Ross has missed the entire season due to a spinal condition, but Amari Rodgers (69 catches for 966 yards and seven touchdowns) and Cornell Powell (45 catches for 743 yards and five touchdowns) have stepped up for productive seasons while Braden Galloway (25 catches for 331 yards and two touchdowns) has given the Tigers a boost at tight end after serving a year-long suspension for a positive PED test.
Defensively, the Tigers don't have a do-everything superstar like they did last year in linebacker Isaiah Simmons, but they still have playmakers all over the field, including a trio of five-star freshmen in defensive linemen Bryan Bresee and Myles Murphy and linebacker Trenton Simpson. All of them are already difference-makers for the Tigers, with Murphy leading the team with 10 tackles for loss and three forced fumbles and Murphy and Simpson tying for the team lead with four sacks.
Turner has built off his game-sealing interception in last year's Fiesta Bowl by leading the Tigers with three interceptions and 37 solo tackles this year, though he'll be out for the first half of the Sugar Bowl after being ejected for targeting during the second half of the ACC Championship Game.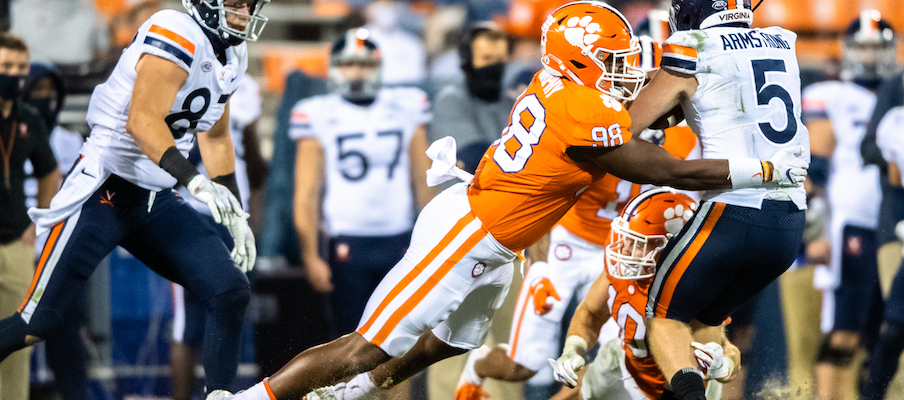 An aggressive defense
In Ohio State's two most competitive games of the season to date against Indiana and Northwestern, both the Hoosiers and Wildcats made Justin Fields look mortal by being aggressive on defense and getting pressure into the backfield. The Buckeyes are going to need Fields to learn from his mistakes in those games and have a game plan designed to counter aggressive defense in place for this game, because they're certainly going to see it again from Clemson and defensive coordinator Brent Venables.
The Tigers rank second in the entire Football Bowl Subdivision this year, behind only Pittsburgh, in tackles for loss (103) and sacks (44), with more than nine tackles for loss per game and exactly four sacks per game. The Tigers are also tied for the second in the FBS with 22 forced turnovers this season.
Making matters even more difficult for Ohio State's offensive coordinators, it's not as if the Buckeyes can simply zero in on one or two players who are threats to produce negative plays. In a defense that rotates regularly and blitzes from everywhere, 13 different Tigers have recorded at least 1.5 sacks while 24 different players have recorded at least 1.5 tackles for loss. Nine different Tigers have recorded interceptions while 10 different Tigers have forced fumbles.
A big-play passing attack
We've talked all year long about how Ohio State's pass defense could make or break the Buckeyes' national championship hopes this season, and all of that conversation was with an eye toward potential matchups like this one with Clemson, which is built to expose Ohio State's flaws in that phase of the game if the Buckeyes can't shore up the issues they've had in that phase of the game this year, especially in regards to allowing big plays.
Led by Lawrence throwing the ball, Clemson ranks third nationally in passing plays of 20-plus yards (61) with 26 passing plays of 30-plus yards, 13 passing plays of 40-plus yards and seven passing plays of 50-plus yards.
Ohio State's passing defense has been better in its last two games against Michigan State and Northwestern after it allowed Indiana to pass for 491 yards, but Clemson's passing offense will provide a much tougher test to the Buckeyes' secondary than they faced against the Spartans or in the Big Ten Championship Game.