From just about the moment Justin Fields' final pass was intercepted by Nolan Turner in last year's College Football Playoff semifinal against Clemson, it was clear Ohio State's returning players had redemption on their mind.
There was Ohio State left tackle Thayer Munford, saying in the locker room just minutes after the loss that "just know, just know, that it's going to be a different mindset" going into 2020.
There was the revelation from Ohio State director of sports performance Mickey Marotti in January that the score of that game – Clemson 29, Ohio State 23 – was on display in the weight room in the Woody Hayes Athletic Center.
There was the "I'm Back Sunshine" caption, a thinly veiled reference to Clemson quarterback Trevor Lawrence, in Shaun Wade's video announcing he was returning to Ohio State when the Big Ten reinstated the fall football season.
After losing in such heartbreaking fashion in last year's semifinal, a game that easily could have gone in Ohio State's favor if not for a multitude of missed opportunities and questionable calls, the Buckeyes were motivated all offseason, even amid the COVID-19 pandemic and all the other adversity they had to overcome along the way, by the chance to get back to the College Football Playoff and get another shot at making a run at a national championship. 
Now, the Buckeyes are not only getting that opportunity, but the chance to avenge last year's loss in a CFP semifinal rematch.
While Ohio State would be motivated going into any CFP game, there's little doubt this was the game they've wanted all along as competitors. They've heard reminders of last year's game all year long both inside and outside the Woody Hayes Athletic Center, and many Buckeyes – and certainly their fans – still believe they should have won that game, whether because the fumble that was overturned to an incompletion took an Ohio State touchdown off the board or simply because Ohio State could have executed better.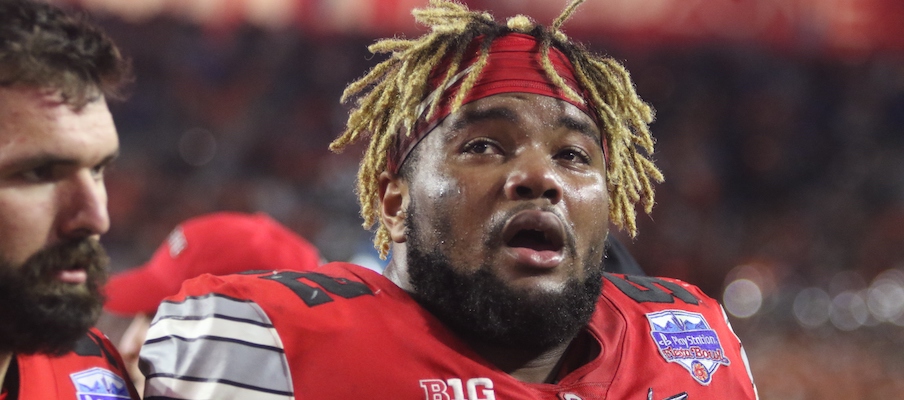 Clemson is 4-0 all-time against Ohio State, including three wins in the last seven years, and it's likely the Tigers will be favored to beat the Buckeyes again going into this game. While Ohio State and Clemson appeared to be about as evenly matched as possible in last year's game, the Tigers could have the perceived advantage this year, as the Buckeyes haven't looked as good as last year en route to their 6-0 record.
Anything can happen in just one game, though, and Ryan Day made it clear on Saturday that there's a strong sense of belief within Ohio State's locker room that the Buckeyes can still beat any team in the country.
"If we have an opportunity to play anybody in the country in one game, I'm going to take the Ohio State Buckeyes," Day said. "I feel strongly about this team. We're made of unbelievable character, and they've been through so much. I think there's a lot of people in the country that would agree with me."
After Ohio State had to fight just to have the opportunity to play at all this fall, then had to overcome positive COVID-19 tests within the program and having three of its last six games canceled due to the pandemic, just getting to this point is already an accomplishment for the Buckeyes. Earning a win against any opponent in the CFP would be extra special this year because of everything the Buckeyes had to battle through along the way.
But because of the way last season ended, and because Clemson has been the proverbial monkey on Ohio State's back, earning a win over the Tigers is what the Buckeyes have been dreaming about all year long, and they now know they'll get their chance at revenge on Jan. 1.