INDIANAPOLIS – It wasn't pretty, but Ohio State won its fourth straight Big Ten championship on Saturday.
Ohio State needed a second-half comeback to beat Northwestern after failing to score a first-half touchdown for the first time since its 2018 loss at Purdue, and its passing offense never got going. But thanks to Trey Sermon's record-breaking day running the ball and three takeaways on defense, Ohio State was able to defeat Northwestern, 22-10, to win the Big Ten title for the fourth year in a row.
 
Q1
Q2
Q3
Q4
 

#4

 Ohio State
3
3
7
9
22

#14

 NORTHWESTERN
7
3
0
0
10
Ohio State's opening drive of the game was its most time-consuming drive of the season to date, as the Buckeyes took eight minutes and 26 seconds off the clock on a 16-play possession, but they were forced to settle for a 41-yard field goal attempt – which Blake Haubeil made – after Justin Fields was sacked for a 15-yard loss on 3rd-and-goal from the 9-yard line.
Northwestern responded by driving right down the field on the Buckeyes, as Peyton Ramsey ran for a 34-yard gain on a quarterback keeper and Cam Porter ran for a 9-yard touchdown on the very next play to give the Wildcats a 7-3 lead after each team's opening possession.
The Wildcats extended their lead to 10-3 on their third possession of the game, driving 65 yards on 14 plays before the Buckeyes forced Northwestern to settle for a 47-yard field goal, which Charlie Kuhbander made.
Ohio State drove to Northwestern's 26-yard line on its subsequent possession, but was forced to settle for a 43-yard field goal by Haubeil after Garrett Wilson was unable to secure a catch through an A.J. Hampton hit on 3rd-and-11.
The Buckeyes had a chance to take the lead on their final possession of the first half, driving inside Northwestern's 10-yard line, but came away without points when Fields' pass intended for Wilson in the end zone was picked off by Northwestern safety Brandon Joseph, who snagged the ball with one hand for his sixth interception of the year.
Northwestern threatened to take a two-score lead on its opening possession of the third quarter after getting the ball to start the second half. However, Justin Hilliard snuffed out that threat by making the biggest play of his Ohio State career to date, intercepting a pass by Peyton Ramsey in the end zone.
Fields gave the ball right back to the Wildcats, though, when he was picked off by Northwestern defensive back Cameron Mitchell for his second interception of the game.
After Ohio State's defense forced a 3-and-out on its next series, Sermon ran for 65 yards right up the middle to get the Buckeyes into Northwestern territory. But the drive stalled after a delay of game penalty and two incomplete passes by Fields, and the Buckeyes left the field without points again after Haubeil missed a 42-yard field goal attempt wide left.
Northwestern drove back into Ohio State territory on its next possession, aided by a pair of 15-yard penalties against Buckeye defensive ends Tyreke Smith and Jonathon Cooper, but also came away without points after Kuhbander missed a 45-yard field goal wide right.
Finally, Ohio State retook the lead on its next possession when it ran the ball on seven straight plays, culminating with a 9-yard touchdown run by Sermon, giving the Buckeyes a 13-10 lead with 2:41 to play in the third quarter.
Northwestern turned the ball in its own territory on each of its next two possessions as Josh Proctor intercepted a pass – making up for a drop earlier in the game – and Justin Hilliard recovered a fumble forced by Pete Werner. Still, Ohio State came away with only three points between those two possessions, as it was forced to punt after a 3-and-out following the Proctor interception and settled for a 26-yard Haubeil field goal after stalling in the red zone following the Hilliard fumble recovery.
Finally, with 4:03 to play, Ohio State took its first two-score lead of the game when Sermon ran for his second touchdown of the game from three yards out.
Sermon finished the game with 331 rushing yards on 29 carries, breaking Eddie George's single-game Ohio State rushing record.
Ohio State improved to 6-0 on the season with Saturday's win. We'll find out on Sunday around noon if that's enough – as it's expected to be – to get the Buckeyes into this year's College Football Playoff.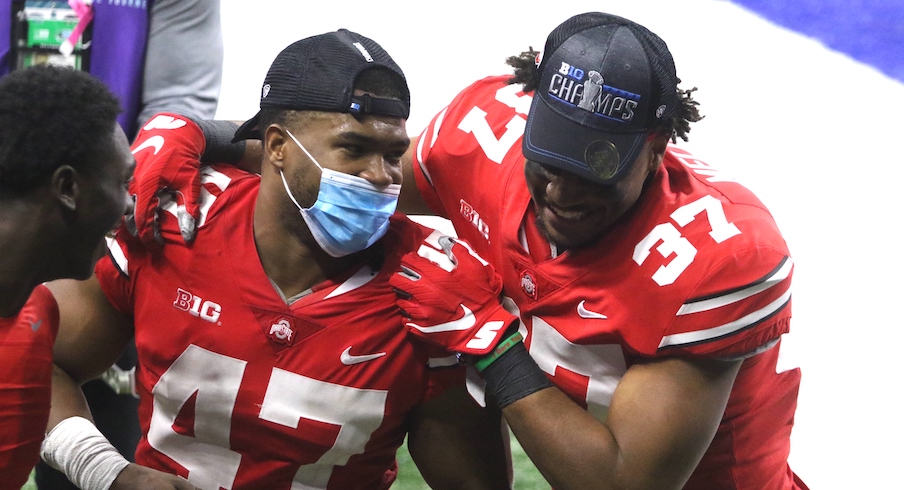 #4 Ohio State 22, #14 NORTHWESTERN 10
DEC. 19, 2020 • LUCAS OIL Stadium • INDIANAPOLIS, IND.
• PHOTOS
Game Notes
Ohio State was without 24 players for Saturday's game, including wide receiver Chris Olave, linebacker Baron Browning, safeties Marcus Hooker and Ronnie Hickman, punter Drue Chrisman and defensive ends Tyler Friday and Javontae Jean-Baptiste. While Ohio State does not confirm why players are unavailable, Chrisman confirmed on Twitter that he tested positive for COVID-19. Hooker was listed as a game-time decision while Hickman was not listed on the pregame availability report, but both of them did not play due to undisclosed injuries.
True freshman wide receiver Julian Fleming made his first career start in place of Olave.
Josh Proctor started at deep safety in place of Hooker, while Justin Hilliard started at Sam linebacker in place of Browning.
Tuf Borland served as the game captain for Saturday's pregame coin toss, as he has for every game this season except the Michigan State game, for which he was unavailable. 
Ohio State had all five of its regular starters back on the offensive line, with Thayer Munford, Josh Myers and Nicholas Petit-Frere all returning after missing the Michigan State game.
The official attendance at Saturday's game was 3,178. Fan attendance was limited to family guests of players, coaches and staff from both teams.
Master Teague ran the ball just twice in the first quarter of Saturday's game. He did not play at all in the second half, when Miyan Williams saw playing time at running back behind Sermon.
Fields said after the game that he was playing with what he believes to be a sprained thumb.
With Saturday's win, Ohio State became the first team to ever win four straight outright Big Ten championships. The Buckeyes already became the first team to win three straight outright Big Ten championships last year.
Ohio State has now won 39 Big Ten championships in program history.