Tyler Friday understood the deal with Michael Penix Jr., Indiana's sophomore quarterback. He knew Ohio State had to make him work for everything and get him off-kilter.
"We've just got to make sure he's uncomfortable," Friday said a few days before the Buckeyes beat the Hoosiers, 42-35.
What neither Friday nor anybody else on his team's sideline could have accounted for was Penix's complete lack of uncomfortability even when guys were in his grill. Ohio State got after him often. Jonathon Cooper, a fifth-year senior defensive end, won co-Defensive Player of the Game honors with five pressures, three knockdowns and a sack. Defensive tackle Tommy Togiai led the nation in pressures that week with 10 and junior defensive end Tyreke Smith had seven, per Pro Football Focus. Penix was pressured a grand total of 28 times and knocked down on 10 instances, defensive coordinator Kerry Coombs said.
But he diced their defense up anyway.
Taking advantage of some big-hitting plays down the field against a shaky secondary, Penix completed 27-of-51 passes for a career-high 491 yards, five touchdowns and one interception. His yardage catapulted him into his opponent's record book as the fourth-most through the air by one player against the Buckeyes. Somehow, some way, they just couldn't take the second-year signal-caller out of his groove. Penix showcased a quick release, an ability to side-step away from pass-rushers and put throws on the money even with defenders in his face.
Ohio State's pass rush seemed to do all that it could from a pressure standpoint, expect for one thing: Sack Penix consistently. The Buckeyes managed only two sacks – one by Cooper on the game's first drive and one by a blitzing Pete Werner on the second-to-last drive – that both came on third downs to force the Hoosiers to punt.
Yes, as Coombs said, Ohio State brought "very good pressure" against Indiana. But that wasn't enough to avoid Penix lighting the defense up. So would it be enough going forward when, if the team reaches the College Football Playoff as it hopes, the Buckeyes do battle with some of the nation's best quarterbacks with even more talented supporting casts and stronger offensive lines?
"We'd like for those things to finish in more sacks," Coombs said. "Obviously, I thought their quarterback did a really nice job in standing in there and getting rid of the ball just before sacks. Under a lot of pressure, and he was an accurate thrower in those situations, but I think we've got a lot of guys that can rush the passer and I do think they're putting a lot of pressure on the quarterback."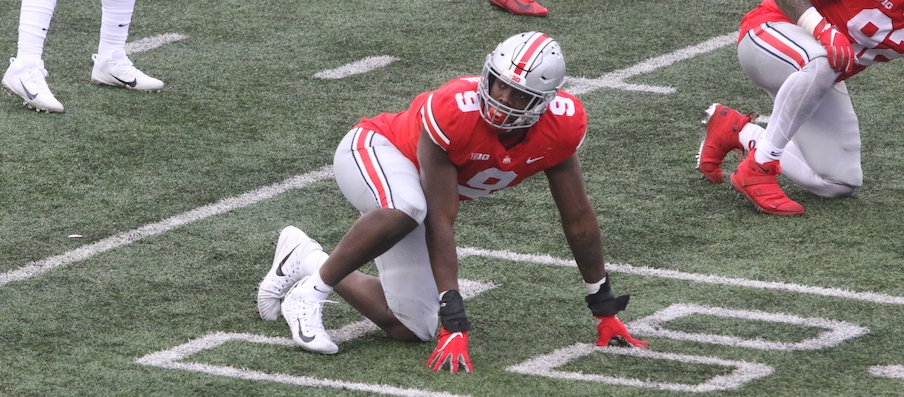 Most of the time this year – and in years past – Ohio State has relied on a four-down front to rush the passer, and it's created some disruption with it from a few different areas.
Penetration from starting defensive tackles Haskell Garrett and Tommy Togiai has played a big role in the Buckeyes' pass rush. Every coach and player on the roster has lauded the duo for what they've brought to the table both as run-pluggers on a defense that's been stout against ground games and in the pass game. Togiai, touted as the strongest player on the team, has a knack for getting movement up the middle, which he pairs with relentless effort. Garrett does much of the same. 
Their combined sack total of four doesn't do the amount of pressure they have generated justice. Yet it's also indicative of the defensive front as a whole. Pressures haven't been a problem at all, but sacks haven't been overly plentiful. The Buckeyes are averaging 2.75 sacks per game, which is the team's lowest mark since 2016.
"We have to figure out how to get home faster," Cooper said. "I feel like we were winning and getting our pressures, but what we try to be really critical of is how can we be a second faster, a step faster, just a little bit, 0.1 second or a step faster so that we can get that ball out and get a sack or get a sack-fumble and make plays for our team. So we just still have to look at the film critically and figure out what we can do better."
As expected, Ohio State has taken a pass-rush-by-committee approach. Thus, the production has been spread out between many players.
Only Togiai has accounted for more than 1 1/2 sacks, and all three of his came in one game – the 38-25 win at Penn State – earlier this fall. Cooper and Zach Harrison have recorded 1 1/2 sacks apiece, and Garrett, Werner, Tuf Borland, Javontae Jean-Baptiste and Darrion Henry-Young each have one sack.
There's no Chase Young, and that's fine. Chase Youngs don't come around very often. So, Ohio State has relied upon – and will continue to rely upon – the same strategy every week with its four-down front of rotating defensive ends paired with Togiai and Garrett, along with some 3-3-5 looks and inside linebacker blitzes at various times to keep offenses off balance. It's worked out just fine pressuring quarterbacks, but now the Buckeyes are looking to turn some of those into sacks.
"I think they're getting a lot of hits. I think they're getting a lot of hurries. I think they're getting some knockdowns by looking at that this week," head coach Ryan Day said. "I'm sure they all want to keep getting sacks and getting production, but they are pushing the pocket and they're getting pretty good push in there. And certainly, we all want to do better, we want to get some sacks, we'd love to see that. That's a huge deal. 
"First drive of the game, on that third down, when we get that sack, it's such an energy boost for our team. So those guys are continually working on how they can get more sacks and getting to them faster, but I think they're doing a decent job of putting pressure on the quarterback for sure."