Three games. It took only three games for Ohio State to reach the midpoint of its regular season schedule.
Welcome to 2020.
Despite the Maryland cancellation, all of the Buckeyes' goals remain on the table as they seek their 16th win against Michigan in the past 17 years, a fourth Big Ten title in a row and their first national championship in six years. The march toward those objectives continues on Saturday with a top-10 home showdown against Indiana.
That, of course, represents the first game of the back half of Ohio State's regular season slate. So, while in the middle of the schedule, we're looking at two sets of players – those whose stock has risen through three games and the guys who are in the spotlight after not performing up to expectations – and what the Buckeyes need from them the rest of the way.
Stockrisers
Nicholas Petit-Frere
In his first full season as a starter, Petit-Frere made his job as right tackle look easy in the opener versus Nebraska. He and his coaches knew, though, that his job would get a heck of a lot more difficult the next week against Jayson Oweh, Shaka Toney and everybody else Penn State would throw at him. Yet the 6-foot-5, 310-pounder made it look easy, nullifying the expected impact of the edge rushers. Then against Rutgers, he joined Justin Fields as a co-Offensive Player of the Game.
Thus far, Petit-Frere has shown up as arguably the Buckeyes' most consistent offensive lineman, stifling pass rushers and throwing around his increased weight in the run game. He set himself a high bar through three games, and he'll aim to continue reaching it the rest of the fall.
Josh Proctor
So far, Proctor hasn't lit the stat sheet on fire. He has recorded seven tackles, including one for a loss, and recovered a fumble. Still, he has shown up all over the field during games as somebody who can line up just about anywhere, fly around the field and make a difference with his physicality and athleticism. As safeties coach Matt Barnes hinted before the season, the Buckeyes like using him near the line of scrimmage almost as a quasi-Bullet – though nobody has used that word this year. As Barnes hoped, he has shown an ability to be a thumper of a hitter, somebody who can cover tight ends – such as Penn State's Pat Freiermuth – and serve as a second deep safety at times.
Ohio State, partially due to cornerback Cameron Brown's injury, has a total lack of depth in the defensive backfield, so the versatility of Proctor helps mask for some would-be deficiencies and allows Kerry Coombs and Barnes to get creative. Proctor hasn't been tested too much through the air yet, so while all signs so far have been positive, he still will have to prove himself versus more prolific passing attacks.
Haskell Garrett
This is no longer just a feel-good story of somebody who responded to a near-tragedy by getting back onto the field before almost anybody thought possible. It's that story and more. Much more.
Through three games, Garrett has been one of Ohio State's most impactful defensive players, consistently getting penetration from his 3-technique spot where defensive line coach Larry Johnson wants players who'll create havoc. He has accounted for six tackles and one sack, though his pressures have caused multiple sacks for his teammates. Even in Tommy Togiai's three-sack performance facing Penn State, Garrett played just about as well as his fellow defensive tackle.
In the latter half of the regular season and beyond, Ohio State will need Garrett to continue showing up as he has so far. Provided that happens, he'd find himself in the mix for an All-Big Ten senior campaign when, just two-and-a-half months ago, many people didn't know whether he'd even play football this year.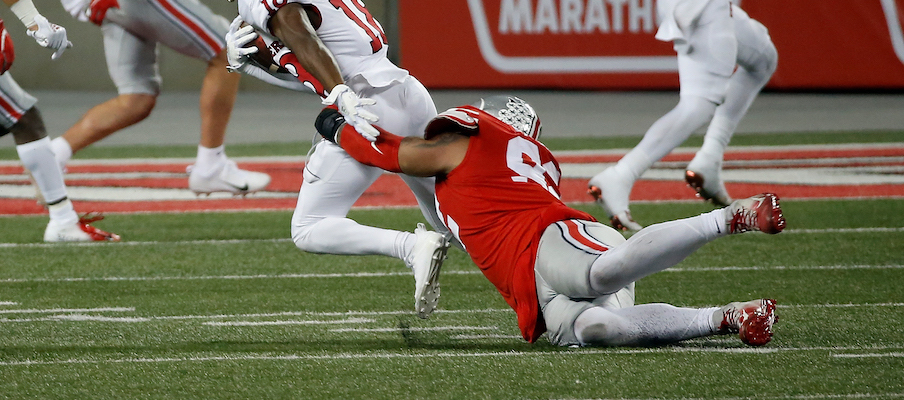 Tuf Borland
Perhaps co-defensive coordinator Greg Mattison exaggerated when he called Borland a "totally different linebacker" before the season. He still plays a similar style and has the same body type as he did the past few years. However, Borland's first three games of the 2020 season were collectively one of the best three-game stretches of his career, as evidenced by him earning champion honors all three weeks and being named the Defensive Player of the Game for his performance against Rutgers.
Borland is tied with Pete Werner for a team-high 16 tackles, including 1.5 tackles for loss and one sack. He's the same run-stopping middle linebacker as always, but he has seemed to slip blocks, put himself in position to make tackles and get to the ball more consistently than in past years. Sure, Borland's not a world-beater at Mike. He is, though, in the middle of what could be his best season yet.
Jeremy Ruckert
This offense is built around Justin Fields, Chris Olave and Garrett Wilson. Nobody would – or could – argue with that point. Yet those who overlook Ruckert's contributions would miss one of Ohio State's most impactful players and one of the main reasons why Ryan Day and Kevin Wilson have found so much success using their two-tight end sets.
Ruckert has turned into a multi-faceted tight end who's turned his blocking into a major plus while remaining a talented downfield receiver. He's third on the team with nine receptions for 60 yards and three touchdowns. Paired up with Luke Farrell, he's a dynamic tight end and one of the key parts of what makes this offense so special.
In The Spotlight
Harry Miller
Positive reports seemed to follow Miller everywhere he went. Analysts rated him as a five-star prospect and one of the nation's best offensive line recruits, and once he enrolled last summer, his teammates and coaches heaped praise on him. By the spring, he was a shoo-in to win the starting left guard competition over Matthew Jones and Gavin Cupp.
Success was sure to follow, right? Not yet. There's no reason yet to alter the bright long-term outlook of Miller. But at least right now, he's dealt with some notable struggles. Miller endured a rough Week 1 outing but bounced back in a Week 2 matchup with Penn State. Wilson mentioned he thought the sophomore was the offensive player who made the largest strides between the first two games. However, against Rutgers, he took a step back, getting called for three holding penalties and blowing several blocks. A weekend to step back and catch his breath might not have been a bad thing for Miller.
For this offensive line to live up to its preseason expectations, the Buckeyes need more out of Miller going forward.
Shaun Wade
So far, Ohio State's season has gone almost exactly how Wade hoped – other than the canceled game – with an undefeated record thus far. His personal season, however, has had some hiccups.
Wade allowed Penn State's Jahan Dotson to score twice when covering him, and he gave up a touchdown to Rutgers tight end Jovani Haskins the next week. The redshirt junior cornerback owned up to the errors last week, saying he's "definitely been trying to go for the interception" while explaining what went wrong. While Wade won't exactly face a murderer's row of quarterbacks and wide receivers the rest of the regular season, he'll have ample time to show what he learned – including this weekend.
Of course, if one of the main concerns about Ohio State is a potential first-round cornerback, things might be going just fine in Columbus.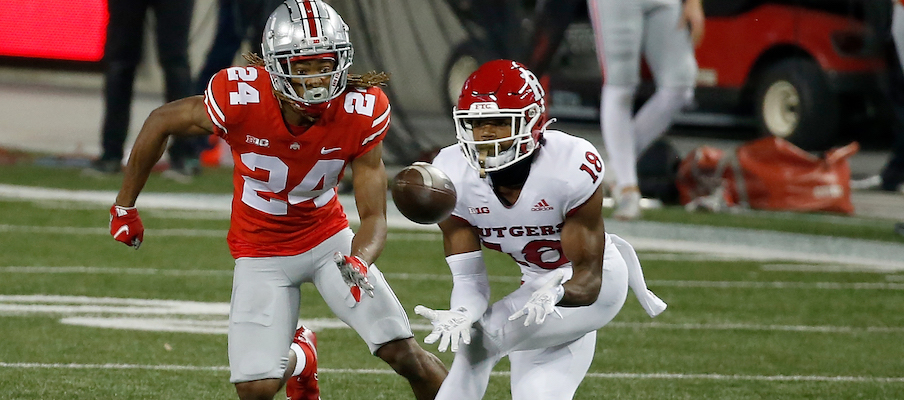 Josh Myers
The interior of Ohio State's offensive line was, by all accounts, supposed to be a strength of the team. It features a returning first-team All-American (Wyatt Davis), second-team All-Big Ten center (Myers) and former five-star recruit (Miller). Instead, the offensive tackles have outperformed the inside linemen, including Myers.
The Miamisburg native and second-year starting center had potentially his worst game as a Buckeye when facing Rutgers in Week 3. Did he have a one-off issue versus a team that lined up a slanted nose tackle or does it portend bigger issues? That's the big question with Myers as he heads into the second half of the regular season.
Trey Sermon
Three games into the year, one of the biggest remaining question marks is how the running back situation plays out. Does Master Teague start getting the lion's share of the carries? Will Demario McCall or Steele Chamber work more into the rotation? 
Those questions largely exist due to the uninspired play of Sermon through the first portion of the regular season. He has 172 rushing yards on 4.8 yards per carry. With the ball in his hands, he's lacked decisiveness and has made few people miss. Ohio State brought Sermon in from Oklahoma to potentially start. Instead, he's likely in danger of losing a share of his carries.
Marcus Hooker
The second-half performance versus Rutgers has plenty of people in Columbus uncomfortable about the defense. But if you go back and look at what specifically happened, a few things stand out over everything else: 1) Trick plays, 2) poorly timed penalties and 3) Marcus Hooker missed tackles.
If Hooker could have brought down Scarlet Knight ball-carries at a higher rate, it would have felt like a totally different game. He had four or five different opportunities to bring down Rutgers players and failed to do so – including on the 66-yard run from Isaiah Pacheco when he took a poor angle. 
The Buckeyes need to get better play out of Hooker going forward. One reason? They basically don't have any other options. Proctor's playing a different, Bullet-like position, and the only guys behind him are freshmen and redshirt freshmen. No proven – or even semi-tested – options.