Had Ohio State played as well to start the second half as it did in the first half of Saturday night's game against Rutgers, the Buckeyes' starters would have played less snaps than they did against the Scarlet Knights.
After Ohio State took a 35-3 lead into the locker room, the Buckeyes had hoped to put the game firmly away early in the third quarter, after which they would have kept their starters on the sideline for the rest of the night. But the Buckeyes offense struggled to get going in the third quarter, Rutgers made some big plays against Ohio State's defense and special teams to tighten up the score in a bit, and many Ohio State starters – especially on offense – ended up playing well into the fourth quarter of Saturday's 49-27 win as a result.
Justin Fields and each of Ohio State's starting five offensive linemen all played every offensive snap except for the final play of the game, but the Buckeyes did manage to play deep into their defensive depth chart in the fourth quarter, resulting in a total of 70 Ohio State players getting on the field for at least one snap in the third game of the season – a game that was supposed to be one of the biggest opportunities for backups to play in this shortened season without non-conference games.
Our weekly look at how many snaps each of them played and what roles they played follows below.
As always, all snap counts were compiled by Eleven Warriors and should be considered unofficial. Only offensive and defensive snaps are counted in the totals, though participants on each special teams unit are listed at the bottom of the article. 
Quarterbacks
Justin Fields: 70
C.J. Stroud: 1
Because the Buckeyes played Fields deep into the fourth quarter, Saturday didn't end up being the opportunity for Ohio State's freshman quarterbacks to gain experience that many thought it would be. Each of the two freshman quarterbacks have now appeared in one game this season, though, as Stroud checked into the game for the very last play after the Buckeyes got the ball back with just 18 seconds left on the clock.
Like Jack Miller against Nebraska, Stroud did not throw a pass in his brief appearance to end the game against Rutgers, as he handed the ball off to fellow freshman Miyan Williams to run out the clock.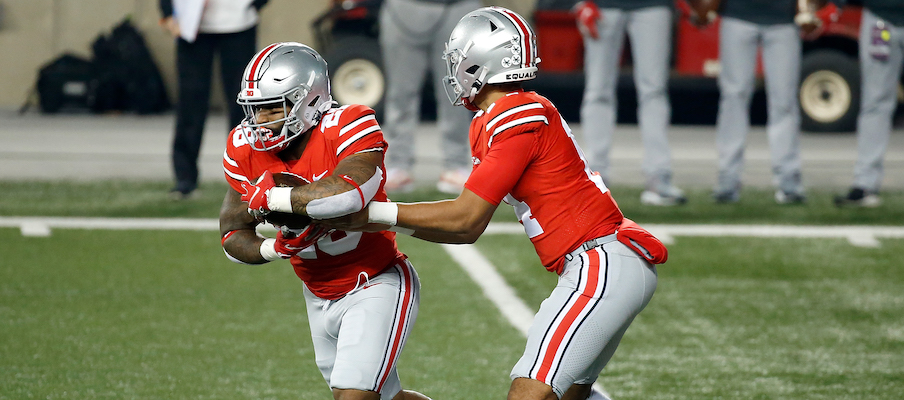 Running Backs
Master Teague: 34
Trey Sermon: 27
Steele Chambers: 7
Demario McCall: 4
Miyan Williams: 1
Xavier Johnson: Special teams only
Teague and Sermon continued to split most of the snaps at running back against Rutgers. Teague started the game and had 15 total touches (12 carries, three catches) for 97 yards while Sermon had 13 total touches (12 carries, one catch) for 79 total yards.
Chambers got into the game for a pair of three-snap sequences in the second and third quarters, then checked back into the game after Sermon went down with an injury (with which he's not expected to miss any time) in the fourth quarter. He fumbled the ball on his first play in after replacing Sermon.
McCall saw his first offensive snaps of the season when he checked in for two snaps at running back in the second quarter, motioning to slot receiver on the second one and touching the ball on both of those plays to gain 39 combined yards between them. He also played two more snaps at slot receiver in the third quarter when Chambers was in the game at running back.
Williams, as aforementioned, played his first snap as a Buckeye alongside Stroud on the final play of the game.
Wide Receivers
Chris Olave: 58
Garrett Wilson: 48
Jameson Williams: 29
Jaxon Smith-Njigba: 27
Julian Fleming: 12
Gee Scott Jr.: 8
Kamryn Babb: 6
Chris Booker: Special teams only
Olave continued to be a mainstay in the lineup against Rutgers, playing 58 of the Buckeyes' first 65 offensive snaps and catching five passes for 64 yards and two touchdowns. Wilson also played a majority of snaps once again – mostly at slot receiver whenever the Buckeyes had three or more wideouts on the field – taking the field for 48 of Ohio State's first 65 offensive plays and catching six passes for 104 yards and a touchdown.
Either Williams or Smith-Njigba joined Olave and Wilson in most three-receiver sets, while the Buckeyes also debuted a four-receiver package with all of them on the field together for three plays against Rutgers.
Ohio State also ran two four-receiver plays with Fleming and Scott on the field with Wilson and Smith-Njigba. With the exception of the game's final play, Fleming was on the field at Z receiver for the plays that Olave wasn't on the field. Fleming and Scott both played four snaps in the second quarter before returning for more playing time in the fourth quarter, but all of Babb's six snaps at outside receiver came on Ohio State's final six offensive plays of the game.
Tight Ends
Luke Farrell: 42
Jeremy Ruckert: 40
Mitch Rossi: 10
Cade Stover: 2
Farrell and Ruckert both played more than half of the game's offensive snaps for the second week in a row. Ohio State continued to use two-tight end formations regularly against Rutgers, putting Farrell and Ruckert on the field together for a total of 20 snaps while also pairing one of them with Rossi – who got the opportunity for playing time with the first-team offense in place of Jake Hausmann, who was unavailable for Saturday's game – for 10 snaps.
Ruckert also lined up in the backfield as a fullback for four of those plays when two tight ends were on the field, while Rossi – a walk-on who began his Ohio State career as a running back before moving to tight end – also played a snap at fullback.
Stover entered the game at tight end for Ohio State's final two offensive plays.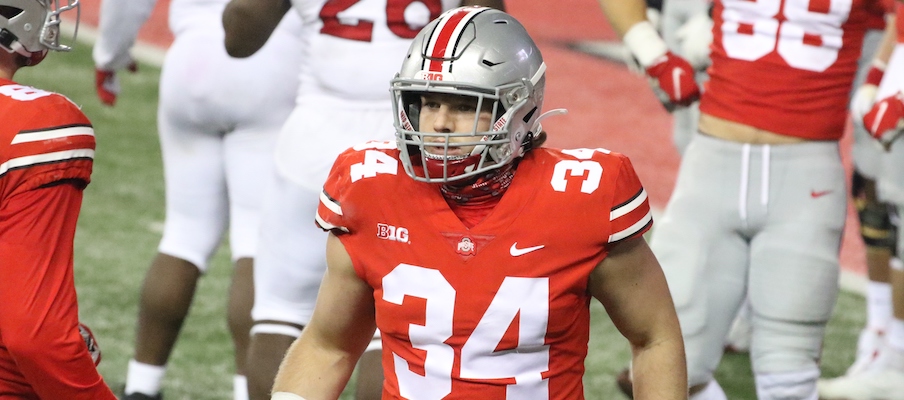 Offensive Linemen
Thayer Munford: 70
Harry Miller: 70
Josh Myers: 70
Wyatt Davis: 70
Nicholas Petit-Frere: 70
Dawand Jones: 1
Max Wray: 1
Luke Wypler: 1
Enokk Vimahi: 1
Paris Johnson Jr.: 1
Matthew Jones: Special teams only
Like Fields, the starting offensive line quintet of Munford, Miller, Myers, Davis and Petit-Frere all played every offensive snap except for the final play of the game, when Dawand Jones, Wray, Wypler, Vimahi and Johnson came in as the second-team offensive line.
Wray, who's now in his third year at Ohio State, had never played an offensive snap for the Buckeyes before checking in at left guard for the final play against Rutgers.
Defensive Ends
Tyreke Smith: 38
Jonathon Cooper: 35
Tyler Friday: 34
Javontae Jean-Baptiste: 32
Zach Harrison: 25
Noah Potter: 7
Cormontae Hamilton: 3
Darrion Henry-Young: 2
Cooper made his third consecutive start to begin the season against Rutgers, while Jean-Baptiste – a New Jersey native – started against his home-state school for the second year in a row for his first start of the season. Cooper and Smith spent the majority of the game rotating at one defensive end spot while Jean-Baptiste, Friday and Harrison rotated at the other, though Jean-Baptiste and Friday finished the game playing opposite each other for the final 10 snaps of Rutgers' last possession.
After starting against Penn State, Harrison was the fifth defensive end in the game – just as he was in the season opener against Rutgers – and played only three defensive snaps in the first half.
Potter played seven snaps in the fourth quarter before suffering a knee injury that forced him to exit the game. Hamilton, a converted tight end, rotated in for three snaps opposite Potter for the first playing time of his Ohio State career, while Henry-Young checked in for a pair of fourth-quarter snaps for the second time in his freshman season.
Defensive Tackles
Tommy Togiai: 41
Haskell Garrett: 37
Antwuan Jackson: 28
Taron Vincent: 28
Jerron Cage: 27
Ty Hamilton: 13
Zaid Hamdan: 4
Togiai led Ohio State in defensive tackle snaps for the third game in a row to start the season, while Garrett started alongside him and played the second-most snaps on the interior defensive line for the second game in a row.
Jackson and Vincent checked into the game as the second line at defensive tackle. Cage was the third nose tackle into the game and played a career-high 27 snaps, though all but four of those snaps came in the second half.
Hamilton played 13 of the game's final 17 defensive snaps in his second game appearance as a Buckeye, while Hamdan was on the field for the other four in what was also his second game appearance of the season.
Linebackers
Pete Werner: 50
Tuf Borland: 45
Dallas Gant: 38
Baron Browning: 34
Teradja Mitchell: 33
Craig Young: 29
Justin Hilliard: 26
K'Vaughan Pope: 5
Cody Simon: 5
Cade Kacherski: Special teams only
Werner and Borland continued to play the majority of snaps at inside linebacker for the Buckeyes at Rutgers, with Werner playing 49 of Ohio State's first 56 defensive plays at Will linebacker and Borland playing 45 of the first 54 at Mike linebacker. Mitchell rotated in for Werner and Gant rotated in for Borland for occasional snaps in the second and third quarter before both played the majority of the fourth quarter at the inside linebacker spots, allowing each of them to reach career-high in snaps played.
Browning, who played the most snaps among Ohio State linebackers in each of the first two games, played 34 of the Buckeyes' first 56 defensive snaps against Rutgers but moved into a rotation at the Sam linebacker position with Hilliard, who made his season debut after missing the Nebraska game with a minor injury and the Penn State game due to a false positive test for COVID-19. Hilliard, Browning, Borland and Werner were also all on the field together for four plays when the Buckeyes had four linebackers in the game.
Young played the majority of the fourth quarter at Sam linebacker, checking in for 29 of the Buckeyes' final 32 defensive plays, with Pope also playing three fourth-quarter snaps at Sam linebacker and joining Gant, Mitchell and Young on the field for two plays in the Buckeyes' four-linebacker package.
Simon played five fourth-quarter snaps at weakside linebacker for the first defensive playing time of his Ohio State career.
Cornerbacks
Shaun Wade: 66
Tyreke Johnson: 50
Marcus Williamson: 47
Sevyn Banks: 37
Ryan Watts: 22
Ronnie Hickman: 16
Lathan Ransom: Special teams only
Wade played the most defensive snaps of any Buckeye against Rutgers, never leaving the field for any of Ohio State's first 66 defensive plays. He was replaced at outside cornerback by Watts for Rutgers' final possession of the game, which lasted a whopping 22 snaps before it ended with a fumble recovered by Gant.
Banks played 37 of Ohio State's first 38 defensive plays at the other outside cornerback spot opposite Wade, only leaving the field for one goal-line play where Wade was the only defensive back on the field, before being replaced for the remainder of the game by Johnson, who played 50 snaps against Rutgers having never played more than 15 defensive snaps in any previous game since he arrived at Ohio State.
Williamson continued to play the majority of defensive snaps at slot cornerback, sometimes also lining up as a second safety, though Josh Proctor also rotated in at that spot for 19 plays. Hickman finished out the game at slot cornerback, playing 16 of the final 17 defensive plays in the Buckeyes' secondary.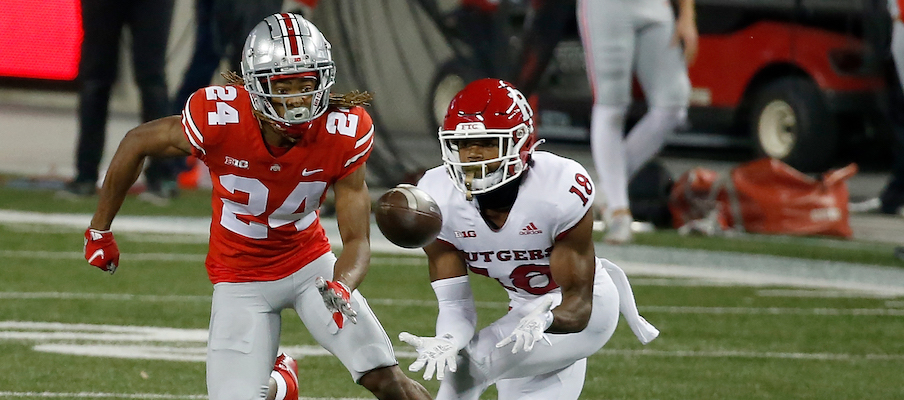 Safeties
Marcus Hooker: 65
Josh Proctor: 30
Bryson Shaw: 16
Hooker played the second-most defensive snaps of any Buckeye against Rutgers, playing all but one of Ohio State's first 66 defensive plays at safety before being replaced on the Scarlet Knights' final possession by Proctor and then by Shaw, who played the Buckeyes' final 16 defensive snaps in the back middle for the first double-digit play game of his Ohio State career.
Proctor's 30 total snaps included the aforementioned 19 snaps in place of Williamson at slot cornerback, six snaps as the single-high safety in the base defense and five snaps with Williamson and Hooker both also on the field in two-safety nickel packages.
Extra Points
Jake Seibert (kicker)
Drue Chrisman (holder)
Bradley Robinson (long snapper)
Jeremy Ruckert (wing)
Matthew Jones (rocker)
Paris Johnson Jr. (tackle)
Dawand Jones (guard)
Jerron Cage (guard)
Max Wray (tackle)
Enokk Vimahi (rocker)
Luke Farrell (tackle)
Ohio State didn't attempt any field goals in Saturday's game, but Seibert converted all seven of his extra point attempts in his debut kicking for the Buckeyes in place of Blake Haubeil, who was unavailable due to a groin injury. The rest of the extra point unit remained unchanged from the Buckeyes' first two games of the season.
Kickoffs
Dominic DiMaccio (kicker)
Josh Proctor or Kamryn Babb (gunner)
Justin Hilliard or Cody Simon (gunner)
Ronnie Hickman (gunner)
Cade Stover (gunner)
Teradja Mitchell or K'Vaughan Pope (gunner)
Cade Kacherski (gunner)
Chris Booker (gunner)
Jameson Williams or Lathan Ransom (gunner)
Marcus Hooker or Steele Chambers (gunner)
Xavier Johnson (gunner)
DiMaccio handled kickoffs in place of Haubeil for the second game in a row, including when the Buckeyes shifted to a pooch-kicking strategy in the second half. Hilliard and Proctor made their debuts on the kickoff coverage unit against Rutgers, but everyone else in the lineup had seen playing time on that unit against Penn State and/or Nebraska.
Kickoff Returns
Demario McCall (returner)
Xavier Johnson (blocker/returner)
Steele Chambers (blocker)
Cade Stover (blocker)
Mitch Rossi (blocker)
Cade Kacherski (blocker)
Dallas Gant (blocker)
Gee Scott Jr. (blocker)
Ronnie Hickman (blocker)
Chris Booker (blocker)
Kamryn Babb (blocker)
McCall lined up as Ohio State's lead kickoff returner for each of Rutgers' kickoffs and had a 29-yard return to highlight his day in that capacity. Johnson, the Buckeyes' secondary returner, did field Rutgers' first kickoff of the day and returned it 11 yards after a short kick.
Personnel-wise, there were no changes to Ohio State's kickoff return unit from the first two games of the season.
Onside Kick Hands Team
Demario McCall (returner)
Chris Olave (receiver)
Jaxon Smith-Njigba (receiver)
Dallas Gant (blocker)
Baron Browning (blocker)
Luke Farrell (blocker)
Marcus Hooker (blocker)
Shaun Wade (blocker)
Pete Werner (blocker)
Jeremy Ruckert (blocker)
Tuf Borland (blocker)
Ohio State needed to utilize its hands team for the second game in a row after Rutgers decide to either onside kick or fake as though it would onside kick on each of its final four kickoffs. Smith-Njigba replaced Garrett Wilson on the hands team from the Penn State game, but the unit otherwise remained the same from the one the Buckeyes deployed in Happy Valley.
Punts
Drue Chrisman (punter)
Bradley Robinson (long snapper)
Tuf Borland (upback)
Mitch Rossi (upback/tackle)
Steele Chambers (tackle/upback)
Luke Farrell (wing)
Xavier Johnson (wing)
Justin Hilliard (tackle)
Baron Browning (guard)
Dallas Gant (guard)
Chris Olave (gunner)
Ohio State lined up the same way for each of its punt plays with the exception of one, when Chambers and Rossi – filling in for Hausmann on the punt team, as well – switched places on the punting unit for Chambers to take a direct snap and run a fake punt on which he gained 38 yards with the assistance of strong blocks in front of him by Borland and Johnson.
Hilliard, a regular on the punting unit in previous seasons, rejoined the lineup against Rutgers, against whom the Buckeyes put an extra blocker between the numbers with Olave serving as the only gunner on the outside.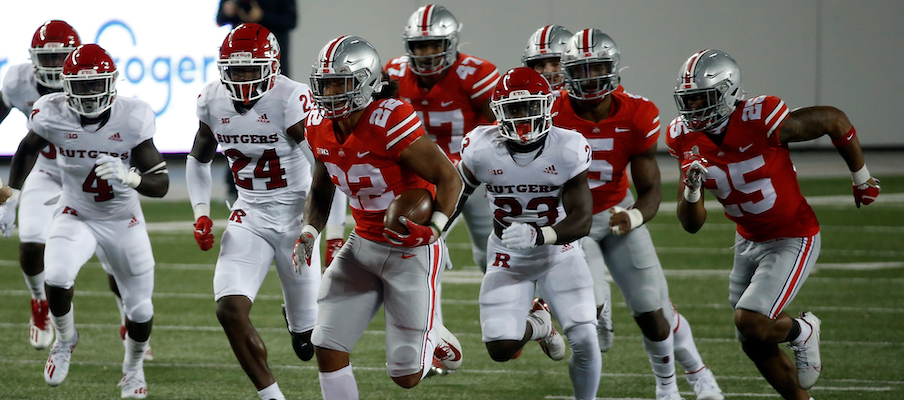 Punt Blocks/Returns
Garrett Wilson or Jaxon Smith-Njigba (returner)
Demario McCall or Jaxon Smith-Njigba (returner)
Zach Harrison or Bryson Shaw (lineman)
Baron Browning or Josh Proctor (lineman/safety)
Xavier Johnson (lineman)
Dallas Gant (lineman)
Cody Simon (lineman)
Chris Booker (lineman/safety)
Sevyn Banks (cornerback)
Kamryn Babb (cornerback)
Shaun Wade or Ryan Watts (cornerback)
Ohio State lined up with two punt returners on the field for each of Rutgers' final four punts of Saturday's game, with varying combinations of Wilson, McCall and Smith-Njigba back deep. Smith-Njigba returned two of those punts for four combined yards while Wilson had a 9-yard punt return (on which he appeared to suffer an injury but returned to the game after receiving some medical attention on the sideline).
Harrison made his debut on the punt block team as a rusher off the edge of the line while Watts also saw his first playing time on the unit after replacing Wade in the second half. Browning, Proctor and Simon also all saw their first playing time this season on the punt block/return team against Rutgers.
Field Goal Block
Sevyn Banks (lineman)
Teradja Mitchell (lineman)
Tommy Togiai (lineman)
Pete Werner (lineman)
Haskell Garrett (lineman)
Zach Harrison (lineman)
Jonathon Cooper (lineman)
Tuf Borland (lineman)
Shaun Wade (lineman)
Marcus Hooker (safety)
Josh Proctor (safety)
After experimenting with Paris Johnson Jr. on the field goal block unit against Penn State, the Buckeyes went back to a lineup of all defensive players – who had also all been on the unit in each of Ohio State's first two games – for its kick-blocking efforts against the Scarlet Knights.
Snap Tracker: Offense

| POS | PLAYER | NEB | PSU | RU | TOTAL |
| --- | --- | --- | --- | --- | --- |
| QB | JUSTIN FIELDS | 65 | 81 | 70 | 216 |
| QB | JACK MILLER III | 6 | DNP | DNP | 6 |
| QB | C.J. STROUD | DNP | DNP | 1 | 1 |
| RB | MASTER TEAGUE | 30 | 44 | 34 | 108 |
| RB | TREY SERMON | 28 | 37 | 27 | 92 |
| RB | STEELE CHAMBERS | 7 | ST | 7 | 14 |
| RB | XAVIER JOHNSON | 6 | ST | ST | 6 |
| RB/WR | DEMARIO MCCALL | ST | ST | 4 | 4 |
| RB | MIYAN WILLIAMS | DNP | DNP | 1 | 1 |
| WR | CHRIS OLAVE | 52 | 80 | 58 | 190 |
| WR | GARRETT WILSON | 48 | 70 | 48 | 166 |
| WR | JAMESON WILLIAMS | 48 | 36 | 29 | 113 |
| WR | JAXON SMITH-NJIGBA | 17 | 23 | 27 | 67 |
| WR | JULIAN FLEMING | 19 | 1 | 12 | 32 |
| WR | KAMRYN BABB | 6 | ST | 6 | 12 |
| WR | GEE SCOTT JR. | 4 | ST | 8 | 12 |
| WR | CHRIS BOOKER | ST | ST | ST | ST |
| WR | SAM WIGLUSZ | ST | DNP | DNP | ST |
| TE | JEREMY RUCKERT | 33 | 55 | 40 | 128 |
| TE | LUKE FARRELL | 40 | 44 | 42 | 126 |
| TE | JAKE HAUSMANN | 9 | 15 | DNP | 24 |
| TE | MITCH ROSSI | 7 | ST | 10 | 17 |
| TE | CADE STOVER | 1 | ST | 2 | 3 |
| OL | WYATT DAVIS | 65 | 81 | 70 | 216 |
| OL | THAYER MUNFORD | 65 | 81 | 70 | 216 |
| OL | JOSH MYERS | 65 | 81 | 70 | 216 |
| OL | NICHOLAS PETIT-FRERE | 65 | 81 | 70 | 216 |
| OL | HARRY MILLER | 61 | 81 | 70 | 212 |
| OL | MATTHEW JONES | 10 | ST | ST | 10 |
| OL | PARIS JOHNSON JR. | 6 | ST | 1 | 7 |
| OL | DAWAND JONES | 6 | ST | 1 | 7 |
| OL | ENOKK VIMAHI | 6 | ST | 1 | 7 |
| OL | LUKE WYPLER | 6 | DNP | 1 | 7 |
| OL | MAX WRAY | ST | ST | 1 | 1 |
| K | DOMINIC DiMACCIO | ST | ST | ST | ST |
| K | BLAKE HAUBEIL | ST | ST | DNP | ST |
| K | JAKE SEIBERT | DNP | DNP | ST | ST |
Snap Tracker: Defense

| POS | PLAYER | NEB | PSU | RU | TOTAL |
| --- | --- | --- | --- | --- | --- |
| DE | JONATHON COOPER | 31 | 35 | 35 | 101 |
| DE | TYLER FRIDAY | 26 | 27 | 34 | 87 |
| DE | TYREKE SMITH | 21 | 28 | 38 | 87 |
| DE | ZACH HARRISON | 15 | 28 | 25 | 68 |
| DE | JAVONTAE JEAN-BAPTISTE | 19 | 10 | 32 | 61 |
| DE | NOAH POTTER | 2 | DNP | 7 | 9 |
| DE | DARRION HENRY-YOUNG | 2 | DNP | 2 | 4 |
| DE | CORMONTAE HAMILTON | DNP | DNP | 3 | 3 |
| DT | TOMMY TOGIAI | 41 | 42 | 41 | 124 |
| DT | HASKELL GARRETT | 23 | 33 | 37 | 93 |
| DT | ANTWUAN JACKSON | 30 | 16 | 28 | 74 |
| DT | JERRON CAGE | 15 | 3 | 27 | 45 |
| DT | TARON VINCENT | DNP | 11 | 28 | 39 |
| DT | TY HAMILTON | 5 | DNP | 13 | 18 |
| DT | ZAID HAMDAN | 2 | DNP | 4 | 6 |
| LB | PETE WERNER | 42 | 62 | 50 | 154 |
| LB | BARON BROWNING | 47 | 62 | 34 | 143 |
| LB | TUF BORLAND | 34 | 41 | 45 | 120 |
| LB | TERADJA MITCHELL | 16 | 15 | 33 | 64 |
| LB | DALLAS GANT | 18 | ST | 38 | 56 |
| LB | CRAIG YOUNG | 9 | 1 | 29 | 39 |
| LB | JUSTIN HILLIARD | DNP | DNP | 26 | 26 |
| LB | K'VAUGHAN POPE | 2 | ST | 5 | 7 |
| LB | CODY SIMON | ST | ST | 5 | 5 |
| LB | CADE KACHERSKI | ST | ST | ST | ST |
| LB | RYAN BATSCH | ST | DNP | DNP | ST |
| LB | MITCHELL MELTON | ST | DNP | DNP | ST |
| LB | BEN SCHMIESING | ST | DNP | DNP | ST |
| LB | TRAYVON WILBURN | ST | DNP | DNP | ST |
| CB | SHAUN WADE | 47 | 62 | 66 | 175 |
| CB | SEVYN BANKS | 39 | 53 | 37 | 129 |
| CB | MARCUS WILLIAMSON | 41 | 39 | 47 | 127 |
| CB | TYREKE JOHNSON | 9 | DNP | 50 | 59 |
| CB | CAMERON BROWN | 23 | 16 | DNP | 39 |
| CB | RONNIE HICKMAN | 9 | ST | 16 | 25 |
| CB | RYAN WATTS | DNP | DNP | 22 | 22 |
| CB | LATHAN RANSOM | 2 | 9 | ST | 11 |
| CB | LLOYD McFARQUHAR | 2 | DNP | DNP | 2 |
| CB | DARRYL SINCLAIR | 2 | DNP | DNP | 2 |
| S | MARCUS HOOKER | 35 | 62 | 65 | 162 |
| S/CB | JOSH PROCTOR | 24 | 27 | 30 | 81 |
| S | BRYSON SHAW | 5 | ST | 16 | 21 |
| S | KEVIN DEVER | ST | DNP | DNP | ST |
| P | DRUE CHRISMAN | ST | ST | ST | ST |
| LS | BRADLEY ROBINSON | ST | ST | ST | ST |