Dating back to 2014, James Franklin has been one of the program's frequent foes. As the Urban Meyer era has transitioned to that of Ryan Day, the Buckeyes and Nittany Lions continue to see plenty of one another both on the field and the recruiting trail. Ohio State has won the vast majority of these battles, but Franklin has had his share of wins as well. 
Matthew Burrell, Tyreke Smith, and Matthew Jones all headed to Columbus. Lamont Wade, Micah Parsons, and Jayson Oweh were among those who felt more comfortable in State College. The 2020 and 2021 cycles have been a bit rough for Franklin and Co. as several of Pennsylvania's top prospects have elected to head out of state. 
Right now, one of Ohio State's weaker areas certainly looks to be running back, though I think it's far too early to worry about the ground game. For Penn State, the loss of K.J. Hamler sure makes the wide receiver room look pretty pedestrian with tight end Pat Freiermuth being the most prominent pass-catcher. 
I'm of the belief there are three other names that – had the tables been turned – would have had a fairly drastic impact on the 2020 outlook for both the Buckeyes and Nittany Lions. Top targets for both programs over the last few recruiting cycles, Devyn Ford, Noah Cain, and Julian Fleming all find themselves in interesting spots during the early stages of their respective careers. 
Heading into the 2020 season, one of the Buckeyes' biggest question marks was how things would look in Tony Alford's backfield. Saturday's game against Nebraska probably didn't tell us too much, but things certainly didn't get off to a roaring start. As a team, Ohio State ran for 215 yards and four scores on 48 carries for an average of 4.5 per attempt. 
Master Teague is a fast, one-cut runner who lacks the wiggle that J.K. Dobbins had. He averaged 3.4 yards per carry in the opener and scored twice. The jury is still very much out on Trey Sermon (4.4 ypc), though he does add more of a pass-catching element. And Steele Chambers looked solid in limited action rushing for 32 yards on four attempts. 
We probably got a little spoiled while watching Dobbins dash for 2,000+ in 2019, but Alford could absolutely use a Devyn Ford or a Noah Cain right about now to help with the backfield puzzle. The Buckeyes were very close to getting Ford, but the Sampson James commitment didn't do them any favors. Cain was looking at several schools including Ohio State, Texas, and LSU. 
But Penn State came out victorious in both recruitments and delivered a bit of a blow to a 2019 Ohio State class that would ultimately include one-time Hurricane commit Marcus Crowley. Thanks in part to their 2019 class, the Nitts came into 2020 with one of the country's most formidable backfields.
However, presumptive starter Journey Brown may miss the entire season with a medical issue. And just yesterday it was announced that a leg injury will cause Noah Cain to miss his sophomore year. That leaves Ford as the last man standing from what was a talented trio in 2019.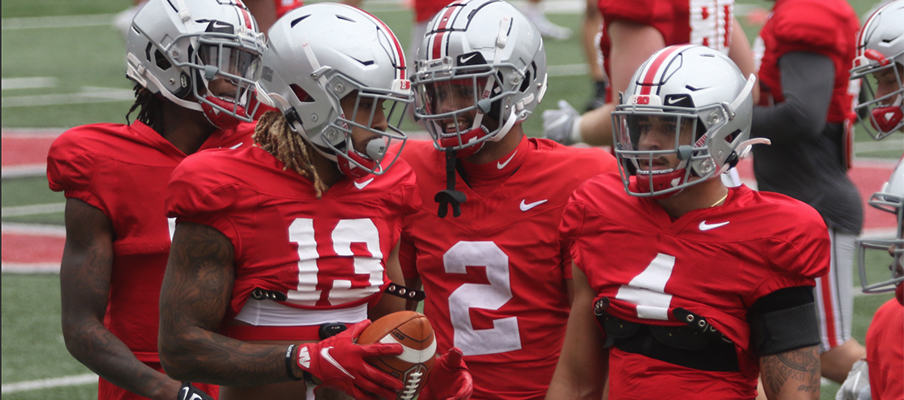 Brian Hartline has already proven himself to be among the elite of the elite. Ohio State's 2020 wide receiver class may be the best we've ever seen at the position regardless of school. Julian Fleming was the top-rated signee of the bunch, and the true freshman made his debut – and recorded his first reception – last week against Nebraska. 
Fleming's hometown of Catawissa, Pennsylvania is just 90 miles east of Beaver Stadium. His decision to head 400+ miles west to Columbus was a devastating blow to James Franklin and Penn State's 2020 recruiting class. And the five-star's departure sure seemed to open the flood gates as several more prominent Pennsylvania stars are now heading elsewhere at an alarming rate.
No one knows what Fleming's impact will be this season. He's too talented to keep off the field, but there are a few more experienced guys also vying for playing time. I think it's fair to say he'd be used with far more frequency at Penn State given the team's lack of playmakers at wideout. But that also would mean having Sean Clifford throwing the ball your way instead of Justin Fields. One of those things is not like the other. 
With Chris Olave's status a bit cloudy at the moment, there's a chance Fleming gets to see an expanded role against the Nittany Lions on Saturday night. The same Nittany Lion team that prioritized him as a recruit for basically four years and could really use him right about now. As for Ohio State, the defense will look to improve against the run, and a big part of that will be containing Devyn Ford.
---
While unrelated to the season at hand, it's worth noting that Ryan Day and the Buckeyes are in hot pursuit of another Pennsylvania star. Four-star safety Derrick Davis Jr. – the state's No. 4 prospect – is one of the few remaining priority targets on Ohio State's board. He was in Columbus last weekend, and his recruitment will almost assuredly come down to the Buckeyes and Nittany Lions. 
Davis is set to check out Baton Rouge this week, but most feel he'll end up in the Big Ten. He's been to Columbus 10+ times over the years and he looks to be James Franklin's last hope for landing one of Pennsylvania's top-10 prospects for the 2021 recruiting class.