To this point, Jameson Williams has only offered a glimpse.
Blink in the first minute of the first quarter of Ohio State's beatdown of Rutgers last fall and you might've missed it. Like a world-class sprinter, he caught a Gunnar Hoak pass 12 yards down the field with his back to the end zone, turned left, noticed a seam, and within 10 steps he separated himself from all 11 Scarlet Knights defenders.
The 61-yard scamper for six points was one of only six receptions Williams made as a true freshman in 2019. This fall, it would register as a surprise if he has fewer than six touchdowns in an expanded role for Brian Hartline.
"He's a speed guy, but I think his route-running is great. His run after the catch is off the charts, too," junior receiver Chris Olave said on Wednesday. "Everything, you're going to see on Saturday. I just can't wait to watch him play. It's going to be fun watching him at the same time."
That's a familiar trope. A college football player hyping up a teammate ahead of a season. It happens all the time.
This one's a bit different, though.
Watching Williams operate with the ball in his hands, even for Olave who will share the field with his fellow wideout, is a treat. Those in Columbus already know him as one of college football's fastest players even if his name hasn't reached mainstream conversations yet, and anybody who has ever watched his high school highlight tape understands something special can happen every time he has the ball.
Olave legitimately wants to see what Williams can do with more opportunities, and given that Ohio State moves forward with only two returning rotational wide receivers – Olave and Garrett Wilson – to lead Hartline's corps, he has a chance to break out in a big way in 2020. 
He could have an opportunity to start alongside Olave and Wilson.
"I expect a lot from him," Olave said. "Me and Jameson, we got real close over this quarantine, over this offseason. We push each other every day. We're so close. We can talk mess to each other, but at the end of the day, we want the best for each other. We push each other. We make each other better. It's all competition at the end of the day. 
"Jameson is a guy that's one of the more talented dudes on the team. I wish the best for him. I've got high, high hopes for him this season just like he does for himself. I can't wait to watch him play and I can't wait to see what he has to show the world."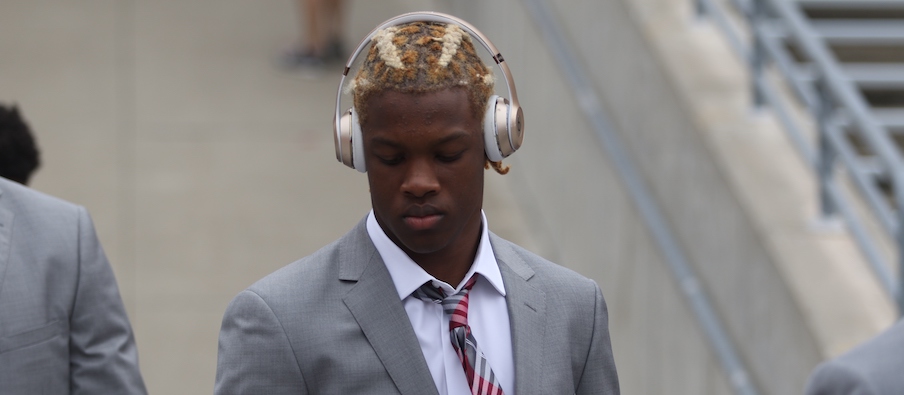 Williams should provide the offense – and, more specifically, Heisman Trophy finalist quarterback Justin Fields – with an aspect the offense lacked last year. He joins Olave as a true deep threat and somebody who can take the top off of defenses, but he'll also serve as a game-breaking playmaker who can turn short passes into explosive plays. In that sense, he could provide something the Buckeyes had with Parris Campbell before he left to become a second-round 2019 NFL Draft pick.
Those types of plays have been key to Williams' game for as long as Ohio State has known about him. As a senior at St. Louis' Cardinal Ritter College Prep, he averaged nearly 24 yards per reception as a senior. The blazing-fast wideout broke Ezekiel Elliott's 300-meter hurdle state record in Missouri. 
That speed – which stands out even in a talent-rich environment in Columbus – makes him special. It also has led Hartline to challenge him to avoid turning into a one-dimensional player who only wins with it.
This offseason, Hartline wanted him to ponder the question of, "What if I wasn't that fast?" While he fully intends to unleash Williams this fall, he intends to make sure the second-year wide receiver has a multi-faceted game.
"If you're able to embody that approach, a really special player can come out of that," Hartline said a few weeks ago. "He already has a physicality that a lot of receivers don't have. He loves the contact piece. Always making sure with speed and with blocking that we're under control and we're operating with purpose is always something we're going to continue to work at any level. But I think he's really embodied that. I think he really understands being crafty and really wanting to be some of the best ever at his position and really working that way."
So far, so good. Hartline said he has seen a "great amount of growth" from the rising sophomore. Fields recently pointed to Williams as somebody who has stood out in practices.
If he has done anything in practices like what he did to Rutgers' secondary 11 months ago, it makes plenty of sense why he has caught the eye of his teammates and coaches.
"His speed is off the charts. Talent is off the charts," Olave said. "Along with Garrett Wilson, we're going to have fun this year."