By the time Ohio State fans cross the midpoint of October in normal calendars, opinions about players and coaches are often already set in stone. This year, because the season won't even begin until this weekend, there remains much to learn about this team.
Will this offense perform up to its capabilities? Will the offensive line dominate the way the Buckeyes hope? How does a new-look defense play? Who breaks out on each side of the ball?
On Saturday, we'll finally get our first intel after an extended offseason. Several individual matchups in the season-opening Ohio State-Nebraska showdown will teach us about certain Buckeyes. Here are five to pay attention to this weekend.
Marcus Hooker vs. Adrian Martinez
Up until Monday, some degree of uncertainty over whether or not Adrian Martinez would line up as Nebraska's starting quarterback existed. Luke McCaffrey impressed throughout the offseason, and Martinez's 10-touchdown, 9-interception ratio last year didn't exactly inspire optimism despite the hype that preceded the season. Scott Frost quashed any ideas of McCaffrey starting on Monday, though, calling the competition in favor of Martinez.
While he certainly had his struggles, Martinez should pose an interesting challenge to a largely inexperienced Ohio State secondary, which includes third-year safety Marcus Hooker.
Based on the way safeties coach Matt Barnes talked last week, Hooker seems to have the edge to start as the single-deep safety. The coach says Hooker has "freakish" athleticism, which is exactly what made his older brother Malik successful as a redshirt sophomore in 2016. Nobody's predicting a seven-interception season. But there's plenty of intrigue about what Hooker can accomplish in 2020, and he'll get his first challenge on Saturday with Martinez coming to town.
Marcus Williamson vs. Wan'Dale Robinson
As a top-100 overall recruit out of Kentucky, Ohio State – and numerous other schools – wanted Robinson. Instead, the 5-foot-10, 185-pound playmaker opted to play college football in Lincoln. Robinson earned second-team Freshman All-American honors last year with 40 receptions for 443 yards and 340 rushing yards, and he's chasing an even bigger season this fall. 
Marcus Williamson, a senior slot cornerback, could draw a heavy dose of Robinson assignments in coverage.
The upperclassman appears to have a stranglehold on the inside corner position – even if he likely won't be on the field as much as Shaun Wade was while playing it last year – and it would make sense for the Buckeyes to line him up across from Robinson. At 5-foot-10 and 186 pounds, he's almost the exact same size and, presumably, has enough quickness and speed to deal with Nebraska's sophomore.
Williamson, however, has a lot to prove. He has dealt with injuries and been buried on the depth chart at cornerback during his first three years at Ohio State, never playing more than 100 snaps in a season. In truth, he's an unknown commodity for those on the outside of the Woody Hayes Athlete Center despite his designation as a senior. 
Robinson is expected to move all over the field for the Cornhuskers, but Williamson should get his fair share of time against the playmaker on Saturday.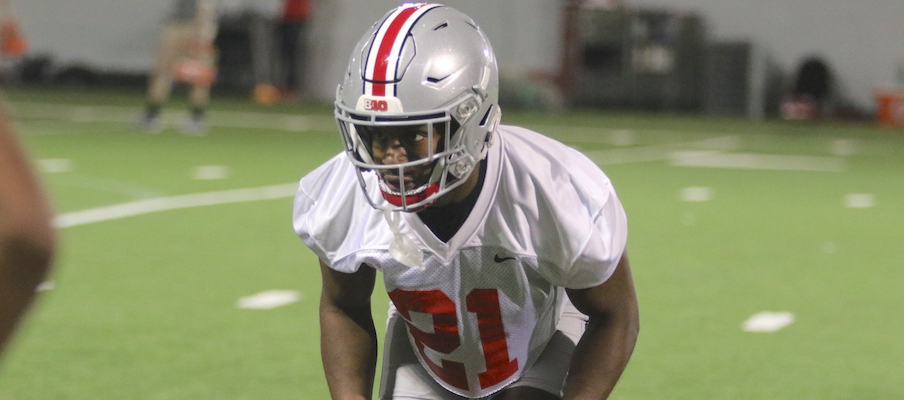 Kerry Coombs + Greg Mattison vs. Scott Frost + Matt Lubick
For the entirety of the offseason, questions about this defense have percolated.
How will it line up? What will be its most-used personnel packages? Does it have any notable deficiencies? How does it compare to last year's group? Who'll start in the secondary? How much pass-success does this team have? Will Al Washington figure out an optimal linebacker rotation?
There is a ton to learn about the Buckeyes' defense, and we won't have to wait long to figure at least some of it out.
Defensive coordinator Kerry Coombs and co-defensive coordinator Greg Mattison will get an immediate test with head coach Scott Frost and first-year offensive coordinator Matt Lubick testing them. This, of course, won't be the most deadly offense they have to scheme against. But the Cornhuskers, for all their issues in recent years, still can't get overlooked. This represents a quality first test for Coombs and Mattison ahead of the Penn State game.
Pete Werner vs. Dedrick Mills
Unsurprisingly, after averaging 5.2 yards per carry and recording 10 touchdowns last year, Dedrick Mills is viewed as Nebraska's "bellcow" running back. He had 11 rushes for 67 yards against the Buckeyes in 2019 while recording his team's only touchdown in the blowout loss, and it wouldn't be a surprise to see him get the ball even more often on Saturday.
A slew of Ohio State defensive players will try to minimize his production, but in particular, Pete Werner will want to do so while shining in an adjusted role.
Despite a standout season at strongside linebacker last year, the coaching staff moved him inside to weakside linebacker, which is more of an in-the-bow position similar to middle linebacker. There, he hopes to become more of a playmaker while also finding himself involved in more play-to-play action.
Werner, undoubtedly, will find himself in Mills' vicinity throughout Saturday's game. He'll need to play well in his new spot to hold the tailback in check.
Jameson Williams vs. Dicaprio Bootle
In general, we will learn more about Ohio State's defense than its offense on Saturday. Why? 
It has significantly more question marks and more first-time contributors on that side of the ball.
Nebraska's offense will likely be more dangerous than its defense.
Here, though, is an exception.
Jameson Williams caught only six passes for 112 yards and a touchdown a year ago, yet he will likely start alongside Garrett Wilson and Chris Olave as the third wide receiver. He provides Justin Fields with a deep-ball threat and someone – similarly to Parris Campbell – who's a threat to house it every time he touches the ball. 
Dicaprio Bootle, a redshirt senior team captain who was honorable mention All-Big Ten last year, could find himself matched up with Williams at times. Against a veteran, does Williams still find ways to make those explosive plays that once made him a top-100 overall recruit? We will find out this weekend.