It's finally game week for teams throughout the Big Ten, and for Nebraska, that means making a trip to Columbus to play Ohio State in the season opener for both teams.
The Cornhuskers aren't thrilled about drawing that matchup – Nebraska athletic director Bill Moos has complained in multiple interviews, including one this past week with the Lincoln Journal Star, about how tough the Cornhuskers' schedule is compared to Ohio State and other teams – but nevertheless, they'll be the first opponent of the year for the Buckeyes as they begin their eight-game conference-only regular season schedule.
If you paid attention to anything that happened this summer, then you already know that Nebraska stood alongside Ohio State as one of the two schools who most vocally opposed the Big Ten's decision to postpone the season and pushed for football to be played this fall, with eight Cornhuskers players even filing a lawsuit against the conference before games were put back on the schedule.
Come Saturday at Ohio Stadium, however, the Buckeyes and Cornhuskers will be back to being foes rather than friends as they each look to win their first game of 2020. So with the fight to save the season now in the past and the extra-long wait for football finally coming to an end, we take a look at what you should know about the team that will be on the field trying to spoil Ohio State's home opener this weekend.
Three straight losing seasons
Ohio State is favored to win Saturday's game by more than three touchdowns – the betting line, which opened at 21.5 points on Thursday, had already been increased to 26 points by Sunday – and the teams' performance in recent years, especially the past three seasons, backs that up.
While Ohio State has won three straight Big Ten championships, Nebraska has gone three years without even hitting .500. The improvement that was expected to come last year in Scott Frost's second season didn't materialize. The Cornhuskers won just one more game and went 5-7 after going 4-8 in both 2017 and 2018.
Frost isn't on the hot seat in Lincoln – he actually received a two-year contract extension last year – but his results as his alma mater's head coach haven't lived up to the hype so far. And with a shortened schedule that includes crossover games against Ohio State and Penn State this year, Nebraska is going to have to score some wins over quality opponents to get on the right side of .500 in his third year leading the program.
A new offensive coordinator
Nebraska and former offensive coordinator Troy Walters "mutually agreed to part ways" in January after the Cornhuskers finished just 55th nationally in yards per game (415.8) and 72nd nationally in points per game (28.0) last season. Walters is now the assistant wide receivers coach for the Cincinnati Bengals.
Walters was replaced in Lincoln by Matt Lubick, who previously worked with Frost at Oregon and was most recently the co-offensive coordinator at Washington. Lubick, the son of former Colorado State coach Sonny Lubick, left Washington after the 2018 season to return to Fort Collins and work for a credit union, but opted to return to coaching when the opportunity to join Frost's staff opened up.
"This opportunity was unexpected," Lubick said in January. "To be able to work at a great place, with someone I respect and admire and still be close to Fort Collins is a special situation."
In his two seasons as Washington's co-offensive coordinator, the Huskies had back-to-back 10-win seasons and won the Pac-12 title in 2018. Their offenses were just mediocre, though, finishing 55th and 58th in total offense and 17th and 88th in scoring offense. 
Because he didn't coach last year, Saturday's game at Ohio State will be Lubick's second consecutive game coaching against the Buckeyes; his final game at Washington was the Rose Bowl, in which the Huskies scored 23 points on 444 yards in a losing effort against the infamous 2018 Ohio State defense.
Martinez's starting job in jeopardy
Rewind to before last season, and there was talk about how Adrian Martinez might have been Ohio State's starting quarterback if he had been offered by the Buckeyes instead of Matthew Baldwin in the recruiting class of 2018. Martinez was viewed as a dark-horse Heisman candidate entering his sophomore season, and some people (I'm calling out myself here) even projected Martinez, not Justin Fields, to be last year's Big Ten Quarterback of the Year.
Instead, Martinez's sophomore season turned out to be a disappointment, as he completed just 59.4 percent of his passes for 1,956 yards with barely more touchdown passes (10) than interceptions (nine). As a result, Martinez had to compete just to be Nebraska's starting quarterback for Saturday's game.
Martinez has been locked in a preseason quarterback competition with redshirt freshman Luke McCaffrey – the son of former NFL wide receiver Ed McCaffrey and younger brother of current NFL superstar Christian McCaffrey and former Michigan quarterback Dylan McCaffrey – and as of Sunday night, the Cornhuskers had not yet named a starter. It would still be somewhat surprising if Martinez loses the job, given that he was named a team captain this weekend, but his coaches haven't committed to that yet. (Update: Frost said Monday that Martinez will be Nebraska's starting quarterback.)
"It's an ongoing evaluation," Lubick said last week. "We evaluate them every single day. They both can win for us, they both are moving the ball."
Even though Martinez is starting on Saturday, he'll likely have only a tenuous grip on the job, so Ohio State will still have to prepare for the possibility of facing both quarterbacks, and he could need a strong showing against the Buckeyes to keep the job going forward with McCaffrey on his heels.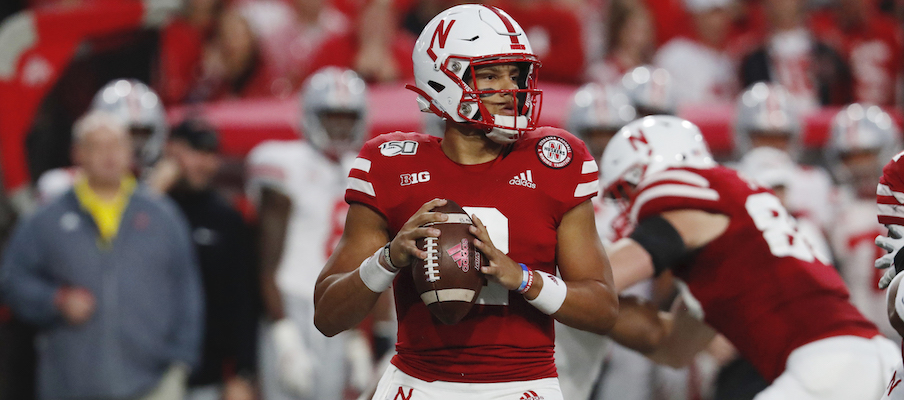 Needed: breakout stars
In terms of experience, Nebraska has a solid core of veteran players on both sides of the ball. On offense, the Cornhuskers return their entire starting offensive line from last season, their top three rushers (Dedrick Mills, Martinez and Wan'Dale Robinson), their second-leading receiver (Robinson) and their top tight end (Jack Stoll). On defense, the Cornhuskers return five of their top six tacklers from last season: linebackers Will Honas, Collin Miller and JoJo Domann and safeties Marquel Dismuke and Cam Taylor-Britt, along with a starting cornerback in Dicaprio Bootle.
All that experience doesn't mean a whole lot if those players don't take their games to new heights this year, though, because none of them were superstars last season. The Cornhuskers don't have a single returning player who earned first-, second- or third-team All-Big Ten honors last season – though Mills, Robinson, Bootle, Taylor-Britt and left tackle Brenden Jaimes were honorable mentions.
Robinson, a dynamic slot receiver/H-back who was recruited by Ohio State, is perhaps the Cornhuskers' most likely breakout star entering this season. He earned second-team Freshman All-American honors last season and was a finalist for the Paul Hornung Award, which honors college football's most versatile player.
They're going to need more stars to emerge on both sides of the ball, though, if they're going to have a chance to compete with Ohio State and the rest of the Big Ten's top teams. That's especially true in their defensive front seven, where they're replacing five starters from last season including all three of their starting defensive linemen.
Bleak history against the Buckeyes
Despite its all-time standing as the seventh-winningest program among Football Bowl Subdivision teams, Nebraska has just one win in eight all-time games against Ohio State.
Series History

| YEAR | LOCATION | RESULT |
| --- | --- | --- |
| 2019 | Lincoln | Ohio State 48, Nebraska 7 |
| 2018 | Columbus | Ohio State 36, Nebraska 31 |
| 2017 | Lincoln | Ohio State 56, Nebraska 14 |
| 2016 | Columbus | Ohio State 62, Nebraska 3 |
| 2012 | Columbus | Ohio State 63, Nebraska 38 |
| 2011 | Lincoln | Nebraska 34, Ohio State 27 |
| 1956 | Columbus | Ohio State 34, Nebraska 7 |
| 1955 | Columbus | Ohio State 28, Nebraska 20 |
That win came in Nebraska's first year in the Big Ten, 2011, when the Cornhuskers took advantage of Joe Bauserman's passing struggles to come back from a three-touchdown deficit and score 28 straight points for a 34-27 win in Lincoln.
Ohio State has won each of its five meetings with Nebraska since. Other than the 2018 game at Ohio Stadium, which the Buckeyes won by only five points (36-31), Ohio State won each of those other four games by 25 points or more, with three wins by 41 points or more in the last four years.
All-time, the Buckeyes have a 7-1 record against Nebraska, having also won their only two pre-Big Ten matchups with the Cornhuskers in 1955 and 1956. Ohio State will look to improve that record to 8-1 on Saturday, when the Buckeyes will also be looking to win their 21st consecutive season opener.