Despite the turmoil of the past six months, Ohio State's 2020 roster still looks the way it was supposed to.
Since Shaun Wade and Wyatt Davis opted back into playing this fall after the Big Ten announced it would begin its season in October, Ohio State does not have a single player opted out of the 2020 season. Barring injuries or other health-related absences that might occur, Ohio State is expected a full contingent of 85 scholarship players available for its championship chase.
Considering that the Buckeyes still haven't had a full-fledged practice since their lone week of spring practice in March, there hasn't been a whole lot that's changed with Ohio State's roster in the past six months. The Buckeyes' outlook at each position isn't much different at any position than it was before the COVID-19 pandemic started.
Yet because we've spent much of the past six months talking about whether or not the football season would actually happen rather than about the team itself, we thought it would be time for a good refresher on how the Buckeyes stack up at each position – especially considering that roster depth could be more important than it's ever been this season due to the pandemic and the Big Ten's protocols that will keep any player who tests positive for COVID-19 out of action for 21 days.
Below, we take a look at Ohio State's scholarship roster at each position – broken down by returning starters, returning contributors and potential new contributors – with analysis on what the Buckeyes' depth chart could look like at each position group and how good they should feel about it, along with quotes from Ohio State coach Ryan Day from last week's Ryan Day Show on each position group as the buildup to the rescheduled fall season begins.
Quarterbacks (4)
Returning Starters: Justin Fields (917 snaps in 2019)
Returning Contributors: Gunnar Hoak (48 snaps in 2019)
Newcomers: Jack Miller, C.J. Stroud
If Ohio State hadn't played until the winter or spring, the Buckeyes likely would have a new starting quarterback the next time they took the field, as Fields would have had good reason to opt out and begin his preparation for the 2021 NFL draft if he didn't have a chance to compete for a Heisman Trophy and a national championship. But Fields never wavered on playing in a fall season, and the Buckeyes will enter their quest to return to the College Football Playoff with one of the two best quarterbacks in college football as a result.
Depth remains a real concern for the Buckeyes, as none of their other quarterbacks have ever started a collegiate game, and two of them have never even taken a collegiate snap. That said, both Stroud and Miller have the upside to be Ohio State's starting quarterback of the future. The question is whether they will be ready for significant playing time if needed this year, especially after a stunted offseason due to the pandemic, or if Hoak is good enough to be a legitimate No. 2 quarterback now that he has a season with the Buckeyes under his belt.
Day's take: "First off, Justin has had an unbelievable offseason. Really happy that he's gonna be able to play, because everybody – college football, Buckeye Nation and even us as coaches – to see him only play for one year would have been really tragic. And so now, we get a chance to see him play, which is great. I know he's got some unfinished business, he feels like, so that was great to see. 
"But yeah, building depth there. Gunnar comes back and he's got a year under his belt now, he kind of got thrown into it last year in the middle of camp, so having somebody now who's a little bit more veteran. And then the two young guys to develop. And (quarterbacks coach) Corey Dennis has got his hands full, because they're both young guys, but we got two really good, talented guys to develop. So Jack and C.J. are out there learning every day.
"We haven't really been able to do a bunch of team work, so it's been a lot of routes on air, some seven-on-seven, but as you know, it's a lot different when the linemen are in front of you and the pass-rush is coming. So they're learning. They're getting in every day. We're throwing everything at them, which is great. We're not just giving them the easy stuff, we're giving them the hard stuff too. But they're able to see Justin go to work every day. And that's the thing that helped Dwayne (Haskins), helped Joe (Burrow) here is watching J.T. (Barrett) go to work and just as time has gone on, you have somebody there to watch and learn how to be a pro."
Running Back (5)
Returning Starters: None
Returning Contributors: Master Teague (264 snaps in 2019), Marcus Crowley (36), Steele Chambers (33)
Newcomers: Trey Sermon, Miyan Williams
While Ohio State has big shoes to fill at running back following the departure of J.K. Dobbins, the Buckeyes got a big boost at the position this summer when Trey Sermon – who ran for 2,076 yards and started 19 games in three years at Oklahoma – arrived in Columbus as a graduate transfer. He has the potential to be one of the Big Ten's best running backs this season, and is likely to be Ohio State's new starter.
Teague, who suffered an Achilles injury in March that partially prompted Ohio State to bring in Sermon, is also expected to play a significant role in the Buckeyes' backfield after making a quick recovery from his injury. He showed he has the ability to be an impact player at running back for Ohio State by running for 789 yards as Dobbins' backup last season, and he'll likely get a closer-to-equal share of the carries with Sermon than he did with Dobbins.
Crowley's availability for the 2020 season remains in doubt after he tore his ACL last fall, but Sermon and Teague should provide a strong 1-2 punch at the top of the depth chart while Chambers should be capable of contributing as needed. Williams, a true freshman, will likely begin the season at the bottom of the depth chart but has drawn praise for his body transformation entering his first year at Ohio State.
Day: "Master Teague, first off, has done an unbelievable job of getting himself healthy again in such a short period of time. The amount of work he put in to get himself ready to roll is just amazing. But then also, getting Trey in here is really great for us. He's a really good young man who understands football. We haven't seen him with pads on, but he's done everything we've asked him to do to this point, so excited to see him once we get rolling.
"Marcus is coming off of that knee, and so he's still working back into practice, but I think Steele Chambers had a great offseason. He's got a year stronger, a little bit more confidence so that's great to see what he's been doing out there. I think he's going to have an opportunity to really help us this season. And then Miyan Williams is another guy who came in this summer and looks good. He's kind of a bowling ball out there, and the best thing he'll do is put on pads and get his pads down and run."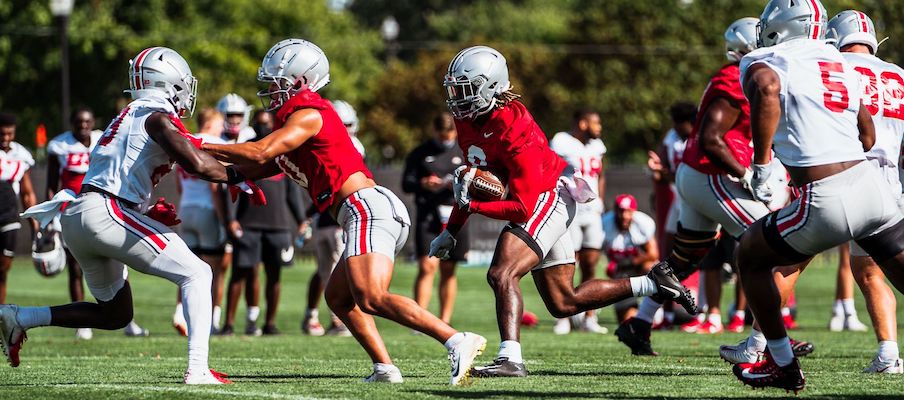 Wide Receivers (11)
Returning Starters: Chris Olave (507 snaps in 2019)
Returning Contributors: Garrett Wilson (450), Jameson Williams (151), Demario McCall (90), Jaylen Harris (89), Ellijah Gardiner (18)
Other Returners: Kamryn Babb
Newcomers: Mookie Cooper, Julian Fleming, Gee Scott Jr., Jaxon Smith-Njigba
Olave returns as Ohio State's leading receiver from last season, while Wilson – now set to start in the slot after playing regularly in the outside receiver rotation last year – also appears to be on the cusp of stardom. Together, they could be one of the top receiving duos in college football, and there's plenty more talent in Brian Hartline's unit, too.
The rest of the Buckeyes' receivers are unproven, but Williams has elite speed and flashed big-play ability last season while Babb – now finally healthy after missing his first two seasons at Ohio State with knee injuries – and the four new freshmen were also all top-100 recruits in their respective recruiting classes.
All of them enter the 2020 season as potential breakout players, while McCall – who's still floating between slot receiver and running back – is a fifth-year senior and Harris and Gardiner are fourth-year juniors whose experience could enable them to finally break through and earn a place in the rotation this fall.
Day: "We're very, very talented out there. Still inexperienced and young, but as talented as I've ever been around. Starts with Chris coming back, he's come back in great shape, really did a good job in the offseason and was ready to roll in the preseason and has done a good job over the last month staying in shape. And then you have Garrett coming back. He's moved inside, which is a great opportunity for him, and then you have Jameson Williams coming back, as well. 
"And then the young guys, they've really shown out. Seeing some of those guys come in and step in, you've got Julian Fleming and Jaxon Smith and Gee Scott and Mookie Cooper, four young guys. And then there's Demario McCall, somebody that we're looking forward to kind of seeing what he can do in terms of playing some of the slot and being a running back."
Tight Ends (5)
Returning Starters: Luke Farrell (459 snaps in 2019), Jeremy Ruckert (404)
Returning Contributors: Jake Hausmann (235)
Other Returners: Cade Stover (35 snaps on defense)
Newcomers: Joe Royer
The Buckeyes are loaded with experience at tight end, where Farrell and Ruckert are both back to lead the depth chart after starting games last season and Hausmann also saw regular playing time in 2019. All three of them are players Ohio State can rely on, especially Ruckert and Farrell, giving the Buckeyes the ability to incorporate multi-tight end packages into their offense and dependable depth if any of them have to miss time.
Stover enters the season as a bit of a wild card, having moved to tight end this offseason after arriving at Ohio State as a linebacker, but he has the talent to make an impact off the bench, too, if the Buckeyes believe he's ready to play on offense. Royer probably won't be asked to do much as a freshman unless multiple veterans miss time.
Day: "They've done a good job (Farrell, Ruckert and Hausmann), and also Cade Stover's really come on, too. He's shown during (the offseason) that he can really take the next step. Tight end is probably the biggest developmental position there is, so it just takes a little bit of time, but now there's some good depth and experience in that group, so that's going to be a weapon for us."
Offensive Line (17)
Returning Starters: Josh Myers (925 snaps in 2019), Wyatt Davis (922), Thayer Munford (854)
Returning Contributors: Nicholas Petit-Frere (240), Harry Miller (181), Gavin Cupp (174), Matthew Jones (114), Dawand Jones (90), Enokk Vimahi (62)
Other Returners: Ryan Jacoby, Max Wray
Newcomers: Josh Fryar, Jakob James, Paris Johnson Jr., Trey Leroux, Grant Toutant, Luke Wypler
With Davis still in the fold, Ohio State returns an All-American at right guard along with one of the nation's best centers in Myers and a third-year starter at left tackle in Munford, giving the Buckeyes an excellent trio of experienced starters to lead their offensive line.
Petit-Frere started one game at left tackle last season and should be in line to start at right tackle this year, though Dawand Jones and even Johnson are providing legitimate competition at that spot. Miller appears to be a clear frontrunner to start at left guard, but Matthew Jones could be the top backup at both guard and center while Cupp, Vimahi, Jacoby and Wypler are also strong candidates for two-deep spots on the interior offensive line.
With 17 total scholarship offensive linemen, the Buckeyes have a deep roster of talented blockers in a year where that could be crucial.
Day: "To have Josh in the middle with Wyatt, Harry Miller got some really valuable time last year, Nick Petit-Frere got valuable time and then you have Thayer, who's a veteran for us right there, that's big. And then you have some younger guys in there who are going to have an opportunity to step up as well.
"Dawand Jones and Paris are both two guys that have a lot of talent who are gonna make a run at this thing. Nick Petit-Frere and Thayer have more experience, and they both have had a good offseason. And then inside, obviously Wyatt's back, but Harry Miller played some center last year, he's moved to guard and really stepped in and done a nice job there. Matt Jones is gonna be competing for one of those spots in there. Then there's a bunch of other guys who once we get the pads on, we'll have a better feel."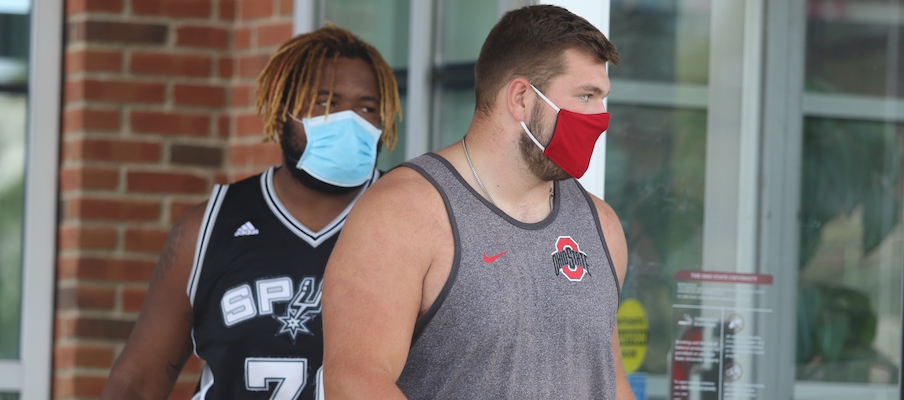 Defensive Line (16)
Returning Starters: Zach Harrison (284 snaps in 2019), Tyreke Smith (243), Tyler Friday (220), Jonathon Cooper (121)
Returning Contributors: Tommy Togiai (250), Haskell Garrett (218), Antwuan Jackson (201), Javontae Jean-Baptiste (201), Jerron Cage (88), Noah Potter (37), Jaden McKenzie (11)
Other Veterans: Taron Vincent, Cormontae Hamilton
Newcomers: Jacolbe Cowan, Ty Hamilton, Darrion Henry-Young
Ohio State is replacing all three of its defensive linemen who were consistent starters last season – Chase Young, Davon Hamilton and Jashon Cornell – but it does return four defensive ends who started multiple games in Cooper, who was a regular starter in 2018 but played only four games last season due to an ankle injury, plus Smith, Friday and Harrison. That quartet, along with Jean-Baptiste, gives the Buckeyes a strong stable of veteran defensive ends who they'll count on to collectively step up and help them replace the production they lost with Young's departure.
None of the returning defensive tackles have started a game for the Buckeyes, but Togiai, Garrett, Jackson, Cage and Vincent give them a talented stable of upperclassmen there, too. Togiai is the only sure-fire starter in the group, but Vincent, Garrett and Jackson are also expected to see regular playing time. Vincent, though, has a lot to prove after missing all of last season with a shoulder injury, and it's uncertain whether Garrett's availability for the upcoming season will be affected by the injuries he suffered in a shooting last month.
Potter provides additional depth at defensive end, McKenzie provides additional depth at defensive tackle. The Hamiltons, Cowan and Henry-Young are versatile, young defensive linemen who the Buckeyes would rather not have to rely on this year, but each of them has the physical tools to potentially provide value at multiple spots on the line as they develop.
Day: "There's good depth, especially at the defensive end position. Really happy for Jonathon Cooper, to see him go through what he went through last year and then come back and finally get a chance to play, it's exciting. So that's great. And then we have a bunch of defensive ends. So those guys, the expectation level is very, very high for them to compete at a high level, when you look at the guys that have come before, but when you talk to Zach Harrison and Tyler Friday, Tyreke Smith, Javontae Jean-Baptiste, they're all very, very talented. So it's hard, because it's been a year since we've had the pads on and it's hard to evaluate defensive linemen, but they look good, their attitude's been great, and I'm looking forward to seeing them play."
Linebackers (11)
Returning Starters: Pete Werner (593 snaps in 2019), Tuf Borland (425)
Returning Contributors: Baron Browning (368), Dallas Gant (118), Justin Hilliard (106), Teradja Mitchell (99), K'Vaughan Pope (77), Craig Young (15), Tommy Eichenberg (5)
Newcomers: Mitchell Melton, Cody Simon
Led by two seniors who have already been multi-year starters in Werner and Borland, another senior who's been a regular contributor for the last two years in Browning, a sixth-year senior captain in Hilliard and a trio of talented juniors in Gant, Mitchell and Pope, Ohio State has more experienced depth at linebacker than any other position on the roster.
How exactly the Buckeyes will divide playing time among those seven linebackers remains a question, but it's likely those seven will play the vast majority of linebacker snaps for Ohio State in 2020. Young and Eichenberg should be more ready to contribute now that they've been at Ohio State for a year, while Simon and Melton also have upside for the future, but their opportunities for significant playing time this season are likely to be limited to special teams unless there are a rash of absences on the depth chart in front of them.
Day: "You look at Pete and Tuf, you look at Baron, you look at Justin Hilliard and that's four guys that have played a lot of football here, and they've played a lot of games. So that's huge for us. Especially at the linebacker position, when you haven't hit for so long, to be able to have those reps under their belt, it's not the first time they're gonna be going on the field. So I feel good about that, and then the depth underneath them. There's some guys pushing each other right there with Teradja and Dallas Gant, there's a bunch of guys in there that are fighting for playing time. So it'll be fun to see those guys compete again as the season goes on, and we're hoping that they can help us in special teams as well, and different areas, different personnel groupings. It's a good group."
Defensive Backs (14)
Returning Starters: Shaun Wade (529 snaps in 2019)
Returning Contributors: Cameron Brown (254), Sevyn Banks (170), Josh Proctor (123), Marcus Williamson (86), Marcus Hooker (82), Tyreke Johnson (57), Bryson Shaw (6)
Other Veterans: Ronnie Hickman
Newcomers: Lejond Cavazos, Cameron Martinez, Lathan Ransom, Ryan Watts, Kourt Williams
Wade's decision to opt back into the 2020 season provides crucial experience and leadership for Ohio State's otherwise inexperienced secondary, which is replacing three starters from last season who are now starting in the NFL (Jeff Okudah, Damon Arnette and Jordan Fuller). While Wade is expected to be a star at one outside cornerback spot, there's still some question marks at the other three positions.
That said, the Buckeyes have six other third- and fourth-year defensive backs who could also be ready to play bigger roles this year with Banks, Brown, Williamson and Johnson at cornerback and Proctor and Hooker at safety. It's likely that all six of those defensive backs will see playing time in some capacity, as new defensive coordinator and secondary coach Kerry Coombs has expressed a desire to rotate defensive backs as he did during his previous stint at Ohio State.
Shaw and Hickman could also be candidates to contribute at safety or slot cornerback now that they've been at Ohio State for a year, while Williams – a safety who could also end up playing bullet/Sam linebacker – appears to be the most likely candidate to contribute immediately among the true freshman after he became one of the first two members of the class of 2020 to lose his black stripe on Monday.
Day: "Kerry does a great job of developing, but he's got his hands full. You have one great player who has a chance to be the best corner in the country in Shaun Wade, but then after that, it's a young group. You're replacing Jeff Okudah, you're replacing Jordan Fuller, you're replacing Damon Arnette. Those are three guys that just played a whole bunch of football on Sunday. So you don't just like show up and just put a new guy out there.
"However, some of these guys did play last year. Sevyn Banks played last year, Cam Brown played last year, Josh Proctor played last year, Marcus Williamson played last year, Marcus Hooker, these guys all played in games. So while they're inexperienced in terms of starting and playing the championship-level games, they have played football. They do have snaps under their belt. And Kerry's done a great job of bringing them along. So I think they're gonna be able to play at a high level. 
"The other guy that really has shown early on, even in these kind of practices right here, is Kourt Williams. A young guy who I think has a chance to be a really, really good player. His approach has been excellent. He's versatile. He can do a lot of things. So that's someone to keep an eye on."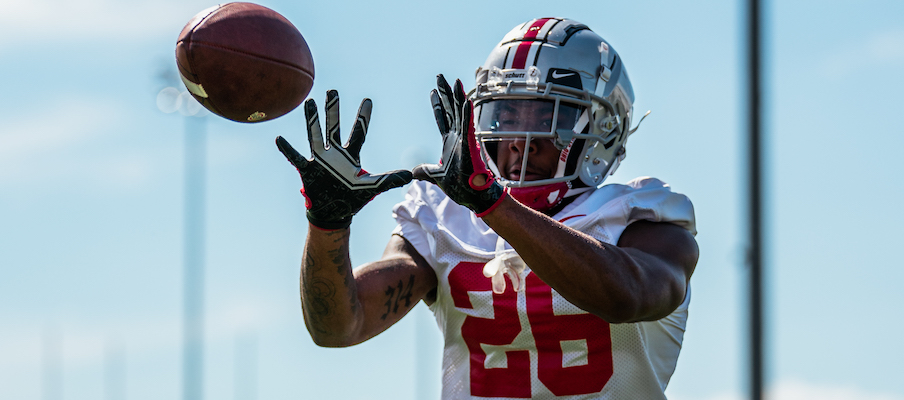 Specialists (3)
Returning Starters: Blake Haubeil (kicker), Drue Chrisman (punter)
Newcomers: Jake Seibert (kicker – grayshirt)
Technically, Ohio State has only two specialists on scholarship for 2020: Haubeil and Chrisman, who give the Buckeyes a pair of trusty veteran options at kicker and punter. Seibert is expected to be placed on scholarship in 2021, but he'll grayshirt – meaning he won't be on scholarship, though he'll still be eligible to play as a walk-on – in 2020.
Given the possibility that they could lose a starter for 21 days due to COVID-19, the Buckeyes are going to need their walk-on specialists to be ready to play, too. Seibert will likely be the next man up at kicker, while Michael O'Shaughnessy will likely be the next man up at punter. At long snapper, the Buckeyes don't currently have a scholarship player, so they'll need both Bradley Robinson and Roen McCullough to be ready to play, with one of them in line to start.