After a week of reconsideration requests and even some rumors that the Big Ten might reverse course or Ohio State might still find a way to play this fall, the Buckeyes and their conference both made it clear on Wednesday that they are firmly focused on trying to play a winter or spring football season instead.
Big Ten commissioner Kevin Warren wrote in an open letter that the conference's decision to postpone fall sports "will not be revisited." Ohio State athletic director Gene Smith wrote in an open letter of his own that while he is confident Ohio State has "the safety protocols and rigorous safeguards in place for our student-athletes to practice and return to competition immediately," the university is now "actively planning for the winter and spring seasons for all sports, including the return of football."
What still isn't clear, though, is what exactly a winter or spring football season will look like.
According to several reports this week, the Big Ten is targeting a January start to its second-semester football season – as Ohio State coach Ryan Day has advocated for – and a schedule for that season could be released as soon as next week, according to Jeff Potrykus of the Milwaukee Journal Sentinel.
There are still many other questions and potential complications surrounding the proposed winter season, however, that need to be answered sooner than later so that teams can adequately prepare for that season and players can make decisions about whether they should actually play in it.
What will the schedule look like?
If Day gets his wish, and it's increasingly looking like he will, the winter season will start in the first week of January.
Multiple reports have indicated that the league is targeting a Jan. 1 start date – or as close to Jan. 1 as possible – for the postponed season, with an eight-week regular season that would conclude in the final week of February or the first week of March. Those games, at least for the first weeks of the season, might not be played on Saturdays; to avoid television conflicts with the NFL playoffs, games could be played on Thursday or Friday nights, according to Sports Illustrated's Albert Breer.
How exactly the schedule will look from there remains uncertain, but it's presumable that each team's eight-game schedule — assuming all 14 Big Ten teams are able to play — would consist of six divisional games and two cross-divisional games for each squad.
Where will games be played?
One of the most obvious concerns regarding a potential winter college football season is weather, particularly for the Big Ten, where all 14 schools are in cold-winter locations. While there's no rule against playing football in the cold, a season full of games in snowy, icy, freezing conditions wouldn't be pleasant for anyone.
Because of that, the conference's schedule for the winter season could consist solely of neutral-site games played in dome stadiums. Lucas Oil Stadium in Indianapolis, Ford Field in Detroit and U.S. Bank Stadium in Minneapolis are reportedly the top options to host games, while The Dome at America's Center in St. Louis and the Carrier Dome in Syracuse have also been mentioned as potential sites.
It's uncertain how exactly stadium assignments will be determined, but presumably, games would be assigned to whichever available dome is closest to at least one of the teams playing, while multiple games each week are expected to be held in each stadium so that seven games can be played per week.
What will preparation for the season look like?
Based on the model approved by the NCAA's Division I Council on Wednesday, we know that Big Ten football teams will be permitted to hold 12 hours of team activities – including five hours of non-contact on-field drills, with the other hours available for strength and conditioning workouts, meetings and film sessions – for each of the next six weeks, beginning Monday until Oct. 4.
What the rest of the fall will look like, however, remains to be determined, and that could be an important factor in determining what the quality of football played in January will look like. Big Ten football teams haven't been permitted to hold any padded practices since spring practices were shut down in March, so they'll need to have the opportunity to ramp up practices as the fall progresses in order to make up for lost time and be adequately prepared to play in the winter.
Presumably, teams would need to be able to start preseason camps by early December in order to have at least four weeks of practices – as they typically have in August before the start of a traditional fall season – before the January start of a winter season. It's likely that Day and other coaches around the league will push for more practice time in October and November, though, given that they would typically be practicing all fall and will lose their traditional spring practices once again next year.
How will the calendar for next year be affected?
Assuming a winter season is played, it's a given that Big Ten football teams will not have traditional spring practices or spring games in March and April, as players will need time to recover to be able to play another season in the fall.
Ideally, a winter season that begins in January and ends in March would enable Big Ten teams to still be able to play their full, existing 12-game schedules in the fall of 2021 – and if it doesn't, that might be reason to consider forgoing the postponed season altogether – but the offseason calendar will certainly be different.
Even if the fall 2021 season and the preseason camp leading up to it begin on time, stricter limitations could be placed on what teams are able to do between the end of the winter season and the start of fall camp to account for the shorter timeframe between seasons. A proposal submitted to the Big Ten by Purdue coach Jeff Brohm also called for spring practices to be canceled in 2022, though it's uncertain whether any elements of his proposal – which also called for a spring season to begin in February and a shortened fall 2021 season – are being considered.
What will they be playing for?
This is the point in the article where we start asking the questions that could determine how many top players will actually stick around to play in a winter season and how many will opt out, and this is a big one.
The winter season is expected to include, at minimum, a Big Ten Championship Game between the East and West division champions, which would give Ohio State the opportunity to win its fourth straight conference title. Whether the Buckeyes and other teams will have the opportunity to extend their seasons beyond that, though, could depend on what the other conferences do. 
If the SEC, ACC and Big 12 are able to follow through with their current plans to play this fall, the College Football Playoff will be held as scheduled – in early January, when the Big Ten could be just starting its season – eliminating the opportunity for teams who play in the spring to compete for a true national title. If the Big Ten and Pac-12 both play in the winter, a Rose Bowl between the two conference champions would be a logical conclusion to the season, but losing the chance to play in the CFP would certainly be a devastating outcome for an Ohio State team with national championship aspirations.
Will the NFL move its combine and draft?
For upperclassmen who plan to enter the 2021 NFL draft, the answer to this question could ultimately be the determining factor in whether or not they play this winter. While a season that ends in March would enable draft prospects to play even if the draft remains on its scheduled dates of April 23-25, the tight turnaround between the end of the season and the draft could be reason enough for NFL-bound players to skip the season.
Should the NFL stick to its usual timeline, playing in the winter season would prevent draft prospects from participating in the NFL Scouting Combine, which is typically held in late February or early March. According to Breer's report, however, the NFL has had discussions about moving the combine back to April and the draft back to late May to accommodate postponed college football seasons.
That would still leave NFL prospects with a difficult decision, as the risk of players suffering injuries that won't heal in time for players to participate in the combine and other pre-draft workouts will be significantly increased. But it would be beneficial to those players and the Big Ten if they at least have the option of being able to play the winter season and still go through the full pre-draft process.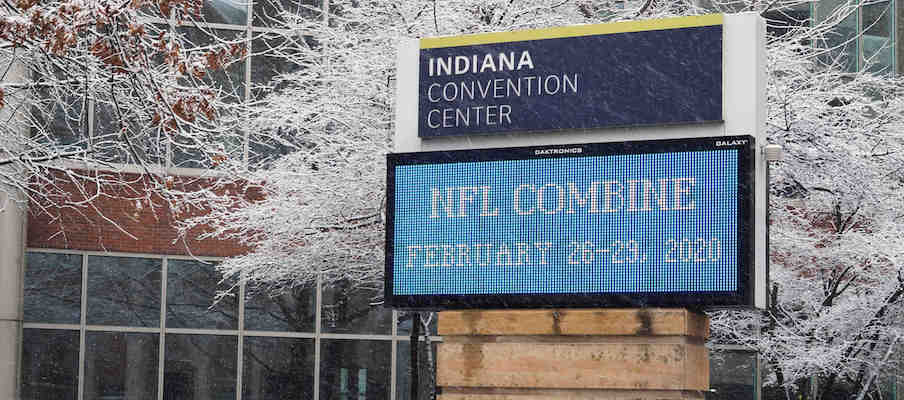 Will early enrollees be allowed to play?
Because the season won't be played until the spring semester, midyear enrollees for the recruiting class of 2021 will be enrolled and on campus when the season begins. Whether they'll actually be allowed to play, however, remains in question.
Given the unprecedented nature of a second-semester college football season, the NCAA will have to determine whether early enrollees – players who would traditionally still be seniors in high school – should be eligible to play for conferences who hold their seasons in the winter or spring. Day made it clear in his most recent press conference that he was going to advocate for those players to be eligible, and if they are, it won't count against their four years of eligibility, as the NCAA has already decided that the 2020-21 season will not count against any Division I fall sports athlete's eligibility.
The majority of early enrollees aren't going to be ready for immediate playing time, especially if the season starts in January, as they would miss preseason camp and have zero time to acclimate before the season begins, while some of them will also be coming off high school seasons. But with an incoming crop of early enrollees that includes five-star prospects like defensive end Jack Sawyer and running back TreVeyon Henderson – neither of whom will be playing high school football this fall – the Buckeyes just might have a couple instant contributors if the newcomers get the green light to play right away.
Is it safe to play two seasons in one year?
This is one of the biggest concerns that many parents of Ohio State players have, as playing an eight-game season in the winter and a full season in the fall would mean playing at minimum 20 games in a 12-month span – and that's without factoring in Big Ten Championship Games, bowls and/or College Football Playoff games that could bring that total to as many as 26 games.
Realistically, there's no way of saying conclusively whether or not that many games in one year is too many for a college football team, as it's never been done before. But many people in and around the game of football are concerned about the potential increase of injuries that could occur from that many games in one calendar year with less recovery time between seasons.
That makes this another factor that will likely be considered by players who plan to enter the 2021 NFL draft – who would then go from playing at least eight games early in the year to having to be ready to play a full 16-game NFL season later in the year – and even players who are staying in college will have to consider how playing in the winter season could potentially adversely affect their ability to play a full season in the fall of 2021.
Will it be safe to play at all?
We've saved the most important question for last, because this is the question that could render all the other questions moot. If a winter season is going to happen, the Big Ten is going to have to get to a point within the next five months that it couldn't get to over the last five months: feeling confident that it has the conference-wide protocols in place to keep its athletes as safe as possible while playing in the midst of the COVID-19 pandemic.
It's unlikely that a vaccine will be developed and mass-produced by the start of 2021, so the Big Ten can't bank on that. Increased access to rapid testing and more effective treatments for the virus are more realistic hopes, but they're far from guaranteed, so whether the postponed season actually happens could really depend on whether more Big Ten presidents and chancellors are ready to accept the risks and allow their teams to play by the end of the year than they are right now.
There are valid reasons to believe the next five months could get them to that point; if other college football teams play this fall, or even the NFL, and show that it can be done without outbreaks that derail the season, that could be what the Big Ten needs to see to feel comfortable playing in the winter. But there's also the reality that the winter is typically cold and flu season, which could compound the problems already being caused by COVID-19.
If other leagues find a way to play this fall, the pressure will be even higher than it already is for the Big Ten to come up with a sound plan to make a winter or spring season work. But considering the conference pulled the plug on the fall season just six days after releasing an updated schedule for the fall, there will be reason for skepticism about the postponed season actually happening until games start being played.