The fateful words about Ohio State's running back situation that came out of Ryan Day's mouth on the morning of March 2 feel like they might've made headlines a decade ago.
Since then, the world has changed in innumerable ways. So if you don't remember them, that probably means you have your priorities in order – unlike us college football degenerates.
But now, with preseason camp beginning on Thursday, his comments on the Buckeyes' tailbacks have once again become relevant.
"We're one injury away from a little bit of a crisis right now, but in the end, when it comes to September, we're gonna be OK," Day said in the first week of March.
The day after he made that statement, rising redshirt sophomore Master Teague was ruled out for the duration of spring camp with an Achilles injury. Since J.K. Dobbins had bounced to the NFL and Marcus Crowley remained on the mend as he recovered from an ACL injury, running backs coach Tony Alford had only Steele Chambers and a couple of walk-ons left to participate in practices – or, at least, the two practices that went forward before the coronavirus pandemic shut the rest of spring practices down.
September hasn't quite arrived. Less than a week ago, the calendar turned to August.
But the Buckeyes are OK at running back, just as Day predicted a little more than five months ago.
They added Trey Sermon as a graduate transfer from Oklahoma to shore up the room as the likely starter after racking up more than 2,000 rushing yards in three years as a Sooner. Teague has been locked into his rehab, putting him in a position to contribute this season. Crowley continues to work his way back. Chambers is in the midst of completing his first full offseason as a Buckeye after enrolling last summer as a freshman. Miyan Williams, an incoming freshman, finds himself in the mix, too.
"In a room that we were kind of short on depth the last year or so, we've created some depth there," Day said Thursday in his first press conference since April. "That room has worked really, really hard, and it should be an asset for us this season."
Not only should it be an asset. But the entire room has to be an asset.
Unlike last year, there's not a sure-fire star in the room. Might Sermon catch fire if he can stay healthy and put together a breakout season? It's possible. Could Teague use the athleticism that has him regarded as college football's seventh-freakiest athlete to turn out a standout campaign? It can't be ruled out.
But Ohio State can't bank on either of those scenarios. Dobbins was a sure thing, or at least as sure of a thing as one can have in college football. He lived up to or exceeded everyone's expectations by setting the single-season program record with 2,003 rushing yards in 2019.
The Buckeyes don't have any sure things right now. Instead, they have a crop of talented running backs that together could be dangerous playing behind what could be the nation's best offensive line while complementing and taking handoffs from a Heisman Trophy finalist. To maximize this situation, it could take a committee rather than a bell-cow back.
"I think our running back room, in general, is a lot deeper," Day said.
It begins with Sermon, who Day deemed as "extremely talented." He joins Ohio State after three years at Oklahoma, which beat Alford for his commitment years ago.
This fall, after spurring the Buckeyes in 2016, he appears to have the inside track to start at running back. Whether or not he can be both productive and durable enough to carry the heavy workloads Alford saddled Dobbins with last year remains an unanswered question. But he'll undoubtedly be a focal point of the offense.
"Trey's been a great addition so far," Day said. "He's got a great way about him. He's got a great work ethic, and our guys have kind of embraced him. When you bring in a fifth-year senior like that or somebody who's a transfer in one of those settings, you have to find the right guy. I mean, Jonah Jackson was that right guy and we think Trey Sermon's the same way."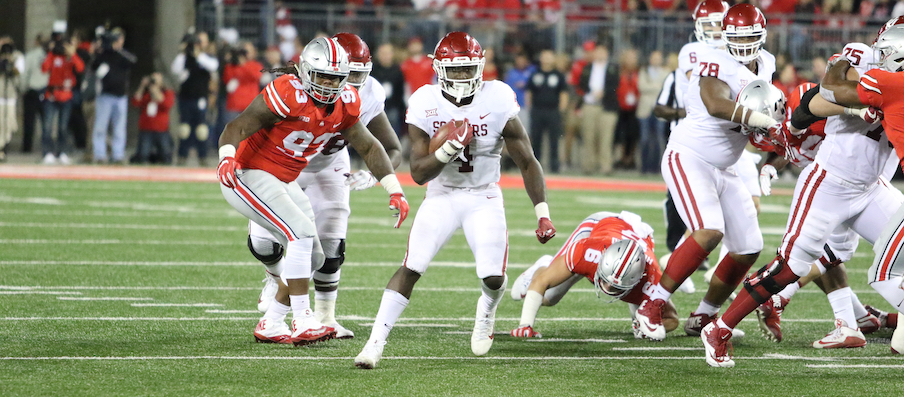 Prior to both his injury and Sermon's addition, Teague seemed to be the most likely starter in 2020 after backing up Dobbins a year ago. A 5-foot-11, 225-pound bowling ball who runs a sub-4.4-second 40-yard dash, he has a high ceiling. Early in the 2019 season, a pocket of the fanbase was calling for him to rotate more often with Dobbins.
Health, at the moment, is his main question. But just as Day predicted in the spring when he said Teague will "attack this rehab," he's come a long way. The head coach, speaking on Thursday, did not deem whether or not he's 100 percent healthy, however.
"I will say that Master has done an unbelievable job of rehabbing," Day said. "He has been focused on it. He has been disciplined. He amazes me every day with what he's done to get to even where he's at right now. Very, very impressed with what he's done. And again, it wasn't easy because he was on his own a lot. But with (physical therapist) Adam Stewart and (athletic trainer) Shaun Barnhouse and our staff, and then his work ethic has been just tremendous."
Outside of Sermon and Teague, nobody else has come close to proving himself on a major stage. Three other backs, though, will fight for time.
Chambers, the only returner who had a healthy spring and summer, aims to build on a 19-carry, 135-yard, one-touchdown freshman season during which he redshirted. Crowley had some analysts viewing him as a dark horse to start in 2020 before his freshman season ended early with an unfortunate knee injury. Williams, a three-star recruit from Cincinnati who's listed at 5-foot-8 and 227 pounds, plans to prove doubters wrong after undergoing an offseason body transformation that had him lose significant fat off of his body.
"Steele Chambers had an unbelievable offseason. I think you're going to see great things out of him," Day said. "Marcus Crowley's coming off of his injury. He's done a good job. And then Miyan Williams has stepped in in short time and shown that he can learn quickly. And he's gotten himself in great shape, too."
If Ohio State doesn't have a Dobbins clone, that's fine. Any rational person would build the offense around Fields rather than a running back, anyway.
One way or another, though, the Buckeyes will need to find a way to put forth a consistently productive rushing attack, and the best way to achieve that could be by utilizing a deeper-than-expected room. 
So yes, as Day says, running back depth can be an asset. But in order to make this offense as deadly as it has the potential to become, he can go one step further: It needs to be an asset.