The Big Ten dropped its 2020 football season on Wednesday morning, but it's not kidding itself.
Just ask commissioner Kevin Warren, who in a Wednesday interview on the Big Ten Network said, "There's no guarantee we will have fall sports or a football season." Ohio State athletic director Gene Smith followed up with his skepticism in a statement.
"This is not a final decision that there will be an athletics season; it is the next phase in our responsible planning process with the Big Ten Conference to be prepared if we are able to have an athletics season," Smith said. "The final decision will be made in the coming weeks in consultation with local, state and federal authorities."
We're all living in a pandemic. Nothing is a given. Nothing at all, including the Big Ten football season.
But right now, we have a semblance of hope. A semblance of normalcy.
So, we're taking a look at what the newly released Buckeyes schedule looks like and offering up eight initial thoughts on how it could play out.
Ohio State's Updated 2020 Football Schedule

| Date | Opponent |
| --- | --- |
| THURSDAY, SEPT. 3 | @ ILLINOIS FIGHTING ILLINI |
| SATURDAY, SEPT. 12 | RUTGERS SCARLET KNIGHTS |
| SATURDAY, SEPT. 19 | @ PURDUE BOILERMAKERS |
| SATURDAY, SEPT. 26 | INDIANA HOOSIERS |
| SATURDAY, OCT. 3 | OFF |
| SATURDAY, OCT. 10 | NEBRASKA CORNHUSKERS |
| SATURDAY, OCT. 17 | @ MICHIGAN STATE SPARTANS |
| SATURDAY, OCT. 24 | MICHIGAN WOLVERINES |
| SATURDAY, OCT. 31 | @ MARYLAND TERRAPINS |
| SATURDAY, NOV. 7 | @ PENN STATE |
| SATURDAY, NOV. 14 | OFF |
| SATURDAY, NOV. 21 | IOWA |
| SATURDAY, NOV. 28 | OFF |
| SATURDAY, DEC. 5 | BIG TEN CHAMPIONSHIP GAME |
Michigan Game Moved Up
Justin Fields didn't care. On Tuesday, he said he wants to play Michigan whenever the Big Ten allows and "really just beat the brakes off them." Wyatt Davis concurred, saying "we're going to beat the brakes off them" regardless of when the game is set to be played.
Now they have their answer, and it won't kick off when it's typically played.
Instead, the Buckeyes and Wolverines will do battle on Oct. 24 in the seventh game of a 10-game regular-season slate of conference games. Weird, huh? Not in the past 87 years has The Game been played earlier than November. It's only been played on the 24th of October once, with that happening in 1908 when Michigan won, 10-6.
It's hard to fault shifting the rivalry game around. The Big Ten wants it to be played if football is able to go forward. But does moving it to late October give the conference enough flexibility? There's an argument to be made that it should've either scheduled the game even earlier in order to gain maximum flexibility or kept it at the end of the season for tradition's sake. In a sense, putting it on Oct. 24 splits the difference between those objectives.
It should be noted that both Ohio State and Michigan have an open week on Nov. 14. So, perhaps that's being kept open as a fall-back option in case things need to be moved around.
No Exceedingly Tough Back-To-Backs
Last year, the Buckeyes dealt with Penn State and Michigan in consecutive weeks to end the regular season. Two years prior, they had a Penn State-Iowa-Michigan State stretch. The year before, they faced Wisconsin and Penn State in a row.
Back-to-back games aren't ever easy, even for a team with a roster as talented and deep as the one at Ohio State.
In the newly released schedule? The Buckeyes' most daunting back-to-back games will either be Purdue-Indiana in September or Michigan State-Michigan in October. Neither of those pairings, however, should be particularly worrisome. As long as Ohio State plays up to the level it's expected to reach, it'll be double-digit favorites in all four of those games.
Returning To The Scene Of A Crime
The nightmares of what happened at Ross-Ade Stadium on Oct. 20, 2018 remain in the heads of Ohio State fans nearly two years later.
How could they not? Purdue rocked the Buckeyes' world, handing them a 49-20 loss as Rondale Moore torched Greg Schiano's defense and a lack of a running game and red-zone efficiency doomed Ohio State. What happened that night kept the Buckeyes out of the College Football Playoff.
In a month and a half, Ohio State will get its chance for revenge. In order to get to a 10-game schedule, the Big Ten added a cross-divisional opponent, and for the Buckeyes, it means a road trip to Purdue on Sept. 19.
Jeff Brohm's still in West Lafayette. Moore's still on the team. Schiano's gone. Ryan Day's in charge.
We won't have to wait long to find out if the Buckeyes can get revenge on the Boilermakers for ruining their 2018 season.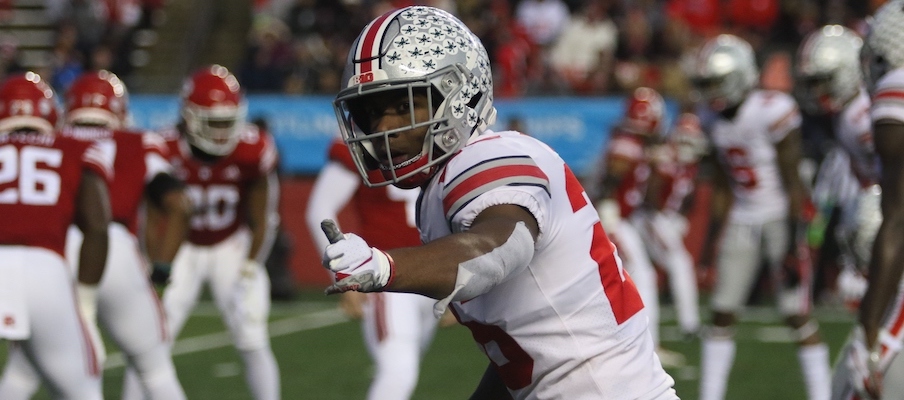 A Pair of Early Punching Bags
In a typical year, two of the Buckeyes' non-conference opponents appear on their schedule in September with the sole purpose of getting stomped in Ohio Stadium. Bowling Green and Buffalo had that responsibility this season.
Because the Big Ten opted to eschew out-of-conference teams in favor of a 10-game slate of only Big Ten opponents, those tune-up games versus Group of Five teams no longer exist. But for Ohio State, they're still on the slate in the form of Illinois (away, Sept. 3) and Rutgers (home, Sept. 12), a pair of bottom-feeders in the conference. In last week's unofficial Big Ten poll put together by cleveland.com, they were picked to finish last in the Big Ten East and Big Ten West, respectively, by healthy margins.
From Ohio State's perspective, getting to play them off the bat should allow its younger, less experienced players a chance to ease into play after an unconventional offseason.
Some teams don't get this benefit. Indiana, for example, opens by playing Wisconsin, Penn State and Ohio State in September. The Buckeyes are lucky, in that sense.
Now, what would happen if the Big Ten football season gets off the ground but has to be canceled shortly after starting? Is it a possibility that Ohio State's entire season might've consisted of games against Illinois and Rutgers? Sure, that's conceivable. But with everything else happening, it's not worth spending much time worrying about.
A Big-time November Matchup Remains
Yes, the Michigan game's in October – though, of course, it could be shifted. And yes, there are only two Ohio State games scheduled to take place in November.
But the presence of at least one of them should ensure the Buckeyes get a big-time, late-year matchup that presumably could kick off in a primetime television slot. They'll face Penn State on Nov. 7 at Beaver Stadium.
If Micah Parsons – a preseason Big Ten Defensive Player of the Year candidate – decides to opt out of the season, which was reported late Tuesday night, then some of the juice that an Ohio State-Penn State game typically brings won't be there. But even if Parsons doesn't play, it'll still be an intriguing matchup between arguably the Big Ten's two top teams. 
Also...if Iowa doesn't fall apart after a tumultuous offseason, it is a fairly tough end-of-season matchup. But it pales in comparison to what The Game usually offers.
No Wisconsin or Minnesota
All nine of Ohio State's Big Ten opponents on its original schedule remained the same: Illinois, Michigan State, Maryland and Penn State on the road, and Rutgers, Indiana, Nebraska, Michigan and Iowa at home.
In order to round out a 10-game slate, the Big Ten had to pick one cross-divisional opponent for each team. In Ohio State's case, that meant facing Wisconsin, Minnesota, Purdue or Northwestern.
With the Badgers and Golden Gophers projected to finish first and second, respectively, in the West Division, those were the two teams the Buckeyes wouldn't have wanted to face. Instead? They get Purdue. The Boilermakers aren't the easiest of the four options, but they also aren't being picked by anybody to go to the conference title game, unlike Wisconsin and Minnesota.
Off Weeks Helpfully Placed, But Could Get Shifted
As of now, Ohio State's two off weeks are set for the weekends of Oct. 3 and Nov. 14. 
The two dates work out well for the Buckeyes. They're scheduled to have a week off after the first month of the season, allowing them to catch their bearings. Then, they're slated for an off week following the November game against Penn State, avoiding Iowa sitting there as a potential late-season trap game.
However, the bye weeks don't exist as usual bye weeks. Rather, they're there to provide the Big Ten with the ability to move things around in the middle of the season. In a perfect world, Ohio State won't play games on those weekends. But things change, and they change quickly these days.
Undefeated Should Be The Expectation
We can all be honest: This schedule sets up pretty well for the Buckeyes.
Six weeks in a row to start the season against teams that likely won't end the season in the top-25 poll. A home game against Michigan. Only one tough road game – versus Penn State on Nov. 7 – and it'll come in a usually hostile environment that'll either be without fans or with a limited capacity. Multiple off weeks. No notably tough back-to-back weeks. Avoiding Minnesota and Wisconsin, which are widely viewed as the two best Big Ten West teams.
If Ohio State's the team everybody thinks it is, then the expectation should be to run the table in the regular season. It's go time.