There's been no shortage of offensive firepower in Columbus and Norman.
Ohio State and Oklahoma have been blessed with some of the sport's top offensive minds. Ryan Day and Lincoln Riley have yet to face one another as head football coaches, but their career trajectories have seen a similar path.
At just 36 years of age, Riley has already spent seven years on Texas Tech's staff, five seasons at East Carolina, and two seasons as the Sooners' offensive coordinator before taking over as head coach in June of 2017. In his three seasons leading the way in Norman, Riley has led Oklahoma to a trio of College Football Playoff appearances; though he's still looking to get over that semifinal hump. 
Ryan Day's coaching experience dates back to 2002 when he was working with the tight ends at New Hampshire and includes a few one-year NFL stints in Philadelphia and San Francisco. After running Ohio State's offense for two seasons and spending some time as interim head coach, he officially took over in December of 2018. Day is currently 41 years old as he prepares for his second season at the helm and another playoff chase.
I think it's safe to say that offense is never going to be a concern for either of the powerhouse programs. Both were ranked in the top five for total offense in 2019, and the 2018 season saw the Sooners finish at No. 1 and the Buckeyes right on their tail at No. 2. There's really no sign of things slowing down as both teams are absolutely loaded at quarterback and the skill positions for the next several years.
Defensively? Well, that's an entirely different story as the Big 12 has been notoriously bad for some time now. The Sooners have given up 162 points in their three CFP appearances. That includes last December's embarrassment that saw Joe Burrow put up 500+ yards and eight touchdowns. We'll see how the Alex Grinch experiment turns out, but this is something that Riley simply has to fix if he wants to take the next step.
On the recruiting front, the Buckeyes have really gotten the best of the Sooners of late. TreVeyon Henderson, Tunmise Adeleye, and Jantzen Dunn are some of the Ohio State commits that were considering both programs early on. But Oklahoma still has a chance to play the role of spoiler as signing day draws near.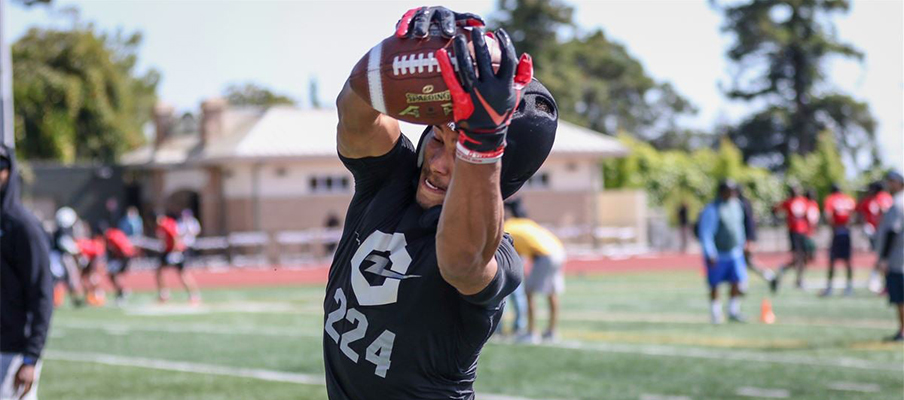 Riley's 2021 recruiting class is ranked No. 13 in the country and second in the conference behind Tom Herman's Horns. We've mentioned it before, but the folks in Tuscaloosa are likely the only thing standing between Ryan Day and Ohio State's first finish atop the team rankings. The Sooners are in a position to give the Buckeyes a bit of a problem and perhaps lift the Tide to yet another recruiting title. 
Brian Hartline's top remaining target is seemingly the only wideout on the Buckeyes' radar, but the unexpected dead period has prevented Emeka Egbuka from making a round of spring visits that likely would have led to a decision. The expectation has been for the Steilacoom, Wash. five-star to be the final piece in Ohio State's 2021 receiver puzzle, but the pandemic has thrown a wrench into the works. 
The Sooners adding the nation's top quarterback in Washington, D.C.'s Caleb Williams has given a wave of hope to the fanbase. Williams and Egbuka have gotten close and the former is actively recruiting the country's best wideout to Norman. Egbuka is also in regular contact with several Ohio State commits and his best coaching relationship certainly appears to be with Brian Hartline. Still, this one has at least gotten a bit more interesting than it was in the spring and he's expected to make trips to both campuses when permitted. 
Oklahoma is also in the mix for the nation's No. 2 overall prospect, but I think a few other schools are bigger threats for Washington defensive lineman J.T. Tuimoloau. The five-star has talked about visiting Norman and a number of other schools, but he's nowhere close to a decision at this point. For someone who's quite keen on player development and the NFL Draft, it would be a pretty big upset for the Sooners to come out on top. Washington, Oregon, and Alabama are also in hot pursuit. 
Ryan Day and Lincoln Riley are two of college football's top young minds. Both programs have bright futures at quarterback, superb playcalling, and should be in the playoff hunt every single year. They're also about as high as one can go in the college football hierarchy, so it's safe to assume they'll be around for a while unless the professional level is too enticing.
Riley and the Sooners have a chance to make the 2021 recruiting finish a bit difficult for the Buckeyes. Looking ahead a bit, the battle for the nation's top 2022 prospect – five-star Texas quarterback Quinn Ewers – is going to be yet another one to watch as both Day and Riley have prioritized the Southlake Carroll star. 
Perhaps it could help to kick-start a playoff back-and-forth like we recently saw between the Crimson Tide and the Tigers?