If Ohio State plays football this fall, it isn't going to be a normal season.
That much was confirmed on Thursday, when the Big Ten announced that due to the ongoing COVID-19 pandemic, all of its fall sports teams will play conference-only schedules should they be able to compete this fall.
Assuming the Big Ten is able to proceed forward with a conference-only football season this fall, which is far from guaranteed but is now the best remaining possible outcome, the modified schedule will provide some wrinkles that Ohio State and the rest of the Big Ten schools will have to be able to adjust to.
From losing the benefits of playing early-season non-conference games to potential in-season schedule changes and uncertainty surrounding the postseason, we take a look below at six ways Ohio State's 2020 season – if it happens – could be impacted by the elimination of non-conference games and uncertainty surrounding the rest of the schedule.
No Glorified Preseason Games
From the average football fan's standpoint, Ohio State's previously scheduled non-conference home games against Bowling Green and Buffalo probably won't be missed very much. Realistically, both of those games against MAC schools would have been blowout wins for the Buckeyes that likely would have been two of the least memorable games of the year.
For coaches and players, however, those early-season games against Group of 5 teams are a valuable opportunity to work out the kinks before going into conference play. That would have been especially true this year after a heavily impacted offseason that included just one week of spring football. 
Instead, the Buckeyes will have to be prepared to dive right into their conference schedule from the beginning of the year. As Ohio State's Big Ten schedule currently stands, the Buckeyes could still get a tune-up game to start their season; they're currently set to host Rutgers in their conference opener, but the entire schedule is subject to change now.
Less Playing Time for Backups, More Redshirts
Ryan Day has talked repeatedly about how much playing time Ohio State's backups were able to get last season – as a result of winning each of its first 10 games by at least 24 points – and how that could benefit the Buckeyes this season as many of those backups move into bigger roles. A shortened schedule for this season, however, will take away prime chances for Ohio State's reserves to get that kind of playing time in 2020.
While the Bowling Green and Buffalo would have been sure-fire opportunities for Ohio State to get its backups on the field in the second half, those chances could be farther and fewer between in Big Ten games, as it's far from certain Ohio State will be able to make easy of its opponents as regularly as it did in 2019.
Less playing time for the backups would be a blow to the development of Ohio State's younger players – freshman quarterbacks C.J. Stroud and Jack Miller immediately come to mind – who aren't in line to play big roles in 2020 but could be relied upon in 2021. It also increases the likelihood that most of Ohio State's true freshmen will play four games or fewer and redshirt, excepting those who earn spots on the two-deep or earn regular roles on special teams, as there simply won't be as many opportunities for them to play.
Less Margin for Error
Consider that no team has ever made the College Football Playoff with more than one loss. Now consider that teams will likely be playing a maximum of 10 regular-season games – Ohio State athletic director Gene Smith said Thursday that a 10-game conference schedule is his preference and the preference of many around the Big Ten. There will be minimal margin for error to make this year's College Football Playoff, which plans to continue to use the same protocol to determine its four-team field this year, CFP executive director Bill Hancock told USA TODAY on Thursday.
Whether this season will even include a postseason remains in doubt, but assuming there is a playoff, Ohio State certainly won't be able to afford more than one loss in order to make it. The Buckeyes lose out on the opportunity to earn an early resume-boosting win at Oregon, yet also lose their two most certain wins against Bowling Green and Buffalo while potentially adding another conference game – one that would likely be played on the road to even out the schedule at five home games and five road games – that could be more dangerous.
Add in the fact that every single game will now count toward the conference standings, and Ohio State will need to be on top of its game from the beginning of the season to the end to win its fourth consecutive Big Ten title.
More Emphasis on Conference Supremacy
Under normal circumstances, the Big Ten Championship Game has become overshadowed by the College Football Playoff selection process that takes place less than 24 hours after the Big Ten champion is crowned, and for a perennial CFP contender like Ohio State, that can make winning a conference title feel like a bit of an afterthought compared to national title hopes.
In a conference-only season full of national uncertainty, however, there could be more reason to appreciate the glory of winning a Big Ten title.
Given that the Big Ten has already canceled its regular-season non-conference games, it's certainly possible there could be no postseason games even if there's a regular season. That opens up the possibility that this year's Big Ten Championship Game could be the final game of the year for all Big Ten football teams, or even the possibility that the Big Ten could crown its champion based solely on regular-season standings.
Either way, Ohio State should have a fourth straight Big Ten crown in its sights all season long, knowing that it will be playing all of its games against conference opponents from the beginning. And if the CFP does end up being able to be played as scheduled, winning the Big Ten championship certainly will be a crucial step in the Buckeyes' path toward making the playoff field, as conference-only schedules throughout the country would presumably give the playoff committee even more reason to favor conference champions in its selection process.
Unconventional Scheduling
If Big Ten teams play 10 conference games for the first time ever while also playing zero non-conference games, that will be unconventional in itself. Yet the unusualness of Ohio State's schedule in 2020 could theoretically go well beyond that.
It shouldn't be assumed that Ohio State's 10-game schedule will simply consist of its nine currently scheduled Big Ten games and one more. While every effort will surely be made to ensure that Big Ten East and West teams still play all the other teams in their respective divisions, that's not guaranteed at this point. The possibility has even been floated by Wolverine Digest's Michael Spath and others that teams could even play multiple games – one at each team's home stadiums – against opponents who are close in proximity.
Smith suggested Thursday that the Big Ten's modified conference schedule might not be entirely prescheduled before the season, meaning that games could be scheduled as the season progresses to allow for flexibility if certain conference teams become unable to play in or host games. Ideally, the Big Ten will also move its conference schedule up to begin playing games in early September, which would allow for space later in the season to reschedule games if needed.
Could that mean Ohio State playing Michigan before the final game of the regular season, or even playing the Wolverines twice in one year? At this point, nothing can be ruled out, as competitive equity and tradition take a back seat to simply trying to build the most manageable schedules possible.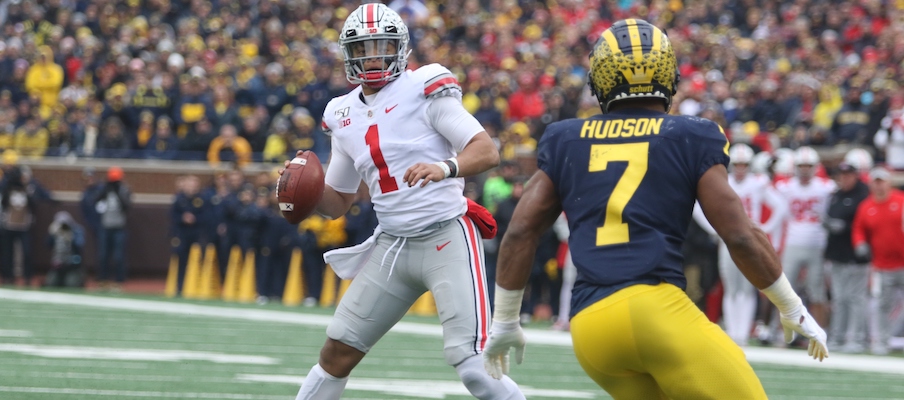 An Incomplete Season
After Ohio State defeated Oregon in the national championship game to win the first-ever College Football Playoff to conclude the 2014 season, the Buckeyes celebrated wearing shirts and hats that declared them "undisputed national champions," marking the first time that could ever truly be said about a Football Bowl Subdivision title-winner.
No matter what happens in the 2020 college football season, however, it's unlikely anything will be undisputed. Now that we've reached the point that at least one major conference's teams aren't even going to play full regular seasons, the 2020 season appears destined to be remembered for its abnormality more than anything else.
Any national championship won by any team this year will likely come with an asterisk in the eyes of many, and the numbers in the record book are going to look different regardless. Ohio State isn't going to have an opportunity to go 15-0 this season, and players' opportunities to put up big individual numbers will also be limited by the shortened season.
Given the real danger of no college football at all this year, though, a season of any length should be embraced and appreciated for what it is. It might feel incomplete, and it might not be viewed the same way historically as other college football seasons, but it will be up to Ohio State and everyone else to make the most out of whatever football they are able to play.