Provided everything goes according to plan, Justin Fields will line up behind center for Ohio State this season.
The bigger question for head coach Ryan Day and quarterbacks coach Corey Dennis is how the depth chart will stack up for the rest of their quarterbacks, including C.J. Stroud and Jack Miller, who will both be competing with 2021 commit Kyle McCord to start next season. In a position group that also includes Gunnar Hoak, should the Buckeyes consider redshirting Stroud and/or Miller, or should they both play as much as possible?
We debate the correct answer to that question below.
Take: Ohio State Should Look to Redshirt At Least One of Its Freshman Quarterbacks 
Dan Hope: Day and Dennis can't go into this season assuming that either Stroud or Miller will transfer if the other wins the starting quarterback job next year. Instead, they need to come up with plans for both of their development that could enable both of them to be future starters for the Buckeyes.
"We bring in guys to come in here and develop and get a degree from Ohio State and go play and stay throughout their career," Day said in December when asked about the possibility that one of the two freshman quarterbacks he had just signed could eventually end up transferring.
While it might keep Miller and Stroud happier this fall if they both play an equal amount of snaps, burning both of their redshirts in 2020 isn't going to help the Buckeyes next year when they're trying to convince one of them to stick around as their No. 2 quarterback.
If the quarterback who doesn't win the starting job next season still has four remaining years of eligibility, that quarterback could still have a very real opportunity to be a multi-year starter in the future. If that quarterback only has three remaining years of eligibility, knowing there's a good chance they'll have to wait at least two years to start, they'll have far less incentive to consider staying at Ohio State.
Given that, there's reason for Ohio State to lean toward redshirting at least one of their freshman quarterbacks this season, and potentially even both.
First and foremost, Ohio State needs to determine who its No. 2 quarterback should be this year. If either Stroud or Miller can pull ahead of the other and Gunnar Hoak to become the backup quarterback, then the Buckeyes should play that quarterback in as many blowout wins as possible without worrying about a redshirt. In the event that anything happens to Justin Fields, the Buckeyes need their next man up to be as ready as possible, and if that next man up is a true freshman, he'll certainly need as many reps as he can get.
That's not to say that both freshman quarterbacks shouldn't get at least some playing time. With the four-game redshirt rule, Ohio State should attempt to play both freshmen in any particularly lopsided games, giving both of them an opportunity to gain experience and for the Buckeyes to evaluate them, at least until they hit the four-game mark. But Colin's idea of giving both of them equal playing time, and enough playing time that neither of them would be able to redshirt, is much easier said than done.
While Ohio State was able to take its starters out early in most of its regular-season games last year, it shouldn't be assumed that the Buckeyes will be able to dominate their opponents with such consistency again this year. Given the uncertainty that still surrounds the upcoming college football season due to COVID-19, it's also seeming increasingly likely that the regular season will be shortened, potentially removing non-conference games that are often prime opportunities for backups to see extended playing time.
Even last year, when Fields only played every snap in four out of every 14 games, Hoak played in only five games as the third-string quarterback behind Chris Chugunov, and only twice for more than eight snaps. For the Buckeyes to play both of them in games, it's likely that at least one of them would only be playing a series or two at the end of the fourth quarter in most game appearances; is that really worth burning their redshirts for?
Planning to play both Miller and Stroud as much as possible would also mean not playing Hoak, the only quarterback other than Fields on the roster with any game experience entering 2020.
If the Buckeyes believe Stroud and/or Miller are ready to play meaningful action if needed this year, that might be a fine strategy, considering that Hoak is entering his last year of eligibility and both of them have higher upside. But if the Buckeyes believe they'll need to turn to Hoak if anything happens to Fields, which could more likely after the freshmen missed crucial offseason development time due to the pandemic, they can't afford to play both freshmen over him.
From the perspective of being able to evaluate them as equally as possible and giving them both the fairest shot possible to win the job in 2021, it would make sense for Ohio State to give Stroud and Miller roughly the same amount of snaps in 2020. But Day and Dennis can't allow those to be the overriding factors that drive how they manage their quarterback depth chart this season.
If Colin's right, and the loser of the competition between them next year ends up transferring, then it isn't going to matter what the Buckeyes did to keep them both happy this fall. If one quarterback separates himself from the other this fall, he's going to be the frontrunner to win the job next year anyway, so keeping their snaps equal this season could only be delaying the inevitable.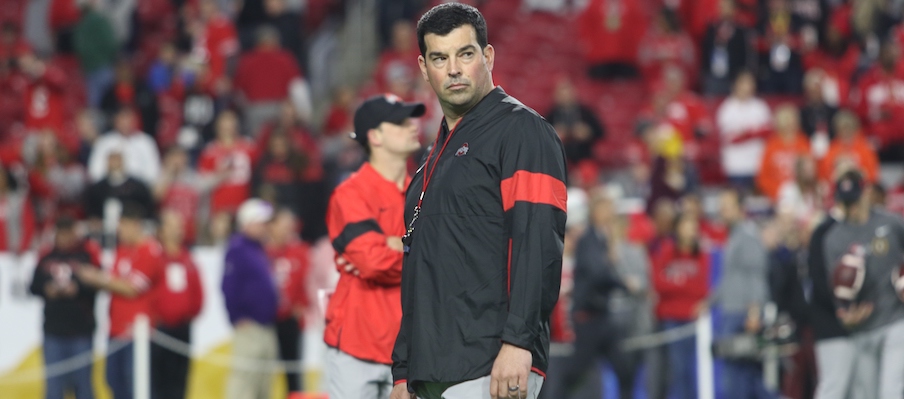 But while the class of 2020 quarterback who doesn't win the starting job next year will have reason to consider his options, especially with a five-star recruit in Kyle McCord coming in behind them, this shouldn't necessarily be viewed by either of them as a start-or-transfer scenario, at least not right away.
The Stroud vs. Miller competition will be very different from Ohio State's last true starting quarterback competition in 2018 between Dwayne Haskins and Joe Burrow in one key aspect: Burrow faced the possibility of never getting another shot at the starting quarterback job, forcing him to transfer from Ohio State even though it was hard for him to leave.
Miller or Stroud would still have plenty of time, especially with a redshirt this year, to potentially be a starter for the Buckeyes in the future.
And while some might view Burrow's success at LSU as a reason for a quarterback to transfer immediately, it's actually an example of why a quarterback could benefit from staying at Ohio State for at least two or three years even if he's not the starter. Because while Burrow ultimately never started a game for the Buckeyes, his development at Ohio State – including time with both Day and Dennis coaching him – certainly helped him, as he said himself after winning the Heisman Trophy in December, become the No. 1 overall NFL draft pick he eventually became at LSU.
Counter-Take: Play Both Stroud And Miller As Often As Possible Without Anyone Redshirting
Colin Hass-Hill: College football coaches can afford to have two plans when it comes to quarterbacks: Who starts right now and who'll eventually replace them. Trying to figure out any answers beyond that will drive coaches crazy because, in reality, it's gotten to the point where it's impossible to plan a succession line at the position.
Quarterbacks move around at a rapid pace. In December, an analysis by The Athletic found that 57 percent of the top-50 quarterbacks in each of the 2014, 2015, 2016 and 2017 classes had already transferred schools at least once. Fifty-seven percent!
So, should Ohio State even consider redshirting Stroud or Miller? No. Not a chance.
In a world where the majority of quarterbacks transfer, it's simply not worth seeking the benefit of something that wouldn't benefit the Buckeyes until 2024. Yes, it's both uncomfortable and unfair to speculate on a college football player's transfer, especially when the pair of Ohio State freshmen have participated in all of three practices and haven't ever suited up for a regular-season game – or even the spring game.
But it's the nature of the position to anticipate that there will be movement at some point in the future – perhaps as early as next spring or summer – even if it's tough to nail down when it might happen.
What Ohio State needs to accomplish with Stroud and Miller in 2020 shouldn't have anything to do with its plans so far down the line. Rather, Day and Dennis need to do two things with the quarterbacks not named Justin Fields in 2020: Determine the best backup and learn everything they can about what they have in Stroud and Miller.
Getting both of those tasks done means playing them as much as possible and as equally as possible without so much as saying the word "redshirt." One of the largest benefits of signing both of them is the coaches get a first-hand, side-by-side comparison of each quarterback.
Ohio State plays Bowling Green, Buffalo and Rutgers within the first month of the season, and it'll face Maryland and Illinois in the last month. Games against Michigan State and Nebraska are sprinkled in the middle of the slate. With the talent the Buckeyes have on their roster, there should be at least four or five blowouts where backups enter games to finish off teams, and there could be as many as seven. That's somewhere between five and seven games where Stroud and Miller could play second-half snaps that benefit them and give the coaching staff an idea of what they offer.
If either Stroud or Miller separates himself from the other by standing out in the first month of the season, that would be great for the Buckeyes, of course. But it wouldn't mean the other one suddenly needs to redshirt with the idea they'd be able to take over as the starter in 2023 and 2024. Not at all.
Both of them deserve a shot to get as many reps as possible in 2020, because both of them want to be the starter in 2021. If Day walks up to one of them in October or November and tells them he has decided to redshirt them, that's essentially telling them, "We like the other guy better and you'll be the backup in 2021 and 2022 before, if he leaves early for the NFL, you get a chance to start in 2023 and 2024."
It's not exactly an enticing pitch.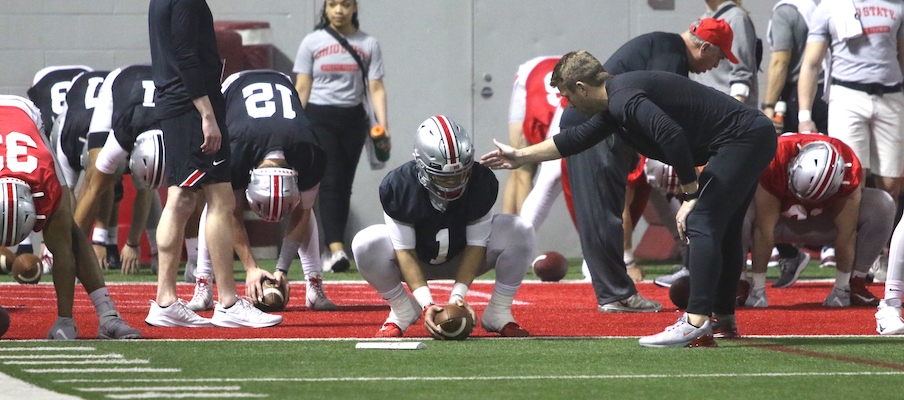 Plus, it's not as if Ohio State would be in dire straits if someone decides to bounce after not winning the job next spring. After either the Stroud Era or Miller Era comes to a close, 2021 five-star commit Kyle McCord will be around as the next-in-line starter. Heck, he might be good enough to play right away as a true freshman, too.
And if everything falls apart, there's always the transfer portal. Has Day found any quarterbacks in there? Help me out. I forgot.
Based on all the different avenues to find a quality starting quarterback, it wouldn't make much sense for Day and Dennis to do anything other than play its freshmen as much as possible to get them ready to take over the post-Fields team.
In this era, too, the best quarterbacks can play immediately. They don't have to sit on the bench in college for three years to thrive. Some of them undoubtedly benefit from the acclimation period. But Day has a stated goal of turning Ohio State into a program that can be viewed as QBU.
J.T. Barrett was great. He won a billion games at Ohio State and set a trillion program records. He was recently named the first-team All-Decade Big Ten quarterback for the 2010s, underscoring the mark he made in the conference. But based on the way Day talks about quarterbacks, he wants guys with NFL-level talent, and those types of quarterbacks aren't typically players on the five-year plan. 
He wants Justin Fields and Dwayne Haskins, and he thinks Kyle McCord, C.J. Stroud and Jack Miller can take similar paths.
The best-case scenario is getting someone like Fields who starts as a second-year quarterback, becomes one of the best players at his position in the country, then leaves for the NFL after three years. That's a success. 
Maybe Miller or Stroud can take the Joe Burrow path as late-blooming fifth-year quarterbacks. But Day and Dennis shouldn't worry about thinking that far ahead.
They need to get them ready right now. And that means playing them as often as possible. Prioritize 2020 and 2021 over 2024.