Fourteen years ago, Troy Smith captured a Heisman Trophy. Recently, J.T. Barrett won 38 games and set dozens of program records in his five years at Ohio State. Terrelle Pryor and Braxton Miller were two of the most dynamic players to ever play the position in the Big Ten.
Throughout the team's history, plenty of heralded quarterbacks have propelled Ohio State forward in the national landscape. Cornelius Greene, Rex Kern, Bobby Hoying and Les Horvath thrived, and Craig Krenzel and Cardale Jones lined up behind center for the Buckeyes' past two national championships.
Yet for most of its history, Ohio State hasn't consistently produced quarterbacks who have gone on to thrive in the NFL, which head coach Ryan Day realizes.
"I think that's huge," Day said earlier this year. "When I first got here, it wasn't something that had really been done before. Really took it upon myself as a challenge."
Between 1983 and 2017, no Ohio State quarterback was taken in the first or second rounds of the NFL draft. Only two were selected in the third round during that time period, and neither of them – wide receiver Braxton Miller and punter Tom Tupa – spent the majority of their time in the league at quarterback.
Until Dwayne Haskins went 15th overall to the Washington Redskins in the 2019 NFL Draft, Art Schlichter was the most recent first-round quarterback out of Ohio State, having been taken No. 4 overall in the 1982 NFL Draft. If Day has his way, what was such an extended drought won't happen again anytime soon.
"I say it to the staff all the time," Day said. "If you're a position coach at Ohio State, then if we're DBU and you're the DBs coach, then you've done your job. If you're the quarterback coach at Ohio State, you should be Quarterback U."
Right now, Ohio State doesn't have a remotely strong claim to being QBU. Sports Illustrated didn't bother including the Buckeyes among their 12 teams when evaluating who is QBU, and ESPN ranked them 10th a year ago. 
So far since Urban Meyer hired Day a few years ago, however, Ohio State has produced some of its best quarterbacks of all-time. Haskins was first, and with Justin Fields returning as potential first-round pick next year and other top recruits – CJ Stroud, Jack Miller and Kyle McCord – lined up to replace him down the line, the Buckeyes have plenty of momentum.
It's not fair to place Ohio State among the best programs at putting quarterbacks in the NFL. At least, not yet. But Day has the position trending in the right direction. Here's how they got to this point.
Jan 18, 2016: Dwayne Haskins commits
The path to QBU begins. Yet, it incredibly almost never happened.
Ohio State originally had dual-threat quarterback Tristen Wallace committed in the 2016 class. Yet in December 2015, Wallace flipped to Oregon because he decided he wanted to play wide receiver rather than quarterback. That decision left Meyer scrambling, so he reached out to Haskins, who was committed to Maryland at the time. Especially since then-offensive coordinator Mike Locksley wasn't retained in the change in head coaches from Randy Edsall to DJ Durkin, Haskins opened his eyes to what the Buckeyes had to offer and eventually committed.
If Wallace never changes his mind, so much about the recent history of Ohio State would have changed – and the path to QBU might not have begun.
Jan. 3, 2017: Urban Meyer hires Ryan Day
At the time, no one in Columbus knew much about Day, who most recently had coached the San Francisco 49ers quarterbacks on his mentor Chip Kelly's staff. His prior experience was with the Philadelphia Eagles, Boston College, Temple and Florida, where he worked with Meyer as a graduate assistant.
The hire of Day as co-offensive coordinator and quarterbacks coach proved transformative for Ohio State's football program.
Nov. 25, 2017: Dwayne Haskins beats Michigan
Throughout the 2017 season, there were some not-so-quiet calls for Meyer and Day to make the change from Barrett to Haskins. Yet Meyer never seemed to even come close to making the move – until Barrett's knee injury forced him out of the Michigan game.
Haskins entered the game with Ohio State trailing by six points midway through the third quarter, completed 6-of-7 passes for 94 yards and pulled out a 31-20 win on the road. It was a "Holy crap, this guy's the real deal" moment.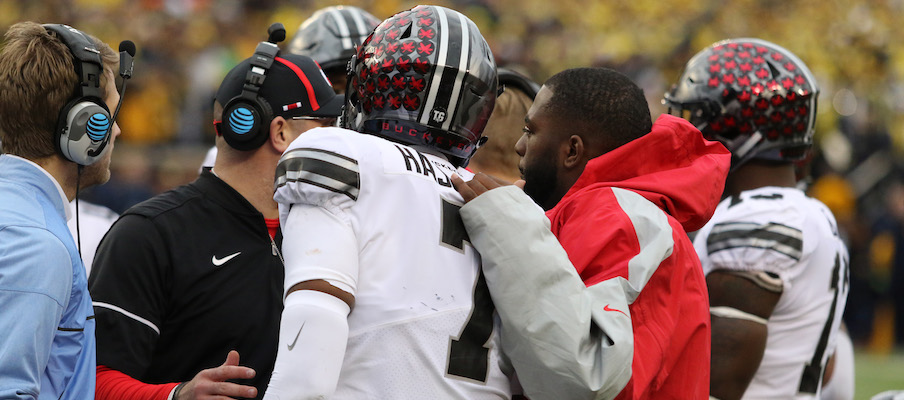 July 1, 2018: Jack Miller commits
In order to become QBU, Ohio State has to stack talented quarterbacks on to of talented quarterbacks in class after class. In the summer of 2018, it secured a commitment from Miller, who was the third-ranked pro-style quarterback at the time.
He'll be an option to replace Fields as Ohio State's starting quarterback in 2021.
Aug. 27, 2018: Dwayne Haskins Named Starter
The next era begins.
Haskins beat out Joe Burrow in the spring, leading to the transfer to LSU – where he turned into a Heisman Trophy winner and No. 1 overall pick within less than two years – and held off Tate Martell during preseason camp. At the time, Day said Martell would have some sort of role, but it was clearly Haskins's team.
Dec. 4, 2018: Ryan Day named next head coach
The one-time quarterback coach took over the entire program when Meyer opted to retire. A monumental moment in Ohio State football history.
What did that move mean for the quarterback position? Well, given Day's history with signal-callers and the success of Haskins in 2018, it set the Buckeyes up well to begin an assembly line of top quarterbacks. By this point in the year, it was evident that Haskins would likely leave for the NFL, but it was also clear that Day had developed an exceedingly positive reputation for coaching quarterbacks.
Dec. 8, 2018: Dwayne Haskins finishes third in Heisman voting
A ridiculously successful season as a first-year starter sent Haskins to New York City as a Heisman Trophy finalist. He didn't win the award, falling short of Oklahoma's Kyler Murray and Alabama's Tua Tagovailoa, but he was a well-deserving finalist.
Haskins wrapped up the year with 4,831 passing yards, 50 touchdown tosses, eight interceptions and a 70 percent competition rate. By mid-December, he was being viewed as a possible first-round pick.
Jan. 4, 2019: Justin Fields announces transfer
Who would Day turn to at quarterback in his first full season as a head coach? Tate Martell? Matthew Baldwin? No, he had other plans. Instead, he went out and landed the prior cycle's No. 2 overall recruit.
Fields decided to transfer from Georgia to Ohio State despite Martell's warning that he was "100 percent" confident he would be the starting quarterback in the 2019 season. 
Jan. 10, 2019: Tate Martell transfers
A high-end four-star quarterback out of Las Vegas' Bishop Gorman, Martell came to Columbus with massive expectations following him, and he certainly had believers. But he got beat out by Haskins in 2018, and he saw the writing on the wall when Fields joined the Buckeyes. 
Shortly thereafter, Martell chose to transfer to Miami.
April 18, 2019: Matthew Baldwin transfers
Unexpectedly, Baldwin announced that he would transfer despite being Day's handpicked quarterback in the 2018 recruiting cycle. A Texas native, he opted to move closer to home, transferring to TCU.
Suddenly, the runway was cleared for Fields to take off. 
April 25, 2019: Dwayne Haskins goes No. 15 overall
The only way to truly become QBU is to put quarterbacks into the NFL at a high rate, and it's even better when they're first-round draft picks. Haskins ended the drought of quarterbacks going in the opening round last year, becoming the first signal-caller from Ohio State to earn the honor since Schlichter in 1982.
Perhaps most importantly for the Buckeyes, he was a success story. Fields watched what he did under Day, so he chose Ohio State. It subsequently aided the Buckeyes with McCord and Stroud.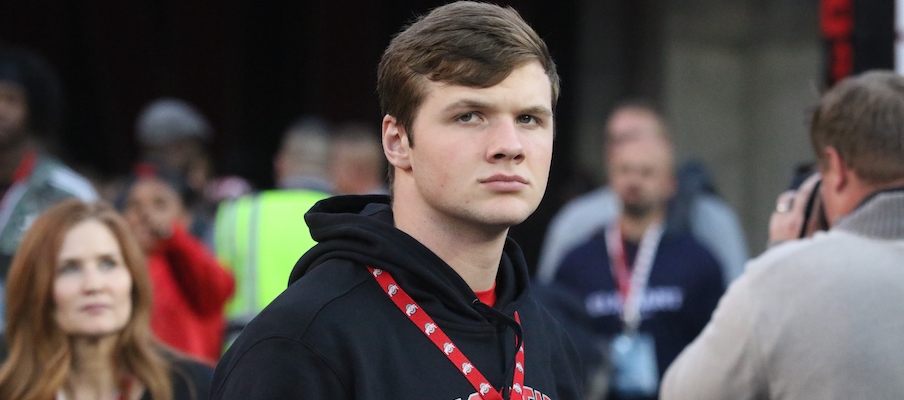 April 30, 2019: Kyle McCord commits
As Fields proved, five-star quarterbacks can have plenty of success at Ohio State. McCord, the third-ranked pro-style quarterback in the 2021 cycle, is next on what has become a talent-rich assembly line of signal-callers.
McCord will likely be the only quarterback the Buckeyes sign in his class, and he'll be in the mix – even though he might be an underdog – to start as a true freshman in 2021. 
Aug. 19, 2019: Justin Fields named starting QB
It was more than a bit of a sham of a quarterback competition. No one actually believed Fields wouldn't beat Gunnar Hoak and Chris Chugunov out to win the starting quarterback job. Yet in mid-August, Day finally stopped acting as though they were battling, naming Fields the starter.
In doing so, Ohio State had a quarterback for the next two years, and he just happened to be a star.
Dec. 14, 2019: Justin Fields finishes third in Heisman voting
Haskins set a ridiculously high bar as a first-year starter in 2018, and Fields somehow either reached it or played even better. He was spectacular, leading the Buckeyes to the College Football Playoff and earning a spot as a Heisman Trophy finalist along the way.
Fields managed a remarkable 41 touchdown passed compared to only three interceptions while throwing for 3,273 yards and completing 67.2 percent of his passes. And he's back again next year.
Dec. 18, 2019: CJ Stroud, Jack Miller sign
It's hard enough for programs to sign one highly regarded quarterback. In the 2020 cycle, Ohio State managed to land both Stroud and Miller.
They each saw the benefit of playing under the tutelage of Day, and neither of them were worried enough about the competition to go elsewhere. From Ohio State's perspective, securing them both was a massive win. Now, Day and Corey Dennis will get to evaluate both of them – along with McCord – and choose the best of the three to become a multi-year starter, beginning in 2021.
What's next?
In order to become QBU, which Day seeks, then this has to only be the beginning for Ohio State.
Haskins was a first-round selection a year ago, and it'll be up to Fields to live up to the current hype which has him viewed as a high first-rounder in the 2021 NFL Draft. Then, it'll be time for Stroud, Miller or McCord to follow suit.
The Buckeyes are rolling at quarterback, and they need to keep it that way to get in the mix as QBU.