No college football team had ever won 14 games in a season before.
I have to add the caveat of "since 1897" to that particular distinction, but the point is that the 2002 Ohio State Buckeyes pulled off something that hadn't been seen since McKinley was in office.
They did it in the most insane, improbable, ass-backwards way possible; winning seven games by a touchdown or less, they relied on ridiculous comebacks, multiple overtime wins, several fourth down miracles, a dominant, ridiculously talented defense, and the offensive equivalent of a shrug emoji. The 2002 Buckeyes played five ranked teams, did not get a bye week, and beat everyone.
Their defensive staff consisted of guys like Mark Dantonio, Mel Tucker, Mark Snyder, Luke Fickell, and Jim Heacock. Tressel's offensive staff employed Jim Bollman as both the coordinator and offensive line coach, which... holy hell.
They beat Michigan at home in a wild game that went down to the last second, they defeated a Miami team that had won 34 games in a row, and they did so as nearly two-touchdown underdogs in a double-overtime classic where both teams threw haymakers at each other for three hours.
Any or all of those facts should be enough to talk about until the end of time, but instead, all we seem to be able to focus is on is one very specific penalty call.
But I get why it happened.
The U was back, baby! One of the most entertaining programs of the 80s and early 90s was back with a vengeance and had dudes like Sean Taylor and Johnathan Vilma and Willis McGahee and Kellen Winslow and I guess Ken Dorsey all kicking enormous amounts of ass and looking cool doing it.
The Miami Hurricanes were an established brand that smelled like a dynasty, and nothing gets sport media (and a lot of fans) all hot and bothered like a nice juicy dynasty to build up and then tear down with equal amounts of glee. Their second national championship in a row was something preordained, because without it Miami really couldn't claim to be as dominant as they claimed to be, and if they weren't then what the hell were we wasting all this time talking about them for?
Jim Tressel's Ohio State team, on the other hand, was perceived to be everything that Miami wasn't; boring, more lucky than good, a flash in the pan that likely would flame out after a year, etc.
So when the result of the 2003 Fiesta Bowl turned that narrative on its head, instead of taking a look at just how amazing the Buckeyes' run was, much of the attention was turned to trying to explain why the Hurricanes couldn't seal the deal and enshrine themselves into history. There was more disappointment that Miami hadn't lived up to expectations than amazement that Ohio State had done something that no other college football team had ever done in the modern era. Which was dumb.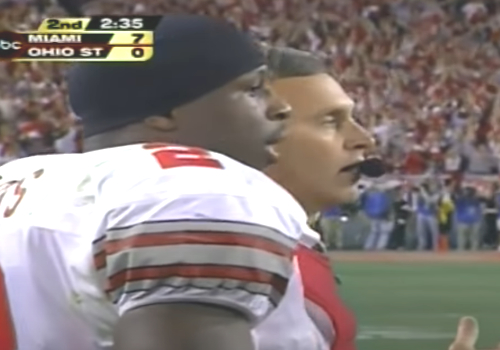 Thus, gallons of ink spilled about Terry Porter and his late flag instead of Maurice Clarett making one of the greatest college football plays in history (or Craig Krenzel converting a 4th and 14, or the Ohio State defensive line annihilating Miami's offensive line, or Chris Gamble being an absolute legend, and so on).
The 2002 Ohio State Buckeyes, despite the demeanor of their coach, were total agents of chaos and should be remembered as such. A team that kicked the crap out of a top ten Wazzu squad almost lost to Cincinnati the next week. They blew out No. 23 Minnesota and then required divine intervention to beat mediocre-to-bad Purdue and Illinois in the following two games. I'm not sure that I actually enjoyed having a four and a half month long panic attack, but in retrospect it's kind of hilarious understanding that yes, in 2002 Tressel actually planned for games to turn into two bears fighting in hip deep mud for the entire second half, and yes, it was going to work out 100% of the time.
And it worked because of an Ohio State team loaded with talent and also because Jim Tressel is a literal witch. That's a damn fun story right there, but nope! Was it pass interference? Who knows!? Let's complain about it for two decades.
After the 2003 Fiesta Bowl, the Miami Hurricanes slipped into irrelevance. They moved to the ACC in 2004 and started losing a little more often, and then a lot more often, until finally their biggest contribution to the college football space were two freaking 30 For 30's and a whole lot of complaining online. The actual football Hurricanes played the Buckeyes twice more and won once, but that was in 2011 so whatever.
Meanwhile, Ohio State became the Ohio State we know of the last few decades. Dominated Michigan and the Big Ten, won a whole bunch of Top 25 games, and of course the entire 2014 season happened which was somehow even more insane and impossible than what we witnessed in 2002.
And yet... every time we revisit the 2003 Fiesta Bowl, like ESPN did last night, it seems like college football fans and media as a whole can't resist indulging in one specific grievance from a game full of huge moments and plays that could've decided the outcome. Here's Mark Schlabach in an article from yesterday on ESPN:
Fireworks went off, and Miami's players, coaches and fans stormed the field in celebration. At least three or four seconds went by before Porter threw the flag. Porter said he waited to replay the play in his mind and "wanted to make double sure it was the right call."
I am 100% sure that I have read almost this exact quote approximately 8923046721 times since 2003, and I am now a numb unfeeling person because I don't think I can ever care again how Miami's players felt because they didn't wait the approximately 1.12 seconds it took Porter to throw his flag to celebrate. Schlabach and others would ask you to put yourself in the shoes of a dynasty unfulfilled because... hell, I don't know anymore. It's supposed to be interesting, I guess?
But regardless, I won't, because it takes away from the truly astounding accomplishment of a genuinely weird and unique underdog and gives undue attention to a program that would swiftly fade into the background.
Bill Connelly ultimately gets it right:
Nothing about this game made sense. It was a masterful smoke-and-mirrors show, even by Jim Tressel's standards. And that made it intensely memorable, even before the controversy.
Hmm, yeah. Maybe we should talk about that instead. That might be cooler than indulging the whining of a supposedly awesome team that got skunked by a nerd in a sweatervest and his squad of pissed off Midwesterners.
For all of these reasons, Miami, you are The Worst.