There were a lot of candidates for The Worst this week.
Ohio State, after all, is a super dope football program both now and historically, and as a result there is going to be a lot of C-tier detritus left in its wake.
Ignoring the single game, early season, or out of conference outliers (beating Florida A&M or Eastern Michigan or Pittsburgh by nine touchdowns is wild but also not that historically interesting), what The Worst is focusing on this week are teams that have lined up for a Buckeye asskicking year in and year out.
This means a lot of basement-dwelling Big Ten Teams.
But it'd be perhaps a little rude to handwave away the storied histories of the various programs that immediately spring to mind when you think about garbage programs that have routinely lost to the Buckeyes, especially as of late.
Illibuck is almost an afterthought now, but the Illini dominated the rivalry in the late 1980s and early 1990s, winning seven of ten during that time period. The Minnesota Golden Gophers can reasonably claim at least four national championships in their history, despite having beaten Ohio State only once since 1982. Northwestern has won four out of their last five bowl games, despite having beaten Ohio State only once since... oh man, 1972? Am I sure I picked the right team?
Yes, I am. I mean, you know, pretty sure.
Indiana's failure against Ohio State has both longevity and a high level of futility that other programs don't quite have. They beat the Buckeyes in back to back years in 1987 and 1988, but those are their only two wins against Ohio State since the literal year of our Lord 1951. Here's Earle Bruce after the 1987 loss:
"I've known about Ohio State football since I was a freshman here in 1949," Buckeye Coach Earle Bruce said. "This is the darkest day in Ohio State football since I have been associated with it."
Which is funny for a lot of reasons, not the least of which is that the Buckeyes finished 6-4-1 that season, and hell, if you're gonna go 6-4-1, you might as well go ahead and lose to Indiana. You can watch some of the highlights of that loss here, which you might think would be an incredibly depressing exercise. Instead it's more like looking into a funhouse mirror on acid, in that you know some elements of what you're looking at is grounded in reality, but it's so weird and distorted that it's more funny than anything else.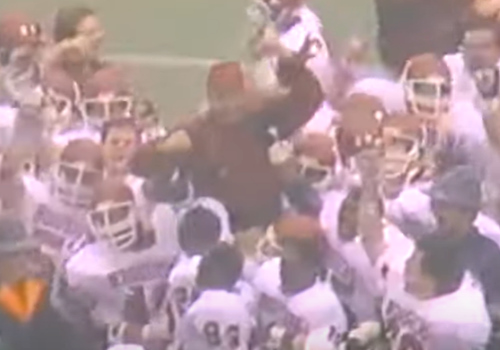 Anyway, that's about it in terms of good news for the Hoosiers. There was a wild 52-49 game in 2012 and Richard Lagow's 410 yards passing made things interesting for roughly three quarters in 2017, but beyond that the Hoosiers' main accomplishment has been their rotating spot on the short list of teams that "Might Be Good In Two Years, But By 'Good' We Mean Win A Bowl Game In Memphis, Not 'Good Good.'"
Kevin Wilson might stick out in the minds of Ohio State fans as being a decent coach at Indiana, but that's mostly a result of his legacy as a guru of the spread offense rather than his actual results as a coach; he never had a winning record with the Hoosiers and was fired amid accusations about his lack of concern about player health and safety. His successor, Tom Allen, has fared somewhat better; in 2019 he led Indiana to its first winning season since 2007, and together those are the only two winning Hoosier seasons in the last 25.
Last year Indiana started 2-0. They beat Ball State by 10 and then absolutely annihilated Eastern Illinois, 52-0. Things were seemingly trending up, finally, mercifully, for a program that had long been a punching bag for the rest of the Big Ten. Their third game was at home against the Buckeyes; with Ryan Day as a relatively untested new coach and some uncertainty at key skill positions for Ohio State, maybe there was an opportunity for the Hoosiers to do something special.
Here's what Eleven Warriors had to say, previewing the game:
If the Buckeyes can play up to the ability they have shown they can play at in all three phases of the game, though, they should ultimately be able to beat the Hoosiers by a significant margin. Ohio State is significantly more talented than Indiana on both sides of the ball, and if Penix is sidelined, this year's Ohio State defense should be much more prepared to shut down a Ramsey-led Indiana offense.
As a staff, we predicted a 45-17 victory for the Buckeyes. They won 51-10.
Indiana, you are The Worst.