If the COVID-19 pandemic results in fewer opportunities to practice before the start of the 2020 season after spring football was cut short, Ohio State's defense could be the side of the ball that's most affected.
While Ohio State's offense returns many of its best players from last season – including Justin Fields, Chris Olave and three starting offensive linemen – the defense lost its three consistent starters from last year's defensive line and three of its four starting defensive backs.
As the Buckeyes prepare for their first season with Kerry Coombs as defensive coordinator, they certainly could have used a full spring and every practice possible to develop and evaluate their up-and-coming players, let position battles play out and fine-tune their scheme with time to experiment.
Coombs wasn't planning to make any major changes to the defense, given that the Buckeyes led the nation in yards allowed per game (259.7) last season, but because they are going into the summer with only week of 2020 practices under their belts – with a hope, but no guarantee, that they'll make up some lost practices whenever team activities are allowed to resume – proven experience from playing in past seasons could be more important than ever this fall.
The one position group on defense where the Buckeyes can lean on significant experience is at linebacker, where they have four seniors who all played significant roles last season, plus three juniors who are all knocking on the door for playing time.
When Ohio State director of sports performance Mickey Marotti was asked last week about whether he thought the team was equipped to deal with the adversity of an incomplete offseason, he specifically singled out the linebackers as one position group that he was confident would step up to the challenge.
"I feel pretty good about the three linebackers that are leading that group," Marotti said. "You got Justin Hilliard and Pete Werner and Tuf Borland, they've been around a long time. So I'm hoping that when they get in their meetings and their linebacker meetings and those guys are really being vocal and making sure guys are doing what they're supposed to do so when we come back, we're in pretty good shape."
Hilliard is a sixth-year senior, Borland is a fifth-year senior who has already been a two-time team captain and Werner and Baron Browning are both fourth-year seniors. All of them have had their share of ups and downs at Ohio State, but they're also all coming off of career years in 2019. Hilliard is the longest-tenured player on the entire team, having been with the Buckeyes since 2015, while Werner (1,463 career snaps), Borland (1,336 snaps) and Browning (752 snaps) are all among the most experienced in terms of playing time.
Borland has started 34 games over the past three seasons, while Werner has started 27 games over the past two. Browning has only started four games, but has been a regular in the rotation – mostly alternating with Borland at middle linebacker – for the past two seasons and is a prime candidate to potentially start at outside linebacker opposite Werner in 2020. All three of them have positioned themselves as potential NFL draft picks and will look to improve their stock while serving as senior leaders for Ohio State's defense.
Studying @OhioStateFB defense. Pete Werner, Baron Browning, and Tuf Borland might not all be Round 1-3 picks like the 06 class (Hawk, Carpenter, Schlegel) but it is only LB trio in nation with three draftable grades on our @seniorbowl board.#TheDraftStartsInMOBILE pic.twitter.com/4YSRzCLaeT

— Jim Nagy (@JimNagy_SB) May 15, 2020
Hilliard, despite a multitude of injuries at Ohio State including an Achilles injury in the spring of 2019, also played a regular role on the Buckeyes' defense last season as an outside linebacker in four-linebacker packages and is among the candidates to play a bigger role in 2020 following the departure of the one linebacker Ohio State did lose from last season, Malik Harrison.
So too are the trio of Dallas Gant, Teradja Mitchell and K'Vaughan Pope, all third-year juniors. While none of them saw more than occasional playing time on defense as freshmen and sophomores, they've all been through more than enough practices as Buckeyes that they should be ready to play this year even without a full offseason.
"If you want to look at them like young guys, they're old guys. They're juniors. They have bought in. They've worked their tails off," Ohio State linebackers coach Al Washington said in March. "They've got to play, and not just play, they've got to play at a high level."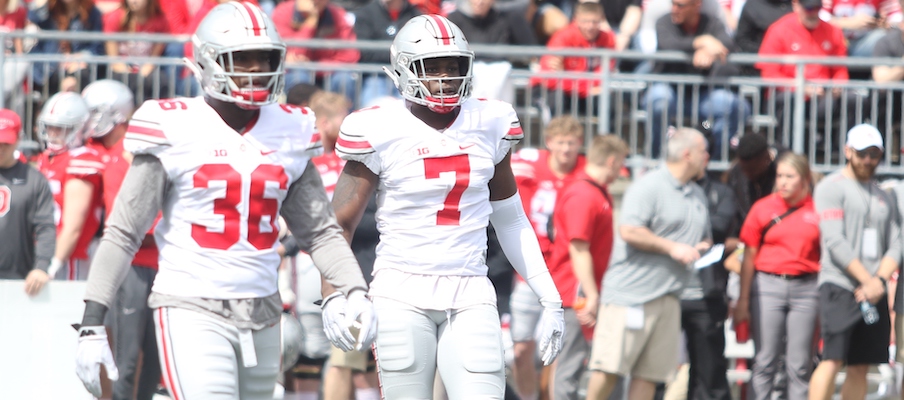 It's rare for a college football team to have seven scholarship upperclassmen in one position group, and at a position where only three players typically start, that's created a challenge for Washington and the Buckeyes to find playing time for all of them. Because the Buckeyes had only a week of spring practice, Washington doesn't know exactly what his depth chart or rotation is going to look like yet – though it's a safe bet Borland will remain the starting middle linebacker while Werner will start at either Sam or Will linebacker.
What that experience did allow Washington and his linebackers to do was hit the ground running with their preparation for the season in the lone week of spring practices that they did have. While they didn't know then that the rest of spring practices would be canceled, the amount of college reps that Ohio State's linebackers already have should give them a leg up on most position groups around the country when the green flag is dropped for NCAA football practices to begin again.
"We were able to ramp up our install the first few practices, so we actually saw quite a broad scope of different things," Washington said in April. "Now obviously, you're not gonna be able to get as great a read as if you had 15 practices, but it was good to see what we saw. The benefit for us out of this whole period, the silver lining if you will, is we have guys that have played a lot of football. So you know what they can do, you have an idea of what they can do."
Ohio State's defensive line, which has only one returning player with more than four career starts in Jonathon Cooper, is certainly going to have some ground to make up whenever the Buckeyes are able to train together in person again. The same is true for Ohio State's secondary, which also has only one returning player with multiple starts in Shaun Wade. But with a veteran group of linebackers, many of whom have proven experience, who know what it takes to be successful at Ohio State, the Buckeyes have reason for confidence that the middle level of their defense will be ready to play whenever that time comes.